If you bake one cookie this fall, it's gotta be these Pumpkin Spice M&M Sugar Cookies. They're buttery, chewy, and stuffed with delicious Pumpkin Spice M&Ms!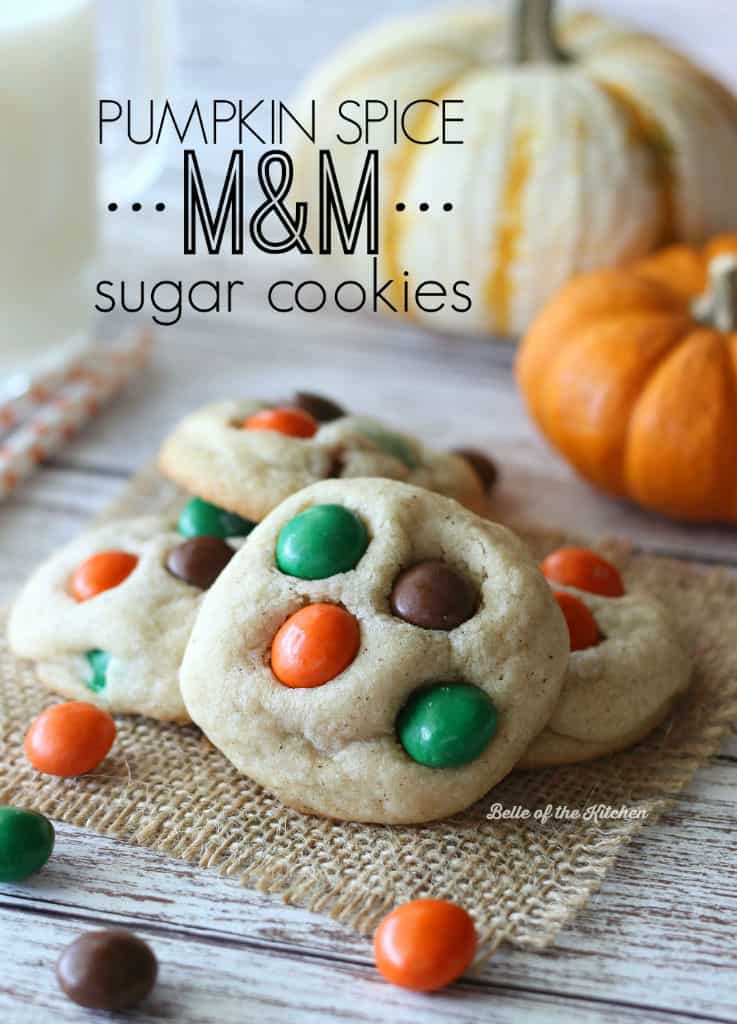 So last week I got to do one of my favorite things. I spent a glorious hour, mostly by myself, just wandering around Target (my daughter was asleep in her carrier and my son was at preschool; that somewhat counts as alone time, right?!) I just love discovering all of the fun things Target has to offer. Ya know, all those fun things that I don't really need, and probably shouldn't be adding to my cart? I swear it's darn near impossible to leave that place without shelling out at least fifty bucks! Please tell me I'm not alone here.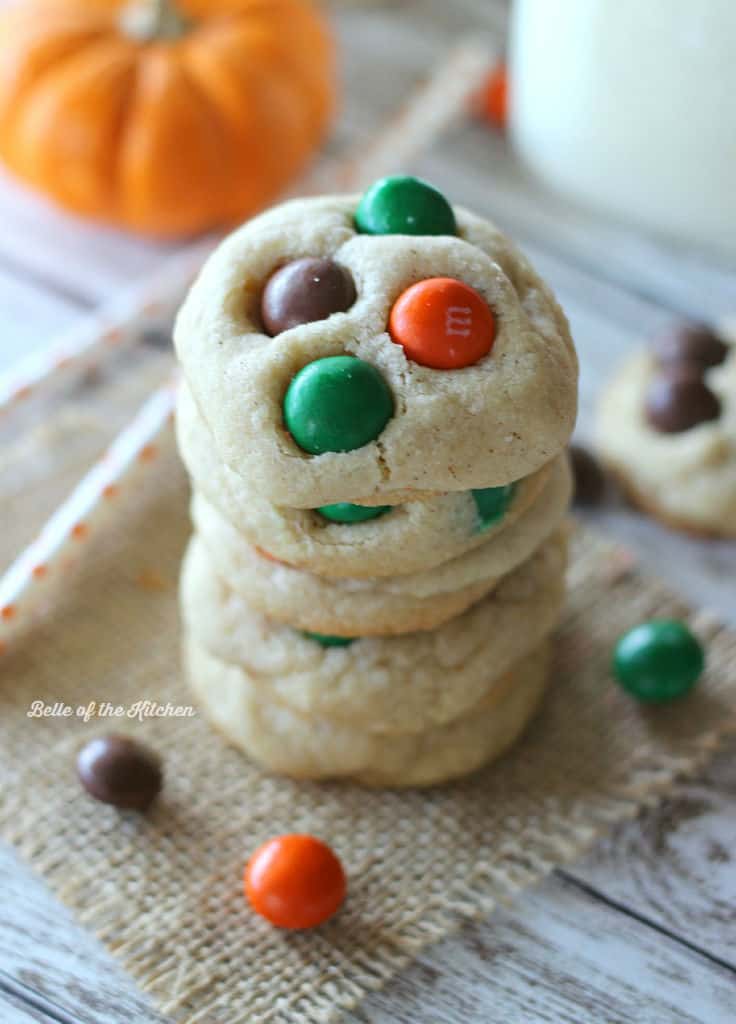 Once I made it over to the seasonal section, I immediately started scanning the shelves with all of the yummy fall candies and treats. And then I spotted them. Pumpkin Spice M&Ms!
I instantly knew that I had to have them, and that baking was on the horizon. Well, just as long as they actually tasted good. I mean, don't you hate when you have such high hopes about a new food, and then you get home only to find that it's just not that good? I've had that happen before. But not this time! These Pumpkin Spice M&Ms do NOT disappoint! They are perfectly chocolaty with just a hint of pumpkin spice. I personally like that the pumpkin flavor isn't overwhelming; it's the perfect amount.
Alright y'all, seriously, MAKE THESE!

Pumpkin Spice M&M Sugar Cookies
Ingredients
1 cup unsalted butter, softened
2 cups white sugar
2 eggs
2 teaspoons vanilla extract
3 cups all-purpose flour
1 TB pumpkin pie spice
1 tsp baking powder
1 tsp salt
1 package Pumpkin Spice M&Ms
Instructions
Preheat oven to 350 degrees.
In a large bowl, beat butter and sugar with an electric mixer until creamy. Add eggs and vanilla; beat until smooth.
In a medium sized bowl, combine flour, pumpkin pie spice, baking powder, and salt. Gradually add dry mixture to the butter mixture and beat until fully incorporated.
Reserve ½ cup of Pumpkin Spice M&Ms and set aside. Pour remaining M&Ms into batter and stir carefully with a spoon.
Form cookies into small balls and and bake in the preheated oven until set, about 12 minutes.
Remove from oven and cool slightly. While cookies are cooling, place a few of the reserved M&Ms on top of each cookie, pushing down to make sure they stick. Transfer cookies to a wire rack to cool completely. Enjoy!
Hungry for more fall recipes? You might like these:



Related posts: