Corn tortillas stuffed with shrimp, corn, and black beans, are drenched in delicious salsa verde, then smothered in bubbly cheese. If you like enchiladas then you will love these!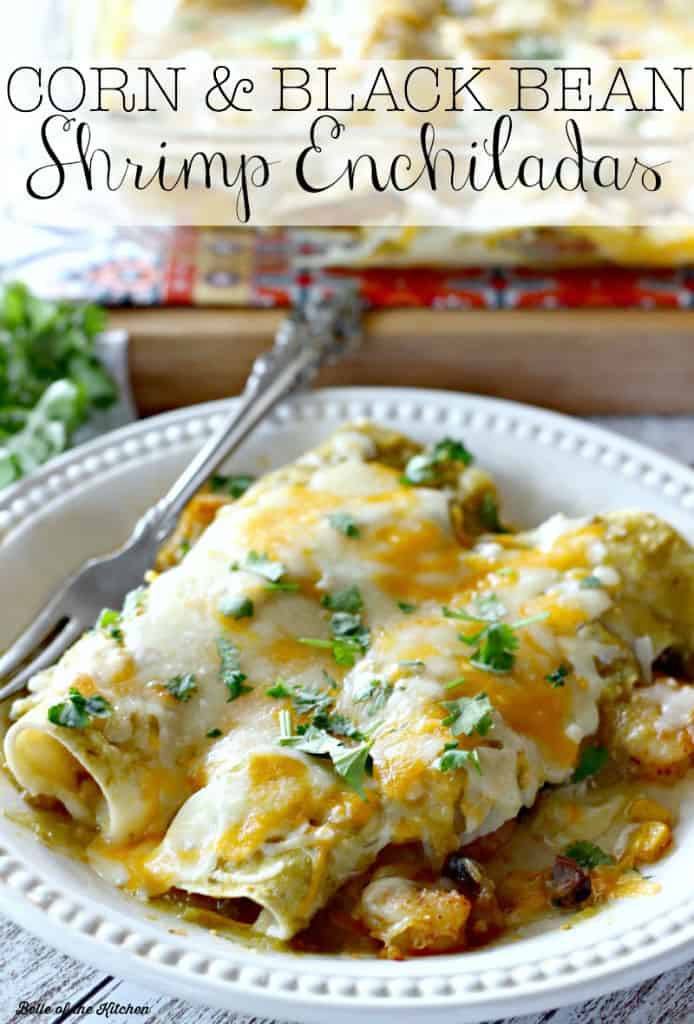 Y'all, I can't believe I haven't posted an enchilada recipe until now. Seriously, enchiladas are my all-time favorite food, EVER. I'm sure I've mentioned here before how much I love Mexican food, but enchiladas are the be-all, end-all of foods for me. Well, with a heaping bowl of salsa and my own personal mountain of chips to go with them.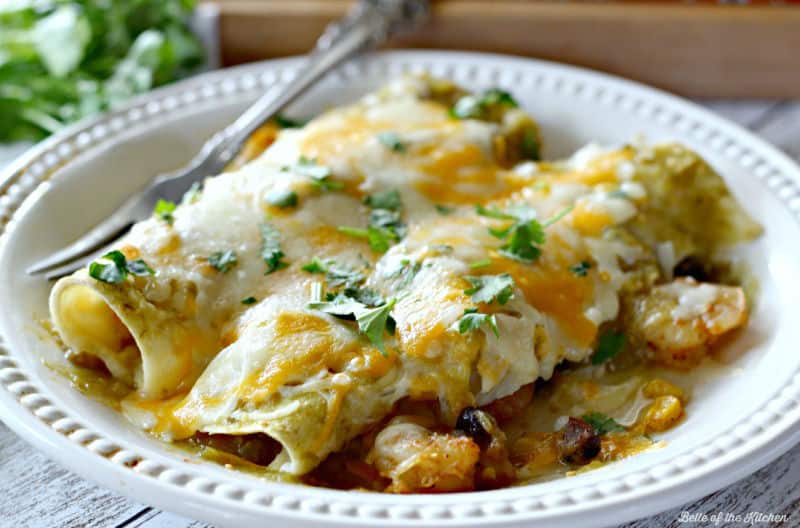 I tend to make chicken enchiladas pretty frequently. Mostly because I like to buy those rotisserie chickens from Costco and use them for a few different meals during the week. You just can't beat how cost-effective those chickens are! Here in Hawaii, they are only $4.99 a pop!! Anyone on the mainland like to buy those? I'm curious how much they cost back across the water.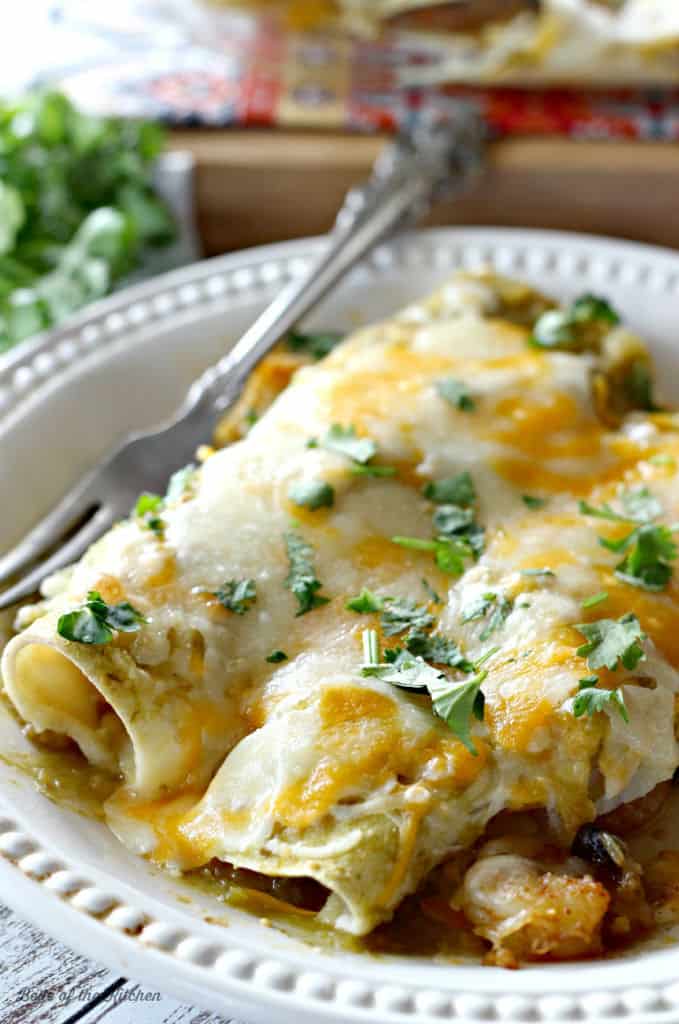 So anyway, one night I desperately wanted some enchiladas, but I had already used up my weekly rotisserie chicken. Hmmm. What's a girl to do? I started poking through my fridge and freezer when I came across a bag of frozen shrimp. Ooh yes! Shrimp Enchiladas were suddenly calling my name.
These were very easy to make and every member of my family devoured them. My one year old loved them so much that she ate an entire one all by herself, and then kept trying to eat mine! Hope you enjoy them, too.

Corn & Black Bean Shrimp Enchiladas
Ingredients
2 TB olive oil
1 cup onion, diced
2 large garlic cloves, minced
1 (12 oz) package medium shrimp (uncooked, defrosted, tails removed)
1 tsp cumin
½ tsp. chili powder
salt and pepper, to taste
2 TB chopped cilantro (plus more for topping)
½ cup frozen corn
½ cup black beans
2 (10 oz) cans salsa verde
14 corn tortillas
2 cups Mexican blend cheese
Instructions
Preheat oven to 325 degrees. Heat olive oil in large skillet over medium heat. Add onion and cook until softened, about 5 minutes. Add garlic and cook until fragrant, about 30 seconds more.
Add in defrosted shrimp, and sprinkle with cumin, chili powder, salt, and pepper. Add in black beans, corn, and cilantro. Continue cooking until shrimp are cooked through and have turned pink, according to directions on package. I've read that shrimp are perfectly cooked when they curl into a C-shape, but once they curl into a tight O-shape, they are overcooked!
Spray a 9x13 pan with cooking spray or olive oil. Warm tortillas by placing them between two slightly damp paper towels and heating in the microwave for about 30 seconds. I heat about 3 or 4 together at a time.
Evenly divide shrimp filling into tortillas, roll up, and place seam side down into prepared baking pan. Cover with salsa verde, making sure to spread evenly. Sprinkle with cheese.
Bake in the preheated oven for 20-25 minutes until cheese is bubbly. Enjoy!
Related posts: