Carrot Cake Puppy Chow – Crispy rice cereal covered with white chocolate and loaded with carrot cake flavor. It's the perfect snack for spring, or anytime of the year!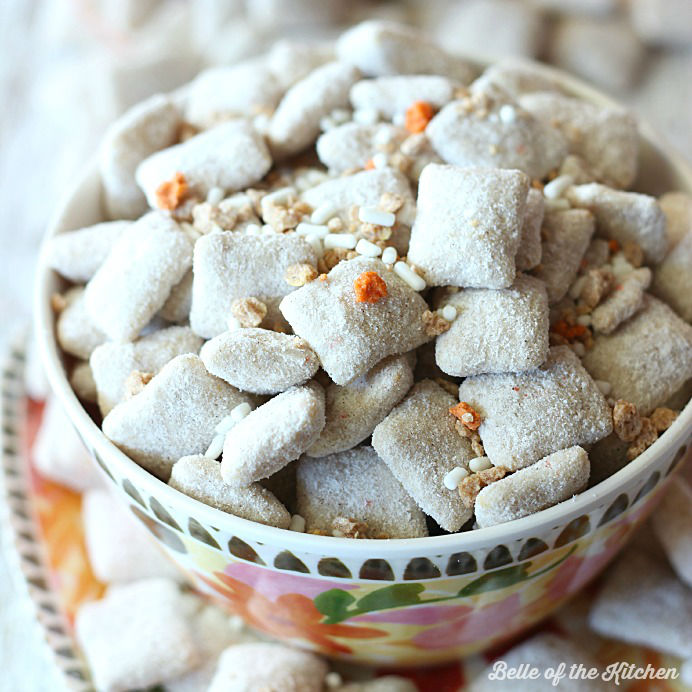 Y'all, I am so excited about this recipe today. I mean, just bursting-at-the-seams kind of excited. See, I've had this idea in my head for the past month and have been itching to try it out. Well, I finally had the chance to do it, and it really came out GOOD!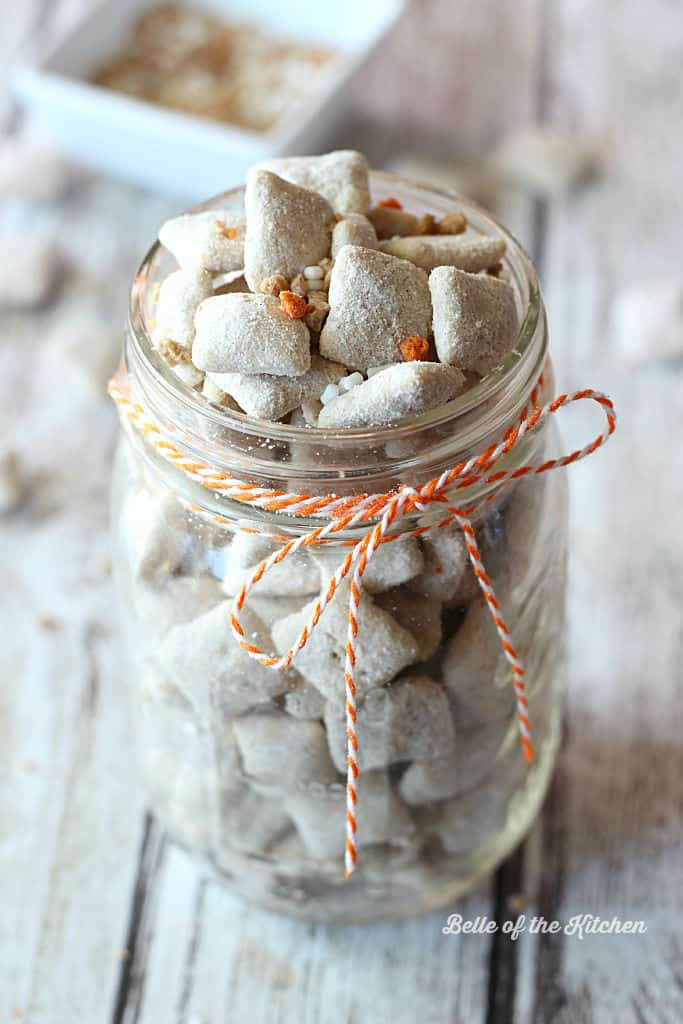 Sometimes when I try out my ideas, they don't always go well. For example, when I made my St. Patrick's Day Popcorn Balls, it took me three tries to get them right. And then there are times when some ideas just aren't worth attempting more than once. Yep, sometimes ya just have to suck it up and realize that some recipes are just beyond saving!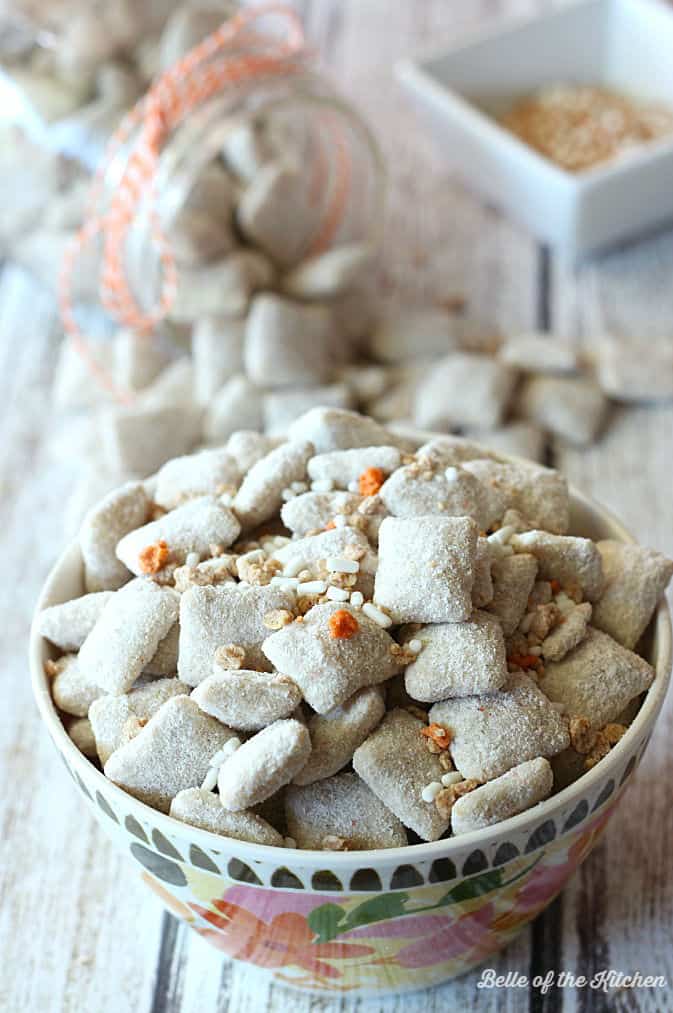 But this time, I was really happy with the result. My hubby's reaction to this one also helped affirm that for me. See, he is one of my biggest supporters, but he also doesn't sugarcoat his feelings about how something turns out. Whether it's good or bad, he gives me his honest opinion, and I appreciate that (most of the time 😉 ).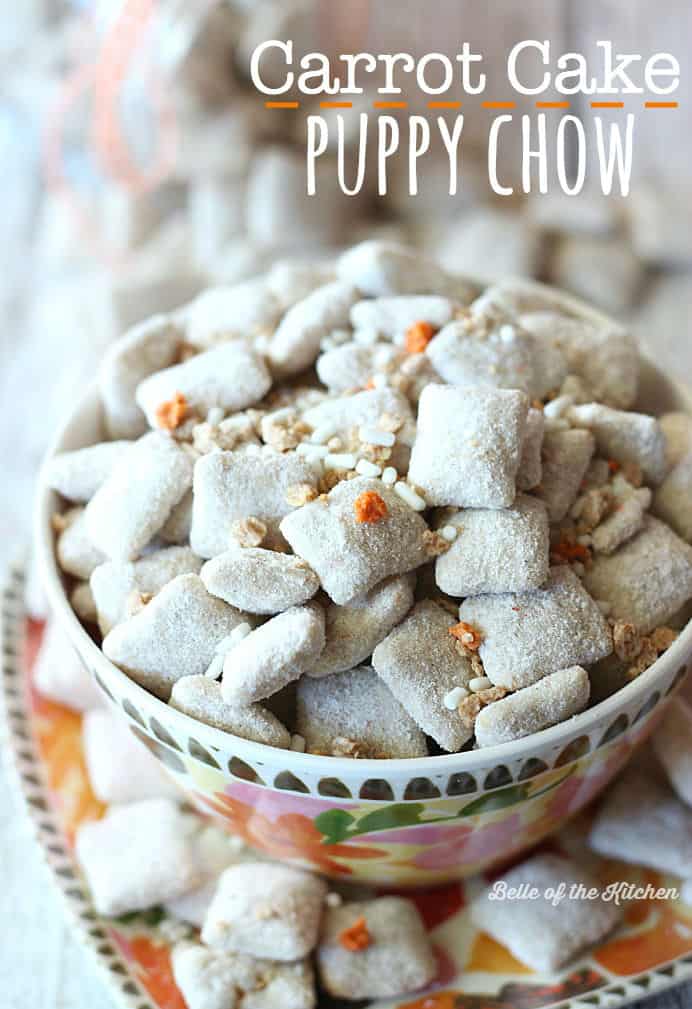 So when I told him about this Carrot Cake Puppy Chow, he looked a little skeptical. He questioned how much it would actually taste like Carrot Cake without tasting…well, weird! But ya know what? He took one bite, smiled at me and said, "Wow! That's really good!" Ahhh… mission accomplished.
Carrot Cake Puppy Chow Recipe
Ingredients
5 cups crispy rice cereal squares
1 cup carrot cake mix
½ cup powdered sugar
2 (4 oz). white chocolate baking bars
1 tsp. shortening
carrot cake sprinkles, optional
Instructions
Place rice cereal into a large bowl.
In a large zip top baggie, combine cake mix and powdered sugar. Seal bag and shake to evenly combine ingredients.
In a large glass bowl, combine white chocolate and shortening. Melt according to directions on package. I heated mine in the microwave for 30 seconds then stirred, another 30 seconds and stirred again, then continued heating in 10 second intervals and stirring until completely melted.
Pour white chocolate over cereal and mix carefully using a spatula.
Empty the coated cereal into the baggie with the cake mix and powdered sugar and shake gently until all cereal is evenly dusted. Top with carrot cake sprinkles if desired.
Store in an airtight container and enjoy!
Related posts: