This Ham and Cheese Stromboli is super easy to make and tastes delicious! Pizza crust is stuffed with honey mustard, monterrey jack cheese, and smoky Black Forest Ham, then baked to a crispy and cheesy perfection!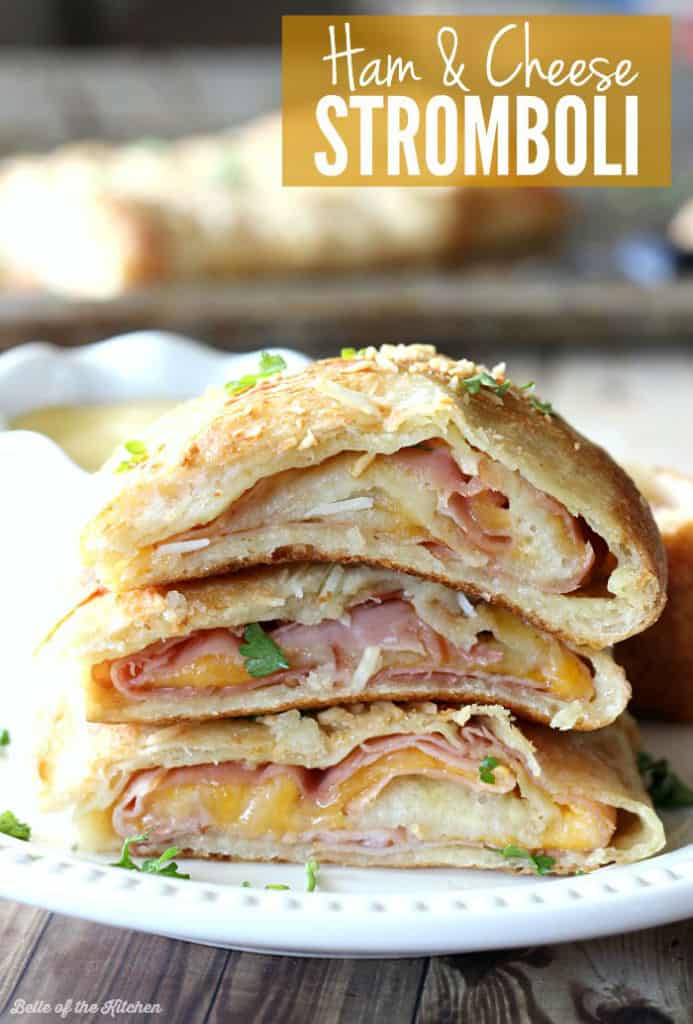 I love easy meals.
As much as I like to plan out new and exciting dinners, when the time to cook actually rolls around, I tend to stick with whatever I can make that's quick, easy, and won't be frowned upon by my kids. Do your kids do that to you? Mine sure do!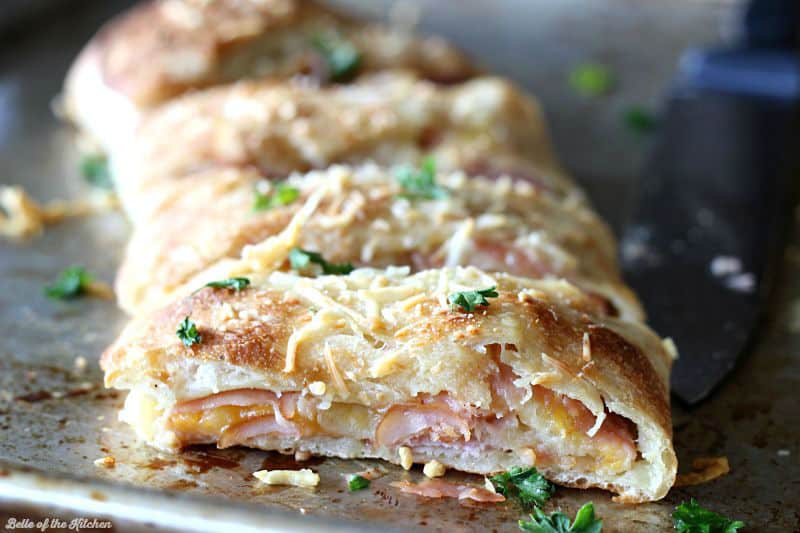 That's why I am absolutely in love with this easy ham and cheese stromboli recipe! It's quick (under 25 minutes), easy (only a few ingredients), and my kids love it (did I mention the ham and cheese?!)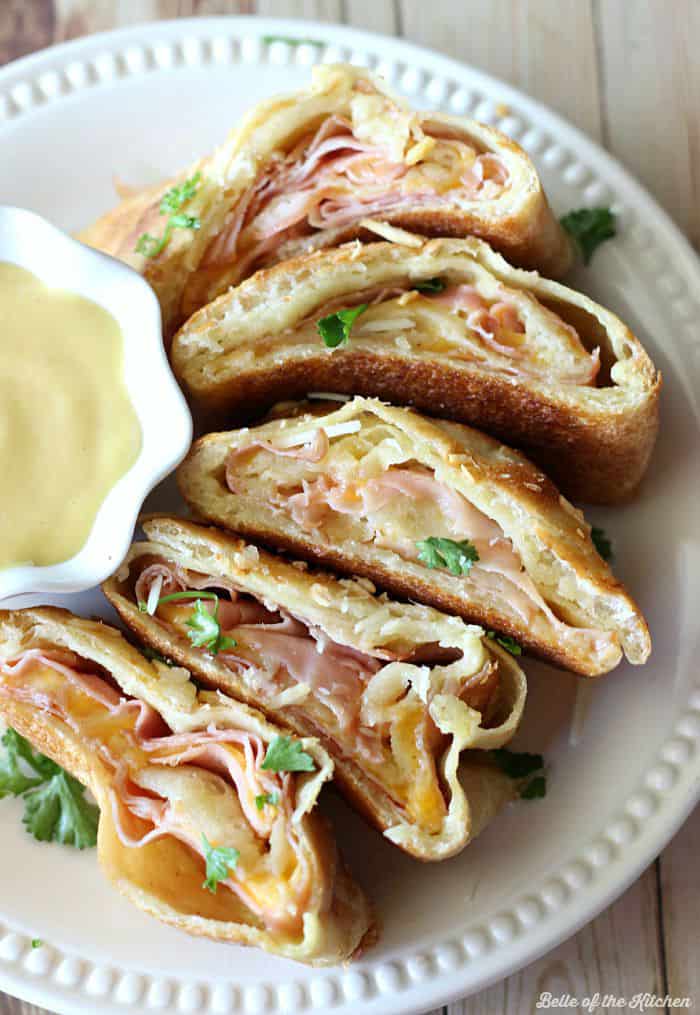 I made this stromboli with the new SmokeMaster Black Forest Ham from Boar's Head. You can find it at your local grocery store's deli. We really enjoyed it since it's crafted with the finest ingredients, and is naturally smoked with imported German beechwood. It's so delicious and has a distinct flavor that is rich and smooth. It even smelled nice and smoky when I took it out of the package!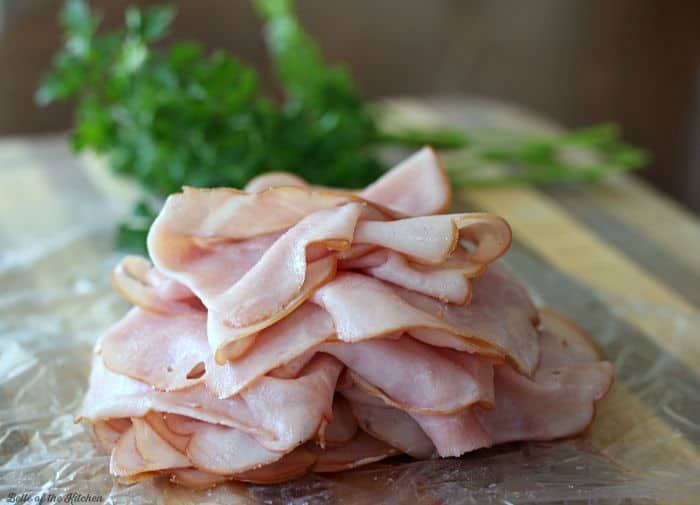 I loved the smoky flavor of this ham, as we are already big fans of smoked meat. When my hubby returned from deployment a couple of years ago, the first thing he wanted to do was go out and buy a Big Green Egg. We literally went and got one the very next day! Since then, we've spent a lot of time smoking different kinds of meat and finding out what we like and don't like; our "smoke house rules," you could say!
For us, we like to smoke meat at a low temperature for a longer period of time. My husband invested in a temperature control device to help with this, and he believes it was money very well spent!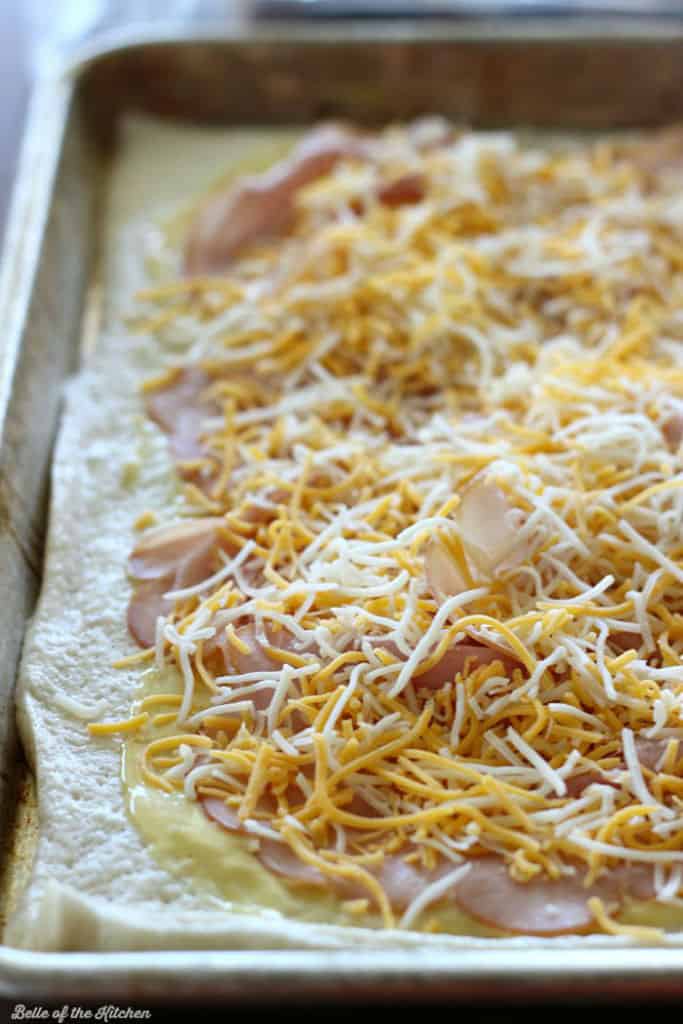 Another one of our "rules" is that we like to make all of our dry rubs from scratch. This way you can control the spices that go into your recipe, and we've found homemade rubs just taste better than any you can buy at the store. You can find one of our favorite rub recipes in my post for Crockpot BBQ Ribs.We also love to use good ole yellow mustard to adhere the rub to the meat before we smoke it.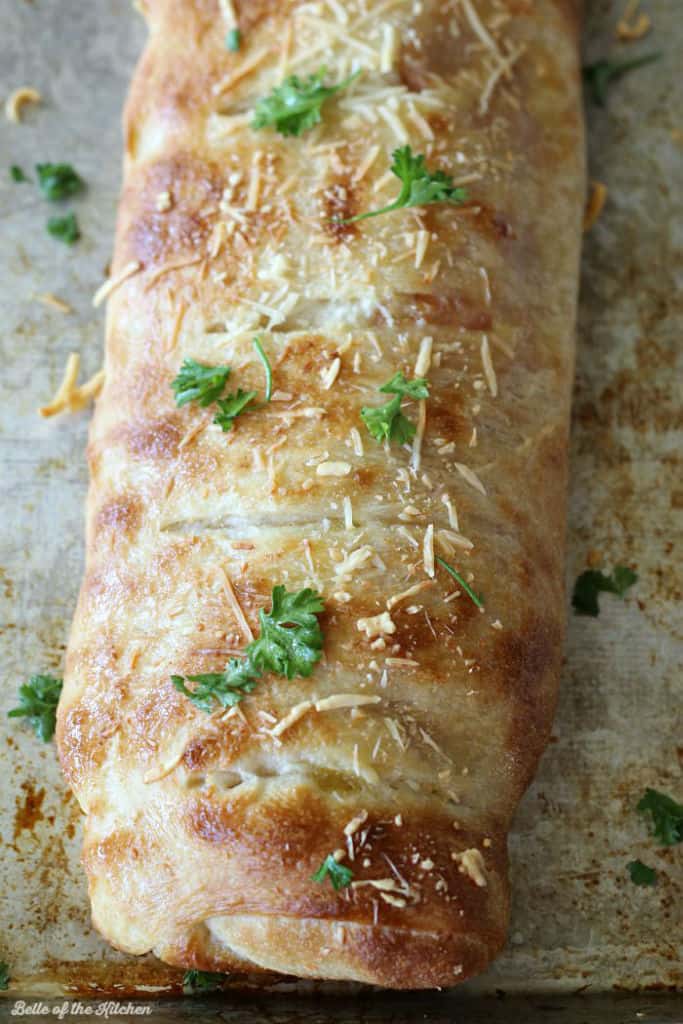 Do you have your own "smoke house rules?" Then be sure to visit the Boar's Head Smoke House Rules sweepstakes, and enter for a chance to win a gift card by sharing your own culinary rules for creating the perfect smoked recipes! You can participate by answering questions posted by Boar's Head on both Facebook and Twitter. Don't miss out!

Easy Ham and Cheese Stromboli
Ingredients
1 roll refrigerated store bought pizza dough (I used thin crust)
¼ cup prepared honey mustard dressing
6-7 oz. thinly sliced Boar's Head Smoke Master Black Forest Ham
1½ cups shredded Monterrey Jack Cheese
Garlic powder
2 TB parmesan cheese
Chopped parsley for garnish, optional
Instructions
Preheat oven to 425 degrees. Spray a cookie sheet with cooking spray or oil.
Unroll pizza dough onto cookie sheet, spreading towards the edges and stretching into a large rectangle.
Sprinkle garlic powder over the surface of the dough then spread honey mustard in a thin, even layer.
Top with ham and cheese, then roll dough lengthwise folding in sides as you go. Sprinkle top with garlic powder and parmesan cheese, then cut slits into the top of the dough to allow heat to escape.
Bake in preheated oven for 10-15 minutes, until golden brown and cheese is melted. Serve with honey mustard for dipping. Enjoy!
I was selected for this opportunity as a member of Clever Girls and the content and opinions expressed here are all my own.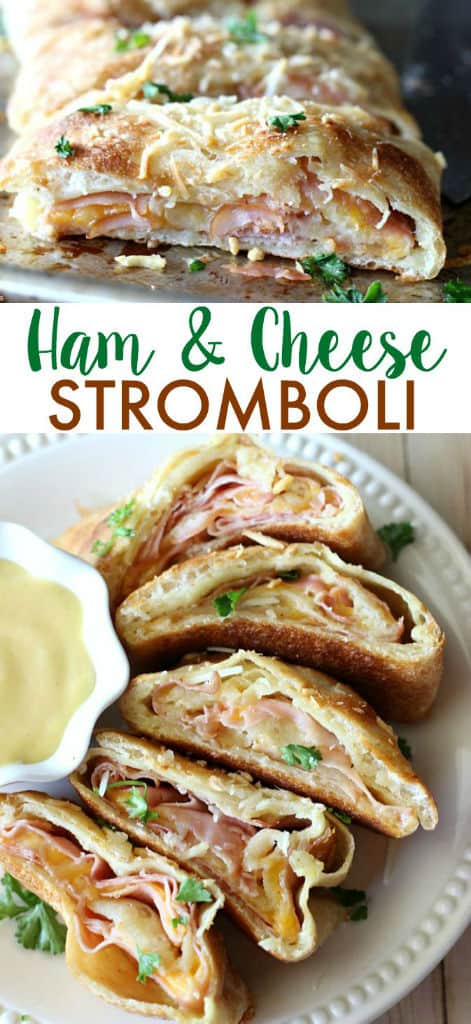 Related posts: