Mexican Tuna Cakes with Jalapeño Cream Sauce
Spice up your dinner rotation with these Mexican Tuna Cakes! They are full of flavor, gluten-free, and topped with a lightened-up jalapeño cream sauce.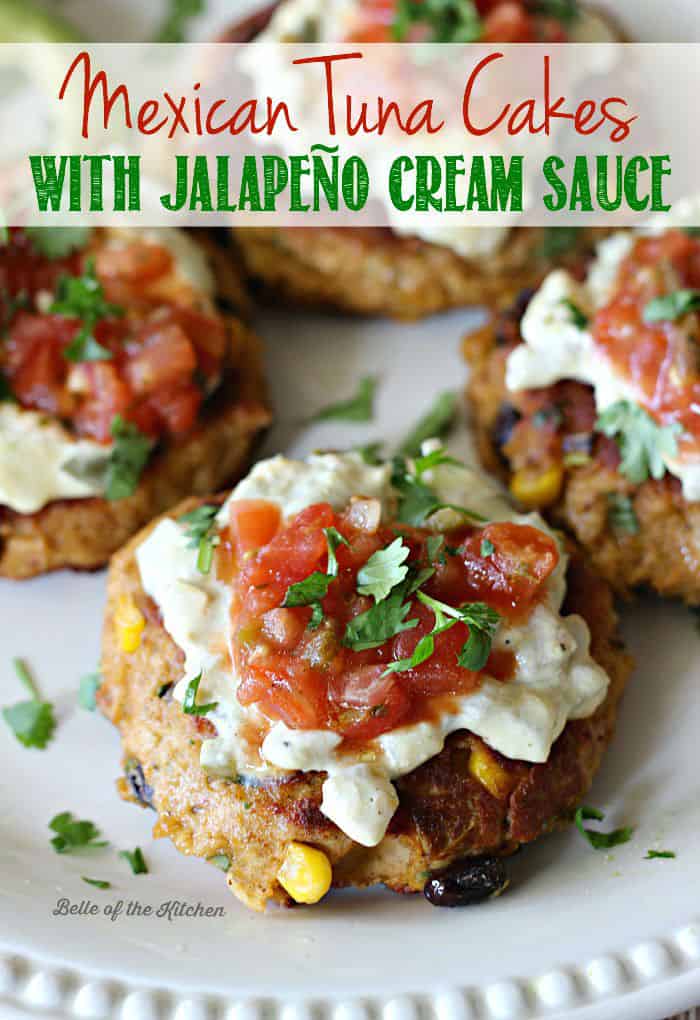 Tuna has been a cabinet staple in my house for as long as I can remember. We used to eat a lot of tuna sandwiches when we were kids, and tuna noodle casserole was a regular in my mama's dinner rotation. My sisters also used to make meals for us a lot, and tuna melts were one of their specialties. Tuna melts are still like comfort food for me, and I've made a few different versions here on Belle of the Kitchen, including my Parmesan Pesto Tuna Melt and the Hawaiian Tuna Melt.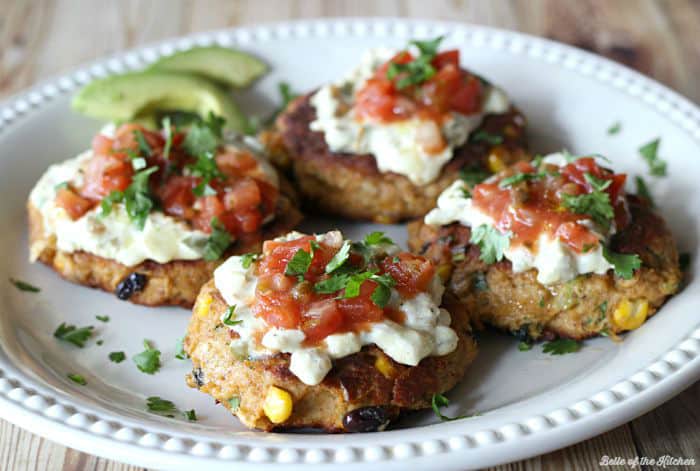 I still love it and always make sure to keep a couple of cans of Bumble Bee Tuna on hand, especially with the busy back-to-school season underway. Tuna is so easy to whip up, and with a little imagination you can create some really tasty and unique meals!
I actually got the inspiration for these Mexican Tuna Cakes on a recent date night with my husband. We finally had the opportunity to go to a restaurant we had been wanting to try out for awhile, and after looking over the menu I knew I wanted to order the crab cakes. They were totally delicious, but left me wishing I could make them at home. Crab cakes are something I've never attempted before, and honestly I don't have a lot of experience with crab, period. Well, outside of crab legs slathered in lots of melted butter. We do make those on occasion. 🙂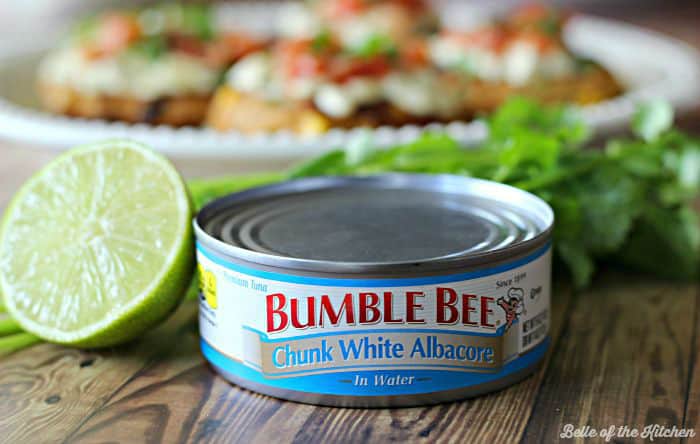 I thought it over and decided I was going to give it a try with the Bumble Bee Chunk White Albacore Tuna I already had at home. It would be cheaper and easier, plus I love Bumble Bee products because they are a great source of lean protein, healthy fat, and important vitamins and minerals. This is important to me since we are trying to make a conscious effort to eat healthier.
And while I was at it, I decided to make these tuna cakes a little more my style; Mexican style that is! That's pretty much my favorite way to eat any kind of food. 🙂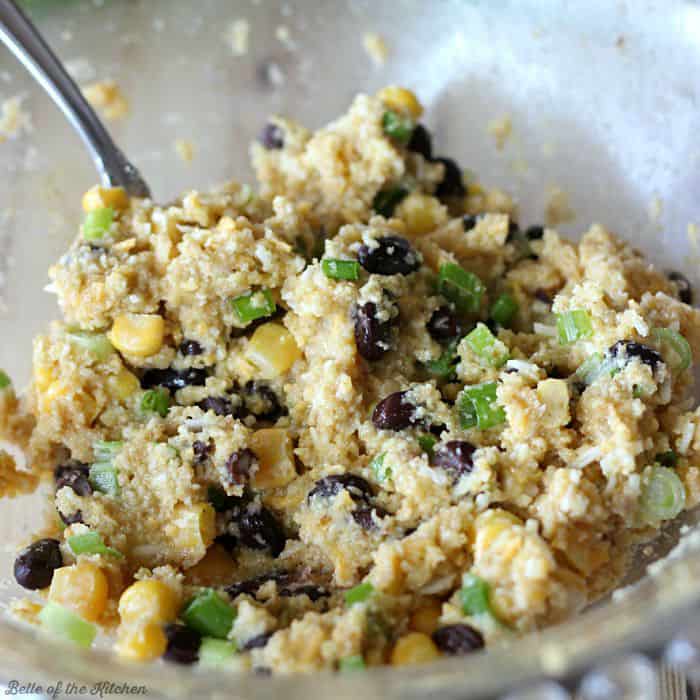 You'll start off with a host of great ingredients, including corn, black, beans, green onions, garlic, crushed tortilla chips, cumin, chili powder, etc. Simply mix all of those ingredients together in a bowl and then form into patties. Add some olive oil to a large skillet and fry them up! Meanwhile you'll cook some onions and garlic in a sauce pan, then mix in the rest of the ingredients to make the jalapeño cream sauce. If you want your sauce to be smooth, simply run it through the blender or use an immersion blender to take out the chunks. I like mine a little chunky so I left it as is.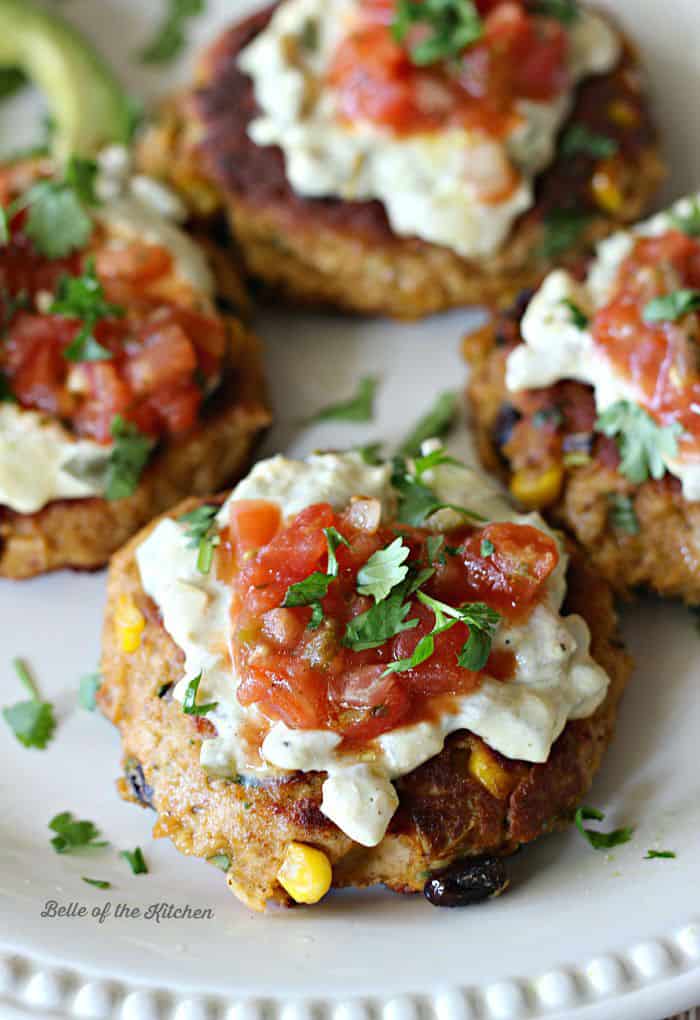 Scoop it on top of each tuna cake, add on some salsa or guacamole and a sprinkle of cilantro, and you have a delicious, healthy dinner!
For more recipe inspiration, be sure to check out Bumble Bee® on Twitter and Pinterest!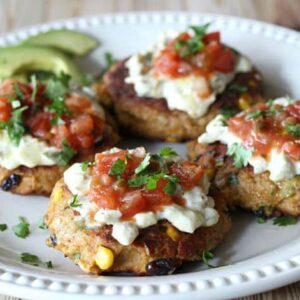 Mexican Tuna Cakes with Jalapeño Cream Sauce
Spice up your dinner rotation with these Mexican Tuna Cakes! They are full of flavor, gluten-free, and topped with a lightened-up jalapeño cream sauce.
Ingredients
Tuna Cakes:
2 eggs
4 tsp fresh lime juice
1/2 cup crushed corn tortilla chips
1 tsp cumin
1 tsp chili powder
2 green onions,, chopped
1/4 cup black beans,, drained and rinsed
1/4 cup corn, (I used frozen)
2 garlic cloves,, minced
2 Tablespoons cilantro,, chopped
2 (5 oz) cans Bumble Bee Tuna
2 Tablespoons olive oil
Jalapeño Cream Sauce:
2 Tablespoons butter
1 cup onion,, diced small
1 medium jalapeño,, seeded and diced small
2 garlic cloves, minced
1 (8 oz) package light cream cheese, softened
1 (4 oz) can diced green chiles
1/2 cup chicken broth
Instructions
In a medium sized bowl, whisk together the eggs and lime juice. Stir in the crushed tortilla chips, cumin, and chili powder to make a paste. Mix in the green onions, black beans, corn, garlic, cilantro, and tuna. Form the mixture into four patties.

Heat olive oil in a large skillet over medium-high heat. Cook patties until golden brown, about 3-4 minutes per side.

To make the jalapeño cream sauce, melt butter in a medium sized saucepan. Add in onions, jalapeño, and garlic. Cook over medium heat until onions are soft, about five minutes. Add in cream cheese and green chiles and stir until cream cheese is melted. Stir in the chicken broth until mixture is smooth and cook for 1-2 additional minutes. If you prefer a smoother sauce, transfer the sauce to a blender and blend until smooth or blend sauce directly in the pan with an immersion blender.

Top each tuna cake with sauce, then with salsa, guacamole, cilantro, etc. if desired.
Calories: 445kcal, Carbohydrates: 25g, Protein: 24g, Fat: 28g, Saturated Fat: 11g, Cholesterol: 153mg, Sodium: 818mg, Potassium: 539mg, Fiber: 3g, Sugar: 5g, Vitamin A: 980IU, Vitamin C: 17.3mg, Calcium: 170mg, Iron: 3.3mg
I was selected for this opportunity as a member of Clever Girls and the content and opinions expressed here are all my own.
This site contains affiliate links, if you make a purchase through them, we receive a small commission.