Hawaiian Tuna Melts
Thank you to Bumble Bee for sponsoring this post.
Hawaiian Tuna Melts – A fresh and healthy take on a classic tuna melt. A thick slice of juicy pineapple is topped with a scoop of Hawaiian Tuna Salad made using Bumble Bee® Tuna, then grilled to perfection with a slice of melty cheese to finish it off!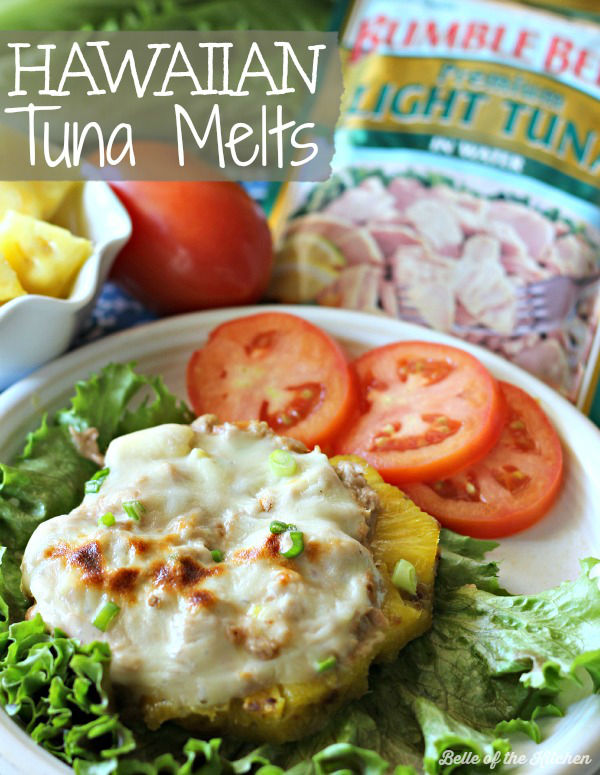 With the holidays well behind us now, I know that most of us have been trying to turn over a healthier leaf here in the new year. Before moving to Hawaii, January actually used to be my least favorite month of the year. Ya have to admit, it's kind of a cold and dreary time in a lot of places! Being on island time has helped to give me a little bit more clarity, and this year I made one of my first ever New Year's Resolutions. Quite simply it's to be healthier and happier in my everyday life. And y'all, these Hawaiian Tuna Melts meet that resolution on both levels. 🙂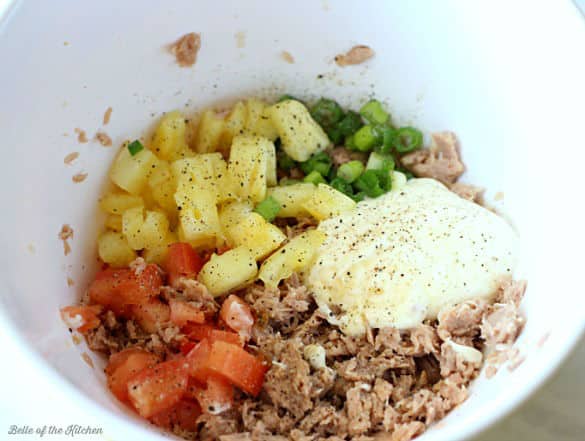 I think one of the best things about the New Year is the opportunity for a fresh start. I know we ate a lot of sugary treats and fat filled goodies over the holidays, but it's nice to turn that around now and start treating our whole body and not just our tummies. 😉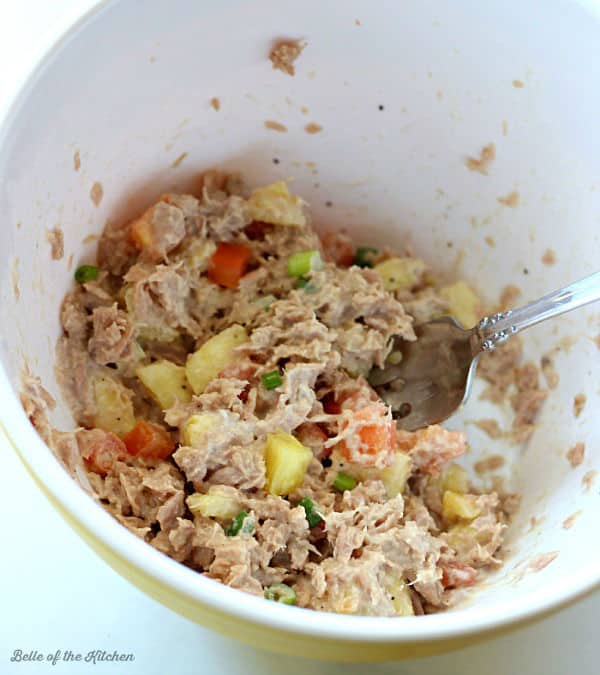 Preparing recipes with tuna is a great way to do just that, since it adds a variety of nutrients to your diet, including lean protein, healthy fat, and important vitamins and minerals. Plus it tastes pretty good, too!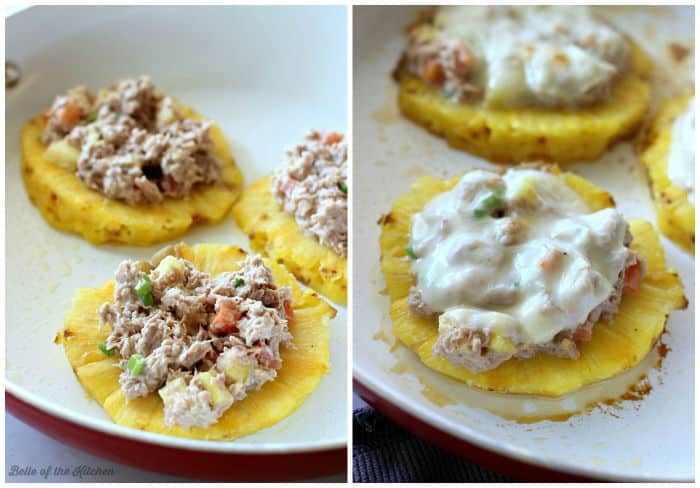 I know it might be chilly where you are right now, but hopefully these Hawaiian Tuna Melts can bring a little bit of health and sunshine your way. 🙂 I made them with Bumble Bee® Tuna, which I LOVE because it's available in a pouch or can. I especially like using the pouches since they require no draining, which makes prep time easier, quicker, and less messy.
I made these for a quick lunch to help me refuel after my morning run, and to give me some energy to tackle the rest of the day. I absolutely love grilled pineapple, and we eat it a lot since it's always in season out here. I decided to try my hand at making it indoors on the stove and topping it with this tuna salad, and it was a definite win! This will easily be one of my new lunch-time (and dinner!) go-tos because it is so fresh, delicious, and good for you.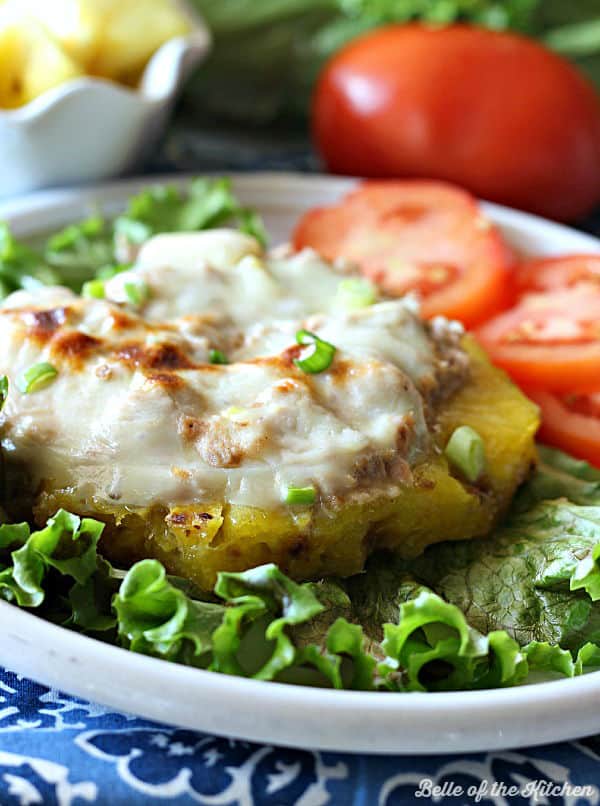 If you're looking for more ways to make tuna extra yummy, be sure to check out my Parmesan Pesto Tuna Melts, and also these crazy delicious looking Tomato Tuna Melts from my buddy Serene at House of Yumm. Seeing her recipe gave me a little inspiration for my Hawaiian Tuna Melts! And if you have a favorite Bumble Bee® Tuna recipe, please share it with me below! 🙂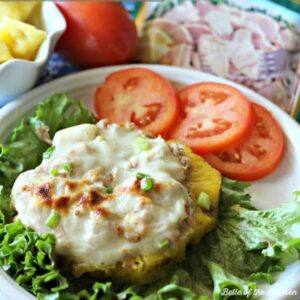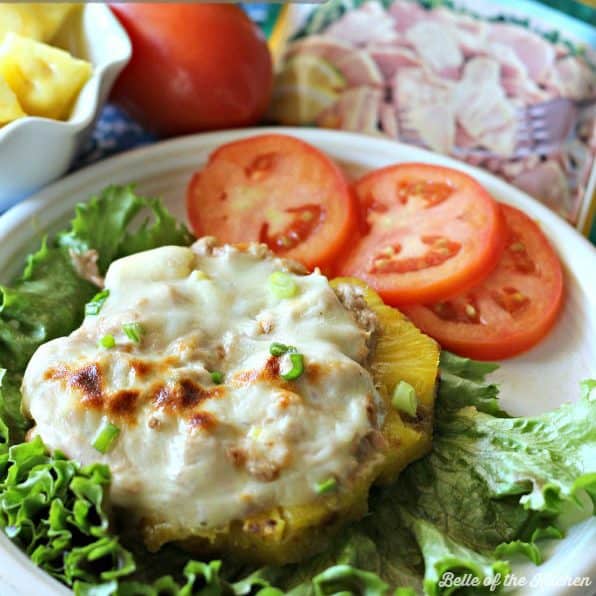 Hawaiian Tuna Melts
Hawaiian Tuna Melts – A fresh and healthy take on a classic tuna melt. A thick slice of juicy pineapple is topped with a scoop of Hawaiian Tuna Salad.
Ingredients
Hawaiian Tuna Salad:
2 (5 oz) pouches Bumble Bee® Light Tuna
4 Tablespoons light mayonnaise
1/2 cup fresh pineapple,, chopped small
1 teaspoon pineapple juice
1 small Roma tomato,, chopped
2 Tablespoon green onion,, chopped
1 teaspoon Worcestershire sauce
salt and pepper, to taste
For the Tuna Melts:
6 freshly sliced pineapple rings,, core removed
fresh green leaf lettuce
sliced Provolone or White American cheese
Instructions
In a small bowl, combine tuna, mayonnaise, pineapple, pineapple juice, tomato, green onion, Worcestershire sauce, salt, and pepper. Mix well.

Spray a skillet with cooking spray and bring to medium heat. Add pineapple rings (will probably need to be done in a couple batches), then top each ring with a heaping 1/3 cup of tuna salad.

Top each tuna melt with a slice of cheese and let cook for about five minutes, covered with a lid, to allow cheese to melt. Before serving, you can also transfer the pan to an oven set to broil for a couple of minutes until cheese is dotted with brown.

Use a spatula to transfer each tuna melt on to a fresh lettuce leaf for serving. Enjoy!
Calories: 207kcal, Carbohydrates: 13g, Protein: 16g, Fat: 10g, Saturated Fat: 5g, Cholesterol: 37mg, Sodium: 443mg, Potassium: 265mg, Fiber: 1g, Sugar: 10g, Vitamin A: 475IU, Vitamin C: 14.8mg, Calcium: 233mg, Iron: 1.2mg
I was selected for this opportunity as a member of Clever Girls and the content and opinions expressed here are all my own.
This site contains affiliate links, if you make a purchase through them, we receive a small commission.