Easy Turkey Sausage Quinoa
Hello and Happy New Year! I'm Carrie from Kenarry: Ideas for the Home here today for the latest Ideas for the Kitchen exchange where Ashlyn and I swap blogs to bring you delicious new recipes. At the start of a fresh new year, many people resolve to lose weight and to make better food choices, so Ashlyn and I thought we'd trade recipes involving using turkey as a healthier alternative to pork or beef. The recipe I'm sharing for Easy Turkey Sausage Quinoa is so simple! It involves only 3 ingredients and can made in a rice cooker or on the stove top for a tasty weeknight dinner.
If you're looking for Ashlyn today, you'll find her at Kenarry: Ideas for the Home where she's sharing her recipe for Asian Turkey Meatballs. She'll share this delicious recipe here in a few weeks. If you're anxious to try it sooner, though, head over to Kenarry and check it out!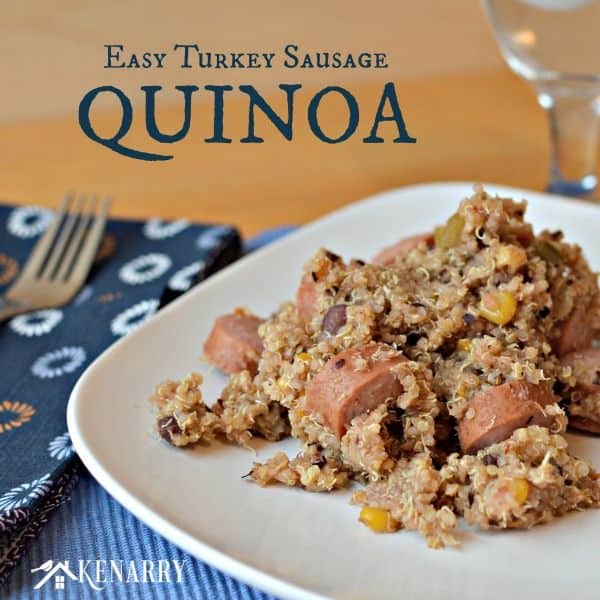 January always makes us think of eating better and losing the extra pounds we've managed to put on over the holidays. One of the ways to do that is to choose healthier alternatives when preparing dinner. For example, you can use turkey sausage rather than pork sausage in your recipes. According to Lisa Thompson in her article about Turkey Sausage Nutrition Information on Livestrong.com, "If you're looking for fewer calories and less fat and sodium, yet more of every other essential mineral, it is definitely worth substituting turkey for pork."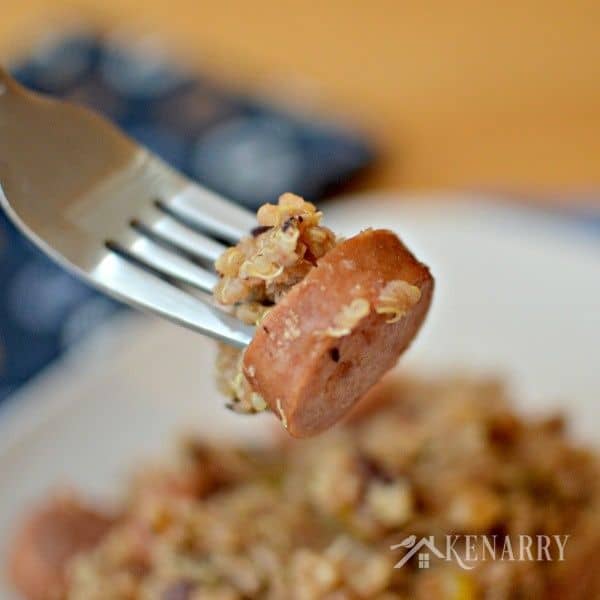 Another healthier alternative we've chosen for our dinners is to use brown rice in place of white rice. However, this past year we've also begun using quinoa more and more often in our dinner recipes. While quinoa may be slightly higher in fat and calories, it's packed with more protein, fiber and essential vitamins and nutrients than rice. Prevention.com has a great infographic showing the health differences between brown rice and quinoa if you want to learn more.
Put these two healthier ingredients together, throw in a little salsa and voila! You have Easy Turkey Sausage Quinoa, a delicious protein-packed meal, full of vitamins and nutrients. We make ours in a rice cooker, but don't worry if you don't have one of those handy devices, as we've also included instructions for making it on the stove top. The credit for this recipe idea really goes to my husband, Kent. We'd been looking for new ways to enjoy quinoa when he created this 3-ingredient masterpiece. It's been a favorite of ours ever since. We hope you and your family enjoy it too!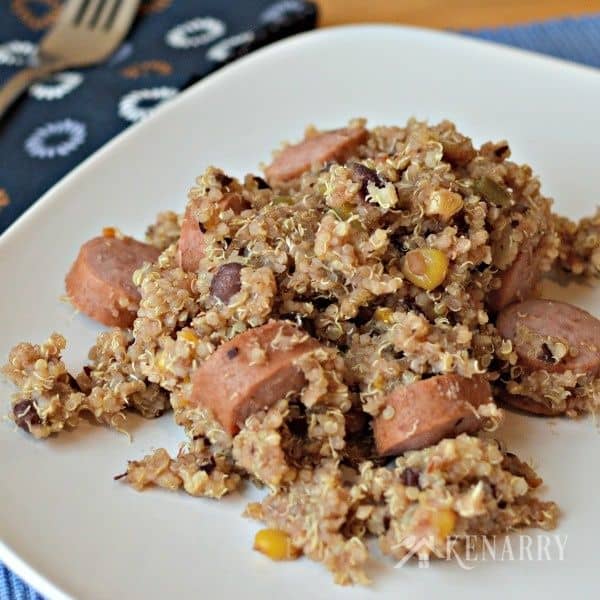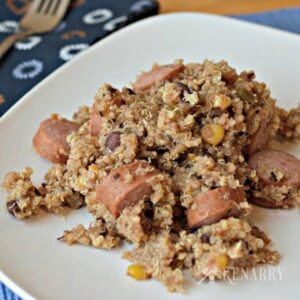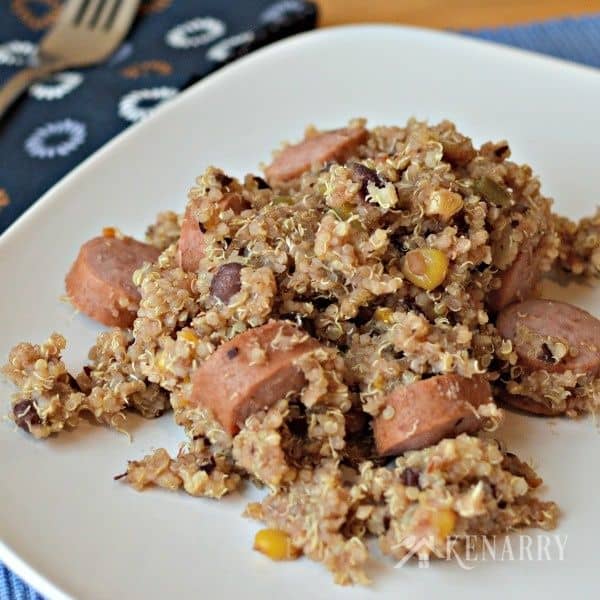 Easy Turkey Sausage Quinoa
This Easy Turkey Sausage Quinoa is so simple! It involves only 3 ingredients and can made in a rice cooker or on the stove top for a tasty weeknight dinner.
Ingredients
2 cups organic quinoa
4 2/3 cups water
13 oz smoked turkey sausage
16 oz jar medium black bean and corn salsa
Instructions
In a rice cooker, combine the quinoa with 4 cups of water and turn it on to cook the quinoa. NOTE: If you don't have a rice cooker, you can prepare the quinoa on the stove top. Just combine the quinoa and water in a pot. Bring it to a boil. Turn the heat to low. Cover and cook for 15 minutes.

Meanwhile, slice the smoked turkey sausage. Put it in a skillet with the remaining 2/3 cup water. Bring the water to a boil.

Reduce the heat, cover and cook the smoked turkey sausage for 8-10 minutes stirring occasionally.

When the quinoa is fully cooked, stir in the jar of salsa and smoked turkey sausage.

Let the Easy Turkey Sausage Quinoa cook for an a few more minutes until it's heated through. Serve and enjoy!
Calories: 325kcal, Carbohydrates: 41g, Protein: 20g, Fat: 8g, Saturated Fat: 1g, Cholesterol: 46mg, Sodium: 909mg, Potassium: 695mg, Fiber: 5g, Sugar: 2g, Vitamin A: 410IU, Vitamin C: 2.9mg, Calcium: 67mg, Iron: 3.6mg
Serving Suggestions for Easy Turkey Sausage Quinoa
Easy Turkey Sausage Quinoa is hearty enough and packed with nutrients to be a great dinner, in and of itself. However, you may also enjoy these ideas:
Mix in a little shredded cheese at the end to add some dairy to your meal.
Sauté some onions and peppers when you cook the turkey sausage to add even more flavor.
Serve Easy Turkey Sausage Quinoa with a side salad and light dressing. It would also be great with fresh steamed broccoli, cauliflower or carrots.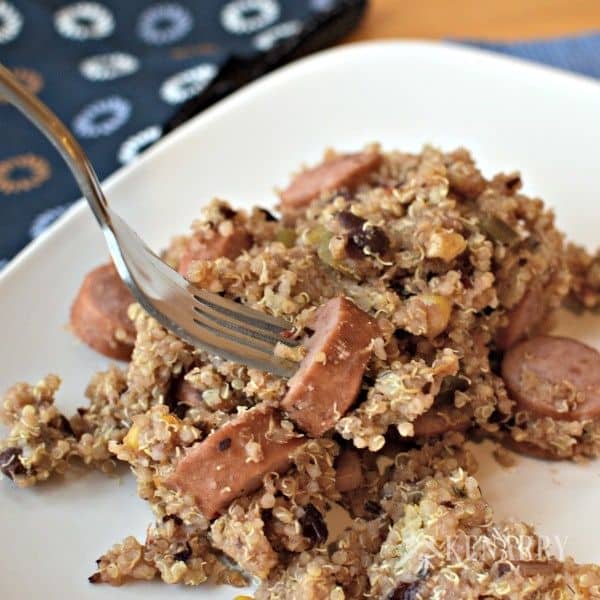 A big thank you to Ashlyn for allowing me to share this Easy Turkey Sausage Quinoa with you (or y'all, as Ashlyn would say). I look forward to being back again next month to share new Ideas for the Kitchen! Meanwhile though, I'd love to hear what are some of your favorite recipes where you've replaced the beef or pork with turkey? Please comment below and share. Ashlyn and I are always looking for new ideas!
If you liked this recipe for Easy Turkey Sausage Quinoa, please share it with your friends or pin it for later: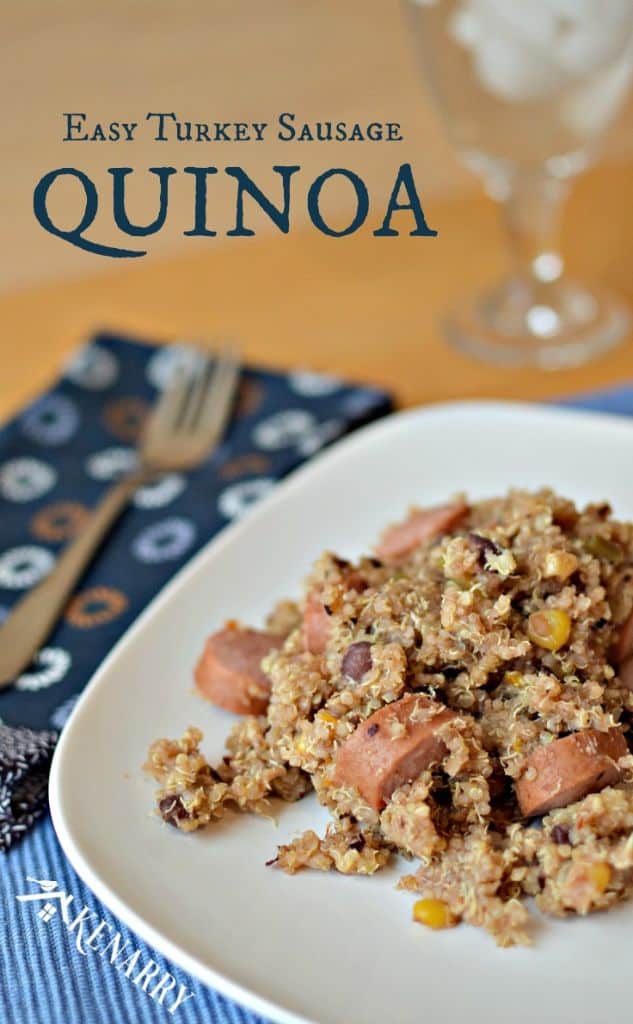 You may also enjoy these Recipe Ideas on Kenarry involving turkey or quinoa:
Sweet Barbecue Turkey Meatloaf: A Home Cooked Favorite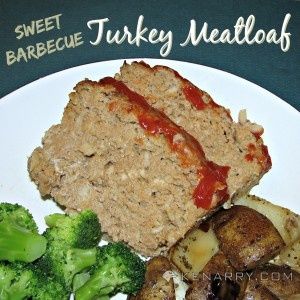 Creamy Garlic Parmesan Quinoa with Sun Dried Tomatoes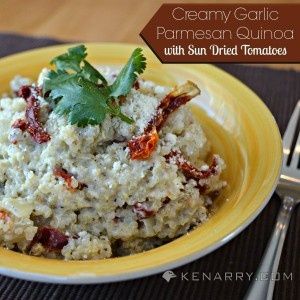 About Carrie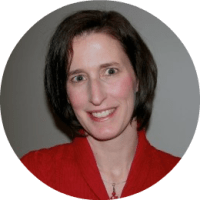 Carrie is a mother of two young boys, who enjoys sharing recipes and trying new craft ideas! At Kenarry: Ideas for the Home, she and her husband share ideas you'll find useful for your home, including projects they've done, recipes they've created, products they love and more. Carrie's passion, though, is volunteerism and connecting people with opportunities to make a difference in their community. You can connect with Carrie via Google+, Pinterest, Facebook, Twitter and Instagram.
This site contains affiliate links, if you make a purchase through them, we receive a small commission.