Creamy Tomato Basil Soup
Warm up with a bowl of this quick and easy Creamy Tomato Basil Soup. Made with diced tomatoes, cream, fresh basil, parmesan, and a surprise ingredient!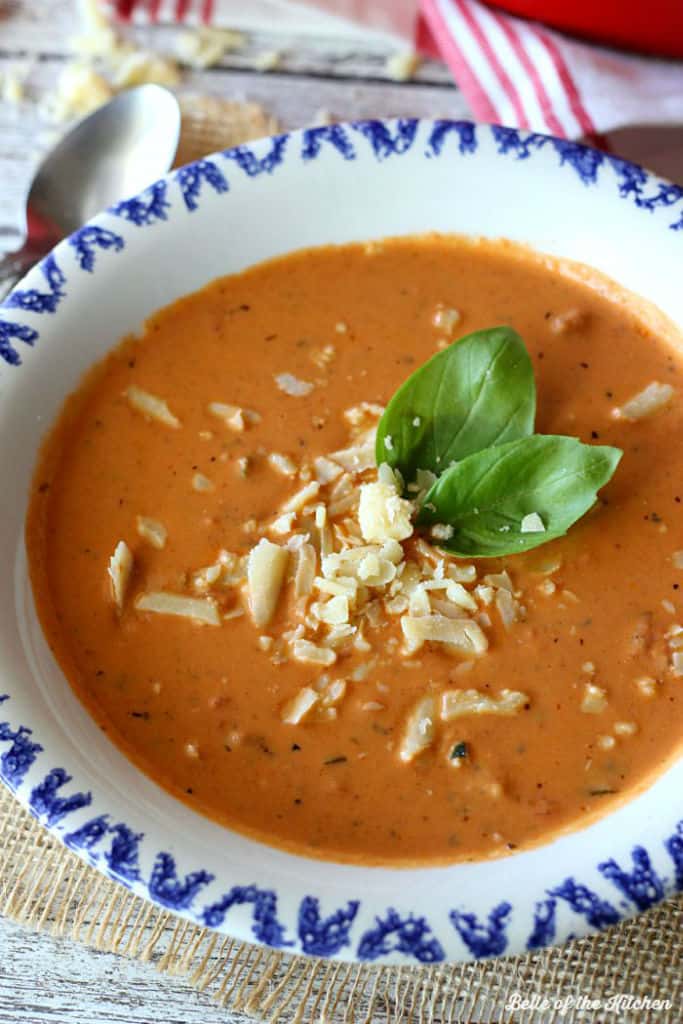 I think for a lot of people, soup weather is just around the corner. It's still pretty sweltering out here on Oahu and should continue to be that way for a little while longer. Even when it's winter time, though, we don't really ever get "soup weather," which is something I really miss from back home.
And while we may not ever have soup weather, we definitely have our fair share of hurricane weather! When the hurricanes blow through and drop avalanches of rain on us, I tend to want to just stay inside and cook up something warm and toasty. And that's how this soup came about!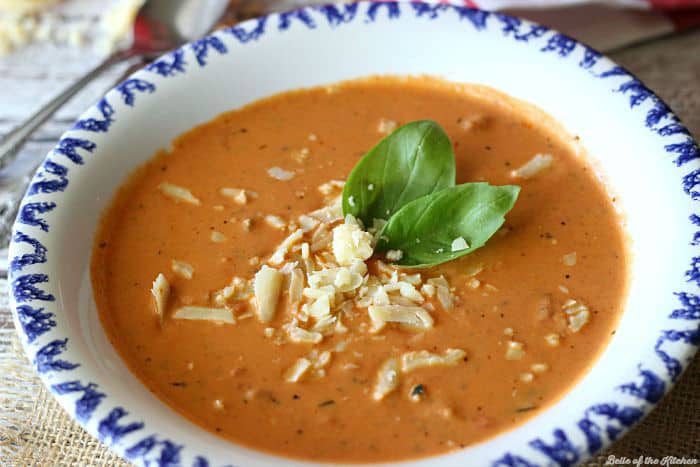 See, the weather a couple of weeks ago got pretty nasty. We were literally surrounded by hurricanes. See photo below: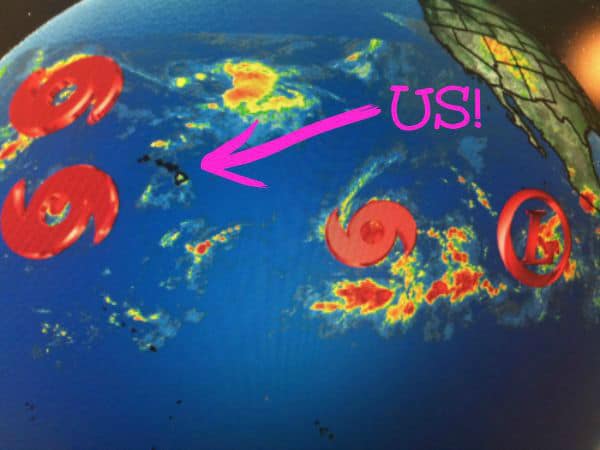 Nothing major happened aside from TONS of rain, and flooding in some areas.
Flooding is kind of a regular thing here, though. My phone was constantly blowing up with flood warnings that week, and we get them other times as well.
With all that time spent cooped up inside, I decided to try my hand (once again) at making one of my chilly weather favorites, Tomato Basil Soup.
There is a local place here called Aloha Salads that makes the best Tomato Basil Soup I've ever eaten. It's creamy and delicious, and I have tried probably a dozen different recipes in hopes of recreating it at home.
None of them have done it for me, until this one. It's still not an exact replica, but it's pretty darn close!
There is one special ingredient in here that really makes it good. Are you ready for this? Marinara sauce!
Crazy, right? But it works! And it's a perfect base. Try and use a good quality marinara if you can because it will just add to the flavor. I like Rao's sauce, but it can be expensive.
I also used to LOVE the sauces by Giada de Laurentis that were sold at Target. My heart felt like it broke into a million little pieces when they stopped carrying them last year. Any marinara would really work here, though, homemade included!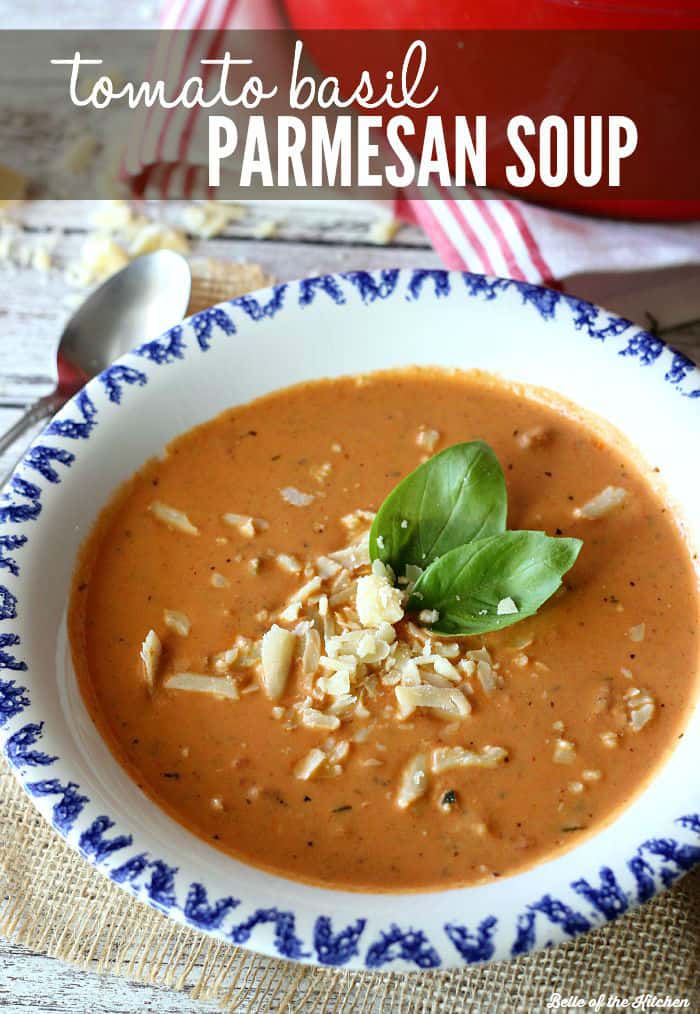 In addition to the marinara, you'll add in some chicken broth, a can of italian diced tomatoes, cream, basil, parmesan cheese, and some seasonings. It's ready for you in under 30 minutes! Can't beat that!
Enjoy the soup y'all and have a great weekend!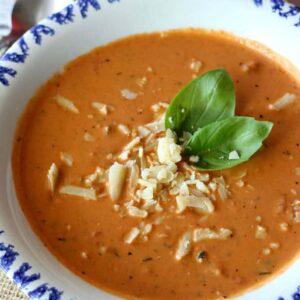 Creamy Tomato Basil Soup
Warm up with a bowl of this quick and easy Creamy Tomato Basil Soup. Made with diced tomatoes, cream, fresh basil, parmesan, and a surprise ingredient!
Ingredients
1 (24 oz) jar marinara sauce
1 (14 oz) can italian diced tomatoes
1 1/2 cups chicken stock
1 tsp oregano
1 tsp dried basil
3/4 tsp black pepper
1/2 tsp salt
1/2 tsp garlic powder
1 handful fresh basil,, chopped
1/2 cup grated parmesan cheese,, plus more for topping
1 cup heavy cream
Instructions
In a large sauce pan, combine marinara sauce, diced tomatoes, chicken stock, oregano, dried basil, pepper, salt, and garlic powder over medium-high heat. Bring to a low boil, then reduce heat to medium-low.

Stir in heavy cream, grated parmesan, and chopped fresh basil. Stir until smooth and cheese is melted. Allow to cook over low heat for 5-10 more minutes to allow flavors to blend. Taste and adjust seasonings. Enjoy!
Calories: 235kcal, Carbohydrates: 12g, Protein: 7g, Fat: 18g, Saturated Fat: 10g, Cholesterol: 63mg, Sodium: 1111mg, Potassium: 602mg, Fiber: 2g, Sugar: 7g, Vitamin A: 1225IU, Vitamin C: 14.4mg, Calcium: 161mg, Iron: 2.2mg

If you like this Creamy Tomato Basil Soup, then you might also like:
Instant Pot Loaded Potato Soup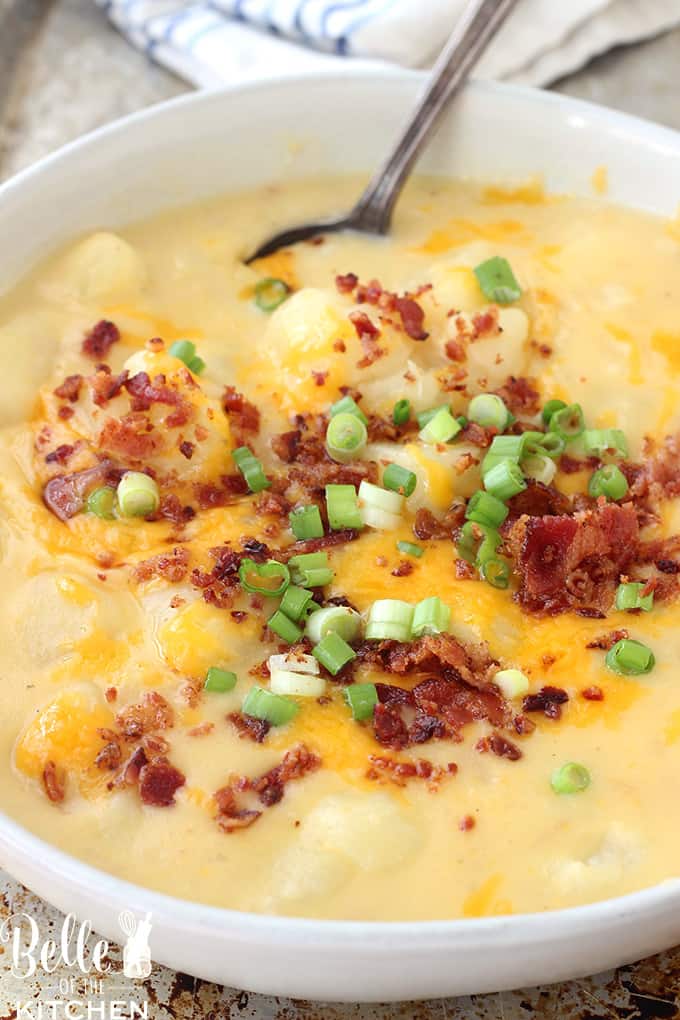 This site contains affiliate links, if you make a purchase through them, we receive a small commission.