These Skillet Chicken Fajita Quinoa Bowls are made with marinated chicken, peppers, onions, and a homemade corn salsa. Serve over cooked quinoa for a healthy and delicious weeknight dinner!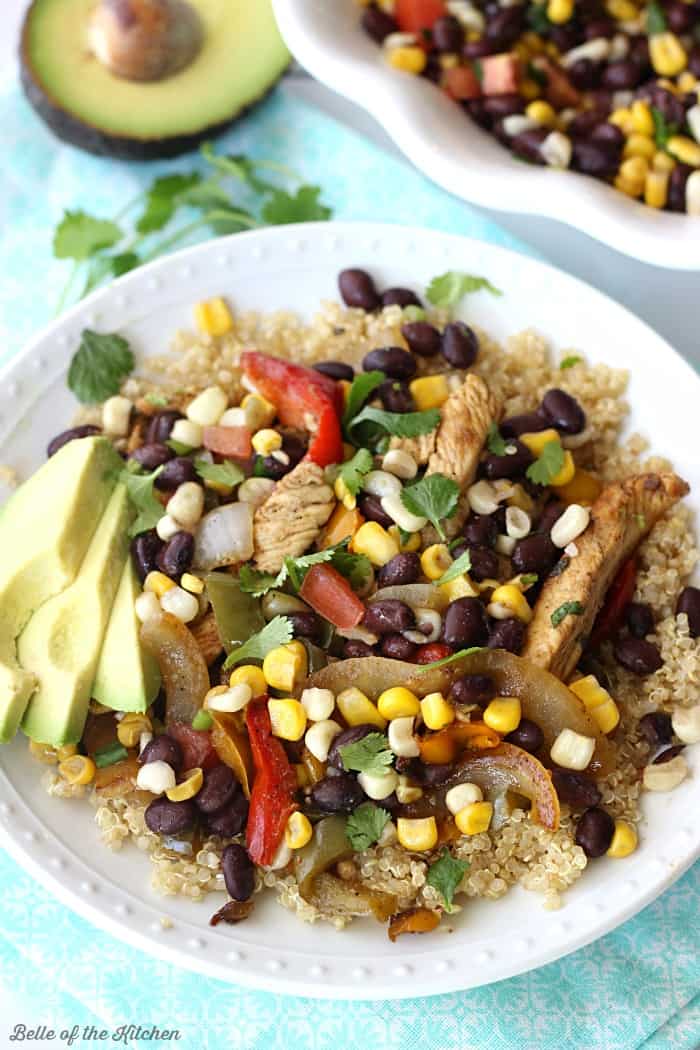 Hey y'all and happy Wednesday! I'm making good on my Instagram promise from earlier this week and bringing you a yummy and healthy dinner recipe to help keep your New Year's resolutions on track!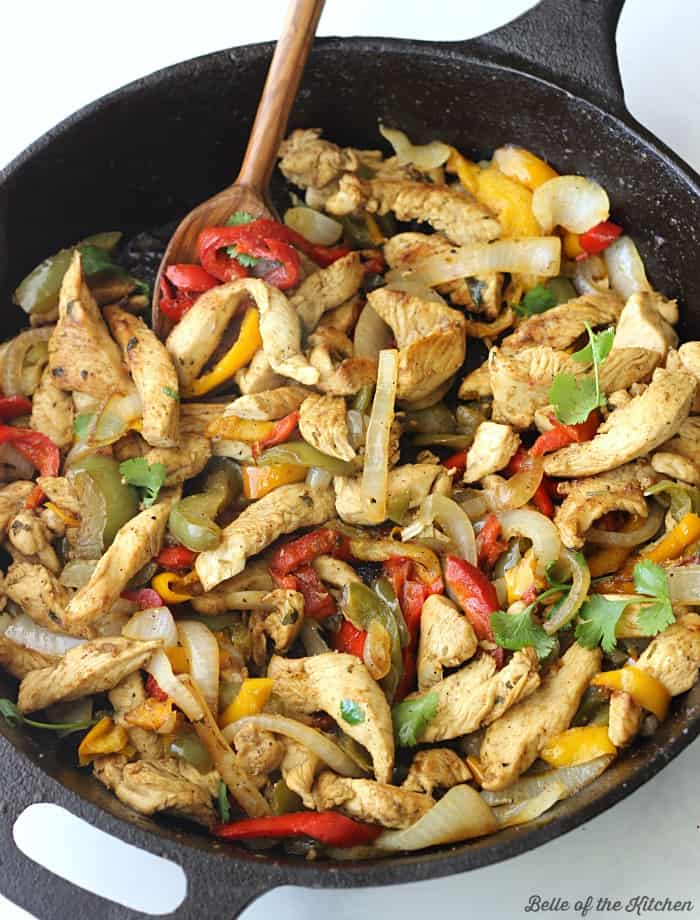 Mexican food and southwest style food are by far my favorite. My family shares this same love of bold flavors, so we usually have enchiladas, tacos, burritos, fajitas, carnitas, etc. at least once a week. I decided to try lightening up one of our favorites, chicken fajitas, by replacing the tortillas with quinoa and adding in some easy to prepare veggies from C&W Vegetables that I bought at Walmart earlier this week.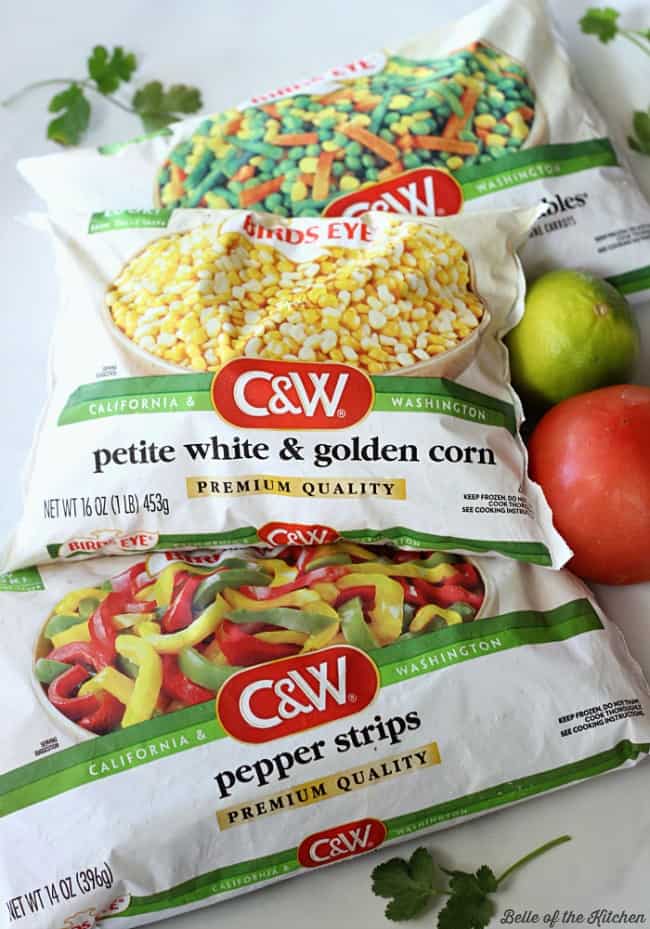 As much as I love eating fajitas and other veggie-filled meals, I don't always enjoy all of the prep work that goes into it. Chopping vegetables and preparing dinner can be time consuming, especially when it's a weeknight and you're busy with kids, work, household chores, and more.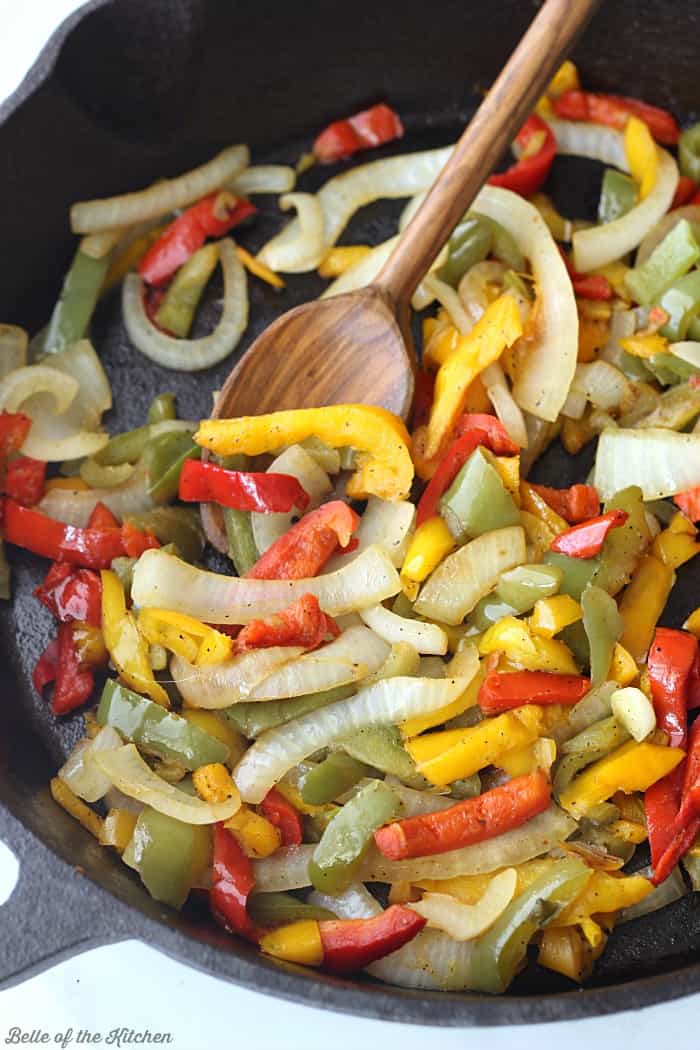 That's why I am in love with these chicken fajita quinoa bowls! I saved a little bit of time by using chopped and frozen pepper strips and corn, then I made the fajitas in a skillet on the stove. Everything in this recipe is simple and healthy, and my kids enjoy it, too!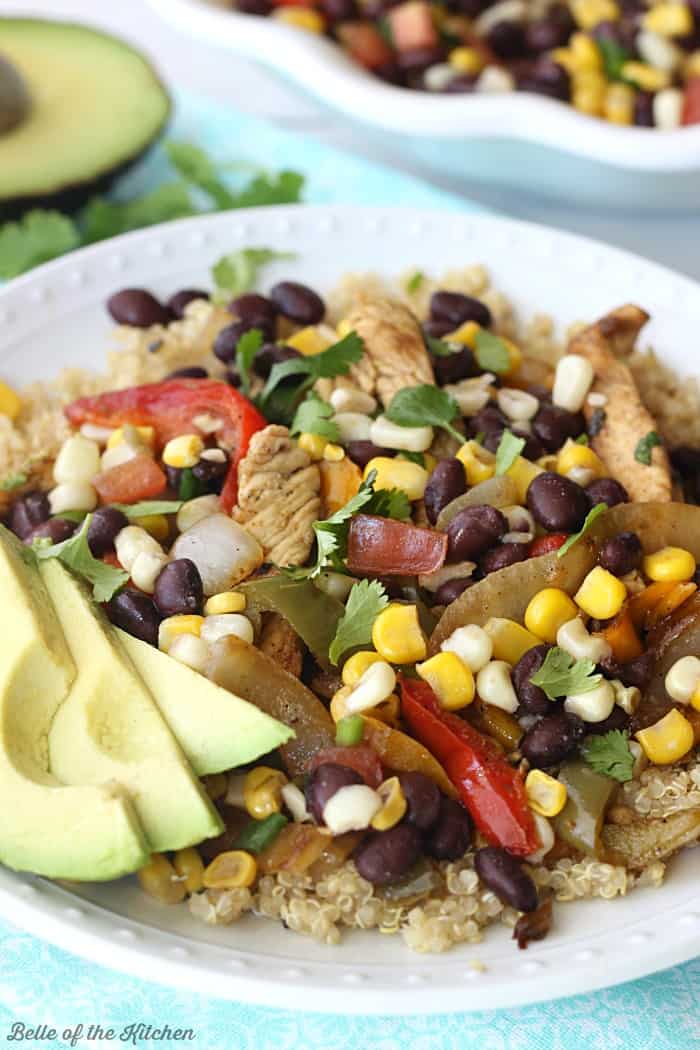 All you do is scoop some cooked quinoa in your bowl, top with the fajitas, then sprinkle on the corn and black bean salsa and you're set! I also added some sliced avocado to mine.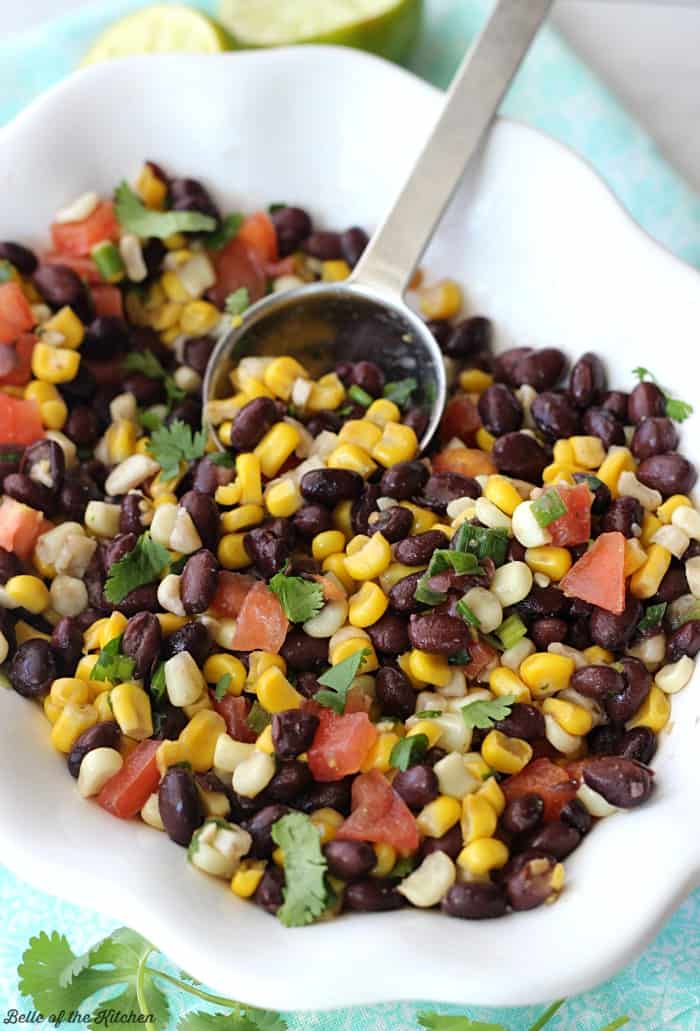 Make sure you add C&W Vegetables to your shopping list and don't forget to take advantage of the $.50 off of 1 package of C&W vegetables Ibotta coupon good at select Walmart stores. (while supplies last)

Skillet Chicken Fajita Quinoa Bowls
Ingredients
Fajitas:
¼ cup olive oil
¼ cup lime juice
2 cloves garlic, minced
½ teaspoon salt
½ teaspoon cumin
½ teaspoon oregano
½ teaspoon chili powder
2 Tablespoons cilantro, chopped
1.5 pounds boneless, skinless chicken breasts, sliced into strips
1 large onion, sliced
1 package C&W Vegetables frozen pepper strips
1 cup quinoa
Corn and Black Bean Salsa:
1.5 cups C&W Vegetables frozen corn, thawed
1 (15 oz) can black beans, drained and rinsed
1 tomato, diced
2 Tablespoons green onion, diced
2 Tablespoons cilantro, chopped
1 clove garlic, minced
2 Tablespoons lime juice
½ teaspoon cumin
½ teaspoon salt
Optional toppings:
Sliced avocado
Chopped Cilantro
Instructions
In a large bowl, combine olive oil, lime juice, garlic, salt, cumin, oregano, chili powder and cilantro. Add in the chicken breasts and coat evenly. Cover the bowl with plastic wrap and refrigerate for at least 20-30 minutes, or up to 3 hours.
While chicken is marinating, prepare the corn salsa. Thaw the frozen corn by placing it in a colander and rinsing with cold water until completely thawed. Drain well then add to a medium sized bowl with remaining ingredients and mix well. Refrigerate until ready to use.
Prepare quinoa according to package directions and keep warm until ready to use.
In a large skillet, heat 1 teaspoon of olive oil over medium-high heat. Add the sliced onions and frozen peppers and season to taste with salt and pepper. Cook until tender, about 5 minutes. Drain any liquid that has accumulated in the pan, then remove vegetables to a plate and set aside.
Add 1 more teaspoon of olive oil to the skillet. Remove chicken from the marinade and add to the hot skillet. Cook about 3-4 minutes per side, or until chicken is cooked through. Add the onions and peppers back into the pan and give everything a good stir.
Divide the cooked quinoa evenly between four bowls (about ¾ cup each). Top with the fajitas, corn salsa, sliced avocado, and chopped cilantro if desired. Enjoy!

This post is part of a social shopper marketing insight campaign with Pollinate Media Group® and C&W®, but all my opinions are my own. #pmedia #premiumveggies http://my-disclosur.es