Crockpot Chicken and Noodles – a comforting, home cooked meal made right in your slow cooker. Creamy noodles and juicy chicken are cooked in a savory sauce for a meal the whole family will love!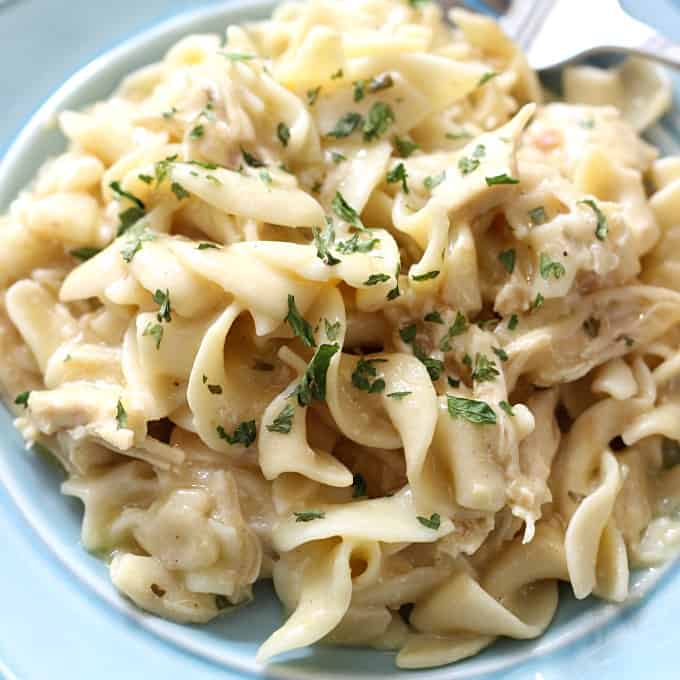 Hey there, y'all. Sorry it's been awhile since my last recipe post. Even though I've been feeling better sickness-wise over the past couple of months, my energy level has seriously tanked. This pregnancy has truly thrown me for a loop and I am in countdown to baby-time! I've got roughly seven weeks to go and could not be more ready to meet our little guy!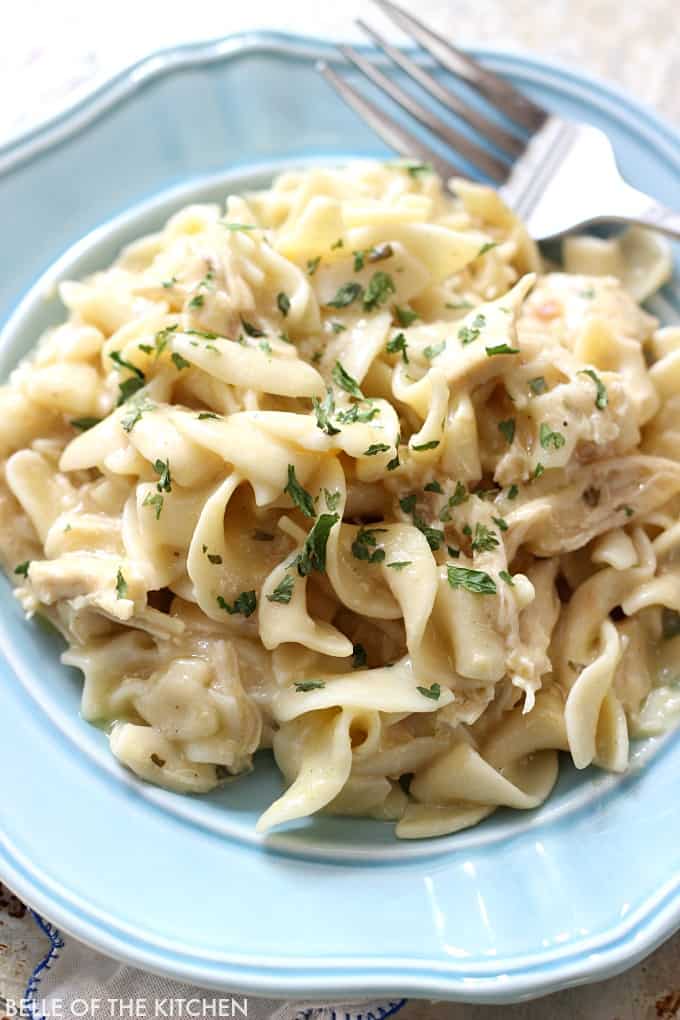 Something that has been helping, at least where meal times are concerned, has been my trusty crockpot. I've been making a lot of our slow cooker favorites, including Cheesy Crockpot Tortellini, Cilantro Lime Chicken Tacos, and Loaded Potato Soup. I have gotten so achey and uncomfortable over the past few weeks, and my feet and back throb by the end of the day. Standing over the stove making dinner feels like torture on my sore body, so being able to throw everything I need to make this Crockpot Chicken and Noodles into the slow cooker at the beginning of the day has been a lifesaver.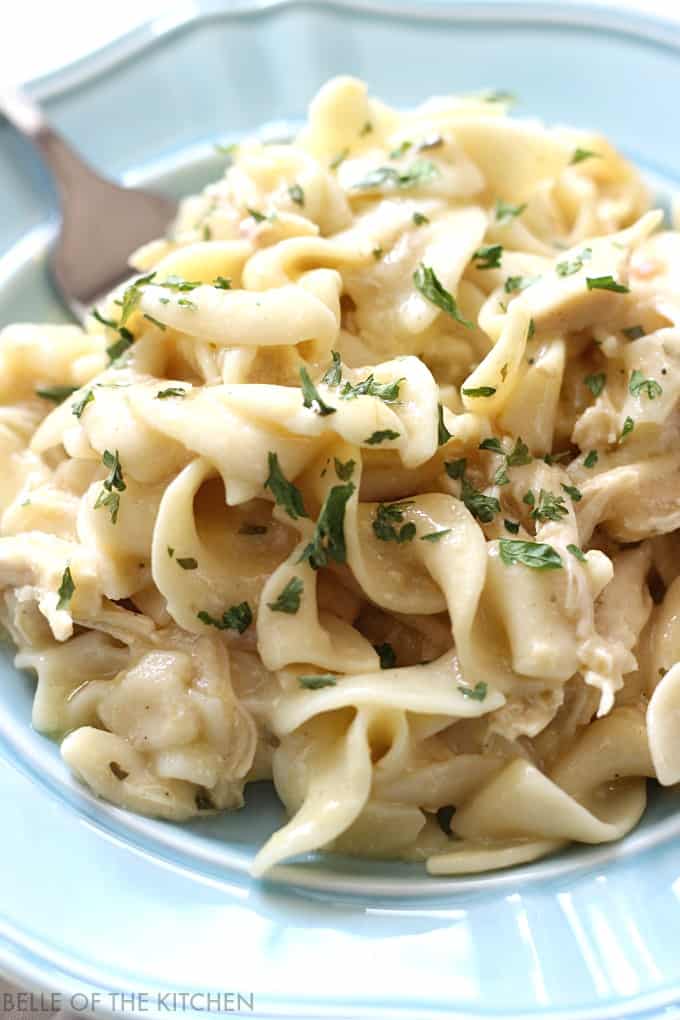 These Crockpot Chicken and Noodles are a family favorite and I've been making it for awhile now. I use the same spices in it that I do for my Slow Cooker Chicken and Dumplings, and it creates a deliciously savory sauce for the chicken and noodles to cook in. My kids devour this one, and it tastes SO good as leftovers the next day, too. We usually eat this with either a salad or some roasted veggies like broccoli or asparagus.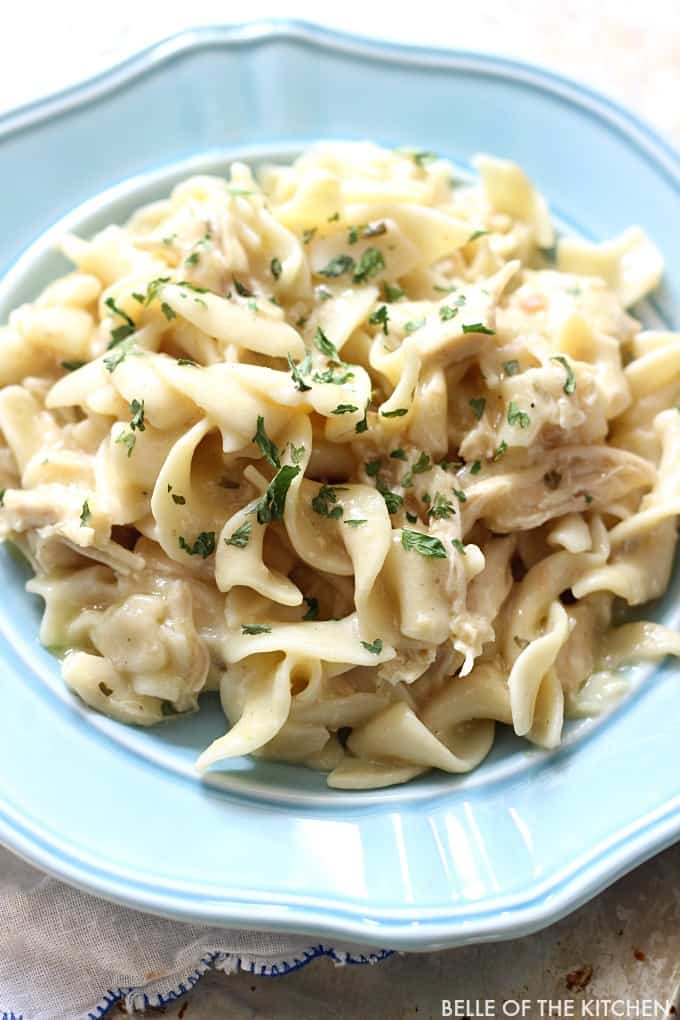 Now, this recipe does use cream of chicken soup. I know not everyone is crazy about cream soups these days, but I actually have a brand that I really like and that doesn't contain a lot of junk in the ingredients list.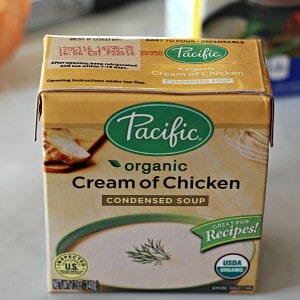 If you've never tried the Organic Cream of Chicken Soup from Pacific Foods, it's really good stuff! It has great flavor and I feel a lot better about the ingredients, too.
Have a great rest of the week, y'all. I've got a few more recipes coming up soon, including some Pesto Green Beans, Teriyaki Salmon, and a Banana Berry Pomegranate Smoothie! Stay tuned. 😉

Crockpot Chicken and Noodles
Ingredients
1½- 2 pounds boneless, skinless chicken breasts
2 cans (or boxes) cream of chicken soup
1-2 tsp dried parsley
½ tsp seasoned salt
¼ tsp poultry seasoning
¼ tsp garlic powder
½ stick butter, sliced
3½ cups chicken broth
8 oz. egg noodles, uncooked
Instructions
Place chicken breasts in the bottom of the crockpot.
Top with the soups and sprinkle with the spices. Add butter slices to the top, then pour in the chicken broth.
Cook over low heat for 5-6 hours, or high heat for 3-4 hours. Remove the chicken from the pot and shred into large chunks with two forks.
Add the shredded chicken back to the pot along with the egg noodles and stir. Continue cooking for 30-45 minutes, until noodles are tender. Enjoy!

Related posts: