Crockpot Honey Sriracha Meatballs – yummy meatballs cooked in the crockpot in a tangy sauce with a kick of Sriracha. These make for an easy appetizer or a main dish served over rice!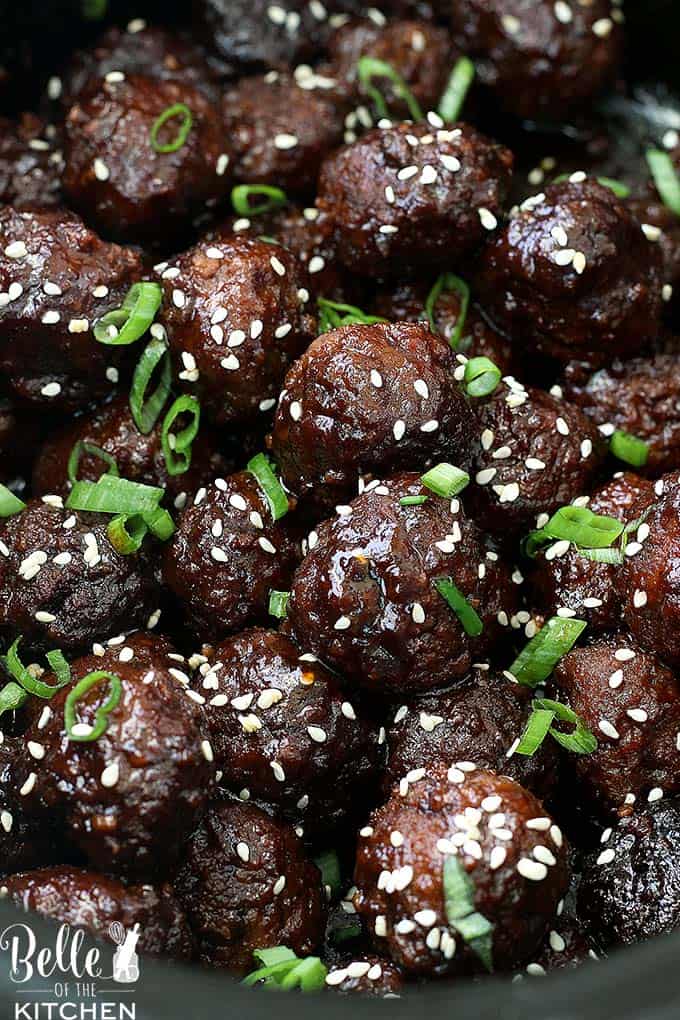 Hey there, y'all! Today is an extra special day on the blog because I'm sharing a recipe from a fun blogger swap called"Freaky Friday." I've participated in this a couple of times before bringing you recipes like Oatmeal Lemon Creme Bars, Easy Baked Apples, and Mixed Berry French Toast Casserole. Basically, the way it works is that each of us bloggers was secretly assigned another blog to read through and find a recipe to make and post about. We weren't allowed to tell each other whose blog we had or what we were making from their site. It's all been a big surprise until now!
I had the pleasure of perusing the Full Belly Sisters blog, a website created by a team of sisters that focuses on healthy recipes, as well as providing support for pre and postnatal mothers. This worked out well for me considering my newest babe just turned three months old! I plan on trying their Berry Nutty Lactation Granola to help boost my milk supply, and their Green Grilled Cheese looks like a crazy delicious way to get in a healthy dose of veggies!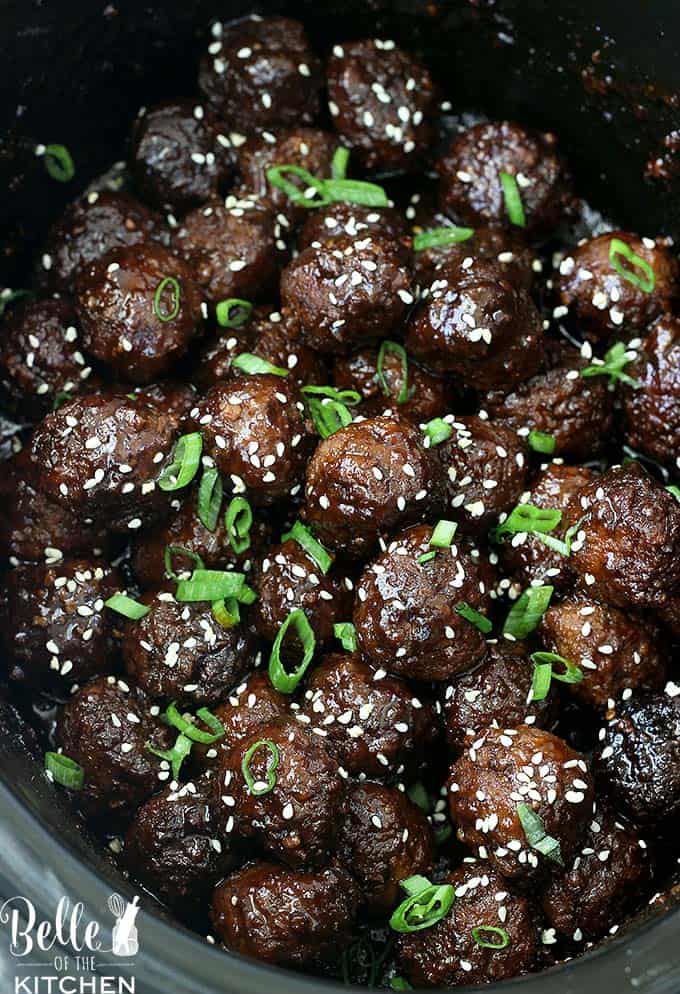 I decided to try out their recipe for Crockpot Honey Sriracha Chicken Wings because I was drooling over the pictures and needed something simple to make for dinner. With a new baby and two other little ones running around, easy is the name of the game these days and I love a good crockpot recipe! I decided to swap frozen meatballs for the wings only because I had a huge bag in the freezer that we needed to use up and I already had all of the other ingredients on hand. Who else loves recipes like that?!🙋
The flavor of these honey Sriracha meatballs is so yummy and I love the kick from the Sriracha. My kids did comment that they were a little spicy, but that didn't stop them from chowing down on them! So I would say they do have some spice, but not an overwhelming amount.
Enjoy y'all and be sure to check out the other Freaky Friday blogs below!  Can't wait to see who had mine!

Crockpot Honey Sriracha Meatballs
Ingredients
2 Tablespoons butter, melted
⅔ cup honey
⅓ cup Sriracha
¼ cup soy sauce
¼ cup balsamic vinegar
½ teaspoon ground ginger
2 cloves minced garlic
2 pounds frozen meatballs
sesame seeds and thinly-sliced scallion greens, to garnish
Instructions
In a medium sized bowl mix together the butter, honey, Sriracha, soy sauce, balsamic vinegar, ground ginger, and garlic. Add frozen meatballs to the bowl of your slow cooker and pour the sauce over the top. Mix together ensuring all the meatballs are coated.
Turn crockpot to high and cook for 3 to 4 hours.
Sprinkle with sesame seeds and chopped scallions to serve.
Freaky Friday was brought to you by all of these awesome bloggers!
A Dish of Daily Life – https://www.adishofdailylife.com/
An Affair from the Heart – https://anaffairfromtheheart.com/
A Kitchen Hoor's Adventures – http://www.akitchenhoorsadventures.com/
Aunt Bee's Recipes – http://www.auntbeesrecipes.com/
Belle of the Kitchen – https://belleofthekitchen.com/
Bowl Me Over – http://bowl-me-over.com/
The Devilish Dish – http://thedevilishdish.blogspot.com/
The Flavor Blender – https://www.theflavorbender.com/
Full Belly Sisters – http://fullbellysisters.blogspot.com/
The Foodie Affair – http://www.thefoodieaffair.com/
Honey & Birch – https://www.honeyandbirch.com/
Hostess at Heart – https://hostessatheart.com/
PlatterTalk – http://www.plattertalk.com/
Lemoine Family Recipes – http://www.lemoinefamilykitchen.com/
Lisa's Dinnertime Dish – http://lisasdinnertimedish.com/
PicNic – http://picnicnz.blogspot.co.nz/
Seduction in the Kitchen – https://www.seductioninthekitchen.com/
Take Two Tapas – https://www.taketwotapas.com/
Who Needs a Cape? – http://whoneedsacape.com/
If you like these Crockpot Honey Sriracha Meatballs, you might also like:
Related posts: