Cheesy Tuna Casserole
Hello Belle of the Kitchen friends! I'm Carrie from Kenarry: Ideas for the Home where we share recipes, crafts, DIY projects and kid activities to turn your house into a home your family loves. Each month, Ashlyn and I trade delicious new ideas for the kitchen to bring you a new recipe around a common theme. Both of our families are big fans of pasta so for April we thought we'd exchange pasta recipes. Today I'm sharing a Cheesy Tuna Casserole Recipe made with shell pasta, broccoli florets, shredded monterey jack cheese and crushed barbecue chips.
If you're looking for Ashlyn, you'll find her at Kenarry: Ideas for the Home today sharing her delicious recipe for Skillet Lasagna. She'll share it with you here in a few weeks, but if you'd like to make it sooner just head to Kenarry: Ideas for the Home to pick up the recipe.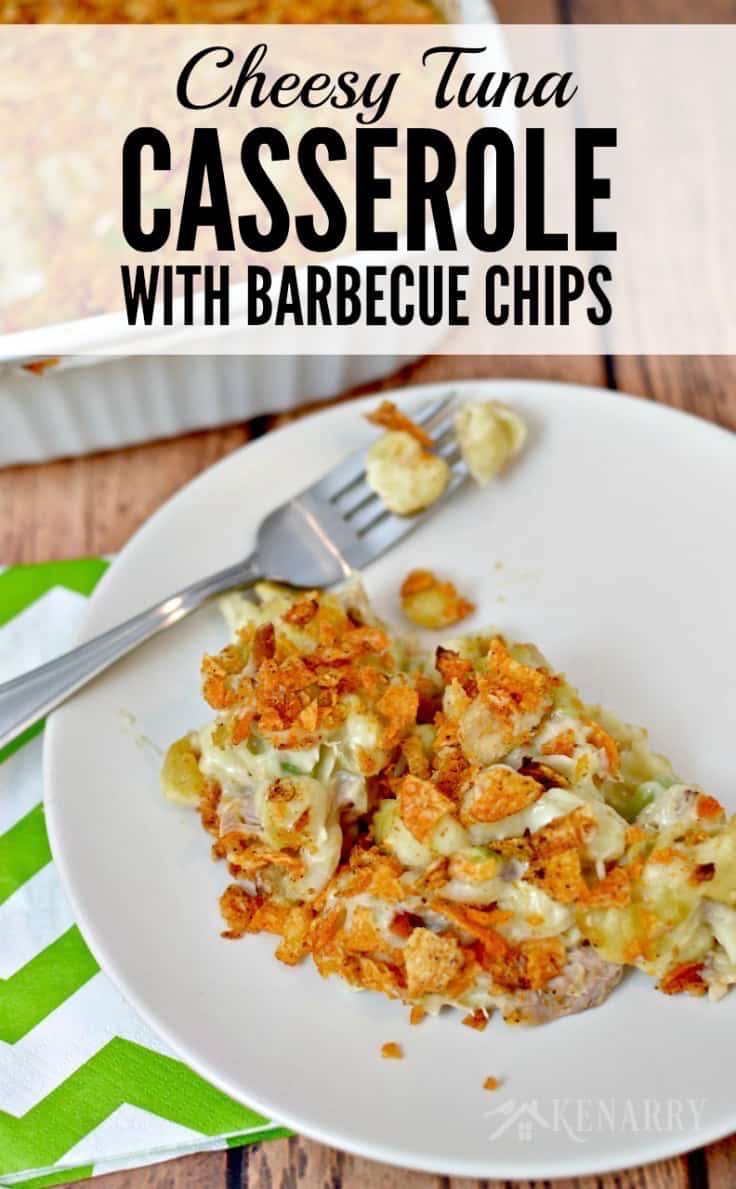 Pasta dishes are my all-time favorite kind of food to eat. I love it in all its various forms – macaroni, spaghetti, cavatappi, penne, rigatoni… I could go on and on, but you're probably already drooling a little bit on your computer keyboard or electronic device just thinking about all that delicious pasta. I know I am. Needless to say I was thrilled when Ashlyn agreed to trade pasta recipes this month.
When my husband, Kent and I first got married we talked a lot about food and the recipes we enjoyed growing up. My absolute favorite food in the whole wide world is my mom's spaghetti and meatballs. Kent said one of his best food memories as a child was his mother's tuna casserole recipe. Most of the time you find a tuna casserole recipe is made with egg noodles, cream based soups, peas and breadcrumbs. What made Kent's mother's tuna casserole recipe extra special though was that she topped it with crushed barbecue chips.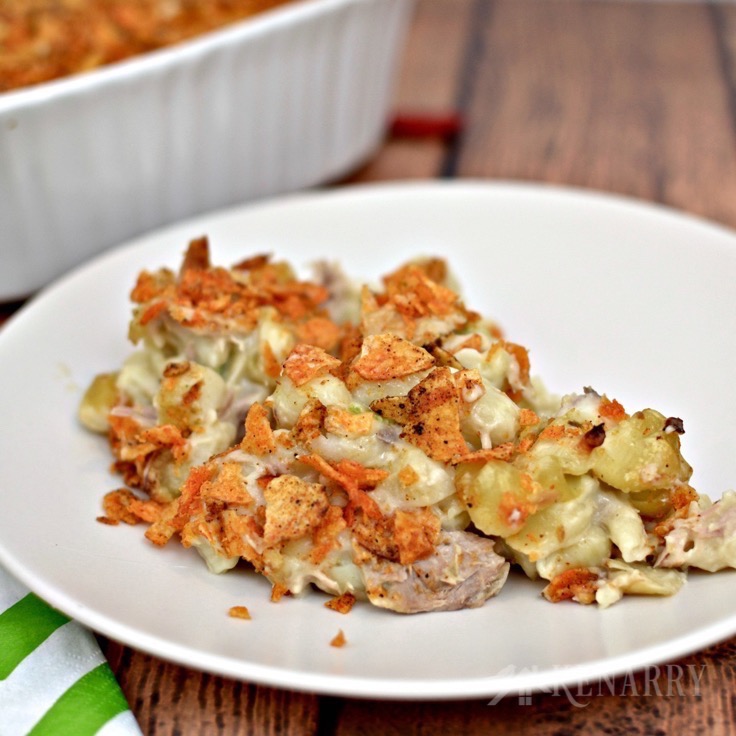 Over our eight years of marriage, I've adapted the classic tuna casserole recipe to incorporate flavors we both enjoy. For example, I can't stand peas so I've replaced them with broccoli florets in our tuna casserole recipe. I also use whatever kind of pasta we have on hand in the cupboard and don't necessarily limit our tuna casserole recipe to egg noodles. For the recipe I'm sharing today I actually used shell pasta and also threw in monterey jack cheese along with cream of celery soup and a splash of milk.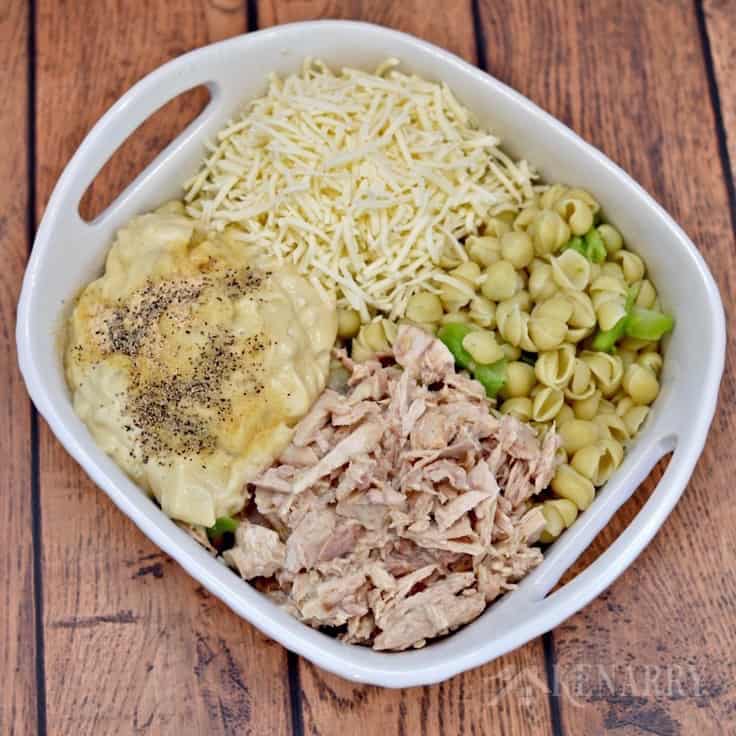 The one thing I have not changed though is the crushed barbecue chips. Kent is absolutely insistent that tuna casserole needs to be topped with barbecue chips just like his mom's. I can't say that I blame him. The barbecue chips add some extra flavor and crunch that really can't be beat!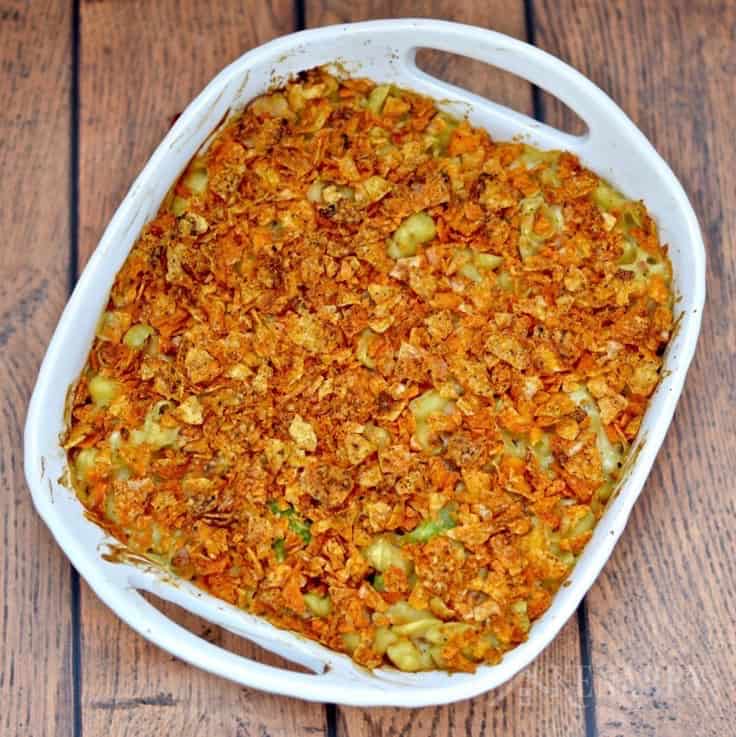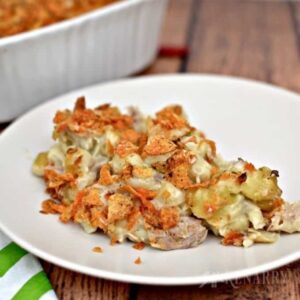 Cheesy Tuna Casserole
This Cheesy Tuna Casserole Recipe is made with shell pasta, broccoli florets, shredded monterey jack cheese and crushed barbecue chips.
Ingredients
3 cups uncooked small shell pasta
1 can cream of celery soup,, 10.5 oz
1/2 cup milk
1 cup frozen broccoli florets
2 - 5 oz cans tuna,, drained and flaked
1 cup shredded monterey jack cheese
⅛ teaspoon black pepper
½ teaspoon garlic powder
½ teaspoon salt
1 cup crushed barbecue chips
Instructions
Preheat the oven to 400 degrees.

Place a large pot of water on the stove and bring to a boil. Boil the shell pasta for 4 minutes. Add 1 cup of frozen broccoli florets, cook for 4 more minutes. Drain and rinse in a colander.

In a lightly greased 9 x 9 glass baking dish, combine the cream of celery soup, milk, shell pasta, broccoli, tuna, shredded cheese and spices.

Bake the Cheesy Tuna Casserole at 400 degrees for 25 minutes. Top with crushed barbecue chips. Bake 5 minutes more. Serve and enjoy!
Calories: 629kcal, Carbohydrates: 75g, Protein: 34g, Fat: 20g, Saturated Fat: 6g, Cholesterol: 56mg, Sodium: 1266mg, Potassium: 811mg, Fiber: 3g, Sugar: 4g, Vitamin A: 550IU, Vitamin C: 24.3mg, Calcium: 229mg, Iron: 3.5mg
To enjoy this Cheesy Tuna Casserole recipe as leftovers a day or two after you've had it for dinner. Simply crush up some extra barbecue chips and sprinkle them over the top after you've microwaved the leftover pasta on high for a minute or two. The original barbecue chips get soft from being in the refrigerator, but you won't even notice once you've sprinkled fresh ones on the Cheesy Tuna Casserole.

Cheesy Tuna Casserole Recipe Serving Suggestions
We recommend serving the Cheesy Tuna Casserole recipe with a side salad and garlic bread. At our house, we like to also serve it with a handful of extra barbecue chips to dip into the Cheesy Tuna Casserole.
If you want you can prepare the Cheesy Tuna Casserole recipe the night before and store it covered overnight in the refrigerator. This will give you an easy weeknight meal you can pop right into the oven. Just don't put the barbecue chips on it until it says to do so later in the recipe or they'll get soggy.
Here are a few other tips and suggestions to help you enjoy this Cheesy Tuna Casserole recipe:
For a little added crunch, add 1/2 cup of chopped celery or green pepper to the Cheesy Tuna Casserole recipe before you bake it.
You could also double or triple the amount of broccoli florets used in the Cheesy Tuna Casserole recipe to increase your veggie intake.
To give the Cheesy Tuna Casserole recipe some additional flavor, you could saute onions and mushrooms to add prior to baking it.
If you can't find shredded monterey jack cheese in your grocery store, use colby-jack cheese, cheddar-jack cheese or one of the other jack cheese blends. You could even replace the monterey jack cheese with shredded pepper jack cheese to spice the Cheesy Tuna Casserole recipe up a few notches.
What's your favorite way to enjoy pasta? Ashlyn and I are always looking for new ideas for the kitchen – especially ideas that involve pasta – so please comment below and share.
If you enjoyed this Cheesy Tuna Casserole recipe, please share it with your friends or pin it for later:

You may also enjoy these pasta recipes on Kenarry: Ideas for the Home –
Sausage and Meatball Soup with Pasta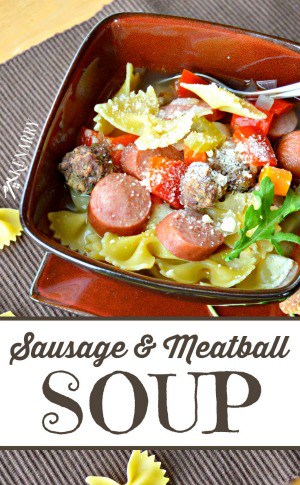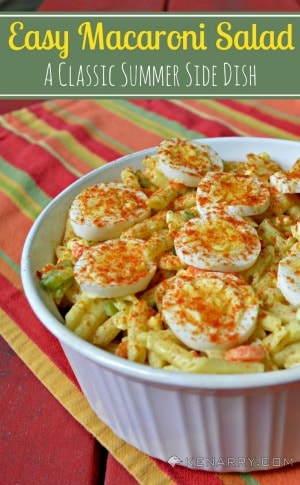 About Carrie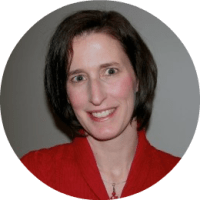 Carrie is the chief writer, crafter and cook at Kenarry: Ideas for the Home where she and her husband create and curate ideas you'll find useful for your home. She's an optimist by nature and enjoys sharing recipes, trying new craft ideas, planning for parties and events as well as organizing and decorating. Carrie's passion, though, is volunteerism and connecting people with opportunities to make a difference in their community. When she's not blogging, preparing meals or picking up around the house, you're bound to find her hidden away in a castle under the stairs reading to her two young boys. Whether you're cooking, crafting or creating for your family, you'll find inspiration by connecting with Carrie. Find her online at Kenarry, Google+, Pinterest, Facebook, Twitter and Instagram.
This site contains affiliate links, if you make a purchase through them, we receive a small commission.