Bruschetta Tilapia with Balsamic Glaze
Thank you to Bumble Bee for sponsoring this post.
Get a healthy dinner on the table in under 30 minutes with this Bruschetta Tilapia! Oven roasted Tilapia is topped with the best ever bruschetta, then drizzled with a balsamic glaze!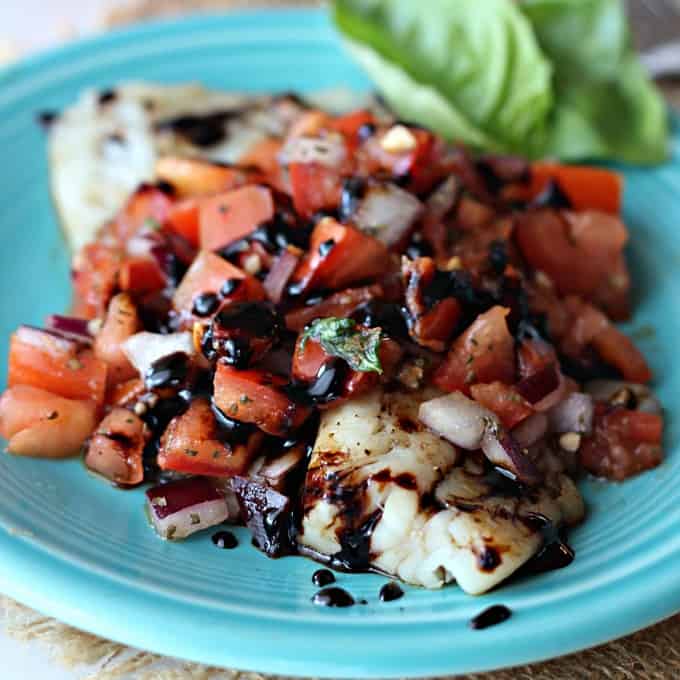 We started eating fish a lot more when we moved to Hawaii a little over three years ago. Before that, the extent of my fish eating repertoire was mostly tuna salad and the occasional shrimp dish, which I usually preferred deep fried! Since then, I've gotten to try so many tasty and delicious kinds of fish, and I'm proud to say that I even enjoy "poke," a raw fish salad that's hugely popular here in Hawaii!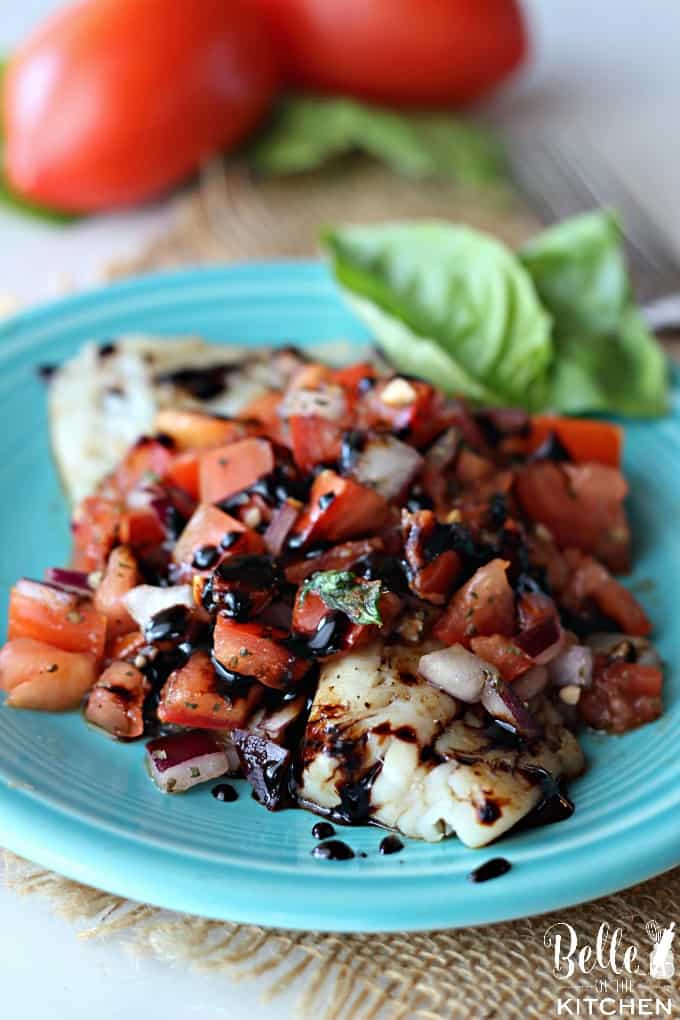 Now that I've grown to love fish so much, it's become a frequent staple on our dinner table. My kids even enjoy it, and that makes dinner time a lot easier and less stressful when they're on board with what we're eating. One of my favorite types of fish to prepare is tilapia thanks to its mild flavor, and the fact that it lends itself well to different toppings and flavors.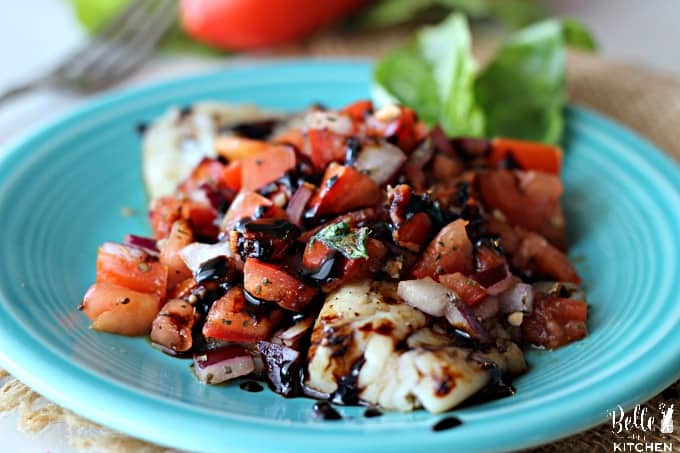 As much as I enjoy fish, though, sometimes it's not always so simple to prepare. You have to make sure it's cooked just right (no over or undercooked fish, please!) and if you buy it fresh, it needs to be cooked soon after buying or else it will spoil.
After dealing with these kinds of issues before and feeling discouraged, I was really excited to discover the new Bumble Bee SuperFresh® line of frozen fish! It's a complete line of naturally-seasoned, restaurant quality, "fish-forward" prepared seafood solutions for the home. It really raises the bar for what seafood lovers can expect from frozen food! They have all different kinds of fish to choose from including salmon, ahi tuna, and my personal favorite, tilapia.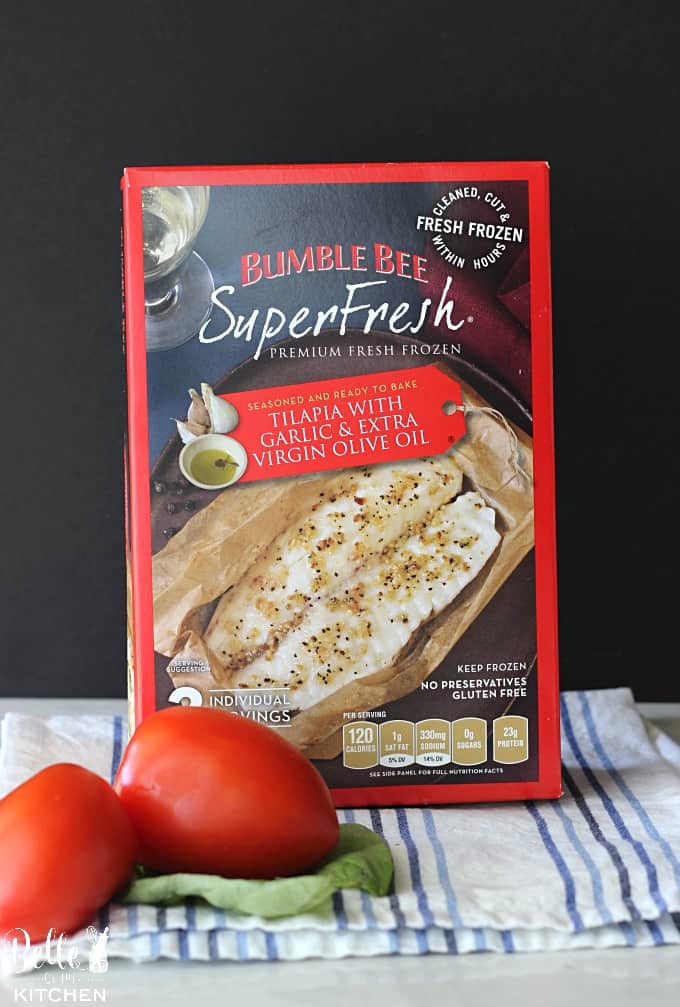 Seriously y'all, never has it been so easy to enjoy a delicious, premium tilapia fillet! This Bumble Bee SuperFresh® Tilapia is made with ground black pepper, fresh garlic, sea salt, and extra virgin olive oil—making every flaky bite fantastic. I made it into bruschetta tilapia by adding my favorite bruschetta on top along with a balsamic glaze, and it made for a healthy and super yummy dinner.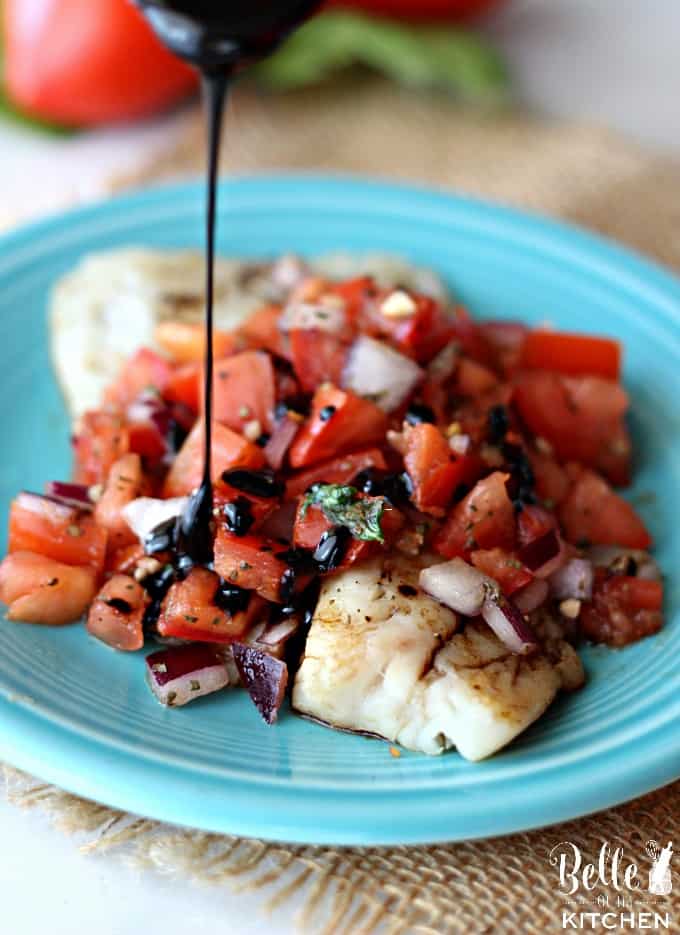 One of the things I like best about the Bumble Bee SuperFresh® seafood is that it's no mess, and no fuss. Their premium Salmon and Tilapia come with their own parchment paper baking pouches and go from freezer to table in under 25 minutes. They're high in protein, and seasoned with pure and simple ingredients that let the fish shine through. That's one of the things I loved most about this dish; simple, yet versatile and delicious flavors.
You can find Bumble Bee SuperFresh® in the frozen seafood section, typically near the seafood counter, at your local grocery store. Click here to find what stores carry it in your area.
Hope you enjoy this Bruschetta Tilapia, y'all!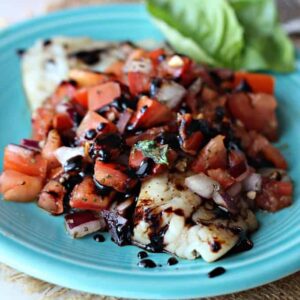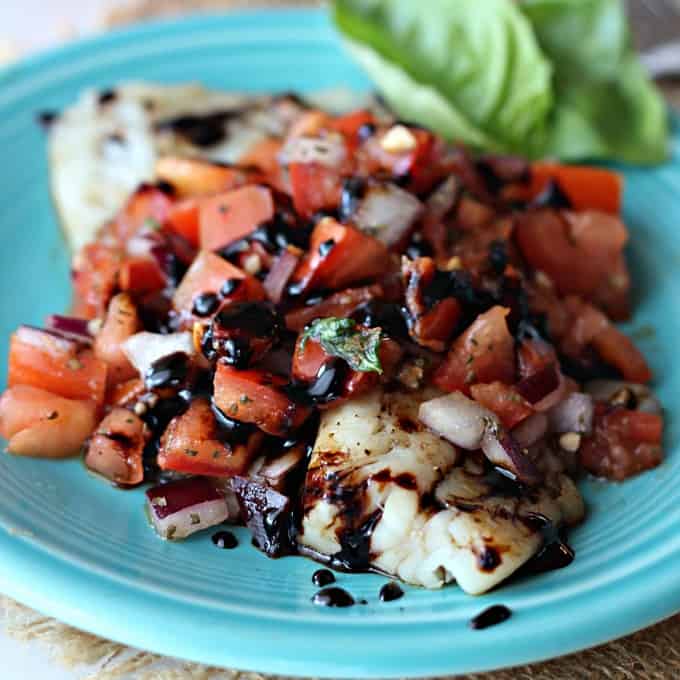 Bruschetta Tilapia with Balsamic Glaze
Get a healthy dinner on the table in under 30 minutes with this Bruschetta Tilapia! Oven roasted Tilapia is topped with the best ever bruschetta, then drizzled with a balsamic glaze!
Ingredients
1 package Bumble Bee SuperFresh® Tilapia with Garlic & Extra Virgin Olive Oil,, 2 fillets
Bruschetta:
4 Roma tomatoes,, seeds removed and diced
⅓ cup red onion,, diced
1½ teaspoons minced garlic
1½ teaspoons dried basil
2 teaspoons balsamic vinegar
½ teaspoon salt
fresh black pepper to taste
1 Tablespoon fresh basil,, chopped
Balsamic Glaze:
1/2 - 3/4 cup balsamic vinegar
Instructions
Preheat oven to 400 degrees.

Heat Balsamic vinegar over medium heat in a heavy bottomed sauce pan, stirring occasionally. Continue to simmer for 20-30 minutes, or until reduction thickens enough to coat a spoon. Remove from heat and allow to cool.

While balsamic vinegar cooks, bake tilapia in the preheated oven according to package directions.

To make the bruschetta, combine all bruschetta ingredients in a medium sized bowl and store in the refrigerator until ready to use. You can even make this in advance earlier in the day and pull it out when you're ready to eat. You will probably have some left over that you can eat eat with mini toasts as an appetizer if you want!

When fish is cooked, top with bruschetta and drizzle with balsamic glaze. Enjoy!
Calories: 308kcal, Carbohydrates: 28g, Protein: 36g, Fat: 3g, Saturated Fat: 1g, Cholesterol: 85mg, Sodium: 707mg, Potassium: 970mg, Fiber: 1g, Sugar: 23g, Vitamin A: 1035IU, Vitamin C: 17.7mg, Calcium: 81mg, Iron: 2.9mg
I was selected for this opportunity as a member of Clever Girls and the content and opinions expressed here are all my own.
This site contains affiliate links, if you make a purchase through them, we receive a small commission.