Chicken Rigatoni with Bleu Cheese, Bacon and Pears
Hello Belle of the Kitchen readers! It's Carrie from Kenarry: Ideas for the Home sharing the latest recipe in the Ideas for the Kitchen exchange where Ashlyn and I swap blogs once a month. This month, we decided pasta dishes would be a delicious trade. Today, I'm bringing you a creamy Chicken Rigatoni with crumbled bleu cheese, crispy bacon and juicy slices of pear. It is packed with flavor for a luscious dinner to savor with friends, loved ones and a few garlic breadsticks.
While I'm here, Ashlyn's at Kenarry: Ideas for the Home today sharing a delicious recipe for Macaroni and Cheese with Ham and Broccoli. She'll share the recipe with you in a few weeks. If you're anxious to try it sooner, though, head to Kenarry: Ideas for the Home and check it out.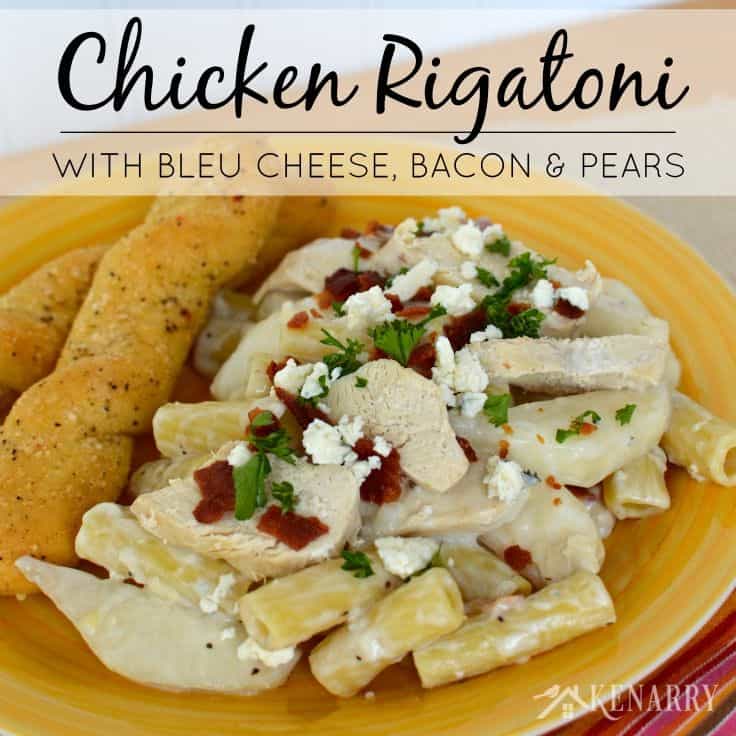 I was so excited when Ashlyn and I decided to trade pasta recipes for this month's Ideas for the Kitchen. To say pasta is my favorite type of food would be a gross understatement. I truly think I could eat it every night of the week if my family would let me. For example, every year for my birthday, I try to have my mother's spaghetti with homemade meatballs. While I would classify spaghetti and meatballs as my most favorite meal, I'm not picky when it comes to Italian fare – I like all types of pasta! Cream based or tomato based sauces, chicken or beef, with and without vegetables, I enjoy them all… except for seafood pasta. I'll pass on that!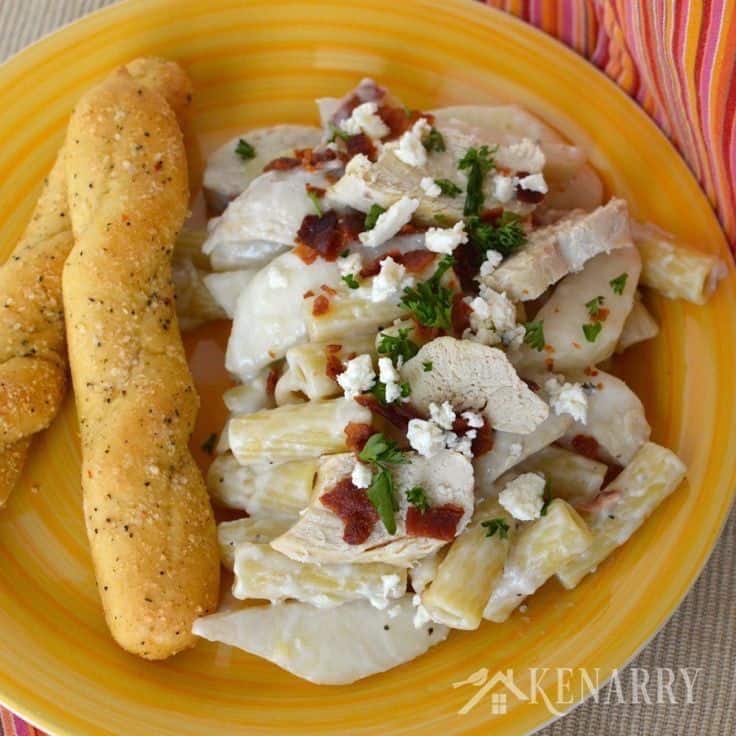 The recipe I'm sharing today uses rigatoni, but could be made with any shape pasta you prefer. It's topped with chunks of chicken and sliced pears in a creamy homemade bleu cheese sauce. As if that wasn't flavorful enough, before you serve the chicken rigatoni, you top it with bleu cheese crumbles, crispy bacon bits and parsley. It will tantalize your tastebuds and knock your socks off!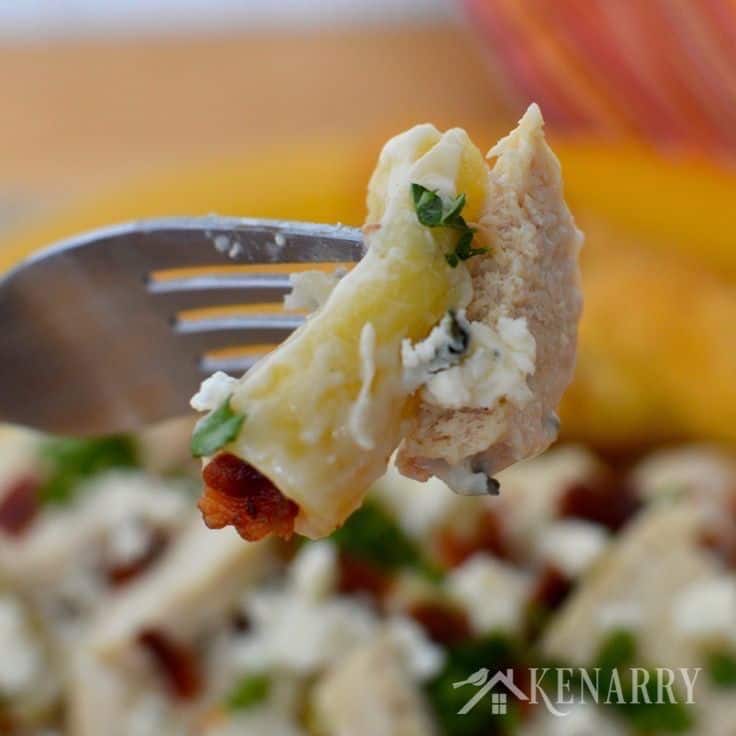 So what do you do if you're not a fan of bleu cheese? When I'm at a restaurant ordering pasta, my eyes immediately beeline for any entree with gorgonzola. I actually used gorgonzola the first time I made this Chicken Rigatoni. I only replaced it with bleu cheese this time around because I grabbed it by accident at the grocery store. The two cheese wedges look nearly identical in the dairy case. As I was preparing dinner that day, I realized my mistake and quickly sent a panicked text message to my younger brother, who's an amazing cook. He assured me I could use bleu cheese instead of gorgonzola in my recipe. I'm glad I listened because my husband, Kent, and I actually liked the Chicken Rigatoni better with the bleu cheese. If you prefer a milder cheese flavor, though, just know it's still delicious if you want to replace the bleu cheese with gorgonzola.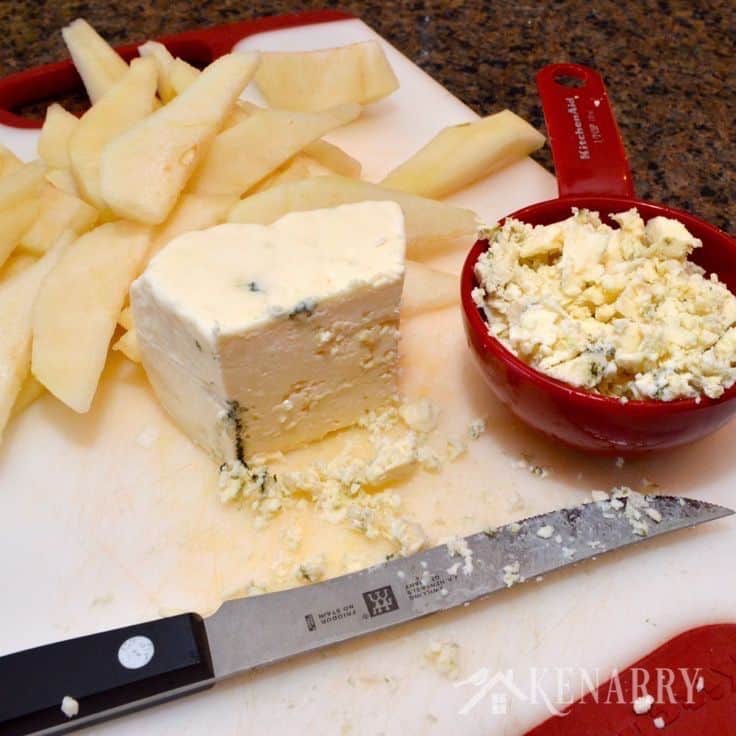 To cook the chicken, I fried it in a pan with a little bit of olive oil. You could also use shredded chicken, which is really easy to make ahead of time in your slow cooker and freeze to use in recipes when you need it. Now that it's nearly summer, though, I'd recommend grilling the chicken to add a little smoky flavor to the Chicken Rigatoni.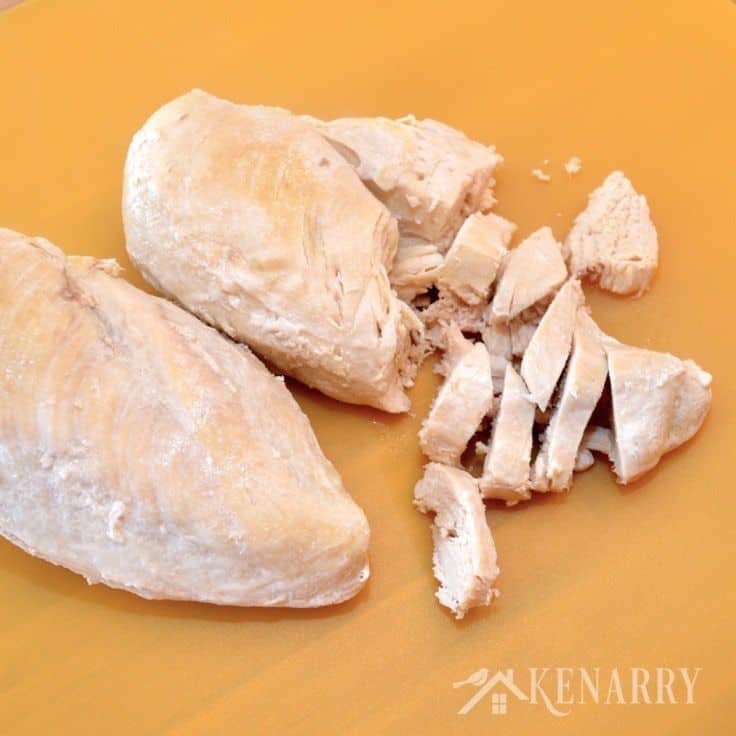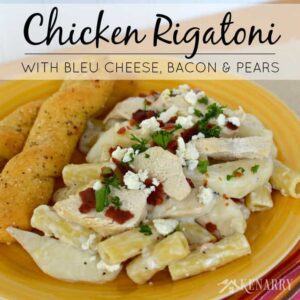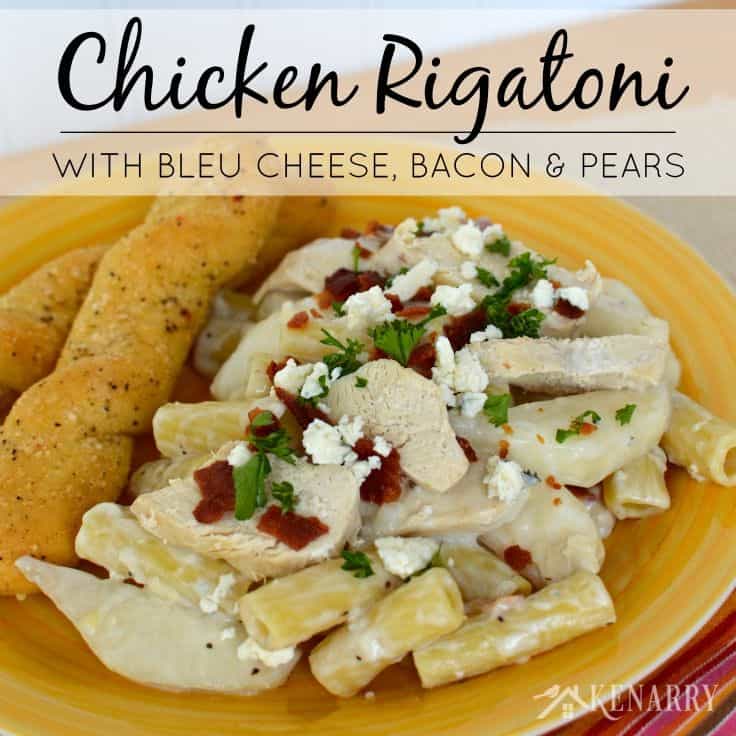 Chicken Rigatoni with Bleu Cheese, Bacon and Pears
Chicken Rigatoni with crumbled bleu cheese, crispy bacon and juicy slices of pear. It is packed with flavor for a luscious dinner to savor with friends, loved ones and a few garlic breadsticks.
Ingredients
2 chicken breasts
1 tablespoon olive oil
1 onion
2 tablespoons butter
2 teaspoons minced garlic
1/2 cup flour
1 1/2 cups milk
1/2 cup crumbled bleu cheese + extra for garnish
1 pound rigatoni pasta
2 pears
salt to taste pepper to taste
6-10 pieces of bacon (crumbled)
fresh parsley (optional)
Instructions
Cook the chicken using any method you prefer. I cooked it in a pan with olive oil. Once it's cooked cut it into long strips.

In a sauce pan over medium heat, melt butter. Add onion and garlic. Saute until the onion is translucent. Add flour and mix into a paste. Slowly stir in the milk, whisking until smooth. Mix 1/2 cup of bleu cheese into the cream sauce. Cook until the sauce has thickened, stirring frequently to prevent it from scalding.

Meanwhile, peel and slice the pears. Bring a large pot of water to a boil. Cook the rigatoni for 8-10 minutes, per the instructions on the pasta box. Drain and rinse in a colander. Return the rigatoni to the large pot.

Carefully pour the bleu cheese sauce over the pasta. Toss in the sliced chicken and pears. Add salt and pepper to taste. Cover and cook for 5 minutes stirring occasionally until heated through and pears are tender. Garnish with crumbled bacon, bleu cheese and fresh parsley, if desired prior to serving. Enjoy!
Serving Suggestions for Chicken Rigatoni
Chicken Rigatoni with Bleu Cheese, Bacon and Pears is delicious with a few breadsticks, garlic bread or a warm loaf of sliced Italian bread. Serve it with a side salad, steamed broccoli or your favorite vegetable. I bet the Chicken Rigatoni would also be amazing with roasted walnuts tossed in for a little nutty flavor, though I haven't tried that yet. If you do, let Ashlyn and I know how it turns out!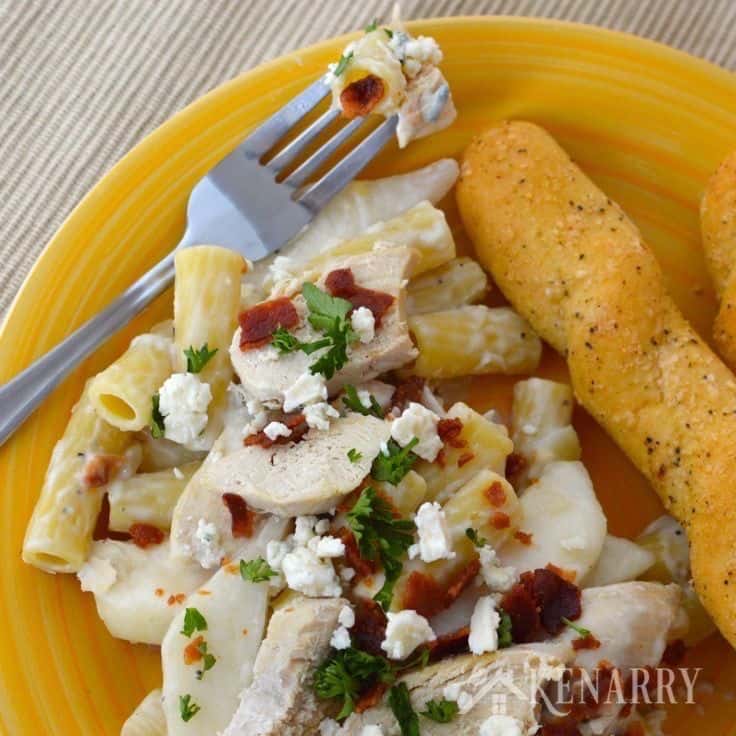 Pasta is one of those dinners that is very versatile with so many different options for how you prepare or top it. What's your favorite way to enjoy pasta with your family? Please comment below and share, Ashlyn and I are always looking for new ideas!
If you love chicken pasta and enjoyed this Chicken Rigatoni recipe, please share it with your friends or pin it for later: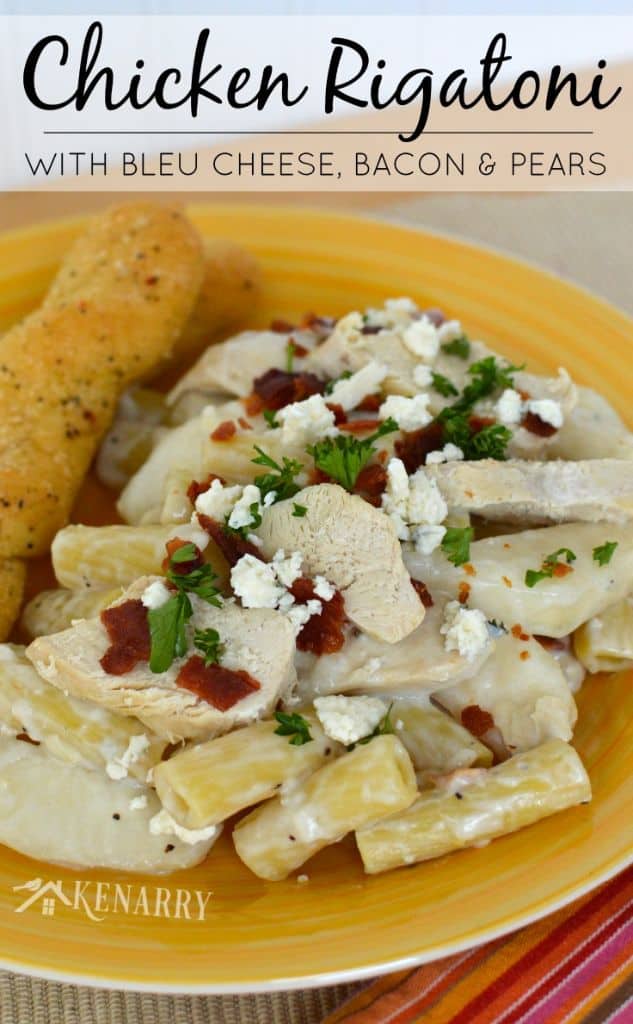 You may also like these pasta recipes on Kenarry:
Sausage and Meatball Soup with Bow Tie Pasta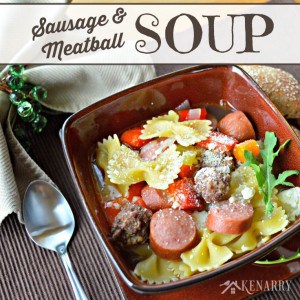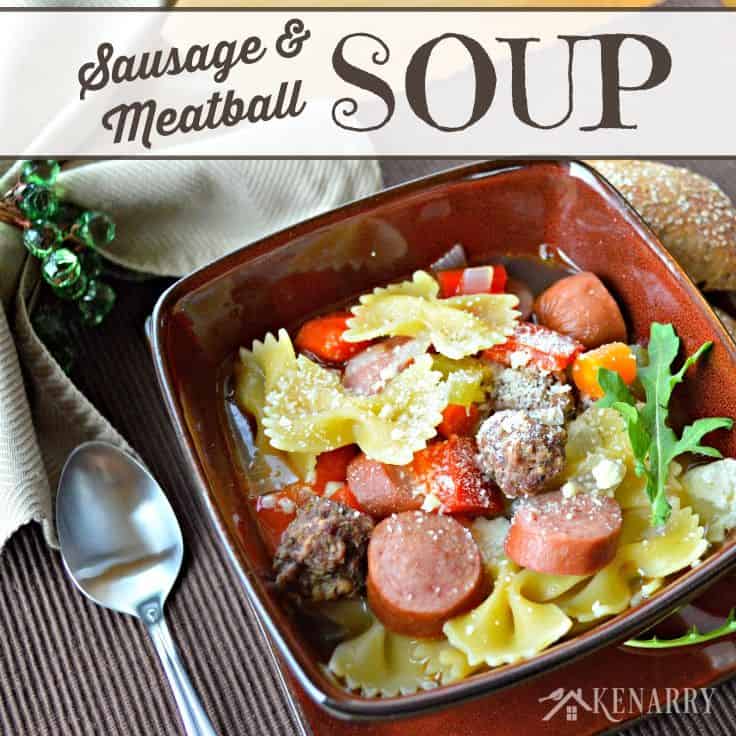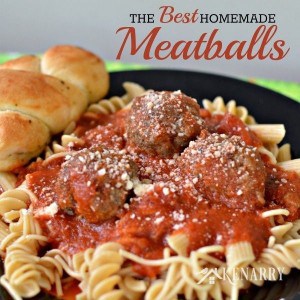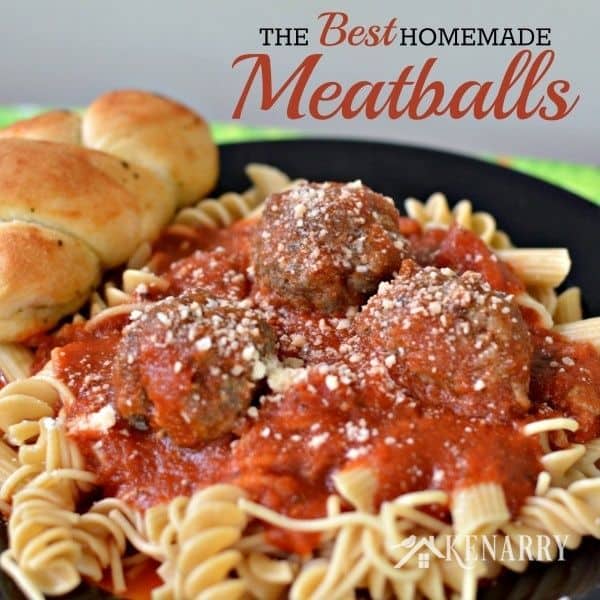 Thank you to Ashlyn for the opportunity to share this creamy Chicken Rigatoni recipe with you today. I look forward to coming back next month to share more Ideas for the Kitchen with you!
About Carrie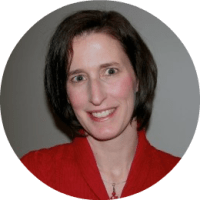 Carrie is the chief writer, crafter and cook at Kenarry: Ideas for the Home where she and her husband create and curate ideas you'll find useful for your home. She's an optimist by nature and enjoys sharing recipes, trying new craft ideas, planning for parties and events as well as organizing and decorating. Carrie's passion, though, is volunteerism and connecting people with opportunities to make a difference in their community. When she's not blogging, preparing meals or picking up around the house, you're bound to find her hidden away in a castle under the stairs reading to her two young boys. Whether you're cooking, crafting or creating for your family, you'll find inspiration by connecting with Carrie. Find her online at Kenarry, Google+, Pinterest, Facebook, Twitter and Instagram.
This site contains affiliate links, if you make a purchase through them, we receive a small commission.