Chili Cornbread Casserole
Do you like eating cornbread with your chili? Then you will love this Chili Cornbread Casserole! It's cooks together for a hearty and comforting dinner!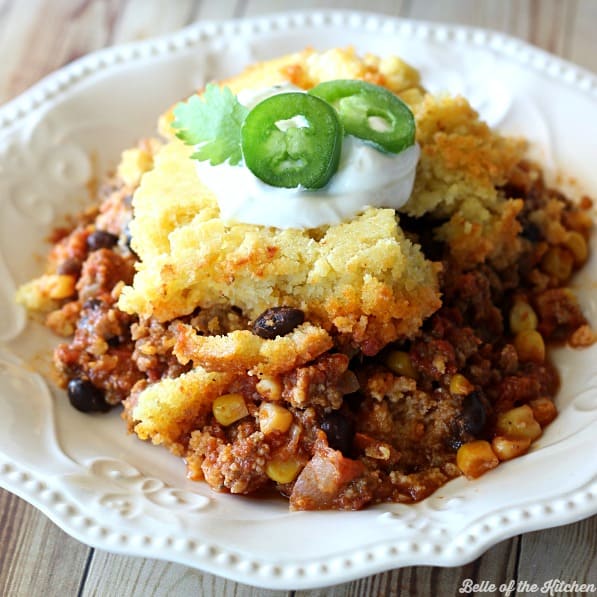 Happy Friday, y'all! Today's recipe is extra exciting because it's part of a big secret I've been keeping for the past few weeks! Awhile back I got together with a big group of awesome food bloggers to participate in a fun "Freaky Friday" recipe swap. Each of us was secretly assigned another blog to read through and find a recipe to make and post about. We weren't allowed to tell each other whose blog we had or what we were making from their site. Until today!


I was a lucky girl, because I got to choose from an variety of delicious recipes created by Sandra from The Foodie Affair. Sandra is a self-taught home cook who finds inspiration for her recipes from restaurants she's gone to, magazines she's read, and from her mother's home cooking. She's also a runner which allows her to fully enjoy all of the delicious meals and desserts she cooks. That's something we have in common! 🙂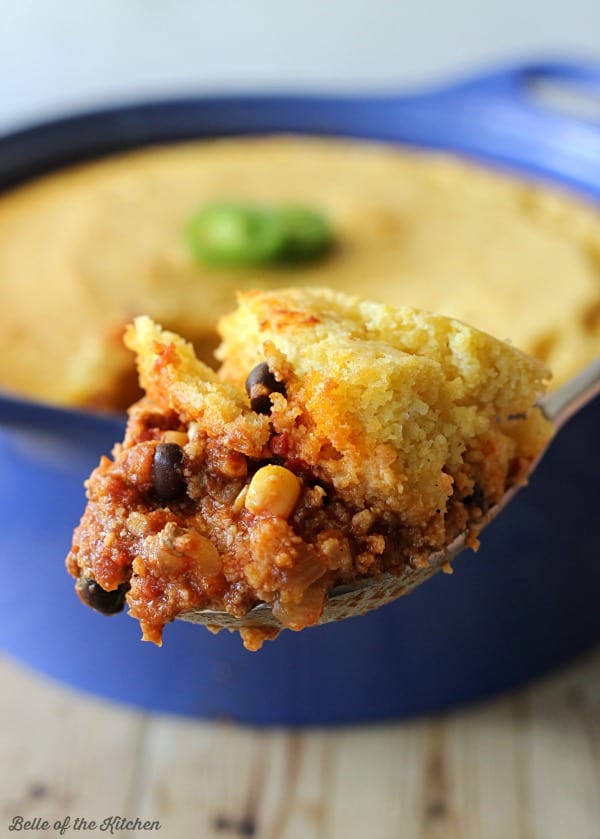 Picking a recipe of Sandra's was not easy. She has SO many good ones! I spent a few hours on her site trying to narrow it down, and when I still couldn't make a decision, I showed the options to my hubby and let him decide. He immediately chose her Turkey Chili Cornbread Pie, and I'm so glad he did because we love it!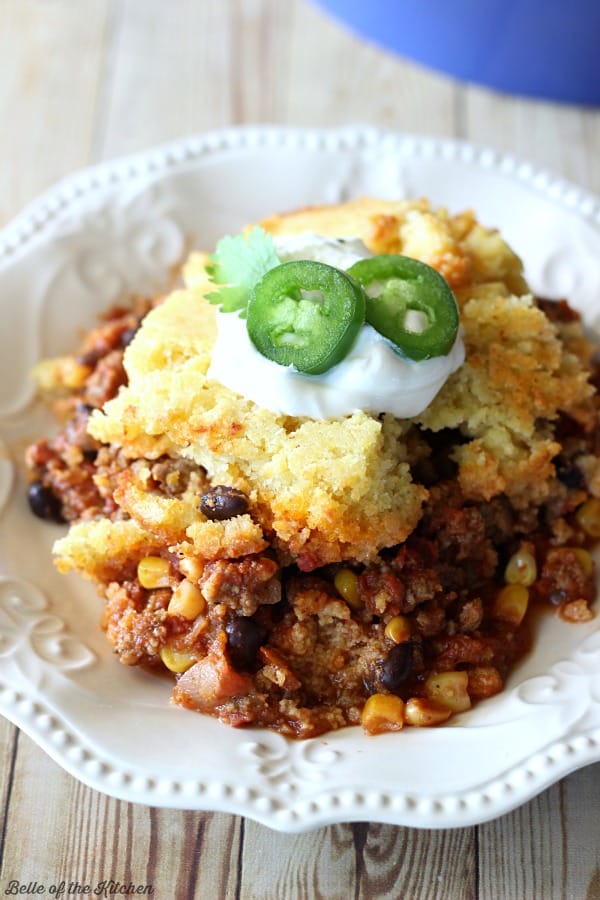 A few of the close contenders were Sandra's Butternut Squash Pasta, her Chocolate Chip S'mores Skillet Cookie, and this incredibly luscious-looking Pumpkin Delight Dessert. I don't care if it's February and pumpkin-everything season is over. I wanted that! If I would've had any pumpkin left over from my fall baking, that might have been the recipe you would be getting today! 🙂 I tell ya, the next can of pumpkin I get my hands on is going straight to that recipe!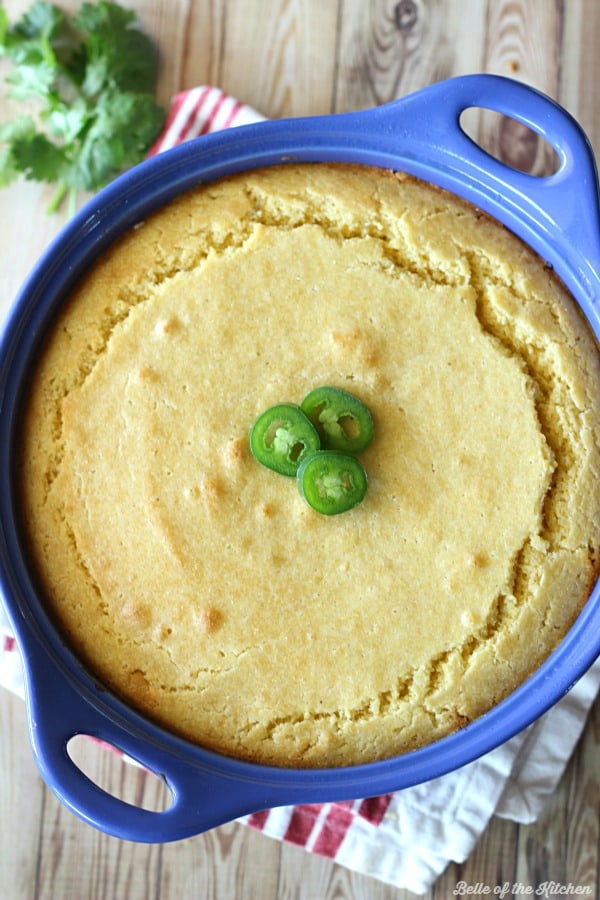 It's ok that I was out of pumpkin, though, because I got to make this yummy chili cornbread casserole instead! I didn't make too many changes to Sandra's recipe, aside from using ground beef in place of ground turkey, and I also added some cumin to the chili because I'm a cumin addict. 😉 I also decided to call mine a casserole because I baked the whole recipe in one large baking dish. If you'd rather make this into pies, this recipe is enough to make two. Just follow the same directions, but use two pie plates instead of one casserole dish.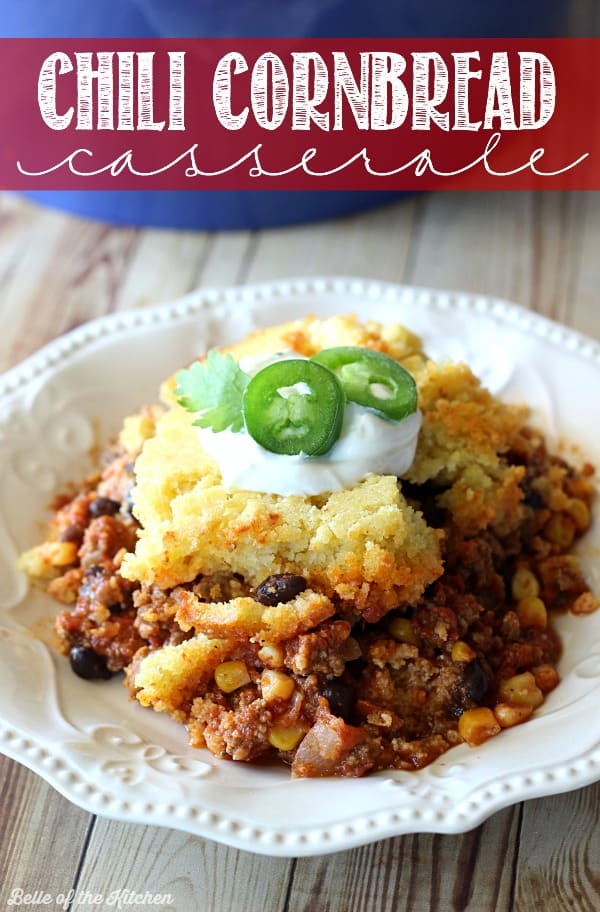 If you'd like to see more of the recipes that were secretly swapped today by the other 15 bloggers, you can check them out below! Just click the pictures in the link-up to take you right to their page. 🙂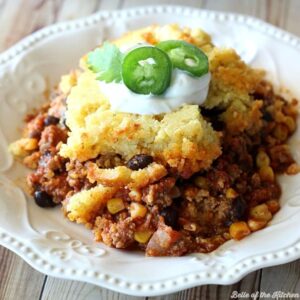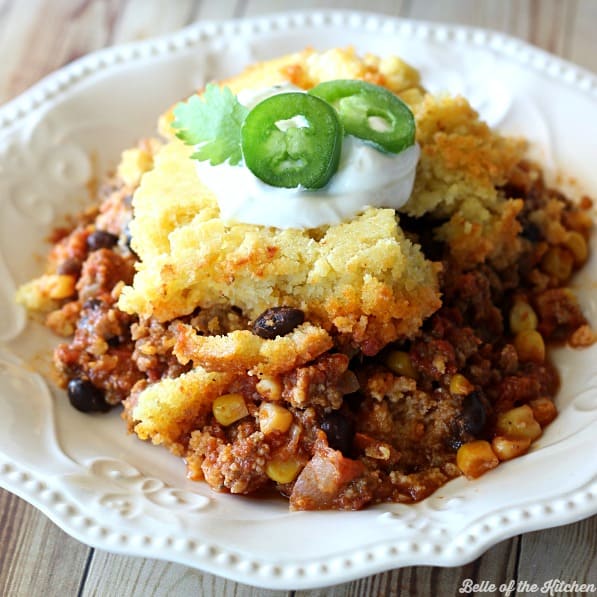 Chili Cornbread Casserole
Do you like eating cornbread with your chili? Then you will love this Chili Cornbread Casserole! It's cooks together for a hearty and comforting dinner!
Ingredients
Chili:
1½ pounds ground beef
1 medium onion,, chopped
2½ teaspoons chili powder
1 teaspoon cumin
salt and pepper to taste
2 cloves of garlic,, minced
1 (28 oz ) can crushed tomatoes
1½ cups frozen corn
1 (15 oz) can black beans, rinsed and drained
Cornbread topping:
1 cup cornmeal
1 cup all-purpose flour
1 teaspoon salt
1 tablespoons sugar
2 teaspoons baking powder
¼ teaspoon baking soda
1 cup milk
2 eggs
6 tablespoons butter,, melted and cooled
Sour cream and sliced jalapeños for topping,, optional
Instructions
Preheat oven to 375 degrees and lightly coat a 2-quart casserole dish with cooking spray. Set aside.

Brown ground beef with onion in a large skillet. Once meat is cooked and onion is soft, add in garlic, chili powder, and cumin. Cook until garlic is fragrant, about 30 seconds. Add in crushed tomatoes and corn, then simmer for 5-7 minutes. Remove from heat and stir in black beans and season with salt and pepper to taste.

In a large bowl, mix together the cornmeal, flour, sugar, baking powder, and baking soda. In a separate smaller bowl, whisk together milk, eggs and butter. Add liquid mixture to dry ingredients and mix until combined.

Pour chili into prepared baking dish and top with cornbread batter. Bake for about 28-35 minutes or until cornbread is lightly golden.
Calories: 608kcal, Carbohydrates: 59g, Protein: 28g, Fat: 29g, Saturated Fat: 13g, Cholesterol: 126mg, Sodium: 632mg, Potassium: 1083mg, Fiber: 10g, Sugar: 8g, Vitamin A: 770IU, Vitamin C: 12.9mg, Calcium: 161mg, Iron: 6.2mg
"Freaky Friday" was brought to you by:
A Dish Of Daily Life || A Kitchen Hoor's Adventures || An Affair from the Heart || Aunt Bee's Recipes || Belle of the Kitchen || Cooking on a Budget || Full Belly Sisters || Honey and Birch || LeMoine Family Kitchen || Lisa's Dinnertime Dish ||Pic-Nic || The Flavor Bender || The Foodie Affair || The Magical Slow Cooker || Who Needs A Cape || Wildflour's Cottage Kitchen

This site contains affiliate links, if you make a purchase through them, we receive a small commission.