Chocolate Chip Skillet Cookie
A couple of years ago, we bought a cast iron skillet with the intention of making homemade cornbread, the quintessential southern grain. Cornbread is just perfect for soaking up chili or stew, or paired alongside some fried chicken. I like cornbread with pretty much any meal, though. Hmm, that might need to be a future recipe!
Well, we did the easy part of actually purchasing the cast iron skillet and then never got around to the part where you season it before its first use. I would see it sitting there inside my cabinet with the other pots and pans just begging to be used, but neither my husband nor I was quite sure of how to go about preparing it. I'm sure a simple Google search could've helped us out, but I chalk up its disregard to pure laziness on our parts. So, there it sat.
Until my husband's parents came to visit over Christmas this year. My father-in-law saw our poor skillet looking sad and neglected, and declared that seasoning one really isn't that hard at all. And so, he took care of that step for us! Thank goodness for him, because now I can create delicious concoctions like the one I'm sharing with you today: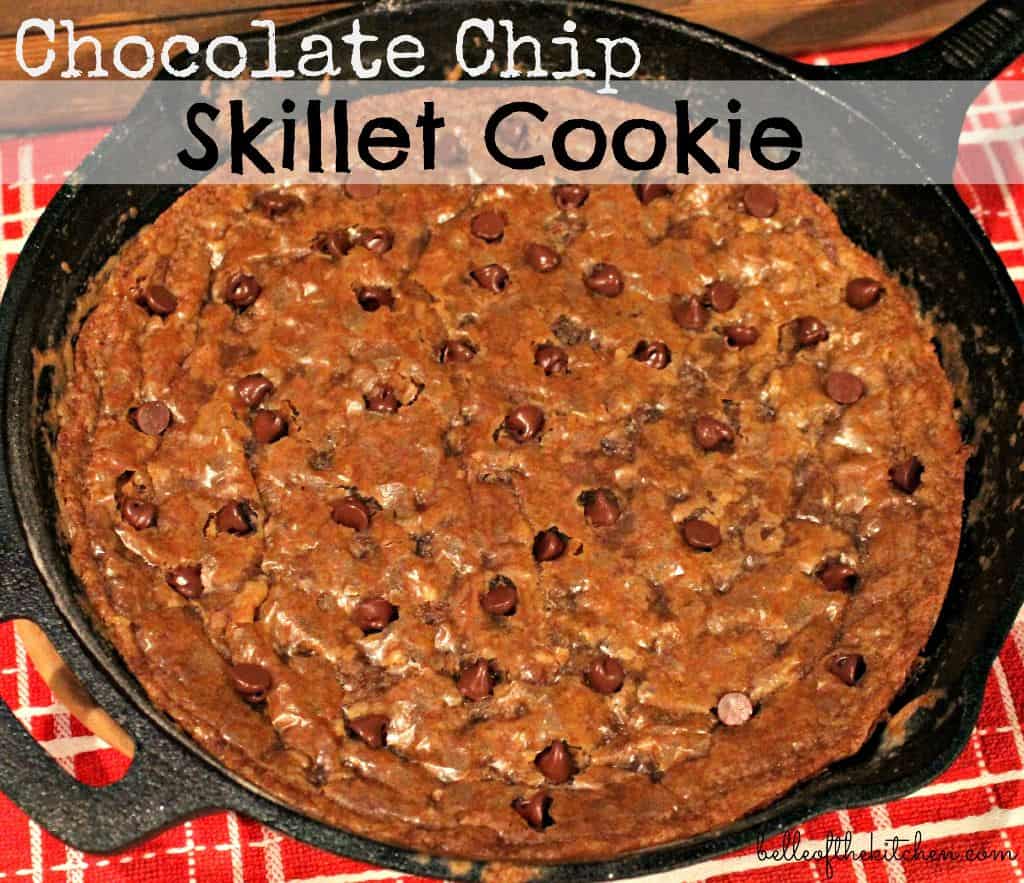 This baby is sinfully delicious! It would be in your best interest to make this when you have a few people to serve it to, otherwise you will eat this all by yourself. I speak from personal experience, though I did have to share some with my husband. It was basically a competition between both of our forks as to who would get the most. Oh, and our son did get SOME, too… 😉
This is not difficult to make; it all comes together in one pan and is then baked in that same pan! Easy peasy. Jessica over at How Sweet Eats uses dark chocolate to make hers, but I decided to forge ahead with just good ole' chocolate chips since I didn't have any dark chocolate. It's still out of this world, though I'm sure dark chocolate would add another layer of flavor!

Start by melting your butter over medium-low heat.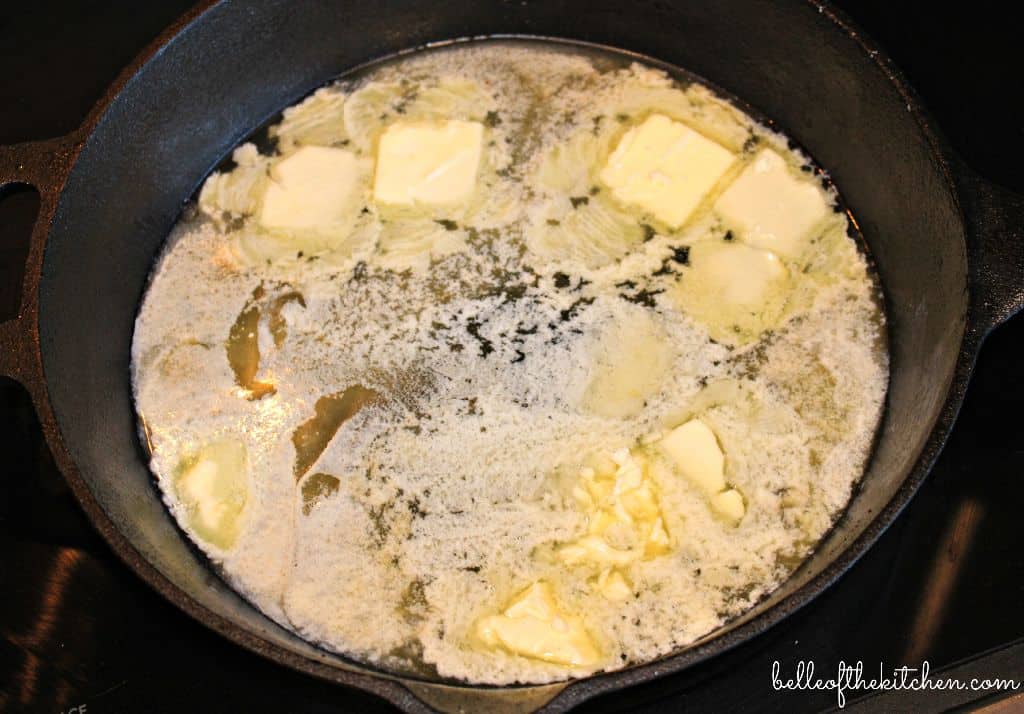 Once nice and melty add in your sugars.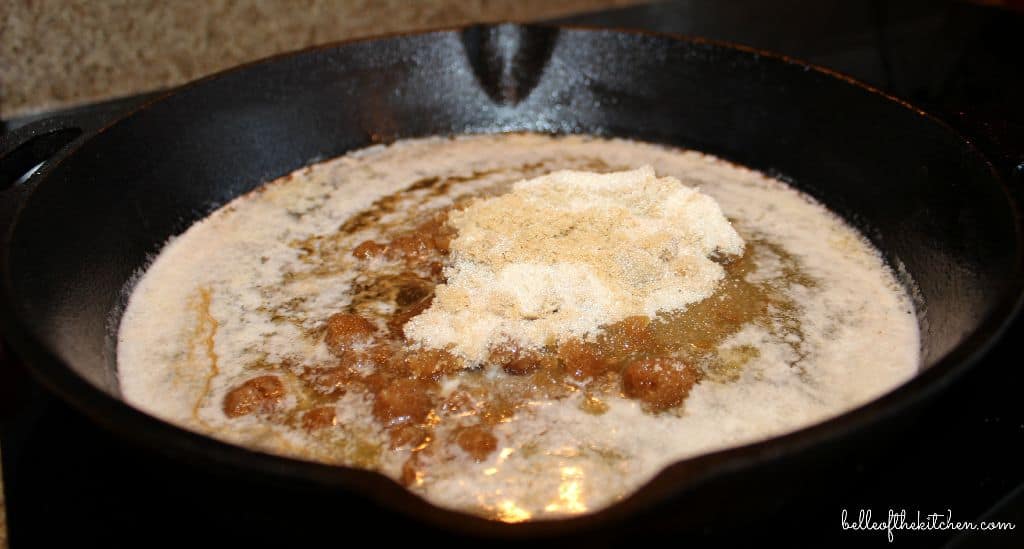 Stir until smooth and then remove skillet from heat for a few minutes. Jessica says you want the skillet to remain warm, but not too hot.
Next add in the egg and vanilla and whisk until smooth.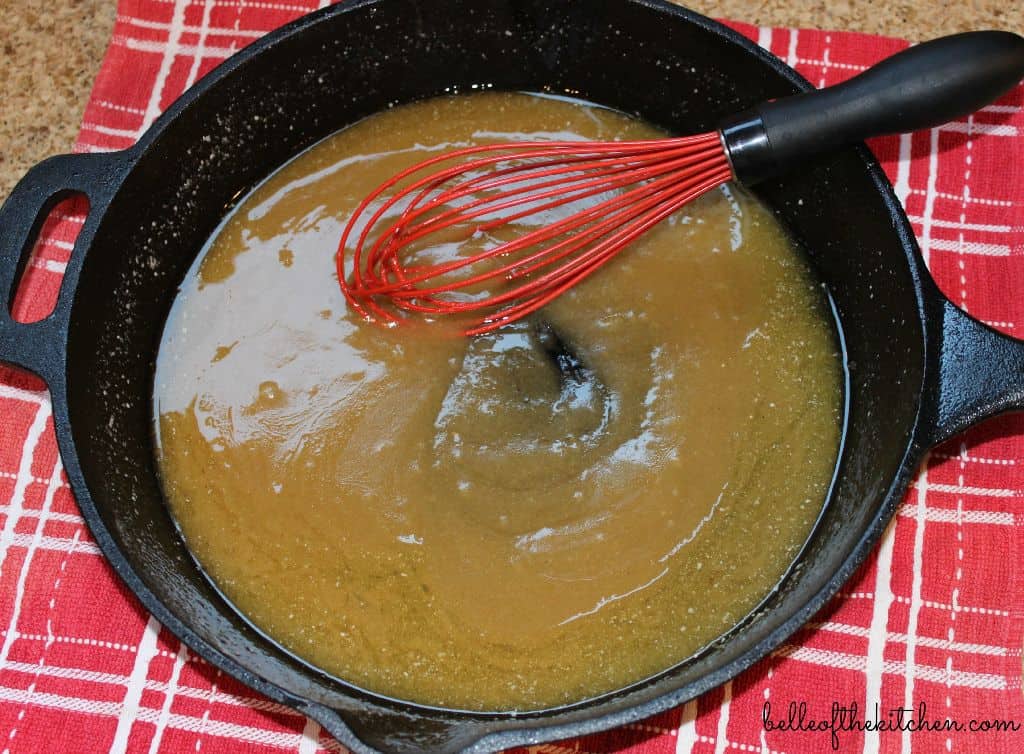 Then add in your dry ingredients and stir until it becomes a batter.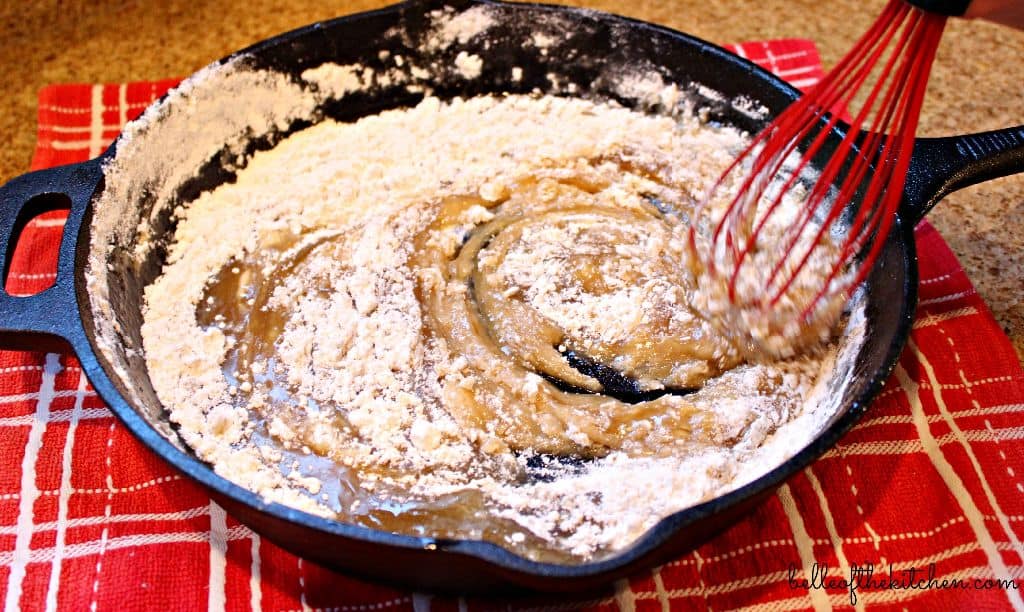 Finally, add in your chocolate chips and stir.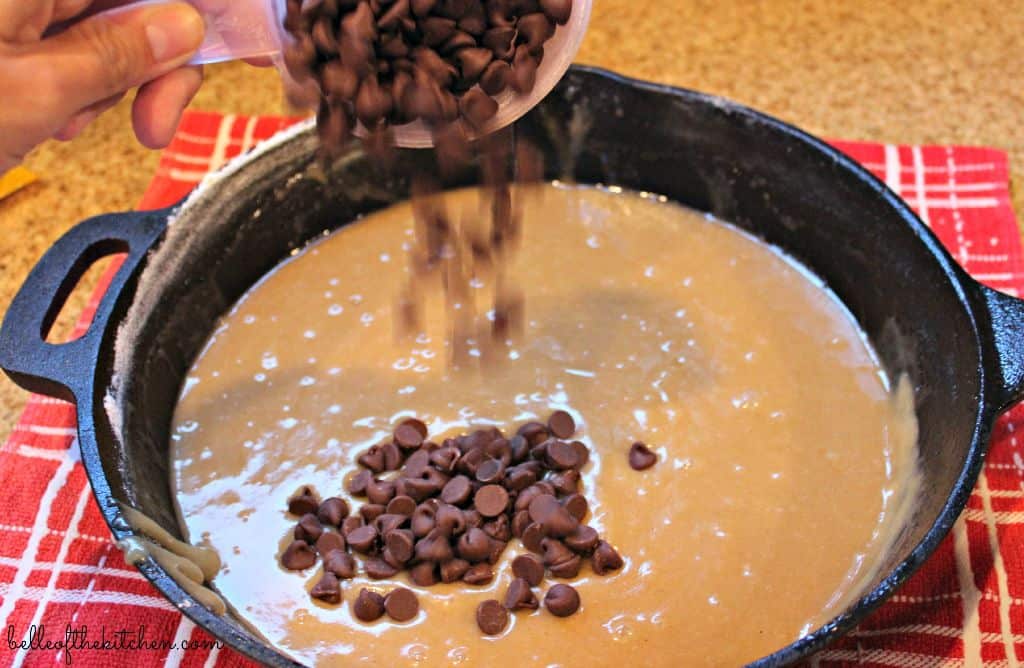 Then bake in a 350 degree oven for about 15-25 minutes until it turns golden at the edges. Once done, let it cool for a few minutes. It's perfect when it's nice and warm.
We are crazy people and didn't have any ice cream to eat this with, but I did have some whipped cream so I squirted that on. Delicious, but I'm pretty sure vanilla ice cream would be the golden ticket!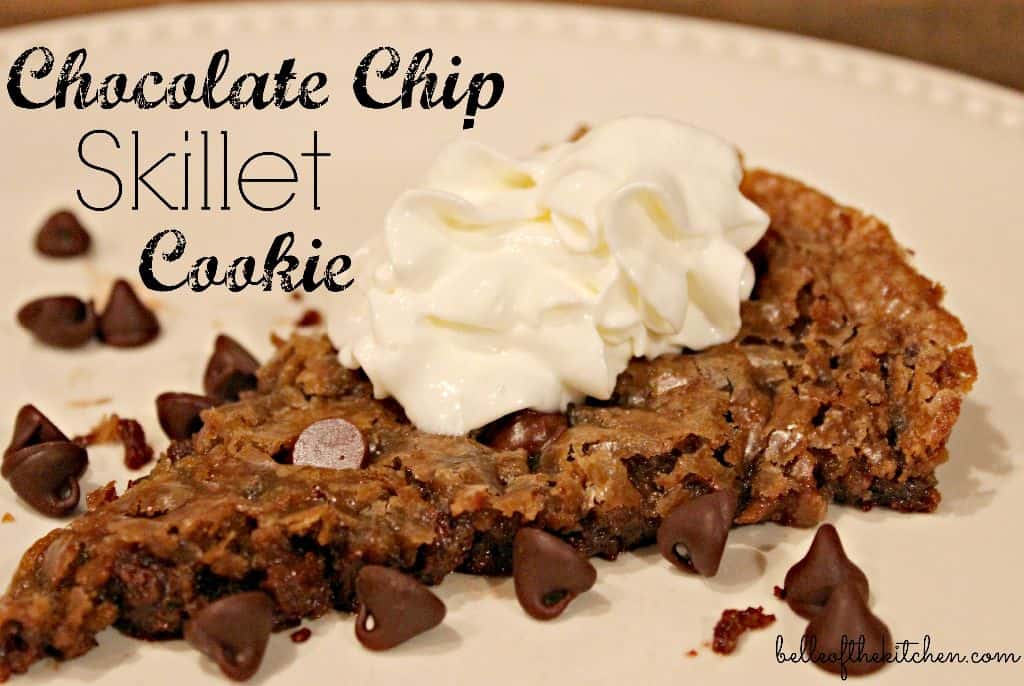 Dig in and hug your cast iron skillet! I'm so excited about all I can make with mine now! Hope y'all have a great weekend.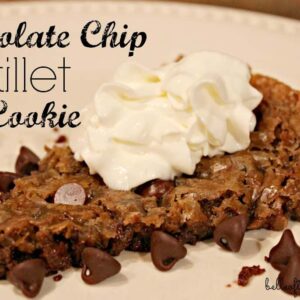 Chocolate Chip Skillet Cookie
This Chocolate Chip Skillet Cookie is made in a cast iron skillet and is the ultimate chocolate dessert! Serve with whipped cream or vanilla ice cream on top!
Ingredients
1 stick butter
½ cup granulated sugar
½ cup light brown sugar
1 teaspoon pure vanilla extract
1 egg
1 ½ cups all-purpose flour
½ teaspoon baking soda
¼ teaspoon salt
1 cup semi-sweet chocolate chips
Instructions
Preheat oven to 350 degrees F. Melt butter in an 8 inch cast iron skillet set over medium-low heat. Stir in sugars and vanilla and remove from heat. Let rest until pan is warm, but no longer very hot, about 5 minutes.

Crack an egg onto the butter and sugar mixture, and whisk it into the mixture. Place flour, baking soda, and salt on top, and very carefully stir into the mixture until smooth and well-mixed. Stir in chocolate chips. Place in the oven for 15-25 minutes, or until starting to turn golden on the top and around the edges, but still soft in the center. Serve with vanilla ice cream.
Notes
Source: How Sweet Eats
Note: This recipe is designed for an 8 inch skillet. If you have a larger skillet, you will probably want to double the recipe!
Calories: 425kcal, Carbohydrates: 55g, Protein: 4g, Fat: 20g, Saturated Fat: 12g, Cholesterol: 51mg, Sodium: 255mg, Potassium: 178mg, Fiber: 2g, Sugar: 34g, Vitamin A: 390IU, Calcium: 35mg, Iron: 2.7mg
Shared at: Food Storage Moms
This site contains affiliate links, if you make a purchase through them, we receive a small commission.