Greek Yogurt Coffee Cake
Greek Yogurt Coffee Cake – a moist and delicious coffee cake recipe made with Greek yogurt. It's sprinkled with a crumbly streusel topping then drizzled with a sweet vanilla glaze.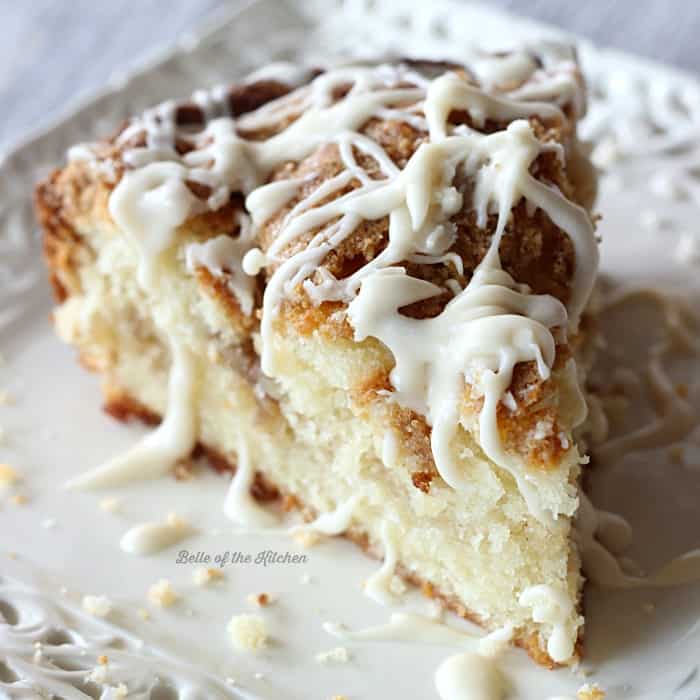 This recipe came about by using what I had on hand in order to satisfy one of those "I-must-have-it-now" cravings. Do you ever get one of those? They happen to me more often than I'd probably like to admit. 😉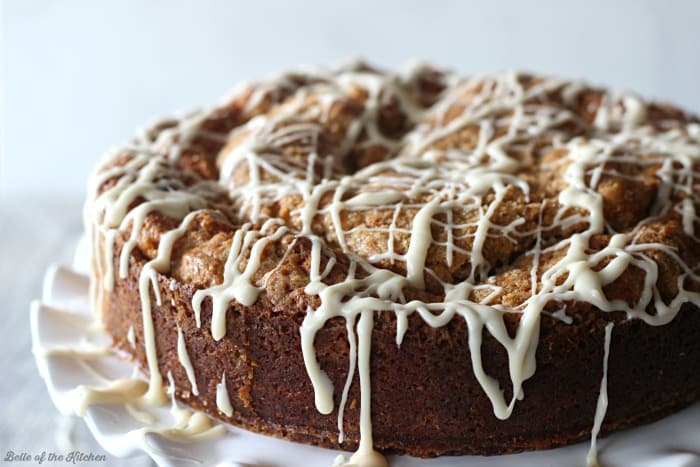 For some reason, I've been dreaming of coffee cake for the past couple of weeks and have been telling myself that I really needed to just try my hand at making one. I had a couple of recipes that I've been eyeing for a long time inside some of my old church cookbooks (those are my FAVORITE cookbooks, by the way). But, when I finally started to gather all of my ingredients, I realized I was missing one thing that both of those recipes called for: sour cream.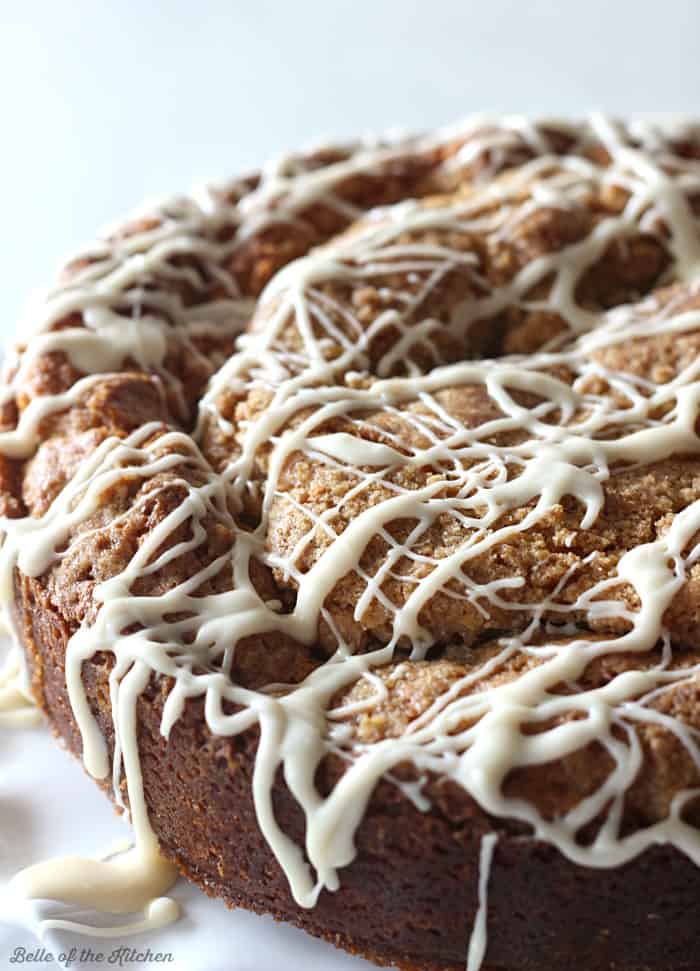 Now, I'm not really a fan of dragging both of my kids out of the house and to the store just for one little thing, so I decided to see if there was a way I could improvise. I raided my fridge and suddenly the light bulb in my head went off when I spotted one of my favorite foods, and favorite ingredients to cook with: Greek yogurt!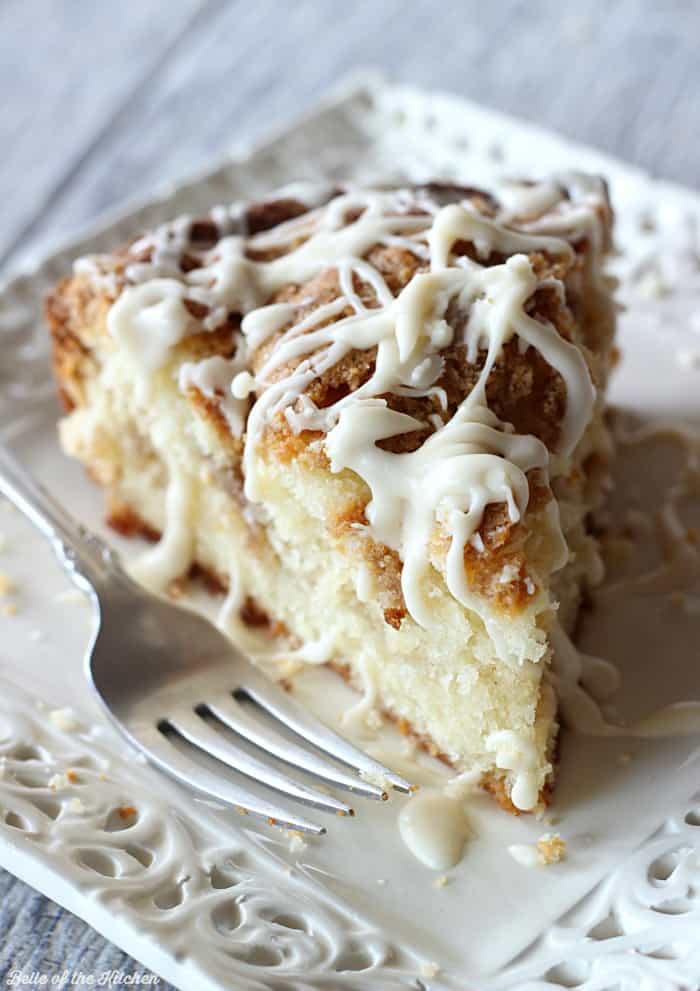 I wasn't sure how the coffee cake would turn out, but I'm VERY pleased to say that it's AMAZING! The Greek yogurt makes it nice and moist and I just love a good streusel topping.
Now, the Greek yogurt isn't really adding any health benefits, seeing as how there's still plenty of butter and sugar in here. BUT, it really does something nice to the cake and gives it a wonderful moist texture. And the drizzle of vanilla glaze at the end just takes it over the edge! Man, I'd like this for breakfast, lunch, dinner, or anytime of day. Hand me another cup of coffee, a slice of this, and I'm good!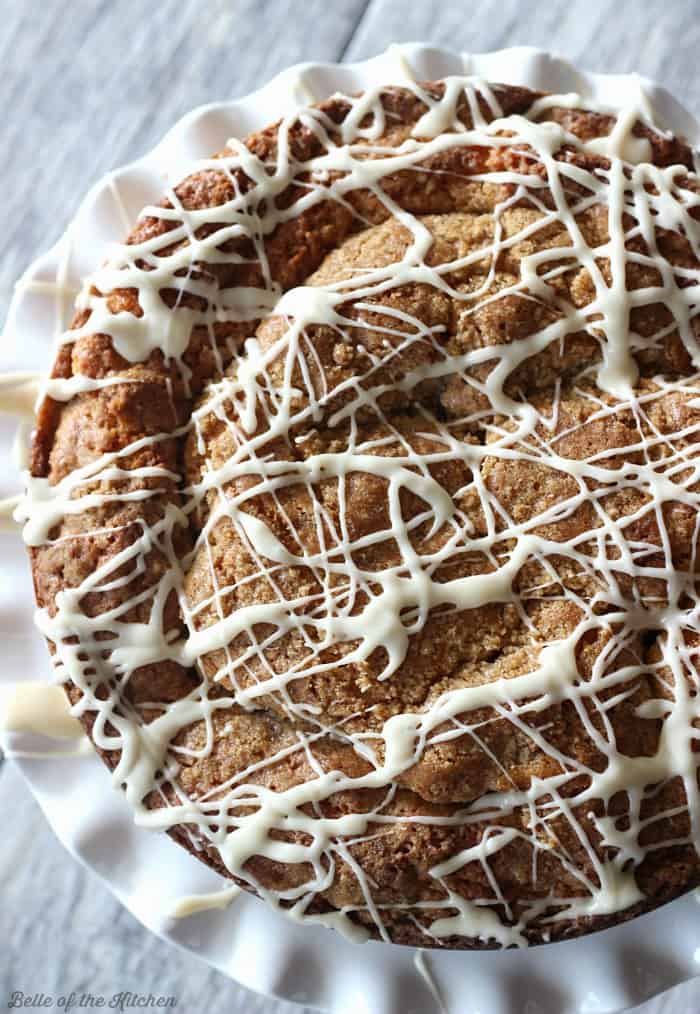 I actually made this coffee cake twice in two days because my two year got a little stealthy and stuck her hand into the first one I made and gobbled it down like it was going out of style! It was beyond repair as far as picture-taking goes so I made a second one. The second time I decided to try making it in my springform pan and I REALLY liked that better than the bundt pan I used the first go-round. It just made it easier to get out of the pan, which made for prettier pictures. So I recommend making this using a springform pan if you have one available.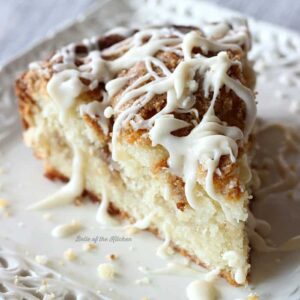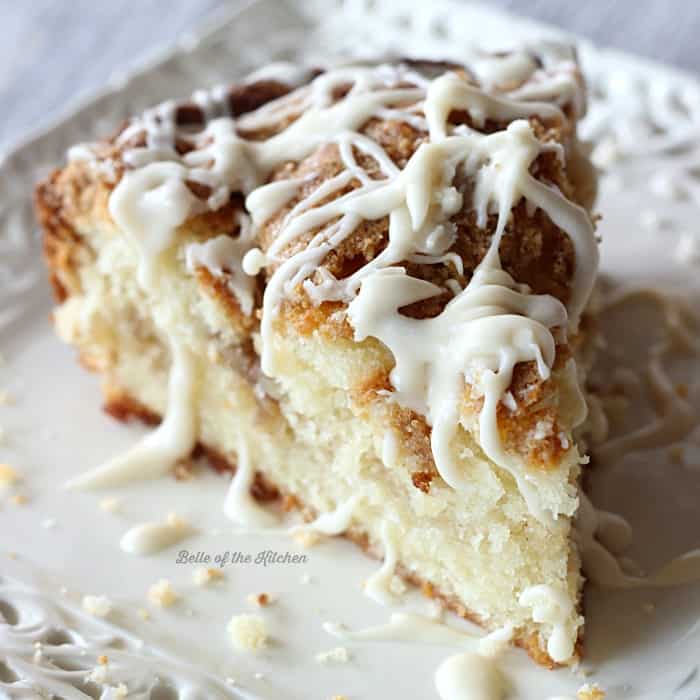 Greek Yogurt Coffee Cake
Greek Yogurt Coffee Cake – a moist and delicious coffee cake recipe made with Greek yogurt. It's sprinkled with a crumbly streusel topping then drizzled with a sweet vanilla glaze.
Ingredients
Cake:
1 cup unsalted butter, softened
2 cups white sugar
2 eggs
1 teaspoon vanilla
1 cup Greek Yogurt, (I used fat free vanilla)
2 cups all purpose flour
1 teaspoon salt
1 teaspoon baking powder
1/2 teaspoon baking soda
Streusel filling/topping:
1/4 cup all purpose flour
1/4 cup packed brown sugar
1/4 cup white sugar
1/4 teaspoon cinnamon
3 Tablespoons cold butter
Vanilla Glaze:
2 Tablespoons butter,, melted
1 cup powdered sugar
1-2 Tablespoons milk
1/2 teaspoon vanilla
Instructions
Preheat oven to 350 degrees. Grease and flour a 9 inch springform pan with nonstick spray and set aside. Mix together streusel ingredients until crumbly, or pulse ingredients using a food processor (this is my preferred method). Set aside.

Cream together butter, sugar, and eggs with an electric mixer until creamy. Add in vanilla and greek yogurt and mix until smooth.

In a medium sized bowl, sift together the flour, salt, baking powder, and baking soda. Gradually add dry ingredients to the wet ingredients beating over low speed.

Pour half of the batter into prepared pan. Sprinkle with half of the streusel mixture then top with remaining batter. Sprinkle the rest of the streusel mixture over the top.

Bake in preheated oven for 50-60 minutes until cake is cooked through and a toothpick inserted near the center comes out clean. Cool completely on a wire rack.

To make the glaze: combine melted butter, powdered sugar, 1 Tablespoon milk, and vanilla in a small bowl. Whisk until smooth, only adding additional milk if mixture is too thick. Drizzle over the top of cooled coffee cake. Slice and enjoy!
Calories: 584kcal, Carbohydrates: 84g, Protein: 6g, Fat: 25g, Saturated Fat: 15g, Cholesterol: 97mg, Sodium: 363mg, Potassium: 120mg, Sugar: 62g, Vitamin A: 790IU, Calcium: 61mg, Iron: 1.5mg

This site contains affiliate links, if you make a purchase through them, we receive a small commission.