Instant Pot Creamy Chicken Noodle Soup
This Instant Pot Creamy Chicken Noodle Soup is easy to prepare and tastes like you slaved over it all day! It's comforting, delicious, and comes together quickly (and in one pot!) thanks to your pressure cooker.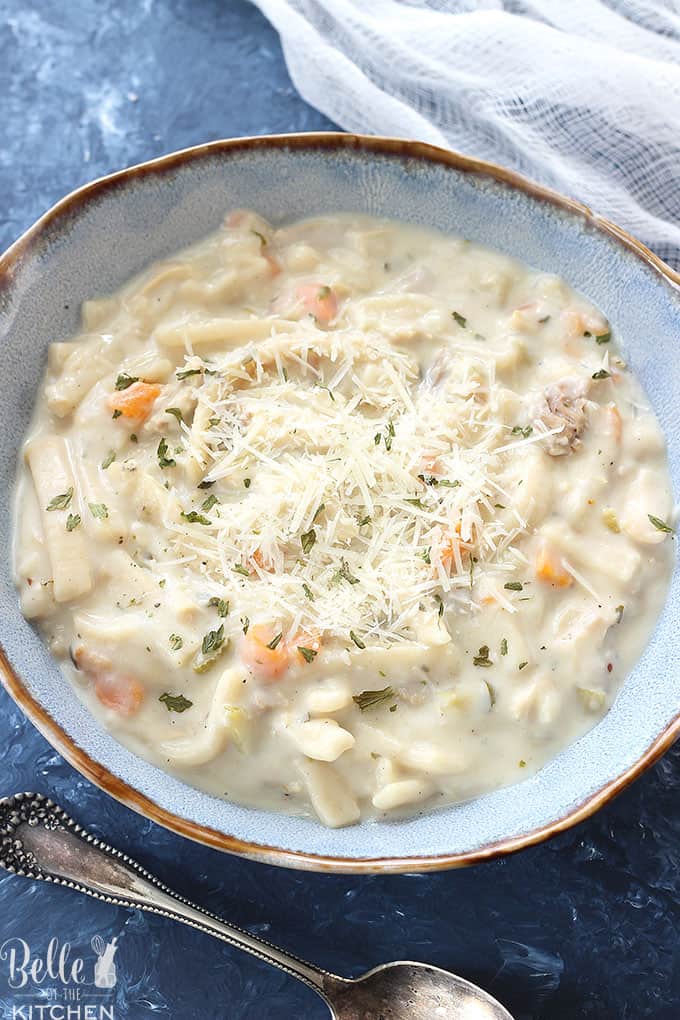 I'm a big fan of soups, no matter what time of year it is. I know it's basically summertime now and we're all looking more towards grilling recipes and fresh salads (like Cucumber Greek Salad, Yum! ????) but I still enjoy cooking up a big pot of soup or chili during the summer time. And when it comes to comfort food, it really doesn't get any better than this Instant Pot Creamy Chicken Noodle Soup!
I actually started out making this recipe on the stovetop, which is definitely an option if you don't have an Instant Pot or a pressure cooker. But, I realized that this was actually the perfect recipe for the Instant Pot because I could make it all in ONE pot without having to dirty multiple pans, which is essentially my favorite feature of the Instant Pot.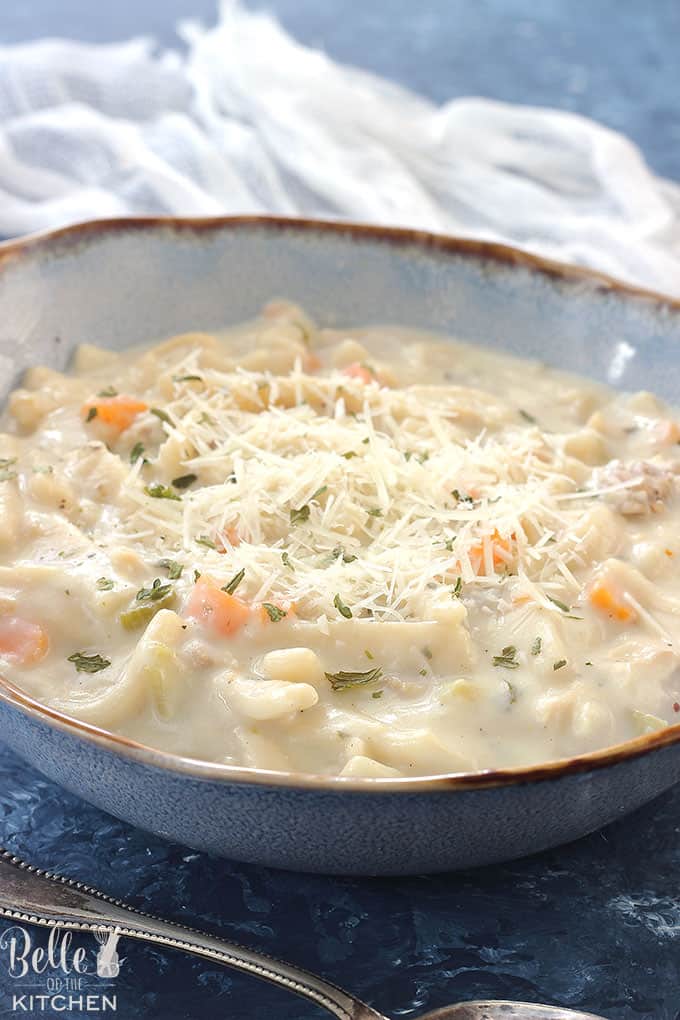 The Instant Pot is of course great for cooking meals quickly and with ease, but I sure do love how it minimizes the amount of cleanup that has to take place afterwards!
And while I love making this Instant Pot Creamy Chicken Noodle Soup for my own family, it's also become one of my favorite meals to make for a friend or family member in need. It's the perfect comforting meal to take to someone who is sick, just had a baby, etc. Pair this with a big loaf of crusty bread and you have one solidly delicious dinner!
If you share this Instant Pot Creamy Chicken Noodle Soup or any other recipes from my site on Instagram, tag #belleofthekitchen so I can see what you've made! And follow me @thebelleofthekitchen, too!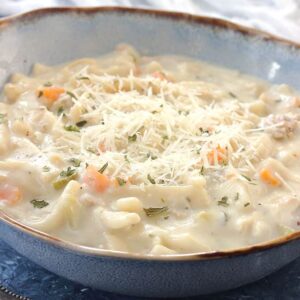 Instant Pot Creamy Chicken Noodle Soup
This Instant Pot Creamy Chicken Noodle Soup tastes like you slaved over it all day! It's comforting, delicious, and comes together quickly and easily.
Ingredients
2 Tablespoons butter
1 medium onion, chopped
2 stalks celery, chopped
1 cup chopped carrots
4 garlic cloves, minced
4 cups chicken broth
2 teaspoons dried parsley
3/4 teaspoon poultry seasoning
1 teaspoon seasoned salt
1/2 teaspoon garlic powder
pepper, to taste
1 bay leaf
1 1/4 pounds boneless, skinless chicken thighs
12 oz. frozen egg noodles (I use Reames brand)
1 cup heavy cream
1/4 cup flour
1/4 cup shredded parmesan cheese
Instructions
Turn Instant Pot to saute and add the butter. Once butter is melted, add the onion, celery, and carrots. Cook for 5-7 minutes until veggies are soft. Add the garlic and cook 30 seconds more, until fragrant.

Hit the cancel button on the Instant Pot. Layer the noodles on top of the cooked veggies, then top with the chicken thighs, and pour in the chicken broth, parsley, poultry seasoning, seasoned salt, garlic powder, bay leaf, and pepper to taste. Place the lid on the Instant Pot and turn the vent valve to "sealing." Cook over manual high pressure for 10 minutes.

Allow the Instant Pot to release pressure naturally for 12-15 minutes, then carefully turn the vent valve to release any remaining pressure. Once the pressure is released and the pin has dropped, remove the lid. Remove the chicken thighs to a cutting board and shred. Add the shredded meat back to the pot.

Turn the Instant Pot to saute again. In a small bowl, whisk together the heavy cream and flour to remove lumps, then add the mixture to the Instant Pot. Cook for about 5 more minutes until soup is thickened, stirring frequently. Sprinkle the parmesan cheese over the soup and stir until melted. Turn off the Instant Pot and serve. Enjoy!
Calories: 425kcal, Carbohydrates: 38g, Protein: 22g, Fat: 19g, Saturated Fat: 10g, Cholesterol: 153mg, Sodium: 891mg, Potassium: 480mg, Fiber: 2g, Sugar: 2g, Vitamin A: 3265IU, Vitamin C: 11.3mg, Calcium: 99mg, Iron: 2mg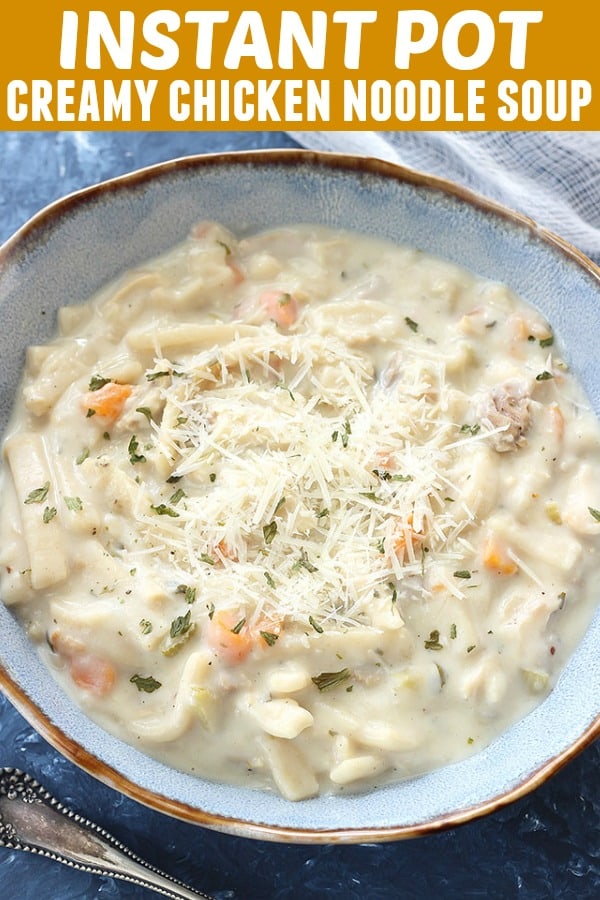 IF YOU LIKE THIS INSTANT POT CREAMY CHICKEN NOODLE SOUP, THEN YOU MIGHT ALSO LIKE:
This site contains affiliate links, if you make a purchase through them, we receive a small commission.