Mason Jar Rainbow Cake Recipe
Mason Jar Rainbow Cake – if you have a cake mix and some mason jars, you can create this fun and easy dessert! Mason jar cakes are a great way to send treats to someone you love!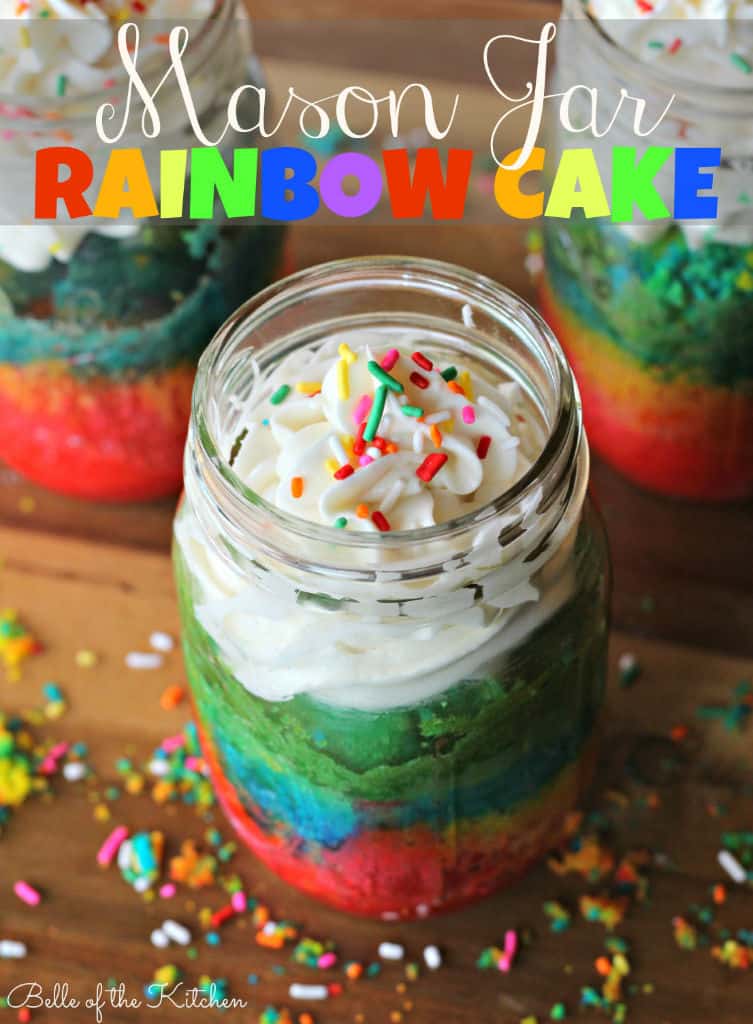 I'm back!
Sorry about that week-long hiatus! I promise it wasn't because I was on vacation or doing anything even remotely fun. We were moving, and it was literally a week-long process! We still aren't completely finished. Everything is out of our old house, and our new house is coming together, but our old house still needs to be cleaned. Ugh, one of the worst parts about moving! Loving a military man means lots of relocating, packing, etc, but this time we did it all ourselves. Usually there are movers that do that for us, but since we weren't leaving Hawaii and just moving on-post, we were on our own. I'm so glad it's (pretty much) DONE!
This move also came during what is usually a pretty eventful month in our house. My husband and I both celebrate our birthdays in March, and our anniversary is actually on St. Patty's Day! The first of these holidays, though, is my hubby's birthday which we celebrated yesterday. His dessert request? Rainbow Cake!
So did you know you could make cake in a jar? Well you can, and it's awesome! You can make Rainbow Cake, or any cake for that matter, in a jar and then seal it up and send it to someone you love! Makes a great way to surprise someone who lives far away from you. We think it's a great way to send some cake to a deployed loved one, too.
These are so much fun! I love just about anything that comes in (or out of) a Mason Jar, and when my husband asked for Rainbow Cake, I knew immediately how I wanted to make it. The rainbow theme also makes these great for St. Patrick's Day.
This recipe is very simple. Start by preparing a vanilla cake mix and dividing the batter between five different bowls. Use food coloring to make your batter whatever colors you would like. I used a few colors from the rainbow. 🙂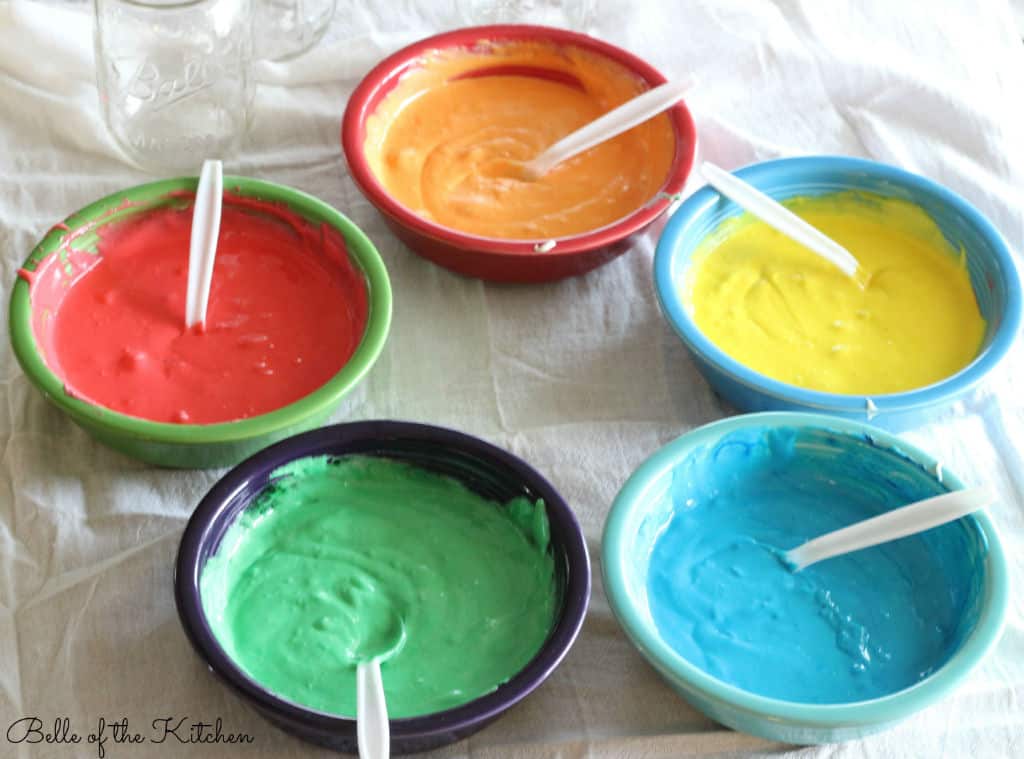 Spray the inside of four Mason jars with cooking spray. Layer the different colors of batter one at a time into the jars until all the batter has been used.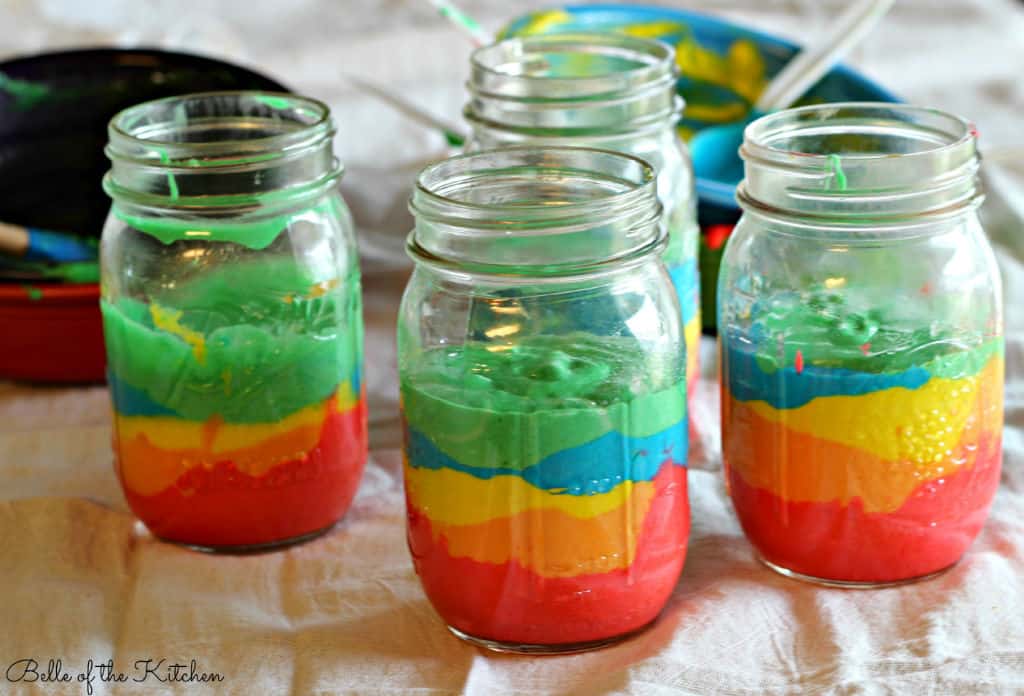 Place the jars in a shallow baking dish and add about a 1/4 inch of water to the pan. Bake at 350 F for about 30-35 minutes. Mine were done in 30 minutes. 🙂
Allow the jars to cool and then scoop out a small bit of cake from the top to make room for the frosting. You can use whatever kind of frosting you would like! I used a homemade buttercream frosting that I'll be sharing on the blog, too. 🙂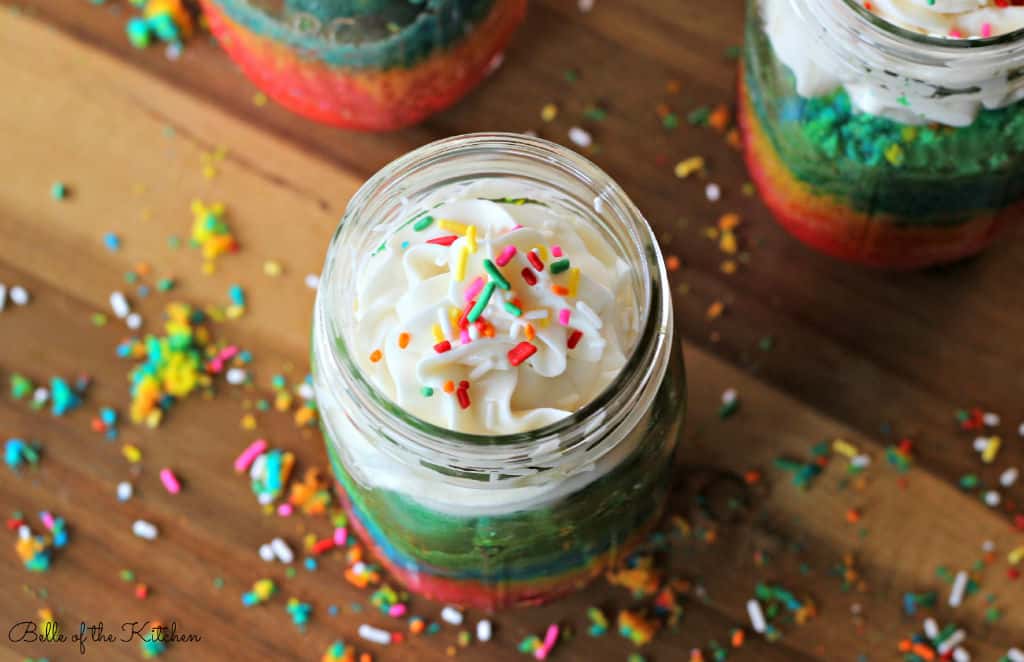 If you want to send these to a family member or friend, make sure to tightly seal with a lid before shipping.
I would share a picture with you of my hubby enjoying his, but he's photo-shy. I'll catch one of him eventually. 😉
Hope all of you have a wonderful weekend, and be sure to come back for the Buttercream Frosting recipe!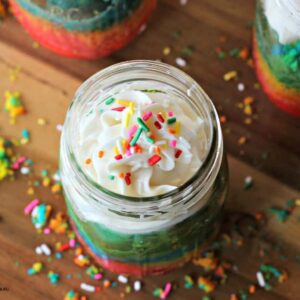 Mason Jar Rainbow Cake
If you have a cake mix and some mason jars, you can create this fun and easy dessert! Mason jar cakes are a great way to send treats to someone you love!
Instructions
Preheat oven to 350 degrees. Spray the inside of each jar with nonstick cooking spray and set aside.

Divide batter evenly between five small bowls. Tint each bowl of cake batter with plenty of food coloring until nice and bright. I used red, yellow, orange, green, and blue to make a rainbow effect.

Spoon batter into jars, layering one color at a time. Make sure the jars are only filled about 2/3 of way to allow for expansion while baking. Place the 4 jars in a shallow baking dish, and add about 1/4 inch of water to the bottom of the baking dish. Place in the oven and bake for 30-35 minutes. Be sure to watch them carefully so they don't get too brown!

Remove jars and allow to cool completely. The cakes will expand while baking, so you will need to scoop out a small portion from the top of each cake before adding frosting. Add on frosting and sprinkles. Serve immediately or cover with a lid and store in the fridge. Enjoy!
Calories: 395kcal, Carbohydrates: 86g, Protein: 4g, Fat: 3g, Saturated Fat: 2g, Sodium: 736mg, Potassium: 65mg, Fiber: 1g, Sugar: 44g, Calcium: 233mg, Iron: 2.1mg
If you like this Mason Jar Rainbow Cake, then you might also like:
This site contains affiliate links, if you make a purchase through them, we receive a small commission.