Banana Cake with Vanilla Frosting
Banana Cake – put those overripe bananas on your counter to good use with this simple and delicious Banana Cake recipe! It's topped with a delicious vanilla frosting and makes a perfect treat or snack for anytime!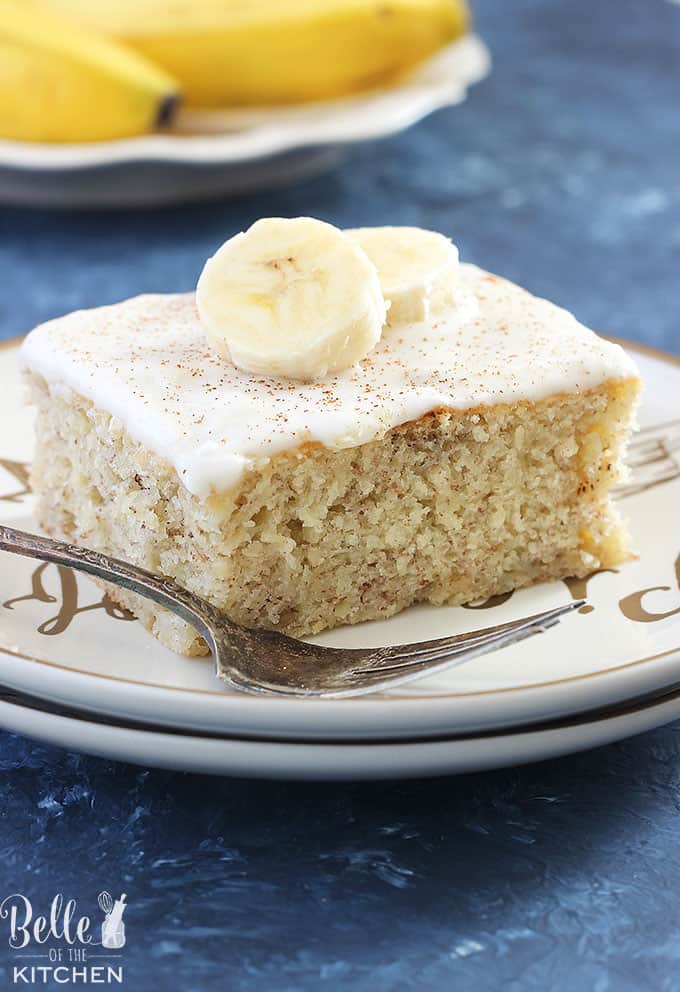 Today's recipe is brought to you thanks to a huge bunch of overripe bananas I had last week. I'm normally a good banana eater as are my kiddos, but we weren't able to eat them in time before the brown spots started to set in.
We were otherwise detained because our house was hit with the dreaded stomach bug. ????
It started on Wednesday afternoon with my daughter. We thought maybe it was just her, and that she had just possibly eaten something bad, until it hit me next at 2 in the morning. Followed about 15 minutes later by my oldest!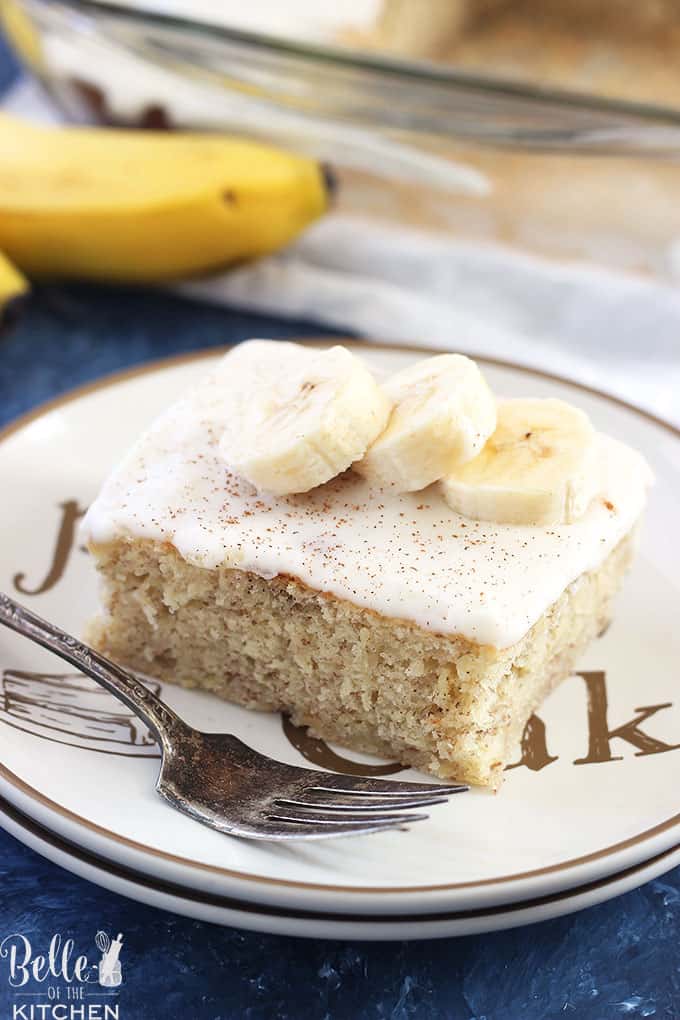 It eventually took out my husband as well. The ONLY one that survived it was the baby, and I'm just contributing that to the magic powers of breastmilk! I nursed him through it all, and he managed to skate on by.
If it's not that, then he is just an extra lucky kid and I'm taking him to help me pick out lottery tickets next week!
Once we were all back to normal, I had a lot of food in our fridge that needed to be cooked pronto before it all went bad. Be on the lookout for a yummy pork tenderloin recipe coming soon. ????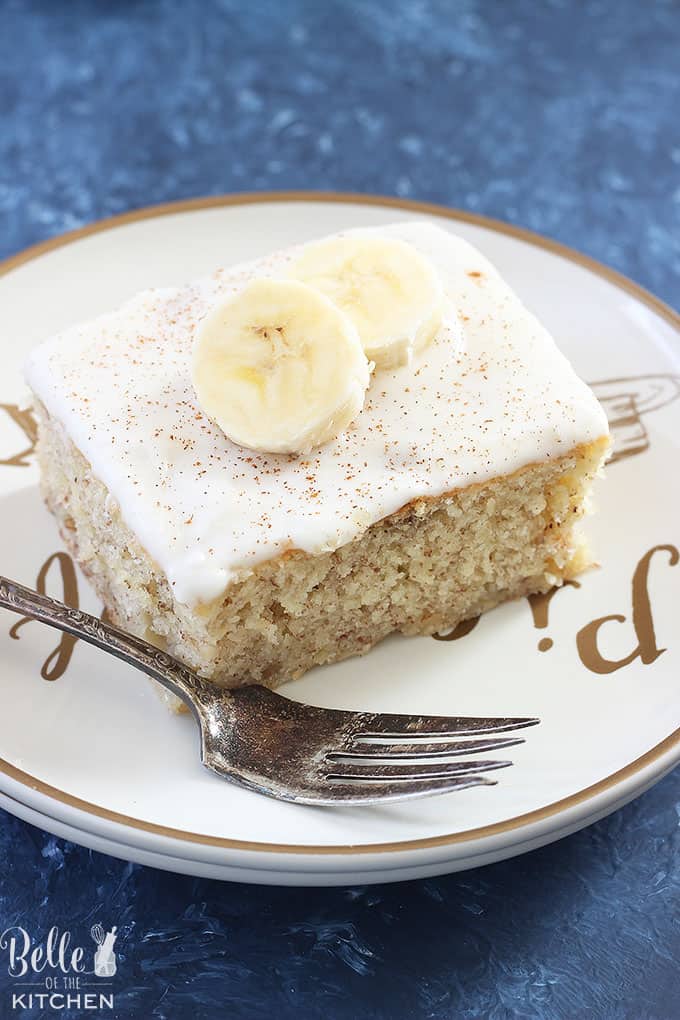 A big bunch of overripe bananas were staring me down and I decided it was time to make my favorite banana cake, which I'm surprised I haven't shared on here before! I make Butterscotch Banana Bread or Kale, Apple, and Banana Smoothies a lot with overripe bananas, but this Banana Cake is a family favorite!
I hope you love it, too!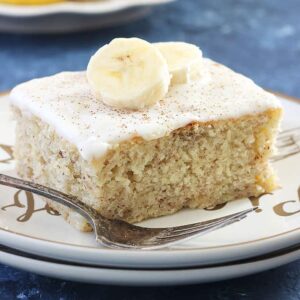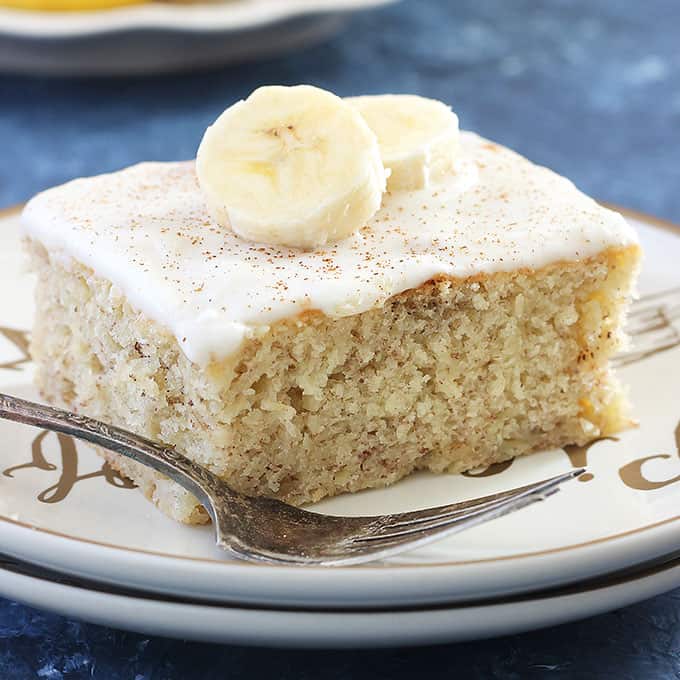 Banana Cake with Vanilla Frosting
Put those overripe bananas on your counter to good use with this delicious Banana Cake! It's topped with creamy vanilla frosting and makes a perfect treat!
Ingredients
To make the cake:
2/3 cup white granulated sugar
1/2 cup sour cream
1 egg
2 Tablespoons butter, softened
2 medium bananas, mashed
1 teaspoon vanilla extract
1 cup all purpose flour
1/2 teaspoon baking soda
1/4 teaspoon salt
To make the frosting:
2 Tablespoons butter, softened
1 1/4 cups powdered sugar
2-3 Tablespoons milk
1/2 teaspoon vanilla extract
Instructions
Preheat oven to 350 degrees. Spray an 8x8 baking pan with cooking spray and set aside.

Using an electric mixer, beat together the sugar, sour cream, egg, and softened butter over medium speed until combined. Add in the mashed bananas and vanilla extract.

Stir in the flour, baking soda, and salt by hand, mixing until just combined. Pour into the prepared baking dish and bake in the preheated oven for 22-28 minutes, until top is golden brown and a toothpick inserted in the center comes out clean.

Cool completely on a wire rack.

To make the frosting, beat the butter, powdered sugar, milk, and vanilla extract with an electric mixer until smooth. Evenly spread over the cooled cake and serve. I like to sprinkle the frosted cake with a little cinnamon for an extra boost of flavor and color, but this is optional! Refrigerate any leftovers.
Calories: 206kcal, Carbohydrates: 36g, Protein: 2g, Fat: 6g, Saturated Fat: 3g, Cholesterol: 28mg, Sodium: 93mg, Potassium: 103mg, Sugar: 26g, Vitamin A: 210IU, Vitamin C: 1.8mg, Calcium: 18mg, Iron: 0.6mg
If you like this Banana Cake Recipe, then you might also like:
This site contains affiliate links, if you make a purchase through them, we receive a small commission.