My son's absolute favorite food is pizza. He could probably eat it everyday, for lunch and dinner both, if I would let him. I love pizza, too, but sometimes I like a little variety. And so I give you Chicken Alfredo. On crust.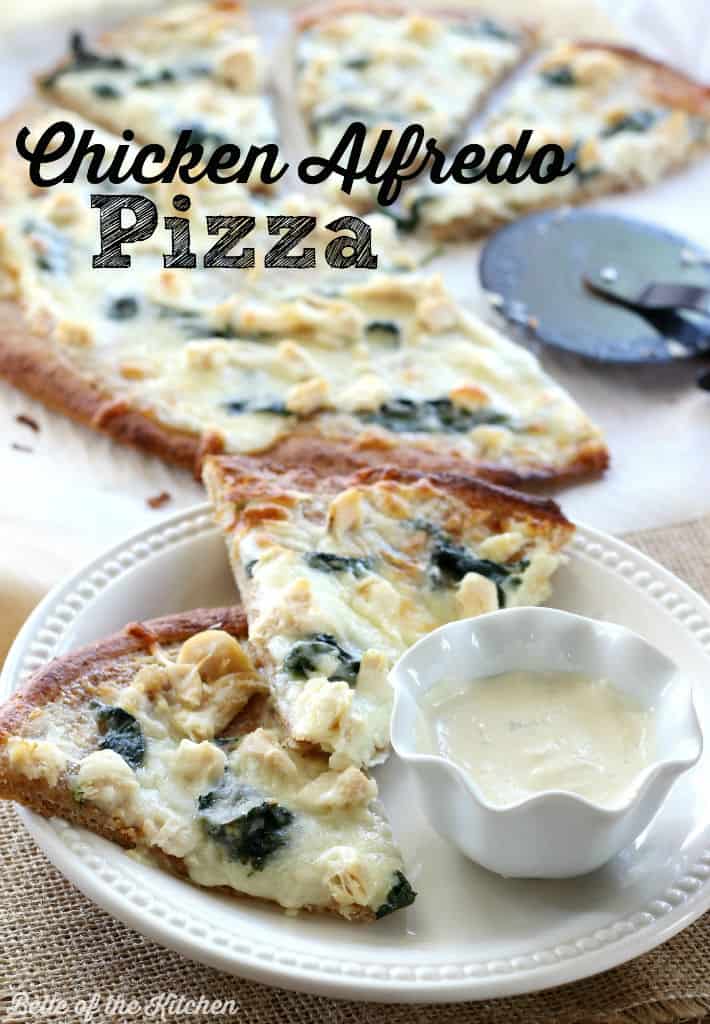 Chicken Alfredo is amazing in the traditional form, so I thought it would make a great pizza, too! The sauce alone is totally slurpable. Yes, I slurped many a spoonful during the tasting stages. And after, too. Seriously, it's hard to stop once you've had a taste! It's just that good!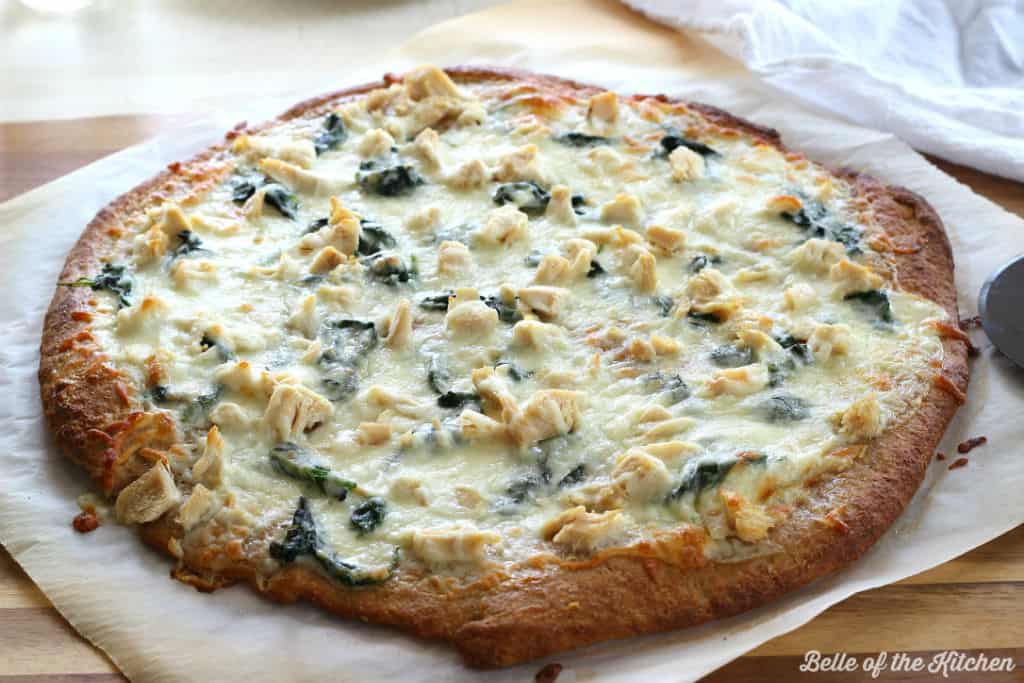 Making pizza is a great way to get your kiddos involved in the kitchen. My son likes to help spread on the toppings, especially the cheese. Or, he mostly enjoys nibbling the cheese while spreading. Either way, he does help a little bit. Here he is waiting for the pizza to finish baking…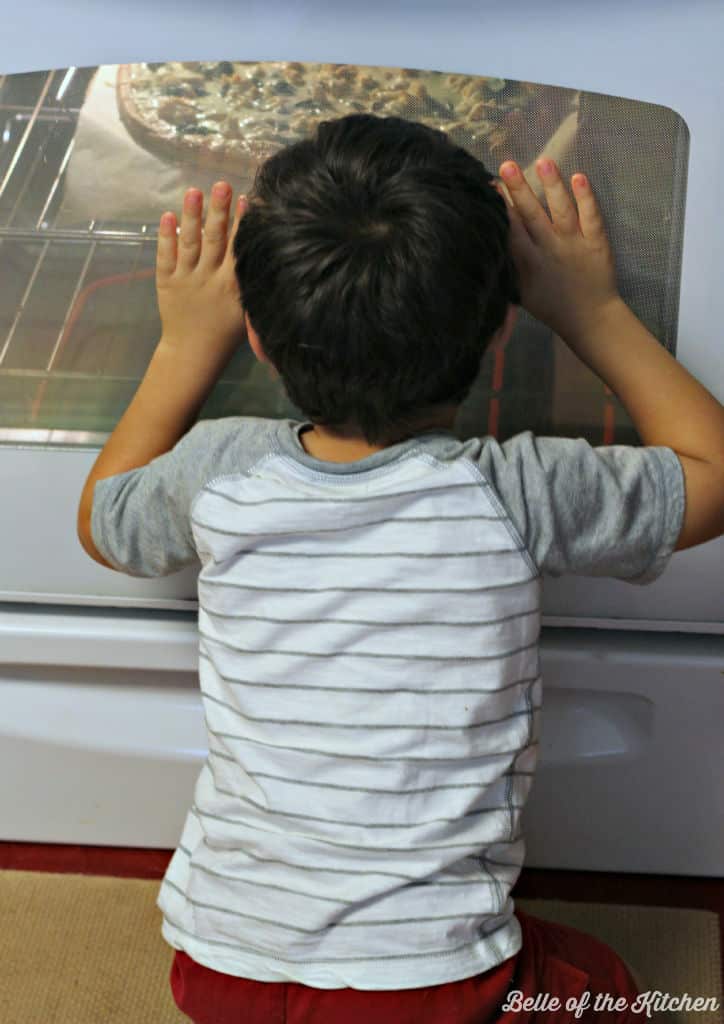 He loves sitting in front of the oven and keeping an eye on whatever is cooking or baking. He makes for a perfectly impatient kitchen timer.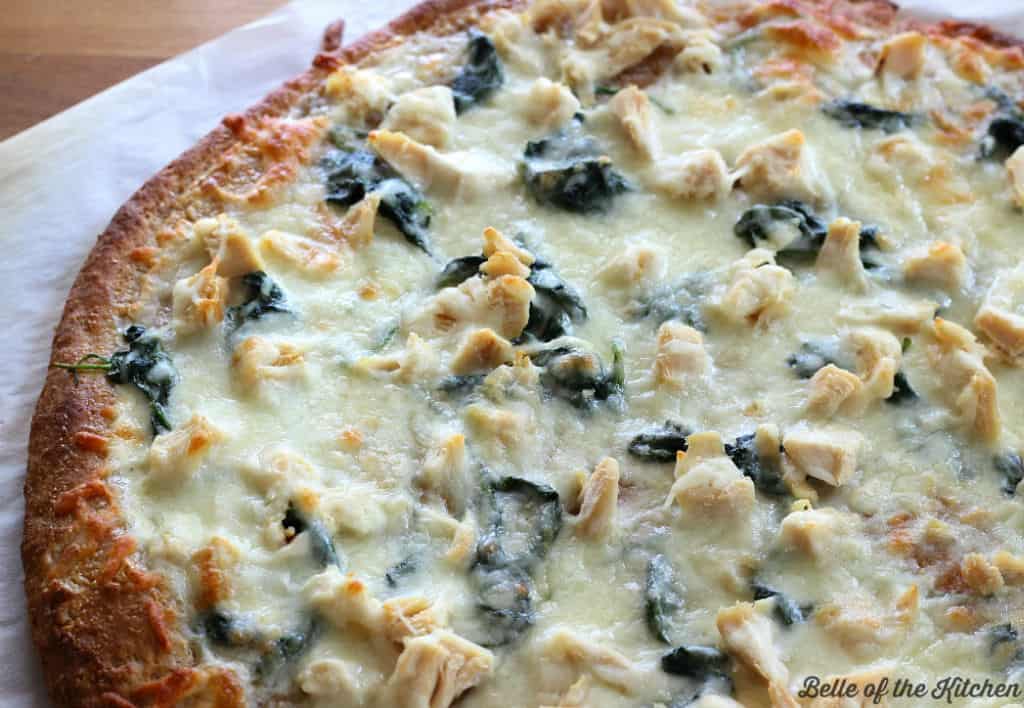 I baked mine on parchment paper on top of a pizza stone, but you can bake it on a cookie sheet, too! I also added spinach to mine, and next time I think I'll add mushrooms. The sauce recipe also makes enough to have some left over to use for dipping! Hope y'all enjoy it!
Chicken Alfredo Pizza
Ingredients
1 pizza crust, either homemade or refrigerated
1½ cups cooked and chopped chicken breast (I used meat from a rotisserie chicken)
5 oz. frozen spinach, thawed and squeezed dry
¼ cup butter
2 cloves garlic, minced
2 TB cream cheese
1 cup heavy cream
1 tsp garlic powder
salt and pepper, to taste
⅓ cup parmesan cheese, shredded
2 cups mozzarella cheese, shredded
Instructions
Prebake crust according to package directions. Set aside to cool until ready to use.
Prepare alfredo sauce by melting butter in a small sauce pan over medium-low heat. Add in minced garlic and cook for about one minute.
Add in cream cheese, heavy cream, garlic powder, and salt and pepper, whisking until smooth. Continue to cook over medium-low heat, whisking frequently, about 10 minutes or until thickened. Stir in parmesan cheese until melted.
Spread alfredo sauce over the top of pre baked crust. You will have some left over to use for dipping.
Top pizza with cooked chicken and spinach, then sprinkle with mozzarella cheese. Return to the oven and bake for another 8-10 minutes.
Remove from oven and enjoy!
Related posts: