This Bacon Ranch Pasta Salad is the perfect side dish for barbecues and summer get-togethers. It's fresh, yummy, and always a crowd pleaser!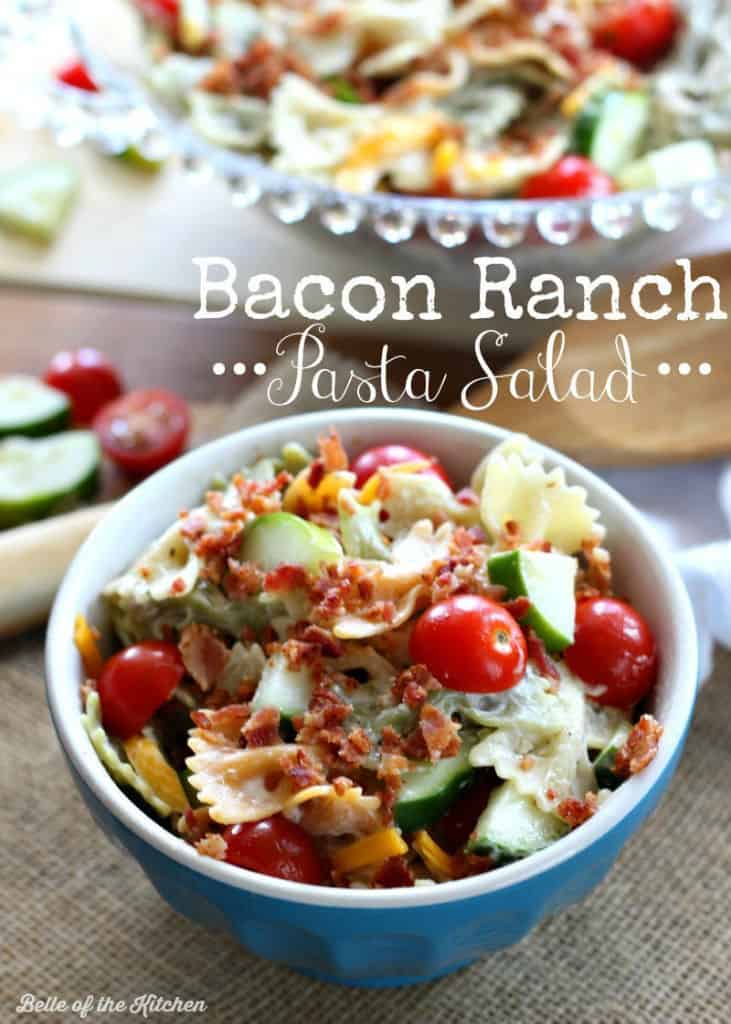 I first shared this post over on Bloom Designs earlier this month, and wanted to bring it here again for all of you! I love making this pasta salad in the summer time. When it's warm and and you're outside grilling, it is the perfect, cool side dish to pair with burgers or steaks hot off the grill.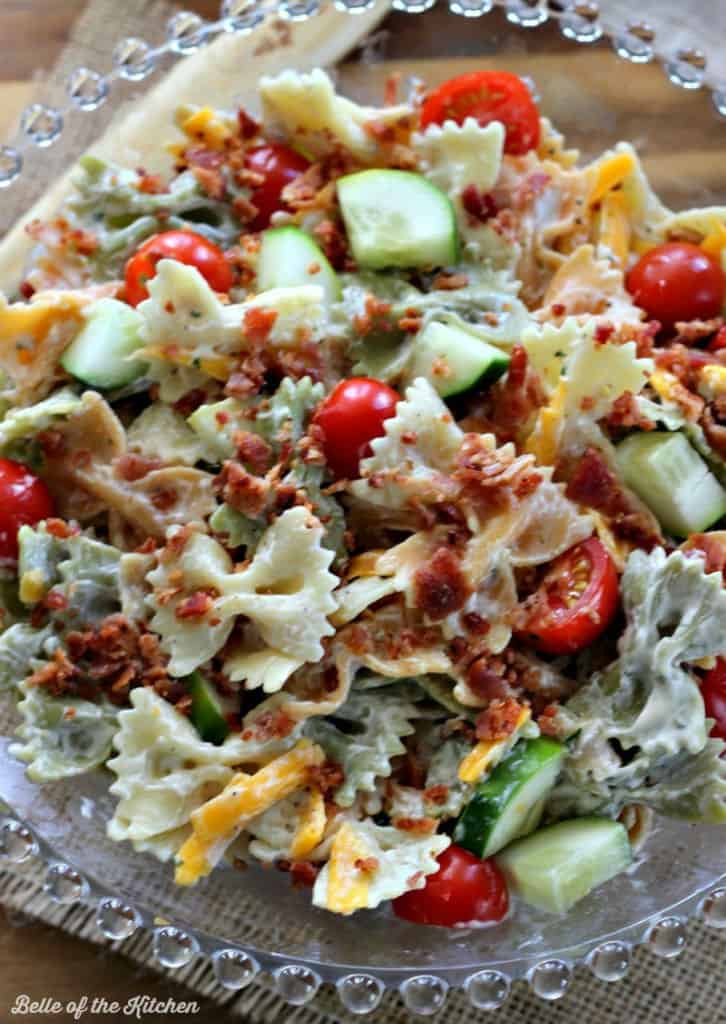 This Bacon Ranch Pasta Salad has been a favorite of mine for the past few years. It's actually one of the first recipes I ever made when I started out in the kitchen. It's easy to prepare, and every time I make it, my family gobbles it up!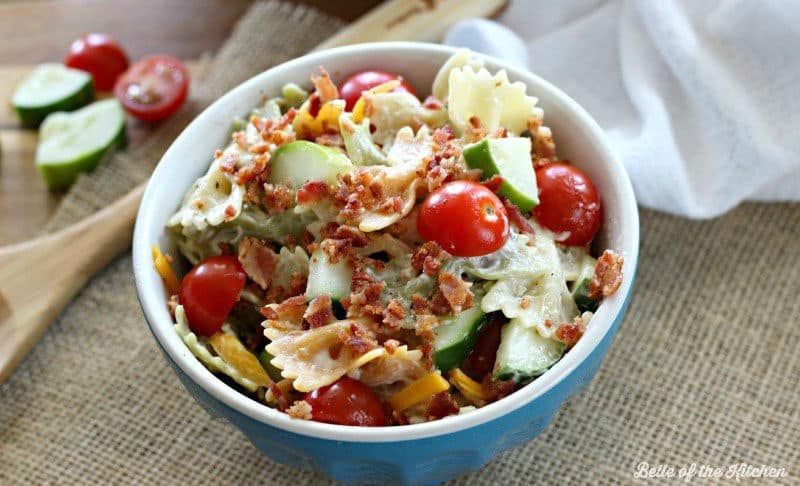 You can add in a variety of veggies, or leave them out altogether if you wish. I've made it many times, adding ingredients or not, and it always come out great. I LOVE adding chopped cucumber because it adds a pretty pop of green and a nice bit of crunch. My crazy hubby hates cucumber, though, so sometimes I take pity on him and leave it out. But this time I just couldn't help myself.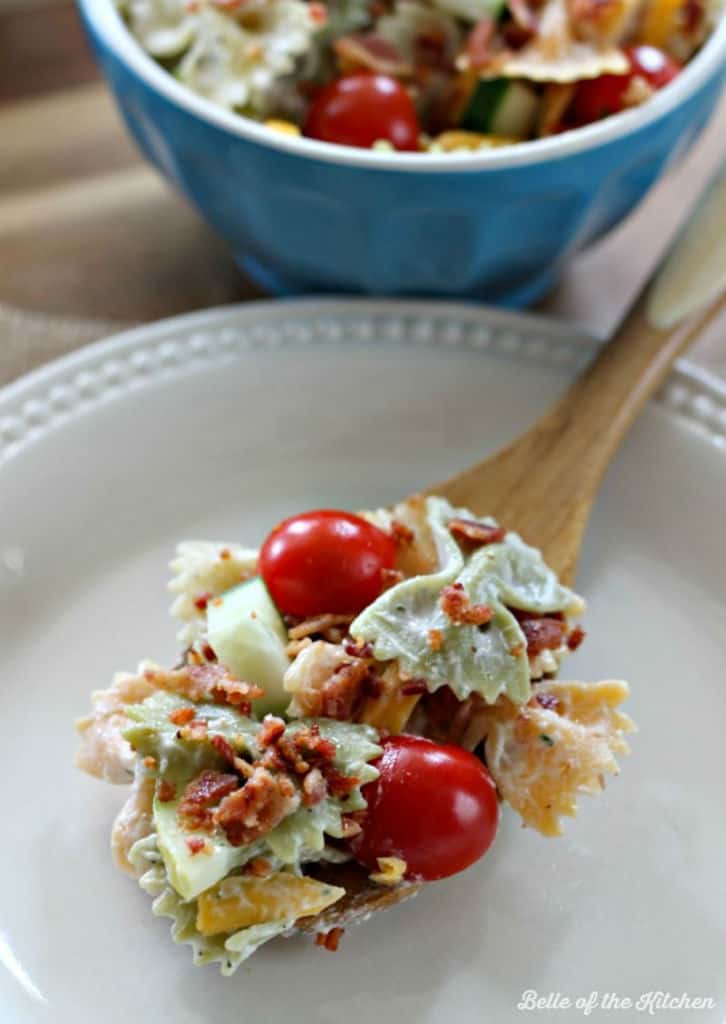 In other news, we returned from our family vacation over on the Big Island a couple days ago. We had such a great time! It was our first island-hop since moving to Oahu, and we were kind of amazed at how big it actually is! We spent some time in Volcanoes National Park, toured Waipio Valley, visited a Black Sands Beach, did some stargazing on Mauna Kea, and toured a few coffee farms in Kona. We also had some beach time and ate lots of delicious food! The latter is usually my favorite part of any vacation. 😉
That's a picture of my hubby and I at Punalu'u Black Sands Beach. It was such a cool experience to be there and see it in person!

Bacon Ranch Pasta Salad
Ingredients
1 (12 oz.) package uncooked tri-color pasta
5 slices bacon, cooked crisp and chopped
1 cup mayonnaise
1 envelope dry ranch salad dressing mix
½ teaspoon garlic powder
½ teaspoon garlic pepper
½ cup milk
1 cup cherry tomatoes, sliced in half
1 small cucumber, chopped into ¼ moon slices
1 cup shredded cheddar cheese
Instructions
Cook pasta in a large pot of salted water until al dente, making sure not to overcook. Drain well.
In a large bowl, combine mayonnaise, ranch dressing mix, garlic powder, and garlic pepper. Stir in the milk until mixture is nice and smooth.
Carefully fold the cooked pasta into the dressing mixture, and stir to coat evenly.
Refrigerate the pasta salad for at least 1-2 hours. When ready to serve, add in the chopped bacon, veggies, and cheese, and toss to coat. You can also add a splash of milk to smooth the pasta salad out as needed.