This is a sponsored post written by me on behalf of Hillshire Brands and Safeway. I was chosen for this opportunity as a member of the Mom It Forward Network. All opinions and ideas are my own. #BringHillshireHome
Cheesy tortellini and juicy smoked sausage are drenched in a creamy pesto Alfredo sauce with tomatoes, garlic, and gooey cheese. It's the best of both worlds: amazing taste AND it comes together in less than 30 minutes!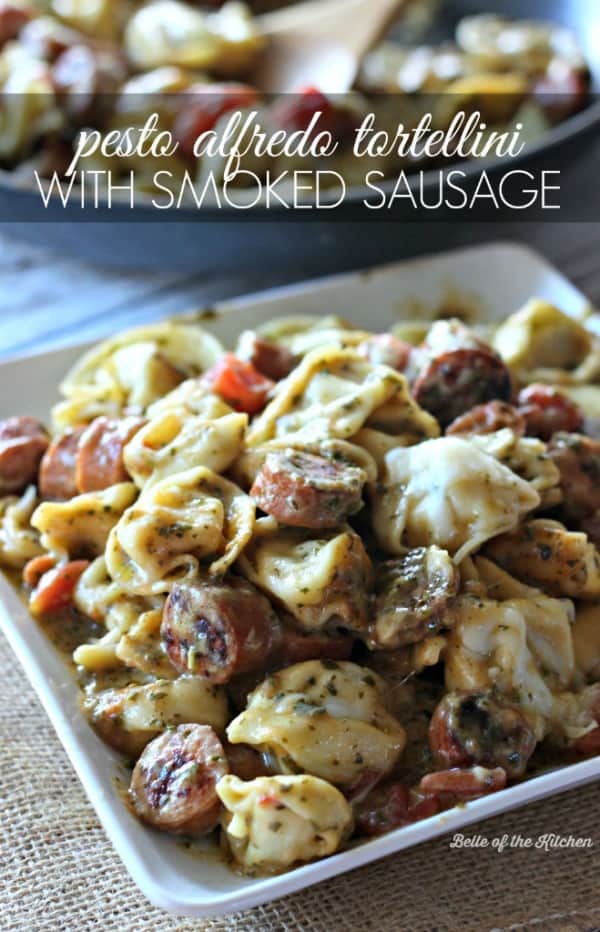 Happy Friday, everyone! How has your week been going so far? Mine has been pretty good, but just a little busy getting back into the swing of things after the long weekend. The nice thing about the long weekend was that I was able to go for a run almost every day ALL BY MYSELF! I don't know if I've told y'all or not, but I'm getting ready to run my first 10k in November! I'm very excited about it, since it will be my first step towards my goal of running a half marathon in the spring. Plus I've been wanting to do one since before I even got pregnant with my daughter. When I run during the week, my two kiddos tag along, strapped into the double Bob. It's quite the workout pushing a stroller that's holding a 4 year old and a one year old, so I love my weekend solo runs!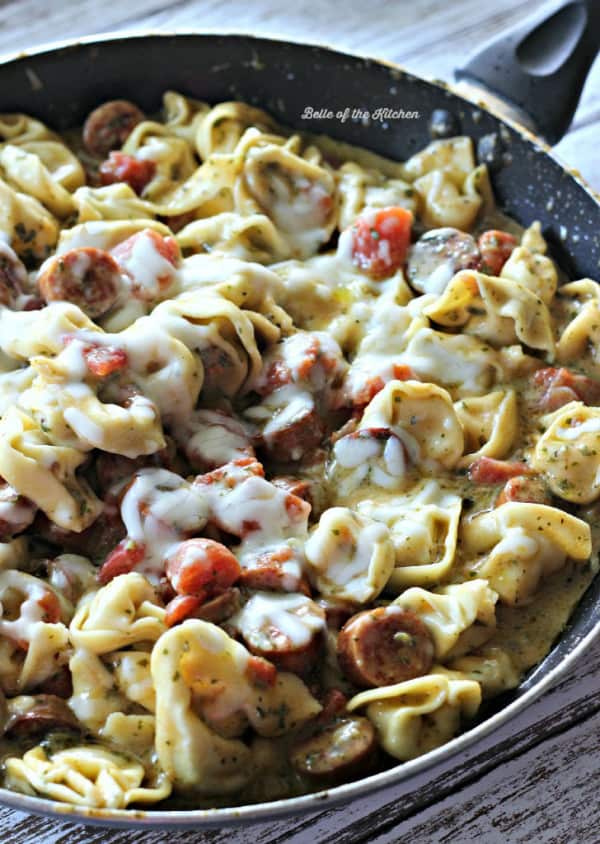 After finishing a run, or any good workout, it's important to get some protein back into your body. And when you're tired from exercising and everything else you've been busy with during the day, quick and easy dinners are a MUST. I was able to make this amazingly delicious Pesto Alfredo Tortellini using Smoked Turkey Sausage from Hillshire Farms in under 30 minutes! It was an easy way to get dinner on the table and also get in some much needed protein.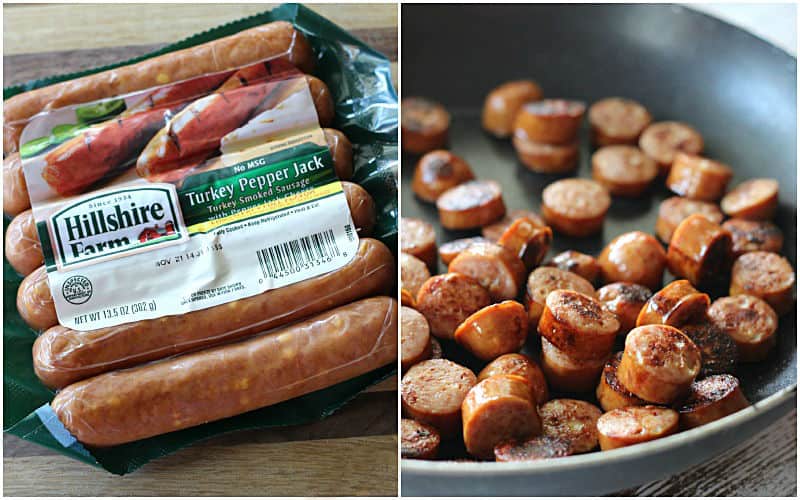 I love the Smoked Turkey Sausage with Pepperjack Cheese because it's a little bit lighter in calories, but still so full of flavor. Every member of my family LOVES this meal, which makes it even better. My kids gobble this up, and the extra bit of protein from the yummy turkey sausage helps to fill up my little guy, who pretty much tells me all day long that he's hungry. I mean, seriously, he's only four but has the appetite of a teenager! But when I give him this leftover tortellini with smoked sausage for lunch the next day, he stays full till dinnertime, thankfully.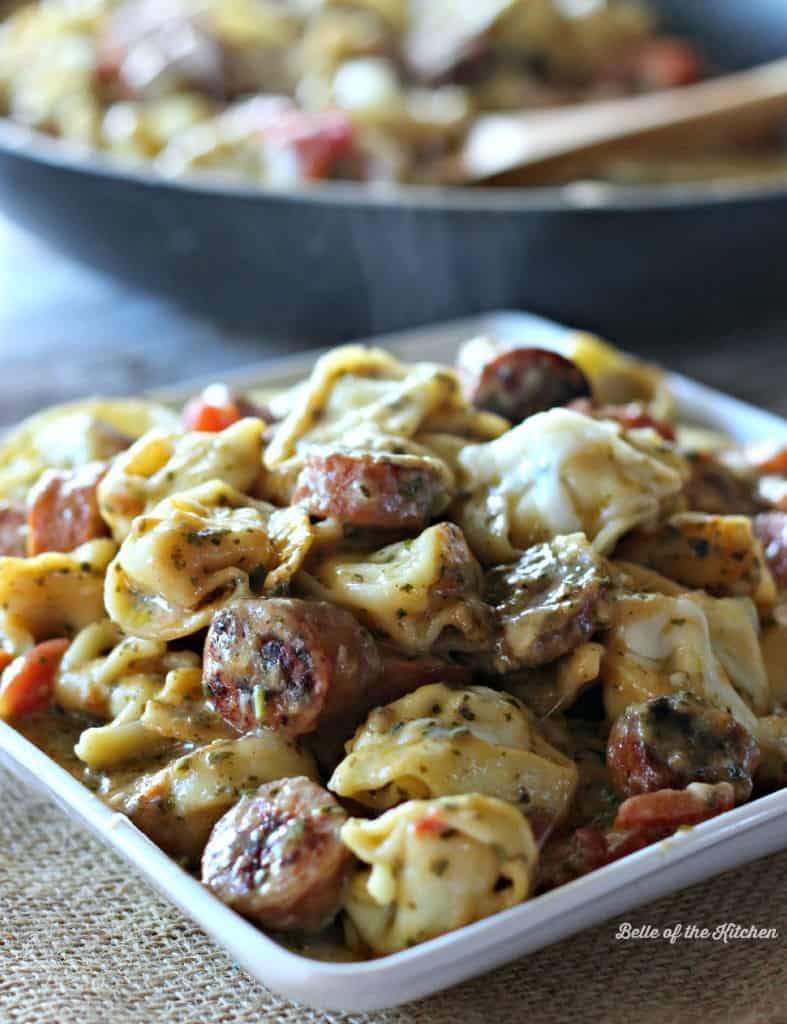 I was excited to save a little money on my smoked sausage with a coupon I had gotten from Safeway on their Just 4 U website. You can see all of the current coupon deals for meat and seafood from Safeway by registering here.
Have a great weekend, y'all, and enjoy the recipe!

Pesto Alfredo Tortellini with Smoked Sausage
Ingredients
1 TB olive olil
1 (13.5 oz) package Hillshire Farms Turkey Pepper Jack Smoked Sausage
1 clove garlic, minced
1 (20 oz) package fresh tortellini
10 oz Alfredo sauce
7 oz prepared pesto
1 (14.5 oz) can diced tomatoes with italian seasonings, partially drained
½ cup shredded parmesan cheese
½ cup mozzarella cheese
Instructions
Begin by preparing tortellini according to package directions.
While pasta is cooking, heat olive oil in a large skillet over medium-high heat. Slice the sausage and add to the hot pan, cooking until lightly browned. Add in garlic and sauté until fragrant, about 30 seconds.
Once tortellini is finished cooking, drain well and add to the skillet with the cooked sausage, along with Alfredo sauce, pesto, and diced tomatoes (I drain them a little, but not completely).
Reduce heat and stir ingredients well to combine. Continue cooking over low heat until heated through, about 5 minutes. Stir in parmesan cheese and mozzarella. Keep warm until ready to serve. Enjoy!
Be sure to check out some other yummy recipes from these awesome bloggers!
Chicken Sausage Skillet with Veggies