If you enjoy ordering takeout chicken teriyaki, then you will love this homemade version! Just marinate your chicken in a few simple ingredients, then grill, broil, or pan cook for a delicious dinner.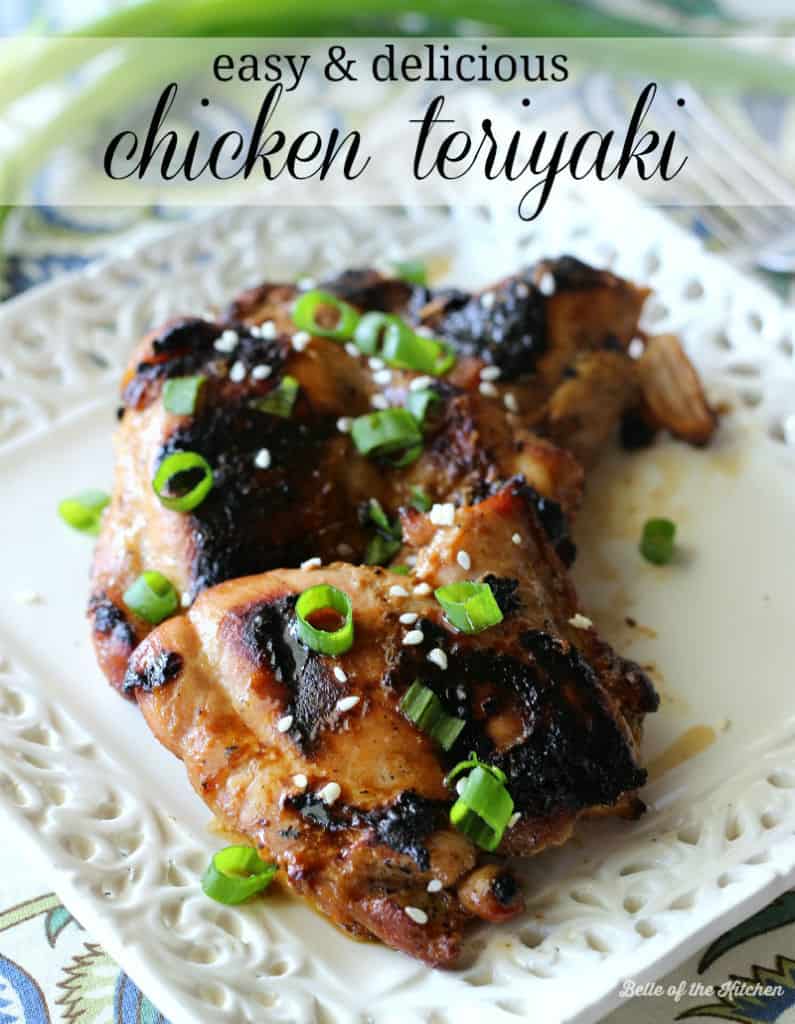 Happy Tuesday, y'all! How's your week going so far? I have to say, today I am just feelin' all kinds of sleepy. And it's not for lack of sleep, really, I guess it's just the amount of STUFF that keeps piling up around here (literally and figuratively). Thank goodness there is that miracle juice named coffee to get us all through. Speaking of which, new and special recipe for that coming soon. Hint: think pumpkin spice.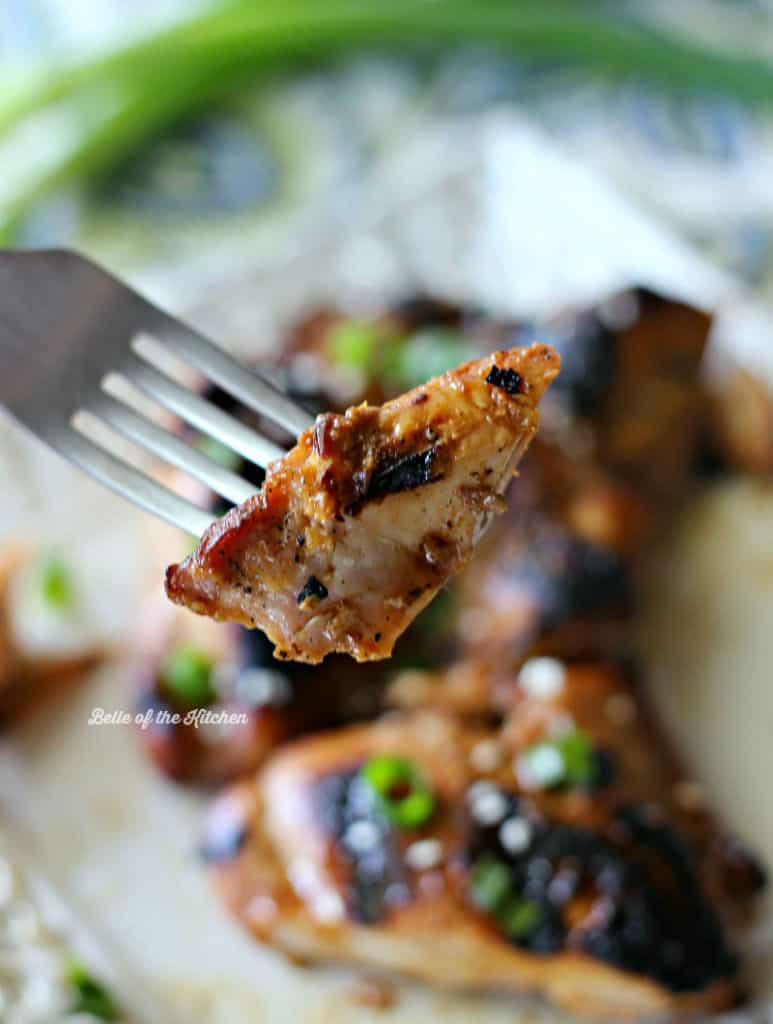 With the holidays coming up, we're all probably going to be feeling a little bit more busy and tired, so it's nice to have some multi-use meals to make dinner time as easy as possible. Almost every other Sunday, my hubby will grill up a few pounds of chicken for us to use for multiple meals during the week. This past weekend we made chicken teriyaki, which is always a hit at dinnertime with our kiddos. The first night we ate it fresh off the grill with roasted potatoes and corn on the cob. Mmmm!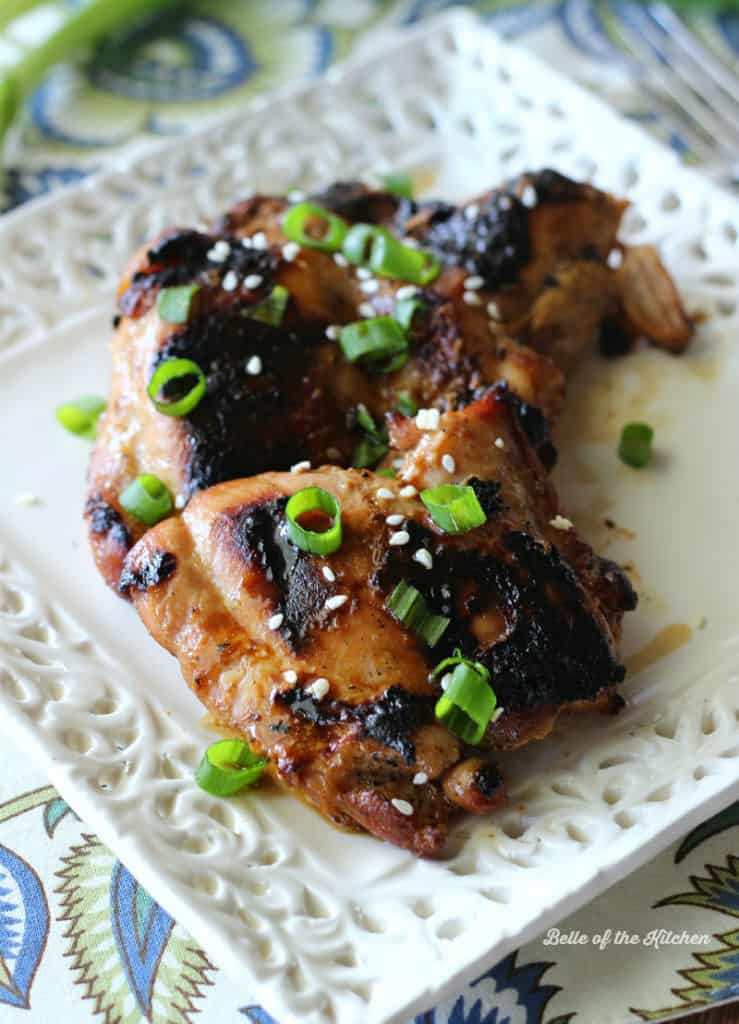 If you and your grill are "taking a break" due to chilly weather (like my little "Friends" reference, there? 😉 ) you can definitely make this indoors using the broil function on your oven, or simply pan fry over medium heat. I use the leftovers during the week in tacos, salads, etc. Next week I'll be sharing a recipe for Grilled Chicken Salad with Southwestern Ranch dressing using some of this yummy leftover chicken teriyaki, so stay tuned for that!
Chicken Teriyaki
Ingredients
1 (6 oz) can pineapple juice
¼ cup vegetable oil
¼ cup soy sauce
3 TB brown sugar
½ tsp garlic powder
¼ teaspoon freshly ground black pepper
2 pounds skinless, boneless chicken breasts or thighs
sliced green onions, for topping
sesame seeds, for topping
Instructions
In a small bowl, mix the pineapple juice, vegetable oil, soy sauce, brown sugar, garlic powder, and pepper.
Place chicken in a large bowl or resealable plastic bag and pour marinade over the top. Cover (or close bag), and marinate in the refrigerator at least 2 hours. The longer you marinate the chicken the more flavorful it will be. I like to marinate mine for 24 hours if possible.
If grilling, heat grill to medium heat and cook chicken for 5-8 minutes per side. If broiling, heat oven broiler to high and cook for about five minutes per side, being careful not to burn. You can also pan fry your chicken over medium heat for about 5 minutes per side. With each method, just keep an eye on the chicken and adjust cooking time as needed. Make sure to discard any leftover marinade.
Sprinkle with sliced green onions and sesame seeds when ready to serve.
Related posts: