Peppers, onions, and creamy cheese come together to make this delicious Chicken Fajita Soup. Topped off with a little sour cream and chips on the side, this is a bowl of southwest comfort food!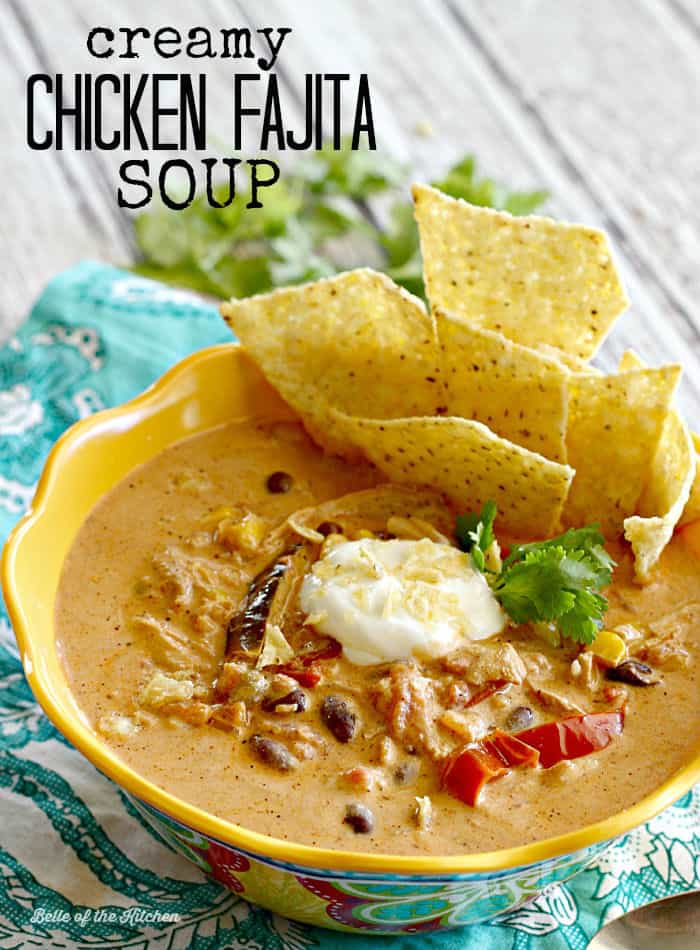 I hope y'all aren't "souped out" yet. 😉 I know I've been sharing a lot of soups lately, but I just can't seem to help myself. I could probably eat soup multiple times a week and be perfectly happy. Plus my son actually requests it for dinner all the time! You've probably heard me mention that he is a picky eater, so it's a big deal when he makes requests other than sandwiches or pizza.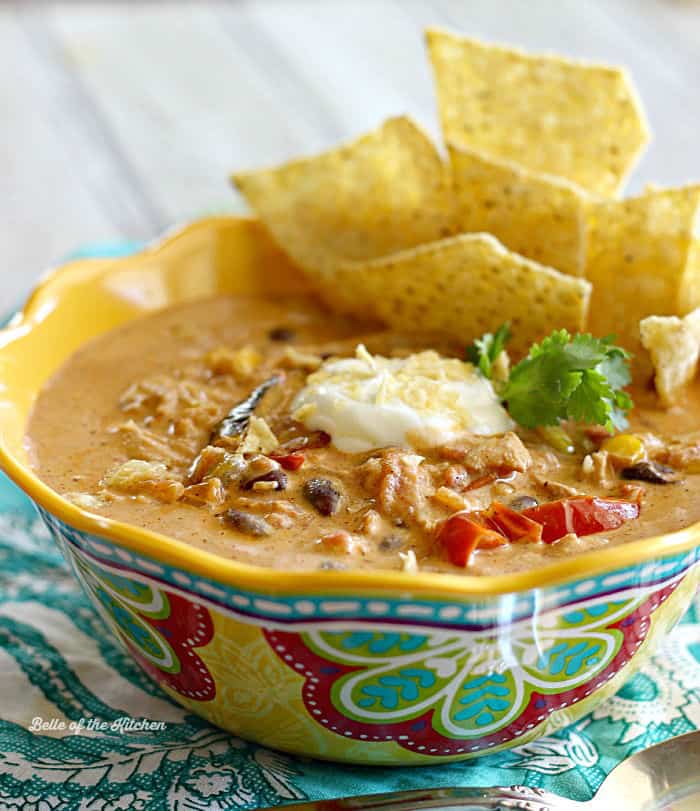 This Chicken Fajita Soup was actually one of those ideas that came about as I was looking through my fridge, trying to decide what to make for dinner. I had some peppers that I needed to use up, plus some leftovers from my weekly rotisserie chicken. I mentioned my adoration for those chickens in my Shrimp Enchiladas recipe.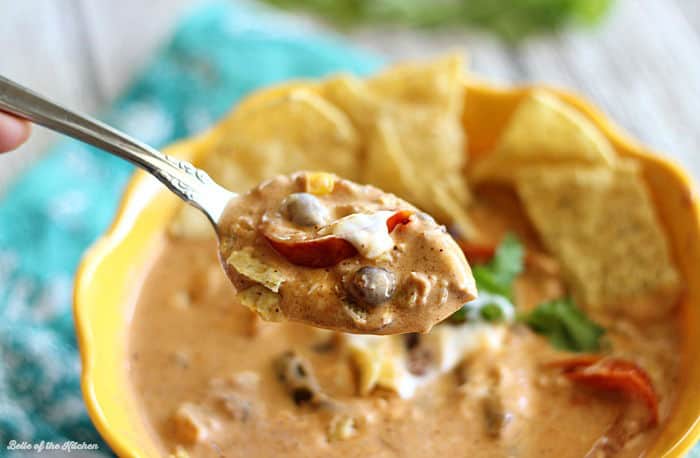 This soup was so easy to make, and it was ready FAST! Under 30 minutes fast, y'all. Plus, it tastes AMAZING! I added in some sharp cheddar to give it a nice cheesy finish, and there were no complaints coming from our dinner table!
Enjoy!
Creamy Chicken Fajita Soup
Ingredients
2 TB butter
½ medium onion, thinly sliced
½ green pepper, sliced
½ red pepper, sliced
*Fajita seasoning (1 packet, or homemade recipe below)
2½ cups chicken broth
1 can black beans, drained and rinsed
½ cup frozen corn
1 (14.5 oz) can diced tomatoes
1 (8 oz) package cream cheese, softened
½ cup shredded sharp cheddar cheese
2 cups cooked chicken
1 TB cornstarch
2 tsp chili powder
1 tsp salt
1 tsp paprika
1 tsp white sugar
½ tsp onion powder
½ tsp garlic powder
¼ tsp cayenne pepper
½ tsp ground cumin
(combine spices and mix well)
Instructions
In a large soup pot, melt butter over medium heat. Add onions, green peppers, and red peppers. Cook until vegetables have softened and are starting to brown, about 8-10 minutes.Sprinkle with fajita seasoning.
Add chicken broth, corn, diced tomatoes, and softened cream cheese. Continue to cook over medium heat, stirring occasionally until cream cheese has completely melted.
Stir in cooked chicken and ½ cup sharp cheddar cheese. Top with sour cream, tortilla chips, and chopped cilantro if desired.
Hungry for more soup recipes? You might like: