Make St. Patrick's Day even more fun with these yummy Popcorn Balls! They are full of  sprinkles, marshmallow charms cereal, and are easy to make for St. Patrick's Day or any day of the year!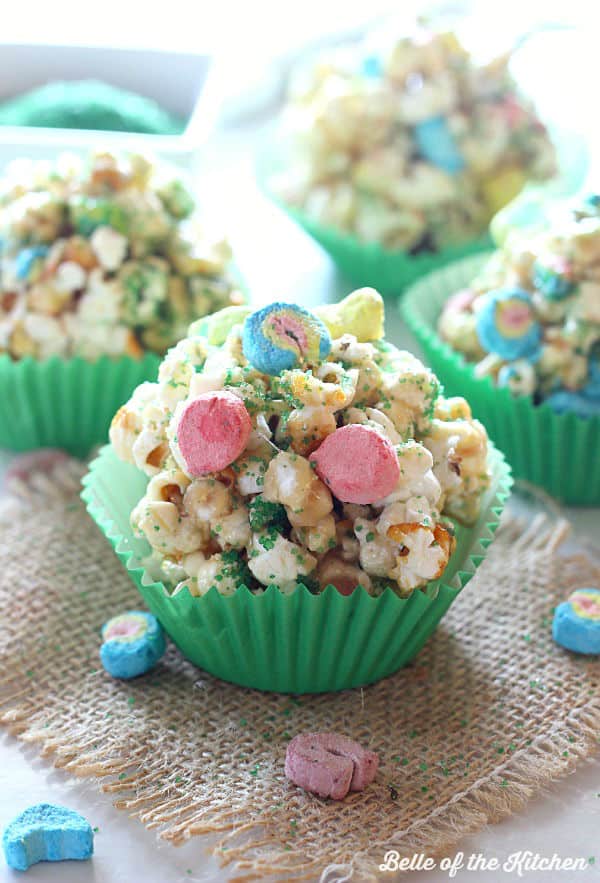 I don't know if I've told y'all or not, but St. Patrick's Day is an extra special holiday in our house. I've always loved all the fun and mischief that goes along with celebrating St. Patrick's Day, but it became even more special six years ago when I said "I do" to my husband!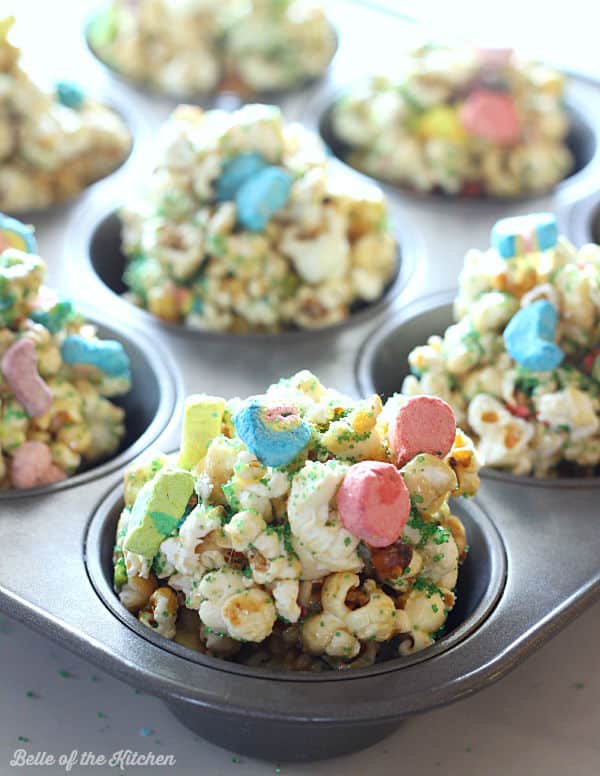 Yep, our anniversary is on St. Paddy's Day! We didn't actually intend for it to take place that day, but we ended up having a sort-of "military wedding." See, my hubby (then fiancé 😉 ) was about to take off for training for a few months. We had been engaged for over a year and were ready to get married. Plus, once he returned, it would be time for our first PCS move and we needed to be married in order for me to be listed on his orders. So, we did a simple  exchange of vows, with just my parents and my sister there, since it was on a Wednesday afternoon. We actually had intentions of having a real wedding in the future, but then….we got pregnant with our son six months later!  So yes, life has just kind of gotten in the way, and we are still hoping to have a vow renewal someday.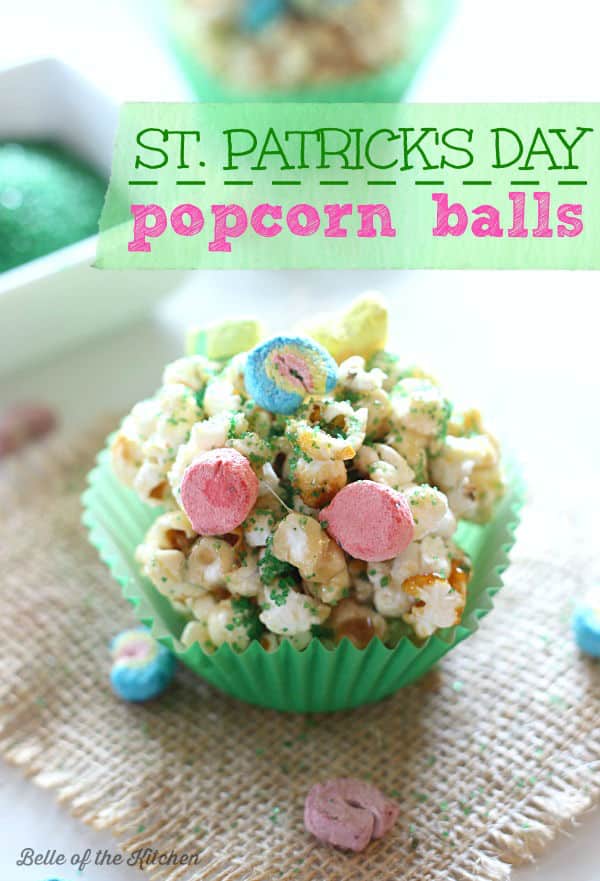 So anniversary talk aside, these popcorn balls are really easy to make and the marshmallow cereal and sprinkles give them a special touch for St. Patrick's Day. My kids absolutely loved them, and so did my hubby. They might become a new anniversary tradition in our house!


Now before I give you the recipe, I have to admit that it took about three attempts of making these popcorn balls before I got it right. I guess it's true when they say "the third time's the charm!" I also think it's the brown sugar in these babies. It tasted WAY better than the white sugar I tried first. Honestly, I was just glad to finally achieve a yummy, yet easy to make popcorn ball! Hope y'all enjoy them.

St. Patrick's Day Popcorn Balls
Makes:
about 16 popcorn balls
Ingredients
¼ cup butter
⅓ cup brown sugar
2 cups mini marshmallows
3 quarts plain popped popcorn
1 cup marshmallow cereal (only the marshmallows!)
green sprinkles
Instructions
In a saucepan over medium heat, combine butter, brown sugar, and marshmallows. Stir constantly until mixture is completely melted and smooth.
Place the popcorn in a large bowl, and then pour the hot mixture over the top of the popcorn. Add in the marshmallow cereal and liberally dust with green sprinkles. Use a large spatula to mix ingredients and combine everything well.
Grease two clean, plastic, kitchen gloves with cooking spray and begin to shape the coated popcorn into balls (about tennis ball size). I set mine inside of a muffin tin to finish cooling. Store in an airtight container when finished. Enjoy!
Related posts: