Macaroni and Cheese with Ham and Broccoli – this recipe is classic comfort food: a creamy, homemade macaroni and cheese, that's been taken to the next level with a little ham and roasted broccoli.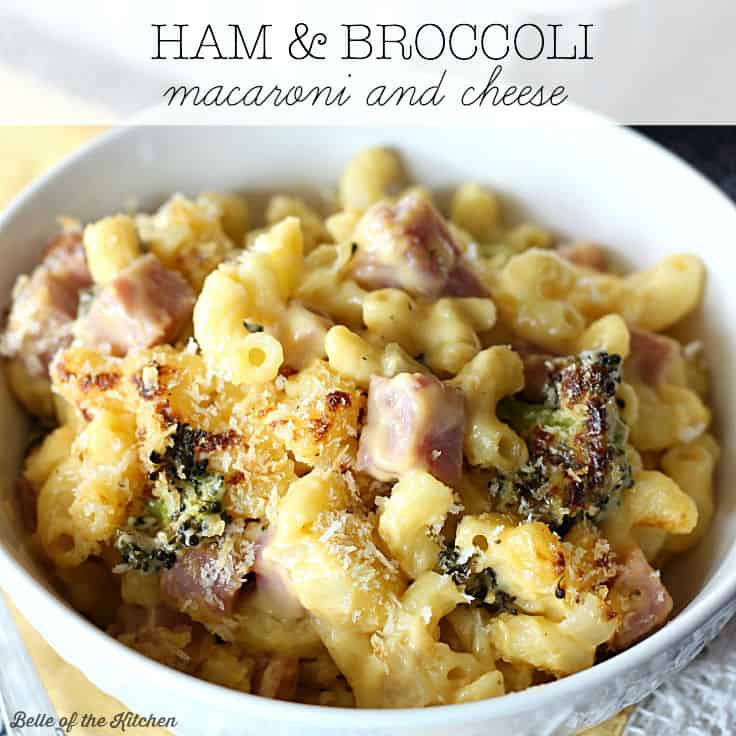 I'm a pasta lover, and I'm pretty sure I've been one for most of my life. I love just about every kind of noodle that's out there and I get overly excited anytime I spot a new shape when I'm at the store. I tried orecchiette pasta recently and it was delicious, though I honestly have no clue how to pronounce it! Anyone out there willing to teach me? 😉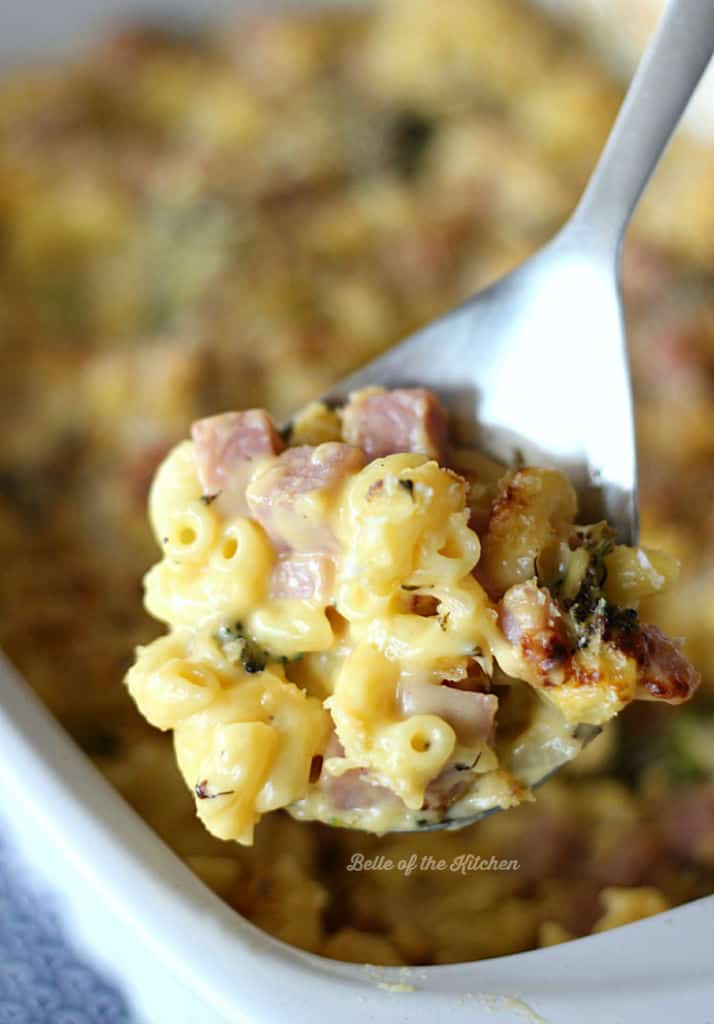 While I adore nearly every type of pasta there is, sometimes you just can't beat a classic. Macaroni and Cheese is just so comforting, and it's also so much fun to dress up. 😉 If you're not into ham and broccoli and prefer your mac and cheese plain, you can totally leave those out. This recipe is an easy way to make homemade macaroni and cheese, even without any additions!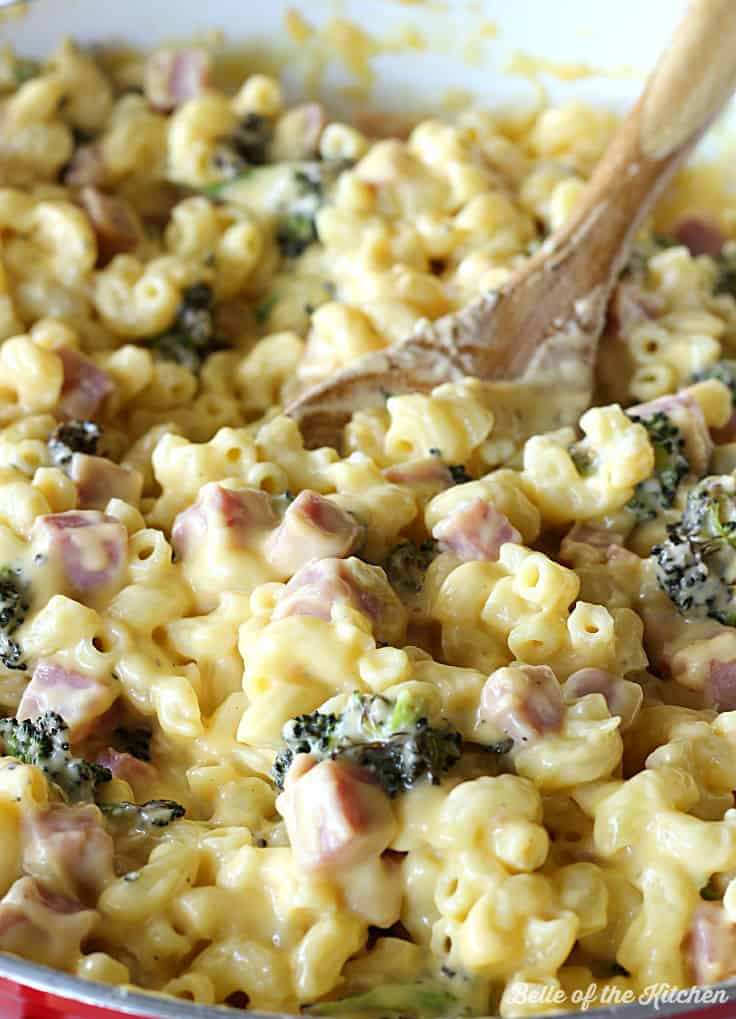 This recipe is a spinoff of another pasta recipe on my blog, Roasted Vegetable Macaroni and Cheese. For this recipe, I kept the roasted broccoli, but swapped the other veggies for ham, and added in some onions for flavor. If you've got some ham leftover from a special dinner, this would be an excellent way to use it up! Sprinkle on a little panko at the end and broil it for a little extra crunch, and you have one comforting meal!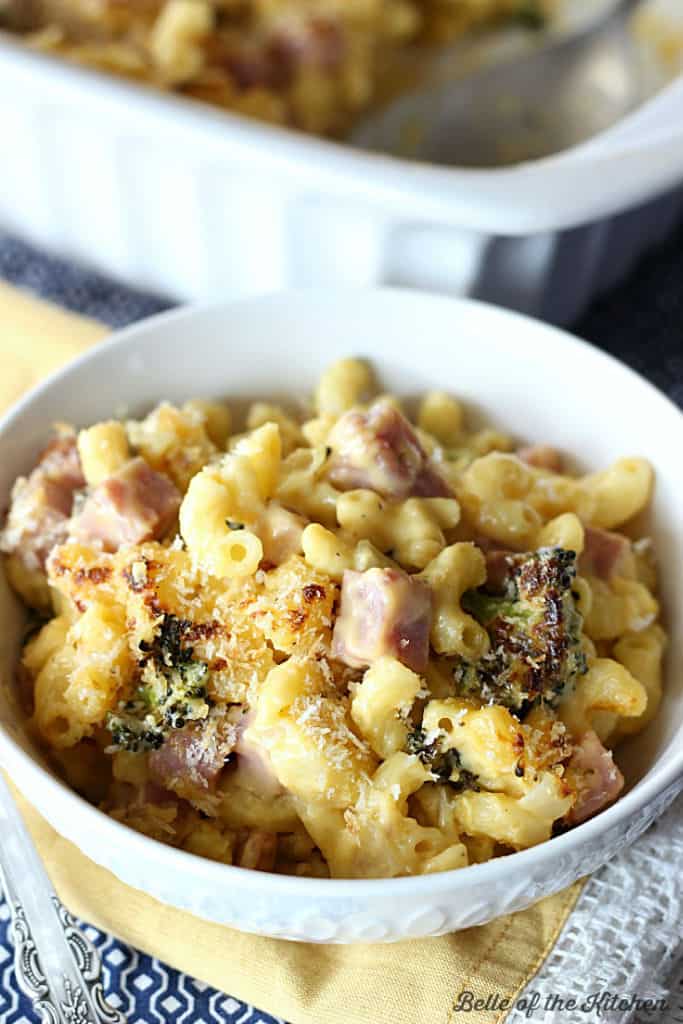 I originally shared this recipe over at Kenarry: Ideas for the Home a couple of weeks ago, while Carrie was here sharing her recipe for Chicken Rigatoni with Bacon, Bleu Cheese, and Pears! Make sure to check it out if you haven't already!
Macaroni and Cheese with Ham and Broccoli
Ingredients
1 medium head broccoli, chopped
2 cups elbow macaroni
¼ cup olive oil
½ cup onion, diced
2 garlic cloves, minced
3 TB. all purpose flour
1½ cups milk
2 cups sharp cheddar cheese, shredded
12 oz. cooked, chopped, ham
Salt and pepper, to taste
3 TB panko breadcrumbs
Instructions
Preheat oven to 400 degrees. Line a baking sheet with either aluminum foil or a silicone baking mat. Spray with olive oil or cooking spray. Add chopped broccoli to baking sheet and roast in the preheated oven for 15-20 minutes or until soft.
Meanwhile bring a medium pot of salted water to boil, and cook pasta according to package directions. Drain and set aside.
Heat oil in a large skillet over medium heat. Add onions and cook for 5 minutes, or until soft. Add in minced garlic and cook for 30 seconds, until fragrant. Whisk in flour and cook for 1 minute, then gradually whisk in milk, stirring constantly until mixture has thickened. Remove from heat and stir in cheese until melted and creamy. Season to taste with salt and pepper.
Carefully mix in macaroni, ham, and broccoli.
Place mixture in a large baking dish and sprinkle panko over the top. Place under broiler and bake for 3-4 minutes, or until top is golden brown.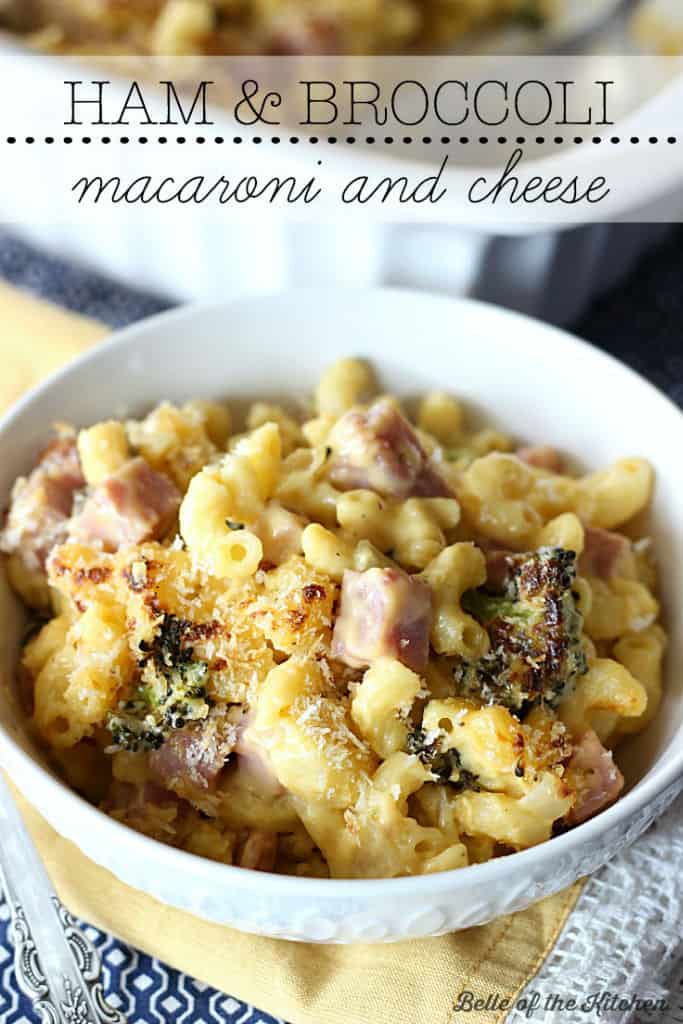 Hungry for more pasta recipes? You might like these:
Pesto Alfredo Tortellini with Smoked Sausage
Related posts: