This post was sponsored by Tastefully Simple as part of their Project Simplicity Program.
All opinions are mine alone.
Chipotle Honey Chicken Skewers – Chicken and veggies marinated in a delicious Chipotle Honey Grill Sauce from Tastefully Simple, then barbecued to perfection. Pair these with some Garlic Grilled Corn and Mango Margaritas for the perfect summer meal!
I just love grilling season, y'all, but it's usually my hubby who is in charge of running that show. Have I shared my fears of the grill with y'all before? For awhile, I was terrified of doing something wrong and causing some kind of barbecue explosion. It wasn't until my hubby took the time to show me all of the proper steps of how to light the grill (and I had practiced them a few times under his supervision) that I finally felt a little more at ease. I'm excited to say that all of this was made exclusively by me! I'm feeling proud today.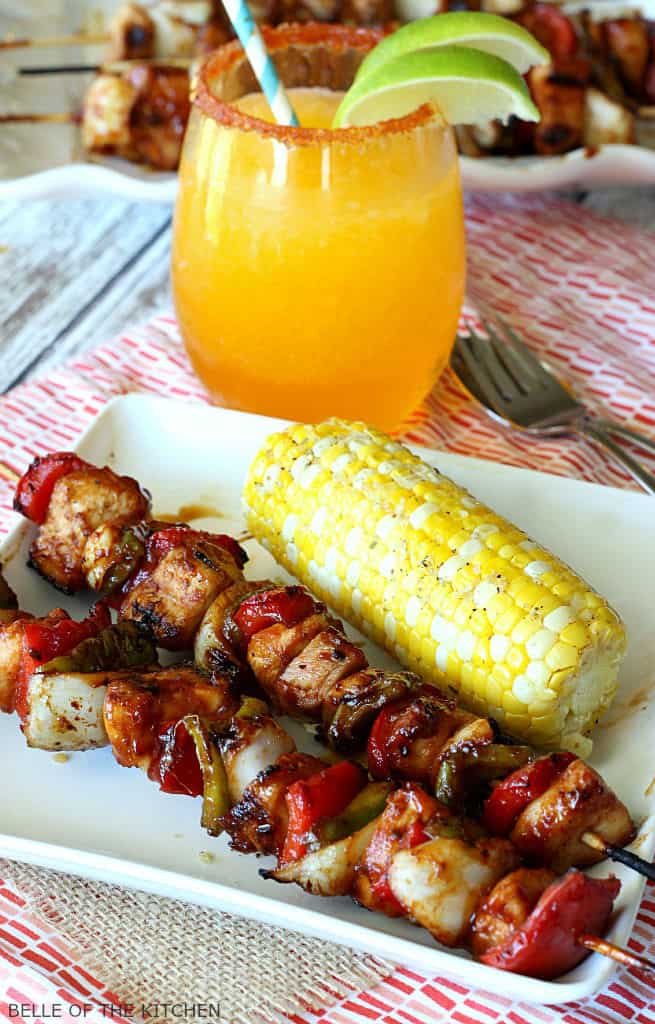 Now that I've conquered my fears a bit, I've really come to appreciate all the simplicity that grilling brings to your life. I mean, grilling=less dishes, and dishes are my enemy, y'all. Just ask my kitchen sink!
Another reason I love the grill is that you can use it to prepare your entire meal! That's what I did for today's post, with these Chipotle Honey Chicken Skewers and Garlic Grilled Corn. All I had to do was blend up a pitcher of margaritas and we were set for a relaxing al fresco dinner!
I used lots of good Tastefully Simple ingredients in this meal. Here's the lineup: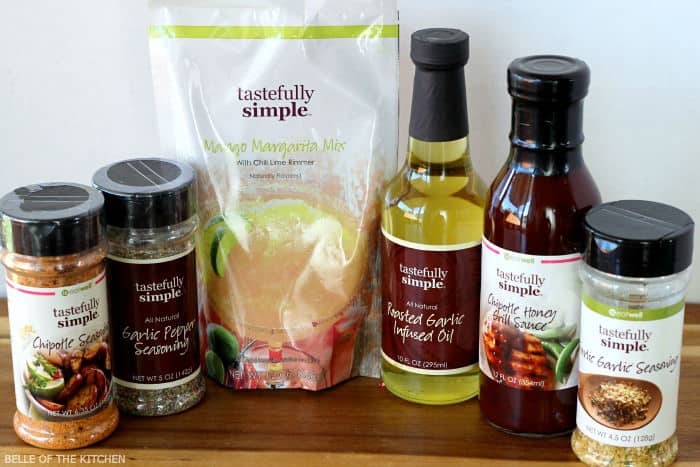 To make the chicken skewers, I seasoned some chicken breasts with salt, Garlic Pepper Seasoning, and Chipotle Seasoning. Then I marinated the chicken with chopped bell peppers and onions in the Chipotle Honey Grill Sauce over night. It was smelling pretty darn good when the time came to grill these babies.
Next I cleaned a few ears of corn and rubbed them with Roasted Garlic Infused Oil and a little butter. Then I seasoned them with Garlic Garlic Seasoning and some salt and pepper before throwing them on the grill. I've been using the Garlic Garlic Seasoning for a long time and I put it on nearly everything. If you're a garlic lover, you're going to want some of it in your life!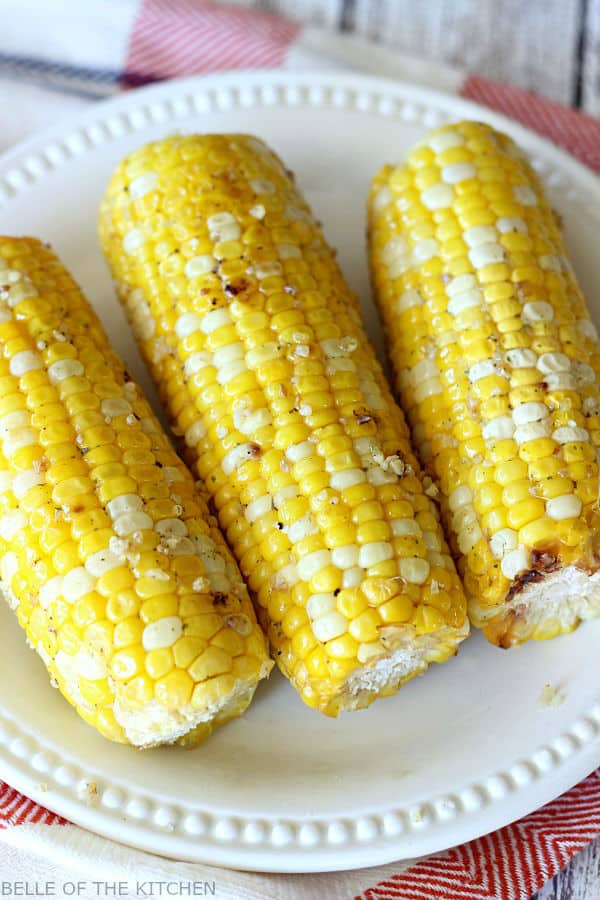 To finish everything off, I made a big pitcher of Mango Margaritas. I think every meal should begin and end with these…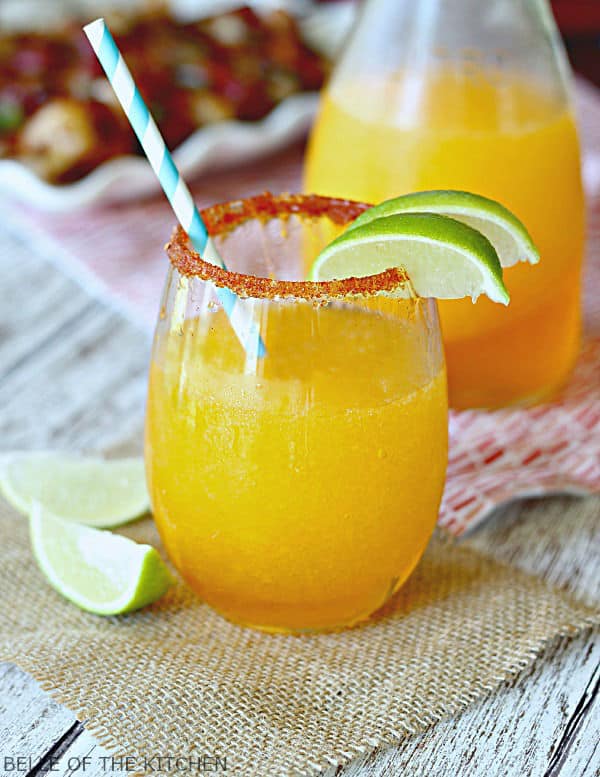 Ahhh, I could go for another one of those right about now.
So there ya have it, y'all, an easy peasy dinner made on the grill. And if I can make it, you can totally do it, too. 😉
Chipotle Honey Chicken Skewers + Garlic Grilled Corn
Ingredients
Chicken Skewers:
1 - 1¼ pounds chicken breasts, chopped into 1 inch pieces
1 green pepper, chopped into 1 inch pieces
1 red pepper, chopped into 1 inch pieces
1 yellow onion, chopped into 1 inch pieces
Salt, to taste
1-2 tsp Garlic Pepper Seasoning
1-2 tsp Chipotle Seasoning
1 bottle Chipotle Honey Grill Sauce
Garlic Grilled Corn:
4 ears of corn, husked and cleaned
2 TB Roasted Garlic Infused Oil
2 TB butter, softened
4 tsp Garlic Garlic Seasoning
Salt and pepper, to taste
Instructions
Chicken Skewers:
Season chopped chicken with salt, Garlic Pepper Seasoning, and Chipotle Seasoning. Transfer chicken and vegetables to a large zip top plastic bag and pour in 1 cup of Chipotle Honey Grill Sauce. Save remaining sauce for brushing on skewers during grilling.
Place bag in the fridge and marinate for at least two hours, or overnight. Longer is better!
When ready to grill, place marinated chicken and vegetables on skewers in a repeating pattern. Discard bag with used sauce.
Preheat grill to medium-high heat and oil the grates. Cook chicken skewers for 12-15 minutes, turning every 3-4 minutes or until chicken is no longer pink in center. Brush with remaining sauce during cooking.
Garlic Grilled Corn:
Rub each ear of corn with ½ TB butter and ½ TB Roasted Garlic Infused Oil. Season with salt, pepper, and Garlic Garlic Seasoning.
Wrap each ear of corn in aluminum foil. Grill over medium-high heat for 10-15 minutes, turning occasionally until corn is tender.