This Cucumber Greek Salad is light and refreshing, and full of healthy ingredients. With minimal prep, it makes an easy side dish for any meal!
Hey there, y'all! I originally shared this recipe right before the 4th of July over at Kenarry: Ideas for the Home. Carrie and I did a recipe swap of easy barbecue side dishes, and she was here sharing her recipe for Classic Taco Salad. Be sure to check it out if you haven't had a chance to yet!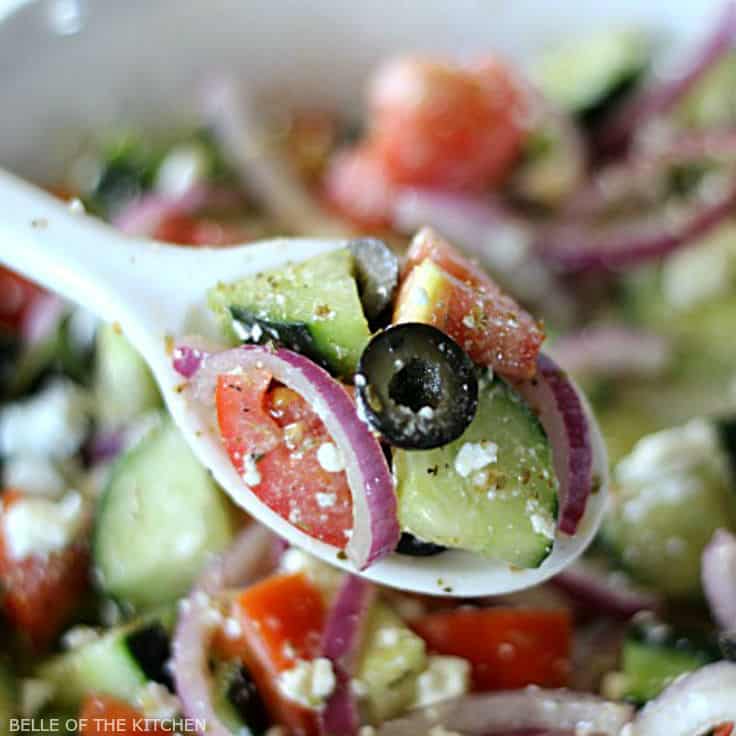 This Cucumber Greek Salad makes a great side dish to serve at almost any meal, and especially at summer barbecues. When there's lots of yummy desserts and other heavy dishes to chow down on, sometimes I like to prepare a healthier alternative. It's nice to have a fresh side to balance everything out, and this Cucumber Greek Salad definitely fits the bill!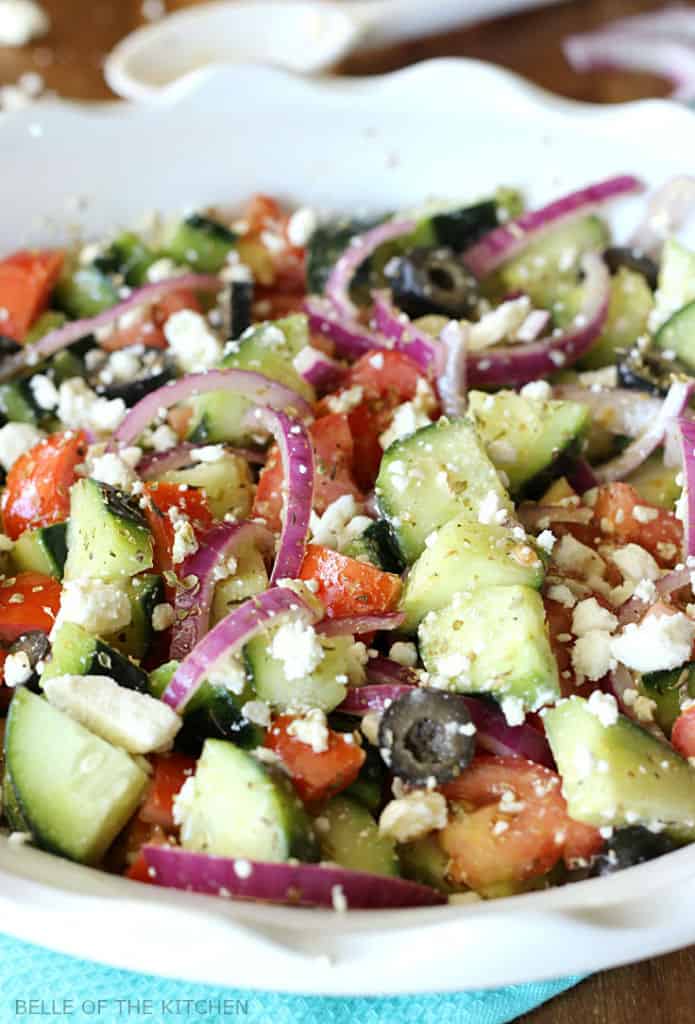 This salad is so easy to throw together. The hardest part is chopping the veggies, and that really only takes about five minutes. Add in some spices, lemon juice, olive oil, and feta, and you are ready to go.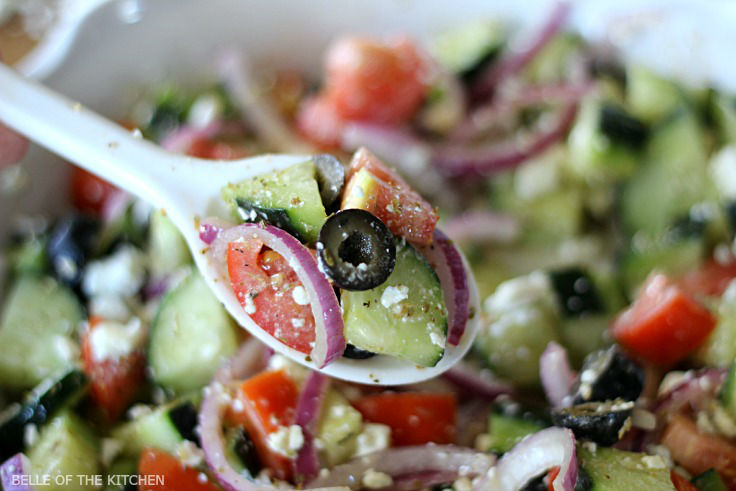 You can definitely make this in a quick pinch for any barbecue or get-together this summer, but if you let it marinate for a couple of hours, the flavors will develop even more.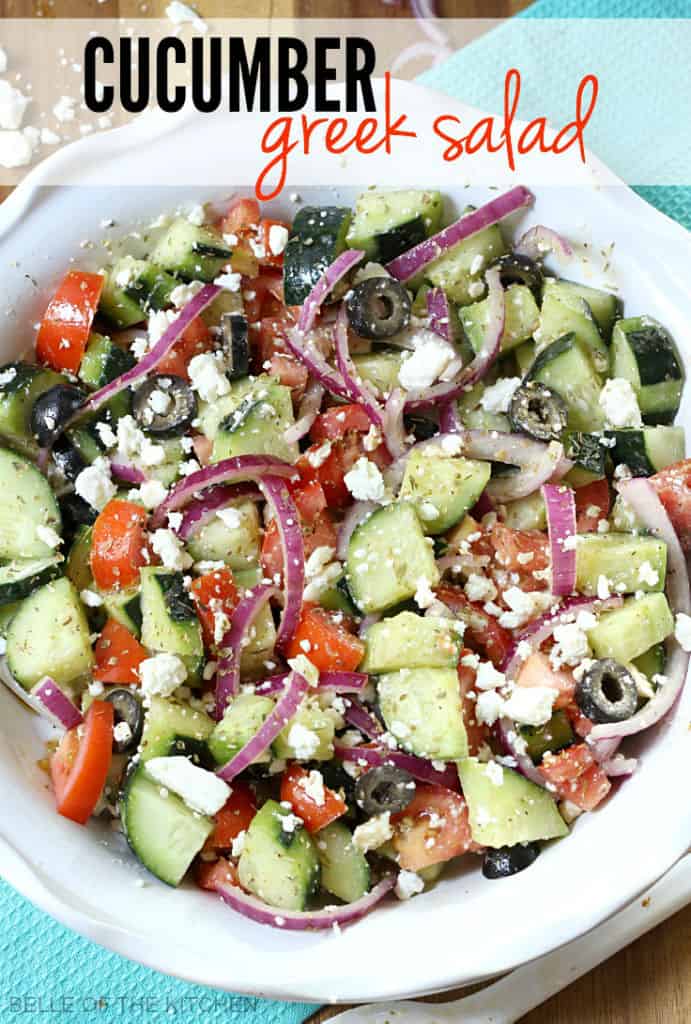 I made ours with black olives because my hubby and son love them, but if it were just for me, I'd leave them out! I'm kinda anti-olives. 😉 If you prefer a different kind of olive, you can definitely use those instead, too.

Cucumber Greek Salad
Ingredients
2 cucumbers, peeled and chopped into ¼ moons
4-6 Roma tomatoes, chopped
½ of a red onion, sliced
¼ cup olive oil
1½ Tablespoons lemon juice
2 teaspoons dried oregano
½ cup crumbled feta cheese
Salt and Pepper (to taste)
Black olives, pitted and sliced (to taste)
Instructions
In a large bowl, combine cucumbers, tomatoes, and onions.
In a smaller bowl, mix the olive oil, lemon juice, and dried oregano. Pour over the vegetables and mix well. Season salad with salt and pepper.
Sprinkle feta cheese and olives over the top of salad and mix. Taste and adjust spices if need be. Refrigerate until ready to eat. Enjoy!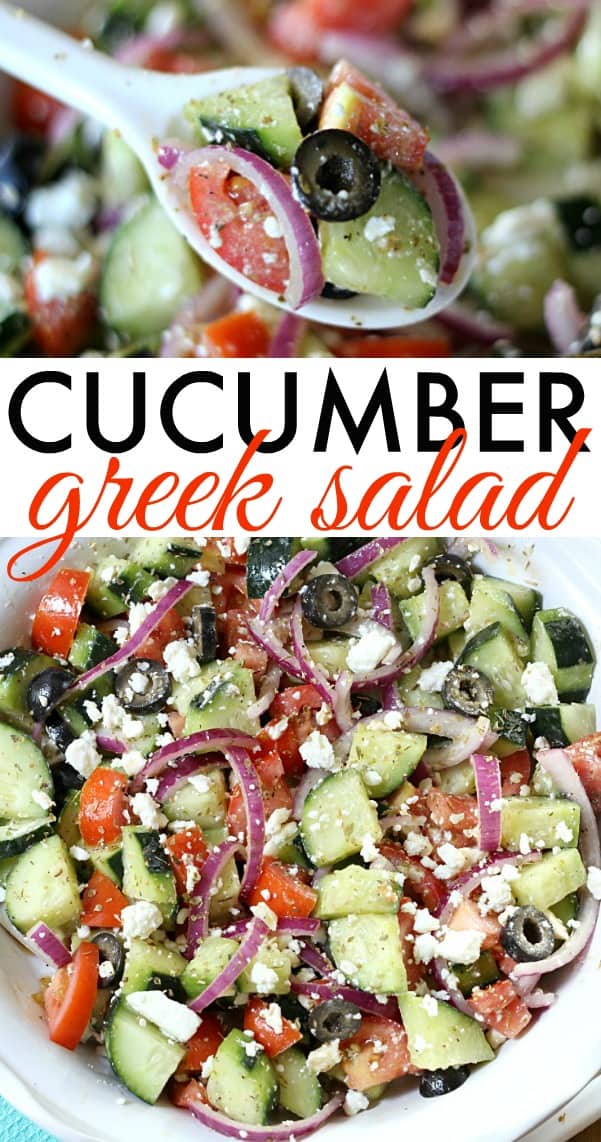 Looking for more barbecue side dish ideas? You might like these: