This Skinny Chocolate Cake is the ultimate guilt-free treat! It's made from a cake mix and protein packed greek yogurt, then topped with a light and fluffy whipped frosting. Each serving clocks in at just under 200 calories!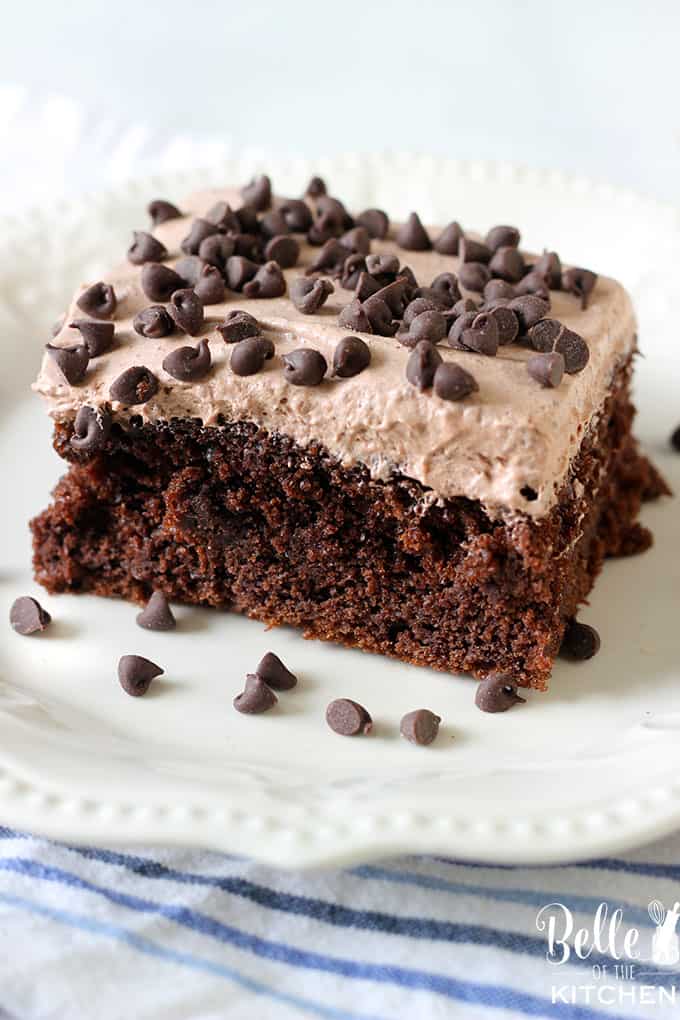 I have an extra special post for y'all today! It's been pretty quiet here on the blog over the past couple of months, but that's just because we've been soaking up the sweetest moments with our new addition! Snuggles, kisses, and lots of diaper changes have been taking up a lot of my time lately.

Without further ado, I'm excited to introduce our sweet baby boy, Grayson, born April 20th, and clocking in at 8 lbs. 1 oz. 20 inches long!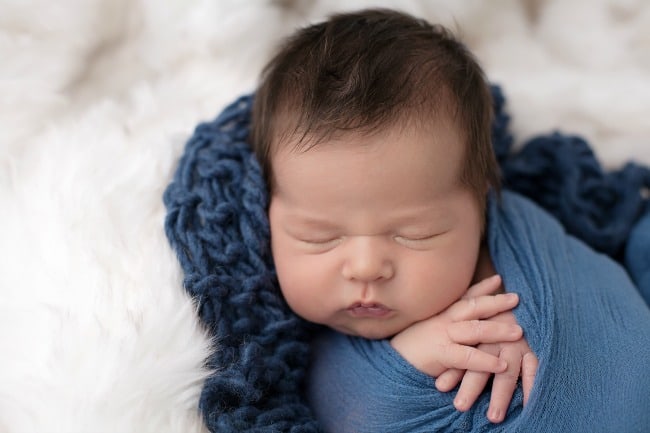 Photo cred: Shannon Morton Photography
He is an absolute joy and I couldn't be more thrilled to be his mama! It's been kinda crazy around here now that our lives are dominated by three kiddos, but I wouldn't have it any other way! My heart feels a sense of perfect completion now that I can't even begin to describe. I can already tell that Grayson is definitely going to fulfill the role of "baby" of the family. Seeing as how we are planning for him to be our last little one, I can't seem to bring myself to ever put him down and I just don't want these sweet baby moments to end. I see a lot of spoiling in his future!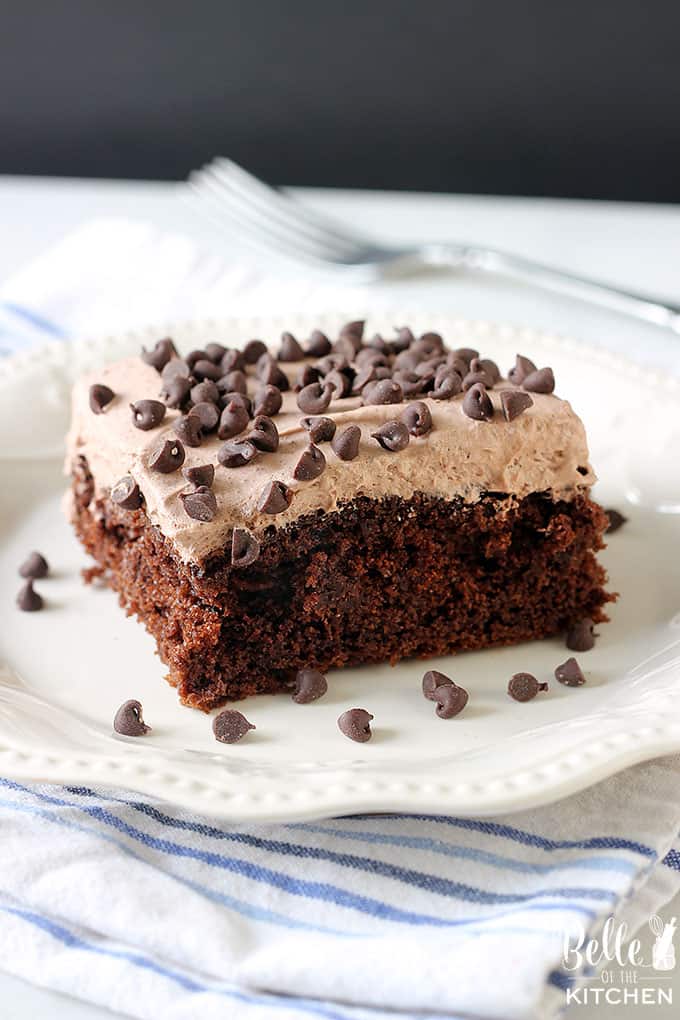 To celebrate his birth here on BOTK (and my slow return to blogging!) I figured CAKE was definitely in order! And if it's skinny cake? Even better!
I came up with this Skinny Chocolate Cake thanks to the success of my Skinny Funfetti Cake recipe. The ingredients and process are nearly the same, and the flavor is just as good, except with chocolate!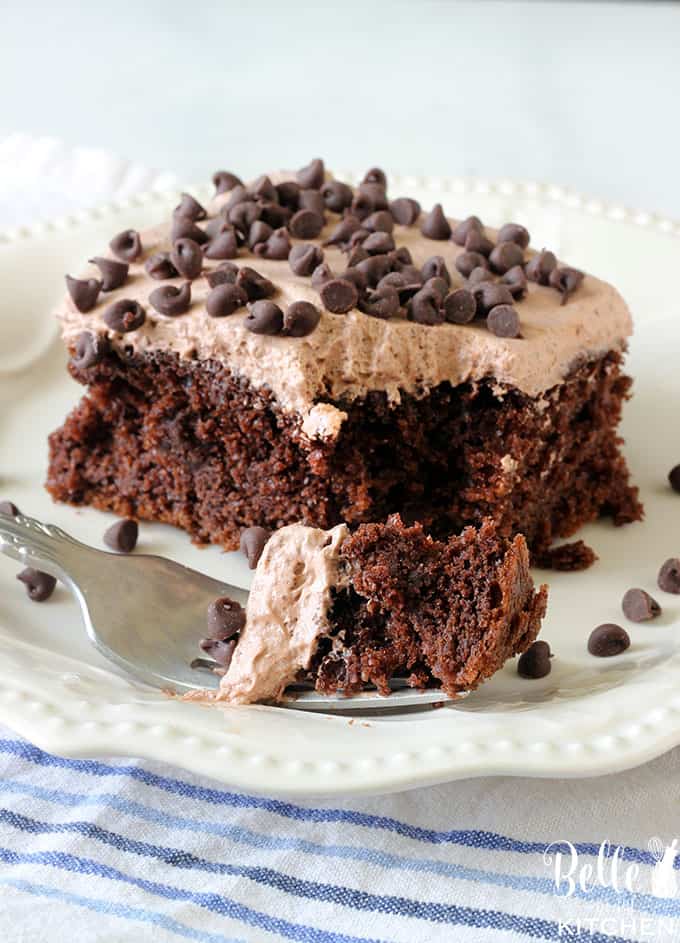 One of my best friends is getting married in October and I'm so excited to be a bridesmaid in the wedding! BUT, I have some pregnancy weight to lose now and I'm trying to scale back on what I eat, and to make sure I'm making healthy choices. I've been doing pretty good so far, and have transitioned to eating more salads, veggies, and lean proteins. But as a newly postpartum mama I'm also dealing with sleep deprivation and exhaustion from having three kids at home, so I haven't given up coffee (no way!), and sweets are still my kryptonite. So, to remedy that, skinny desserts are my cure!
This cake is made with Greek yogurt so it's got a healthy dose of protein. It's topped with a light frosting made from whipped topping, pudding mix, and milk, then I topped it off with a few sprinklings of mini chocolate chips. It's a yummy and moist cake, and clocks in right around 200 calories! Now y'all can have your cake and eat it, too.

Skinny Chocolate Cake Recipe
Ingredients
Cake:
1 (15.25 oz) box chocolate cake mix (I like Devil's Food)
1 cup fat free vanilla Greek yogurt
1 cup water
Frosting:
1 small box sugar free instant chocolate pudding mix
1 cup skim milk
1 tsp vanilla extract
1 (8 oz) container fat free whipped topping, thawed
2-3 Tablespoons mini chocolate chips for topping, optional
Instructions
Preheat oven to 350 degrees. Spray a 13x10 inch baking pan with cooking spray and set aside.
In a large bowl, mix together the cake mix, Greek yogurt, and water. Mix vigorously for 1 minute. Pour mixture into prepared baking pan and bake in the preheated oven for 25-35 minutes. Mine was ready at 25 minutes. Cool completely on a wire rack.
In a medium sized bowl, stir together the pudding mix, milk, and vanilla extract until thickened. Fold in the whipped topping. Spread frosting over the top of cooled cake and add mini chocolate chips if desired. Enjoy!

If you like this Skinny Chocolate Cake, you might also like:
Related posts: