Buttermilk Chocolate Cupcakes with Whipped Ganache Frosting
Thank you to Ghirardelli for sponsoring this post.
Buttermilk Chocolate Cupcakes with Whipped Ganache Frosting – Moist chocolate cupcakes topped off with a decadent Ghirardelli dark chocolate ganache frosting. Add a Ghirardelli Impressions chocolate for the finishing touch, and you have the perfect Valentine's Day treat!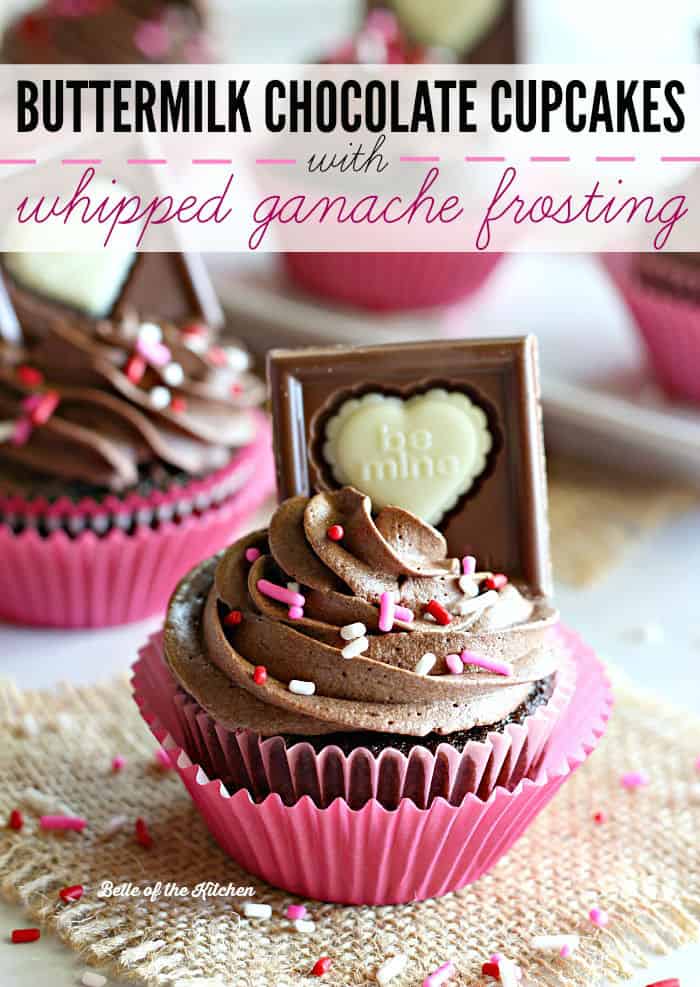 With Valentine's Day just around the corner, I've had chocolate on the brain a lot lately. I tend to have chocolate on the brain pretty often anyway, but when you're celebrating the day of love, there's really no better way to show someone how much you care about them than with a gloriously delicious chocolate treat.
And so I give you these Buttermilk Chocolate Cupcakes with a Whipped Ganache Frosting, made from my all-time favorite Ghirardelli Chocolate. Insert swoon here. 😉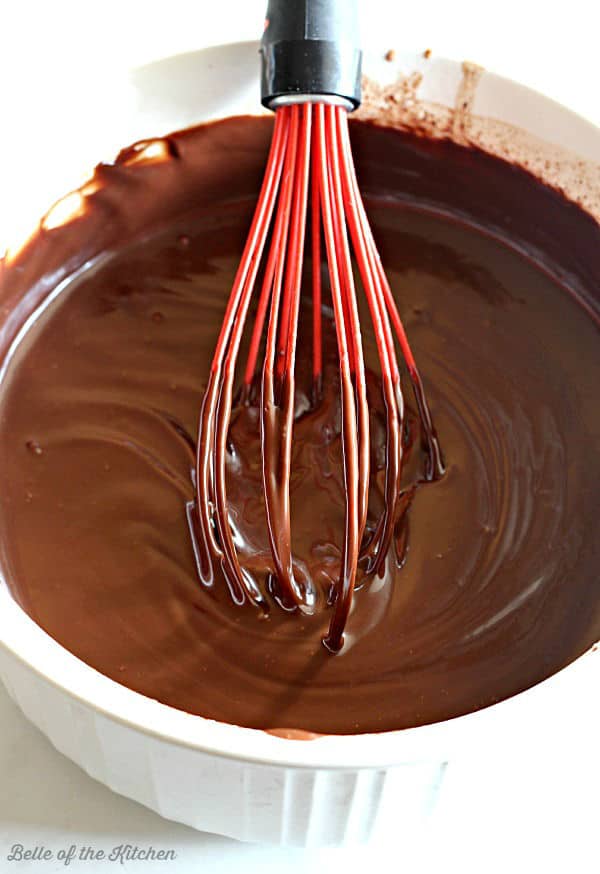 Valentine's Day has always been a very special day in my family because it is actually my parents' anniversary. My mom and dad always took the time to make Valentine's Day extra special for everyone in the house, from fun presents, special dinners, or sweet treats. We always enjoyed taking part in the celebration of their love for each other.
My mom would usually have a fun and chocolaty dessert for us to enjoy after dinner on Valentine's Day, and I can just picture these Chocolate Ganache Cupcakes sitting right there on our family dinner table.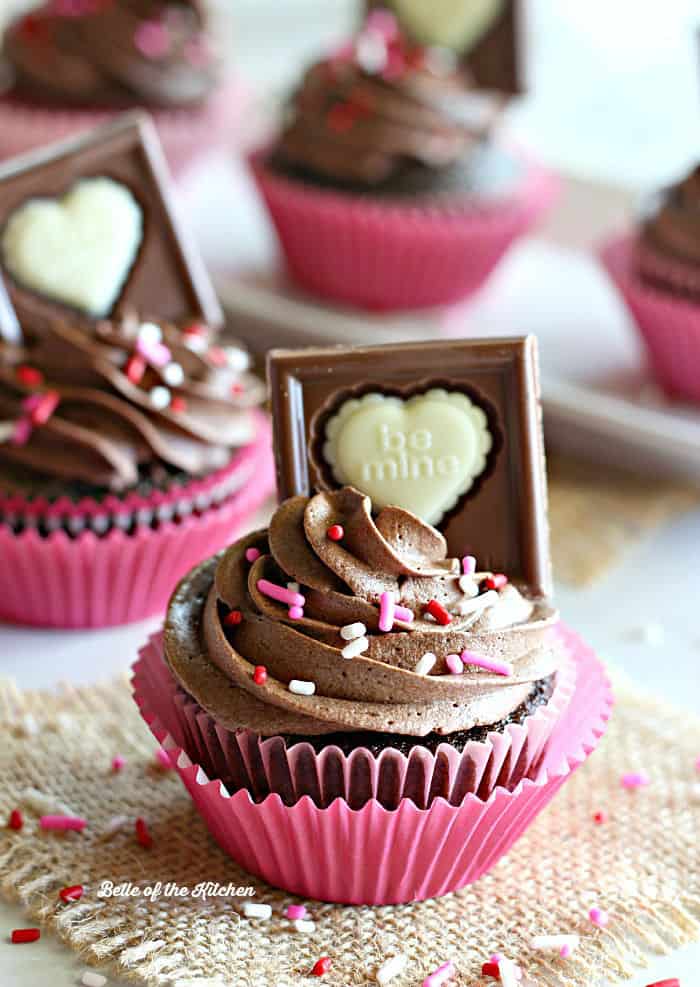 For the cupcakes, I used my favorite simple and easy homemade chocolate cake recipe. The cupcakes came out perfectly moist and fluffy, and were just begging for a truly decadent topping, so I made a whipped ganache frosting using Ghirardelli 60% Cacoa Baking Chips. These baking chips give the best taste and texture to any baked, chocolaty treat you can dream up!
Finally, to up the fun factor for Valentine's Day, I finished them off with some Ghirardelli Valentine's Day Impressions Chocolates, which are the coolest version of conversation hearts I've ever seen! I used the milk and white chocolate combination, but they are also available in milk and dark chocolate.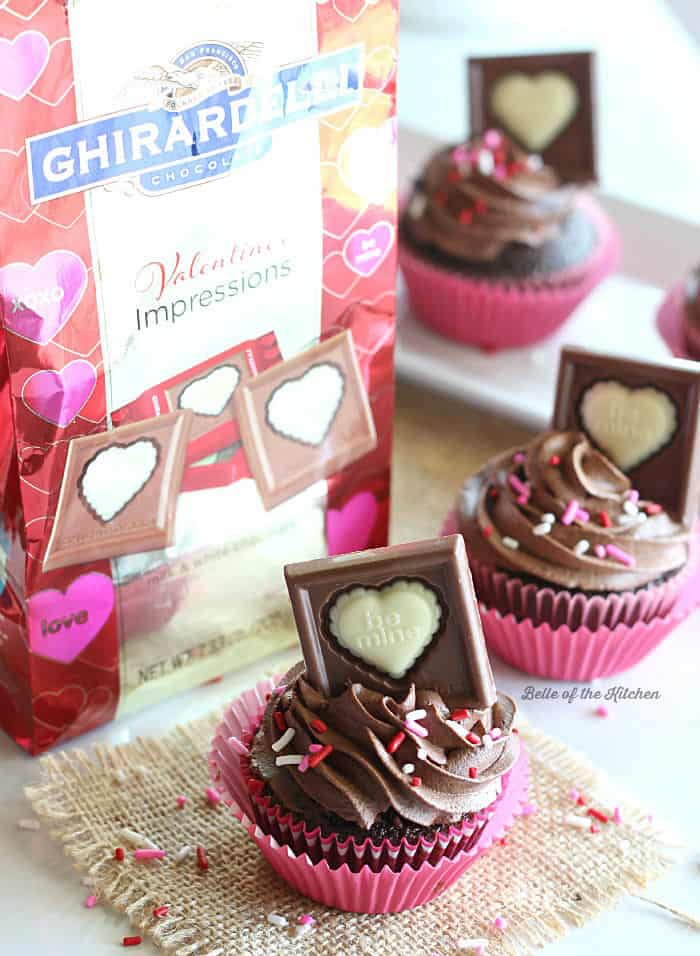 I'm excited to spend Valentine's Day with my husband this year since he was actually on a work trip in Thailand this time last year. We are planning to go out for dinner, but we will still spend most of the day at home with the kids, and I'm hoping to make it fun for them like it was for me growing up. While I was making these cupcakes, I was reminded of all of fun desserts I used to make with my mom and how she was always so patient with us in the kitchen.
I love to let my own little ones help out when I'm cooking or baking, so I think we might make another batch of these cupcakes together on Valentine's Day. We are a family of chocolate lovers, after all.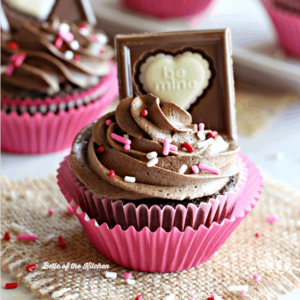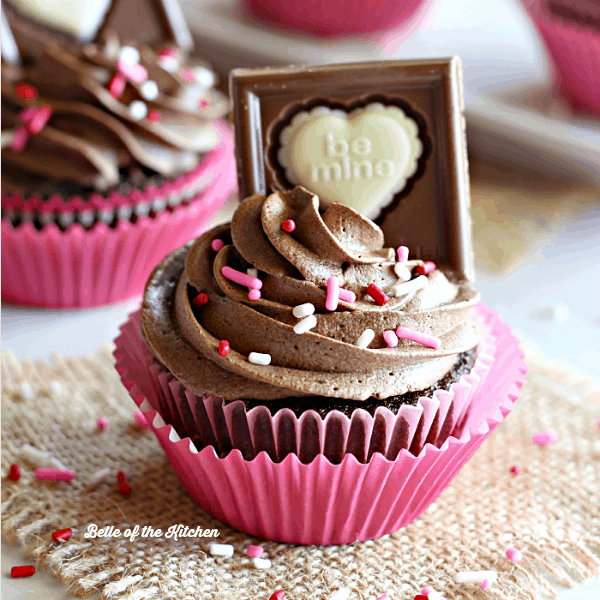 Buttermilk Chocolate Cupcakes with Whipped Ganache Frosting
Buttermilk Chocolate Cupcakes with Whipped Ganache Frosting – Moist chocolate cupcakes topped off with a decadent Ghirardelli dark chocolate ganache frosting.
Ingredients
Whipped Chocolate Ganache Frosting:
16 oz. Ghirardelli 60% Cacao Baking Chips
2 cups heavy whipping cream
Cupcakes:
2 cups all purpose flour
2 cups granulated sugar
1/2 cup unsweetened cocoa powder
1/2 teaspoon salt
2 teaspoons baking soda
1 teaspoon baking powder
1 teaspoon vanilla extract
2 eggs
1 cup buttermilk
1 cup vegetable oil
1 cup hot water
Instructions
To make ganache frosting, pour baking chips into a large, heat-safe bowl. Bring heavy cream to a simmer in a small saucepan over medium-low heat, stirring frequently. Once cream begins to bubble and steam, remove from heat and pour over baking chips. Place a clean kitchen towel over the bowl, and allow to sit undisturbed for five minutes.

After five minutes, remove towel and begin to stir ganache slowly with a whisk. Continue whisking until smooth and velvety.

At this point, you can use the ganache right away if you want a simple glaze. If you want a whipped frosting, however, the ganache needs time to cool and thicken. Allow the ganache to thicken on the counter at room temperature, and after about 2 hours it should come out looking like this.

While ganache is cooling, begin making cupcakes. Preheat oven to 350 degrees. Line two muffin tins with cupcake liners and set aside. In a large bowl, combine flour, sugar, cocoa powder, salt, baking soda, and baking powder. Mix well.

Add in vanilla, eggs, buttermilk, and vegetable oil mixing until smooth. Pour in hot water and mix well. Batter will be very thin.

Pour batter into prepared cupcake liners, about 2/3 full. Bake in preheated oven for 16-18 minutes, or until a toothpick inserted in center comes out clean. Allow to cool completely on a wire rack.

Once ganache has thickened, beat over medium speed with an electric mixer until frosting is lighter in texture and color, about 3-4 minutes.

Frost cupcakes with a piping bag or simply dollop on with a spoon. Top with decorations of your choosing if you wish. I used some sprinkles and fun Ghirardelli Valentine's Day Impressions chocolates. Enjoy!
Calories: 254kcal, Carbohydrates: 32g, Protein: 3g, Fat: 13g, Saturated Fat: 9g, Cholesterol: 36mg, Sodium: 157mg, Potassium: 178mg, Fiber: 1g, Sugar: 20g, Vitamin A: 280IU, Vitamin C: 0.2mg, Calcium: 81mg, Iron: 0.9mg
I was selected for this opportunity as a member of Clever Girls and the content and opinions expressed here are all my own.
This site contains affiliate links, if you make a purchase through them, we receive a small commission.