Chocolate Cake Balls Recipe
These Chocolate Cake Balls are made with crumbled cake and frosting, then dipped in melted chocolate and covered with sprinkles. My family loves this perfect easy treat!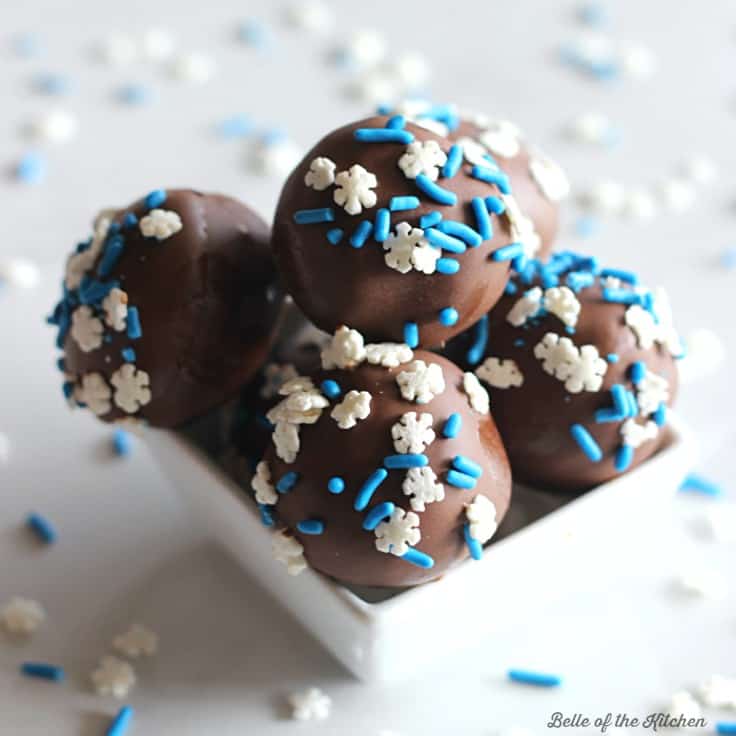 Happy New Year, friends! I hope you had a great holiday and were able to spend it with people you love. We had a pretty nice break ourselves and even took a trip to Maui! It was fun and relaxing, and we made some pretty great memories with the kids. Here's a little picture from some hiking we did: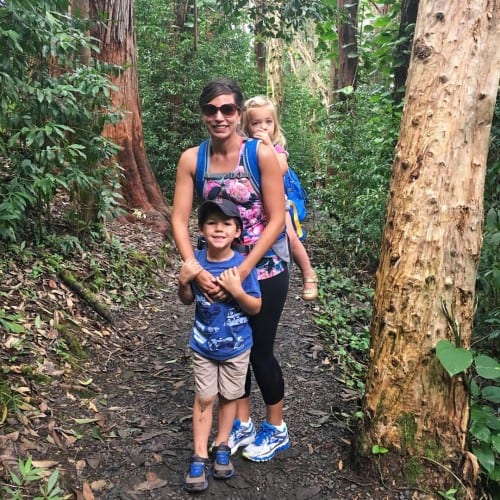 It was a lot of fun, but we got pretty muddy on this hike! I think we went through an entire package of baby wipes cleaning up afterwards! We made lots of good memories on our trip, though. 🙂
Like most good things, though, our trip went by way too fast and here we are already halfway through the first week of January. That's ok though, because it's time to get back to work here on the blog, and I'm ready for it. 🙂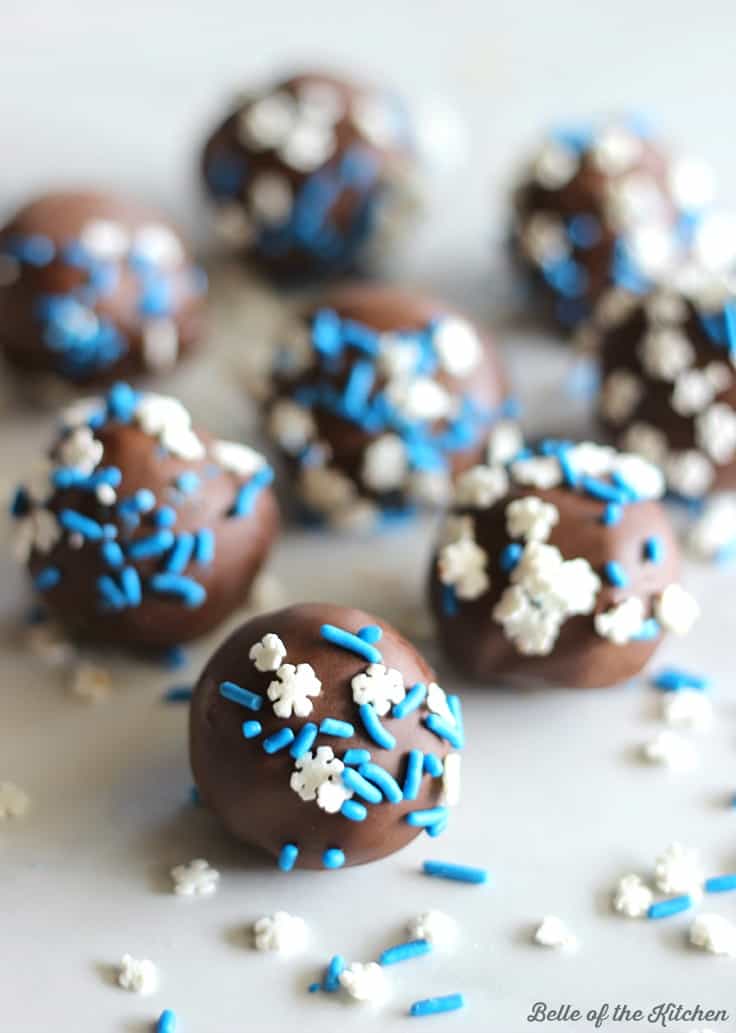 Today I'm sharing a yummy little treat with you that I made over the holidays. These do require a bit of time, but they are so easy to prepare that even the kids can help with the process. I like to make these year-round, changing up the sprinkles or decor to go with the season or occasion. You can make any variation of these you like, changing up the cake mix and frosting flavors.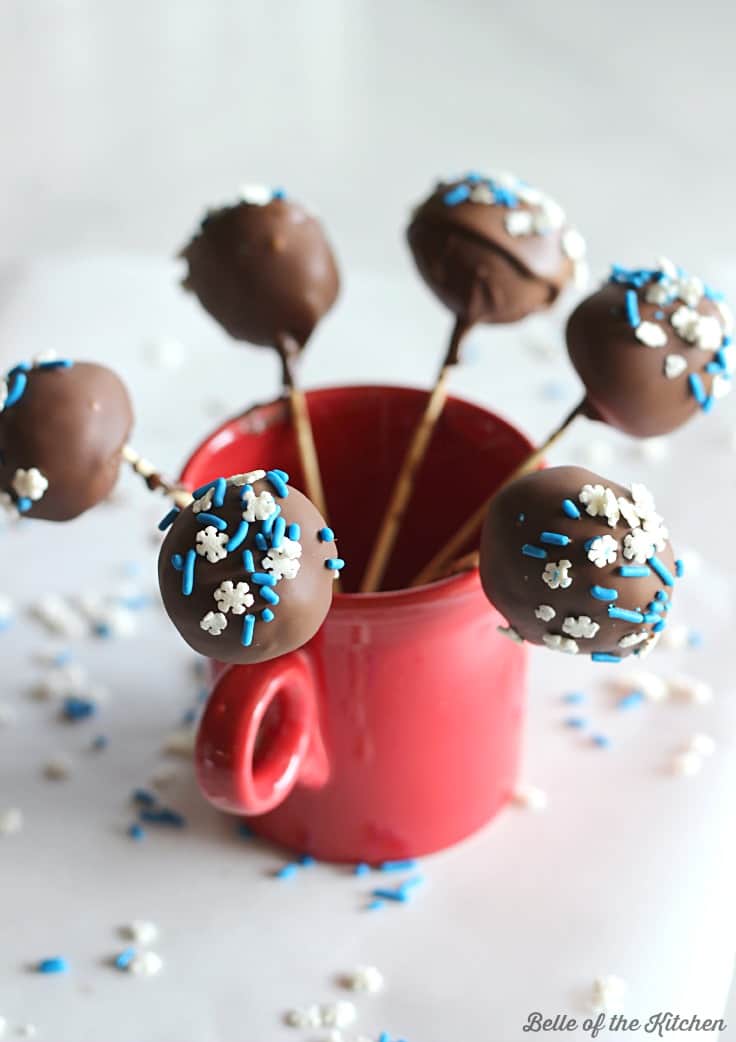 First make your cake, let it cool, then crumble it. Add in your frosting (but not too much or your cake balls will be mushy) refrigerate for a bit, then roll into balls. Freeze the balls for an hour, then dip in melted chocolate. I like to use short skewers to help dip my cake balls, then I let them dry inside of a mug or glass. You have to make sure that your cake balls are frozen enough, or they will fall off of the skewers.
I take the cake balls out of the freezer a few at a time so that they don't thaw out too much while I'm coating them. Add sprinkles while the coating is still wet. You can also use a fork to help you dip the cake balls in the coating, as long as the bowl you are using is big enough. When you're all done, you have a super easy and yummy holiday treat!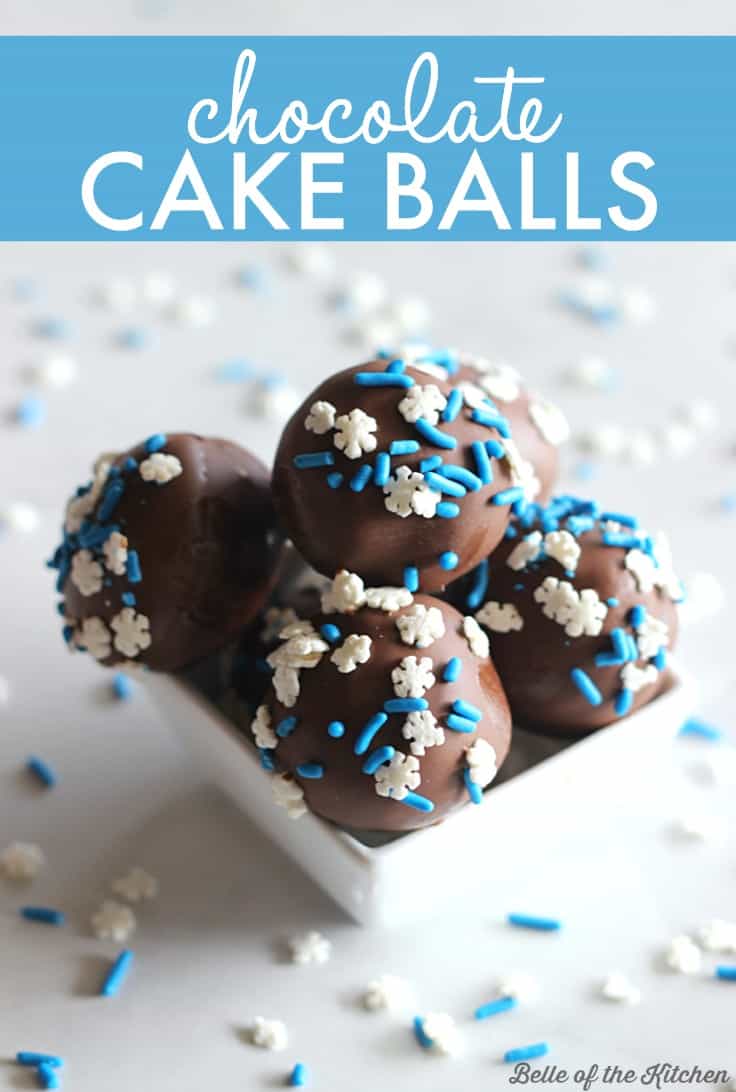 I originally shared these Chocolate Cake Balls over at Kenarry: Ideas for the Home a few weeks ago. While I was there, Carrie was here sharing her recipe for Peanut Butter Fudge. Go check it out if you haven't had a chance to yet! Enjoy!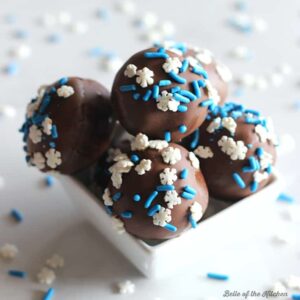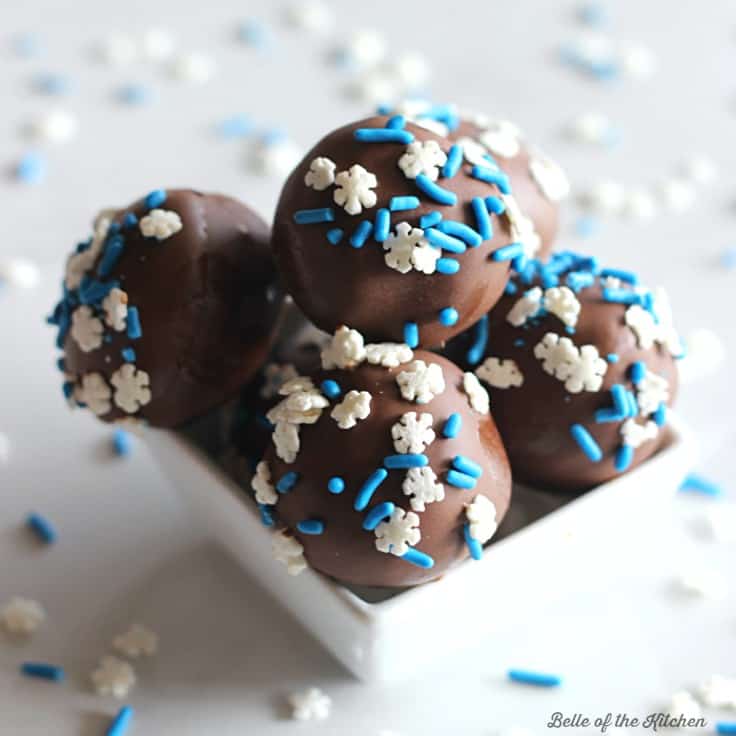 Chocolate Cake Balls Recipe
These Chocolate Cake Balls are made with crumbled cake and frosting, then dipped in melted chocolate and covered with sprinkles. My family loves this perfect easy treat!
Ingredients
1 (18.25 oz) package chocolate cake mix + ingredients to prepare cake
1 (16 oz) can prepared chocolate frosting
1 container microwave dipping chocolate or almond bark
sprinkles for topping
Instructions
Prepare cake and bake according to package directions in a 9x13 inch pan. Allow to cool completely.

After cake has cooled, use your hands to crumble the cake into a large mixing bowl. A fork can also be used to crumble large chunks. Make sure cake is completely broken into fine crumbs.

Add 1/2-3/4 of the container of frosting, mixing with a spoon until the cake crumbs are coated. I don't add the entire container because then the cake balls come out a little too mushy. Place the bowl in the refrigerator for about 20 minutes.

Remove the bowl from the refrigerator and roll the mixture into small balls. Place balls on a plate or cookie sheet topped with wax paper and freeze for 1 hour.

Melt dipping chocolate or almond bark according to package directions. Place a wooden skewer on the bottom of a cake ball and dip into the chocolate, swirling and then tapping off the excess. Place the skewer in a mug or glass (I used short skewers for this recipe) and immediately add sprinkles if using. Allow to dry completely. Repeat with remaining cake balls.
Notes
*Nutrition information does not include the additional ingredients required to bake the cake.
Calories: 146kcal, Carbohydrates: 22g, Fat: 6g, Saturated Fat: 2g, Sodium: 141mg, Potassium: 71mg, Sugar: 17g, Calcium: 22mg, Iron: 0.8mg

If you like these Chocolate Cake Balls, then you might also like:
This site contains affiliate links, if you make a purchase through them, we receive a small commission.