Top 10 Recipes from 2015!
From desserts, crockpot meals, and cheesy appetizers and dinners, these were the top 10 recipes from 2015!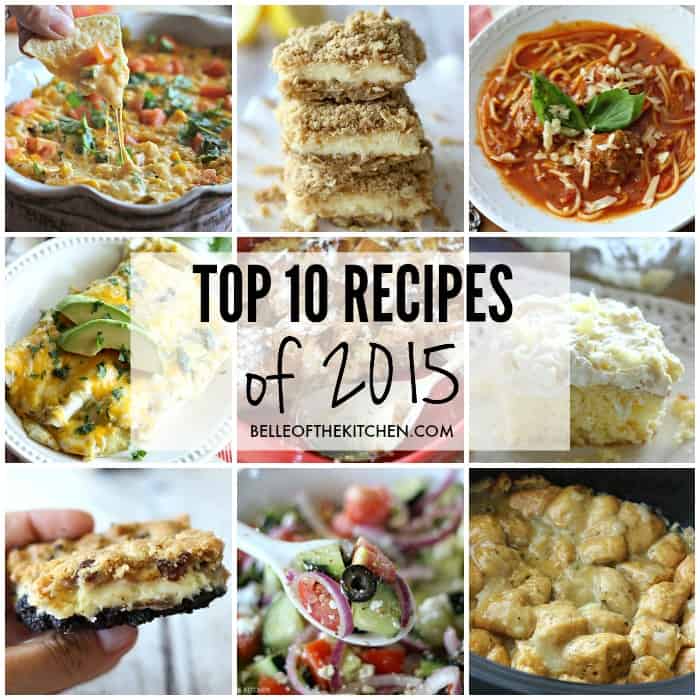 Happy New Year, everyone! I can't believe that I'm already saying those words, because this past year has just gone by so fast. The part that makes me realize that a lot of time has actually passed is when I look back at pictures of my kids. It's amazing how you don't realize how much they change from day to day until you see it happen in pictures. My New Year's Resolution this year is pretty simple; just to soak up all of the special moments with my kids, big and small. They are growing so fast, and I don't want to miss out on this sweet time with them. Becoming a mom has truly been the best thing that has ever happened to me and I count my blessings every day.
Well, now that I've gone and gotten all mushy on y'all, I may as well keep going with it! I just want to tell all of you that are here reading this right now how much I appreciate your support over the past year. From reading my blog, trying out recipes, leaving comments, and just being apart of this journey, I thank you from the bottom of my heart! I couldn't do all of this without y'all!
Alright, let's get to the good stuff! Here were the top 10 recipes from 2015, starting with far and away the most popular (and one of my favorites) Pineapple Sunshine Cake!
(just click the photos to be taken directly to each recipe)
This site contains affiliate links, if you make a purchase through them, we receive a small commission.