Peanut Butter Fudge
Happy holidays, Belle of the Kitchen readers! I'm Carrie from Kenarry: Ideas for the Home where we share recipes, crafts, DIY projects, kid ideas and tips for families. Once a month, Ashlyn and I trade blogs to bring you delicious new ideas for the kitchen. With Christmas just around the corner and holiday entertaining in abundance, we thought it would be fun to swap festive holiday treat recipes this month. Today, I'm sharing a creamy, rich Peanut Butter Fudge recipe. It's an easy idea you can make for gifts and holiday parties.
If you're looking for Ashlyn today, you'll find her at Kenarry: Ideas for the Home sharing her delicious idea for Chocolate Cake Balls. She'll share it with you here in a few weeks, but if you've got a Christmas party coming up this weekend, you can swing over to Kenarry to grab it sooner.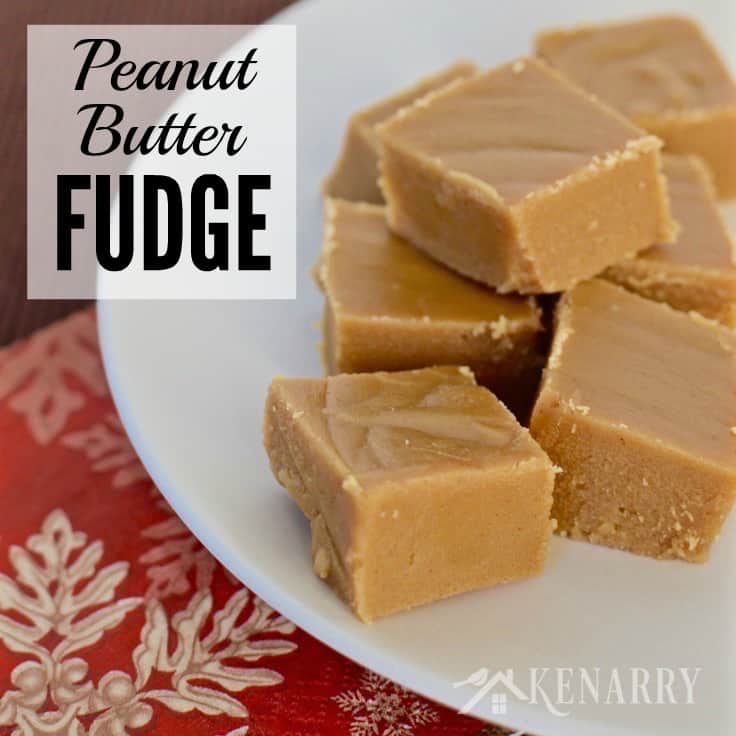 I am a huge fan of peanut butter. I could easily eat it by the spoonful straight from the jar. In fact, I may or may not have done just that when I was making today's recipe. I'm sure I'm not the only one who shares in this occasional indulgence, right? So what's better than a spoon full of peanut butter? A huge pan of rich Peanut Butter Fudge!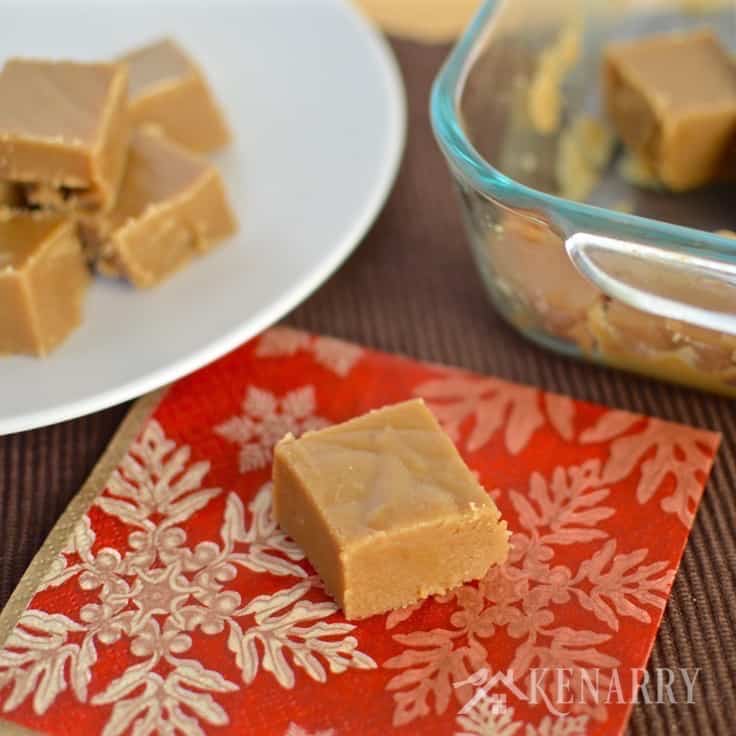 A few months ago, my husband, my boys and I had the opportunity to travel to Mackinac Island, Michigan with both sets of our parents. If you've never been there, let me tell you, Mackinac Island is known for two things. First, it's an island located between the upper and lower peninsulas of Michigan accessible only by ferry boat. Cars and motorized vehicles are banned from the island except in emergencies so the only forms of transportation you'll find once you're on the island are bicycles, horses and your own two feet. It's quaint and charming, like taking a step back in time.
Second, Mackinac Island is known for its delicious Mackinac Island fudge. You can hardly walk a few feet down the main street without a waft of sugary sweet goodness filling your senses. There's literally a fudge shop on every block. So what kind of tourists would we have been if we didn't try several varieties of the island's world-famous decadent treat? While we appreciated the traditional chocolate fudge and some of the creative add-ins the candy makers used, we all ooo-ed and aww-ed over the amazing Peanut Butter Fudge. I just knew I'd have to try making some myself when we got back to the mainland.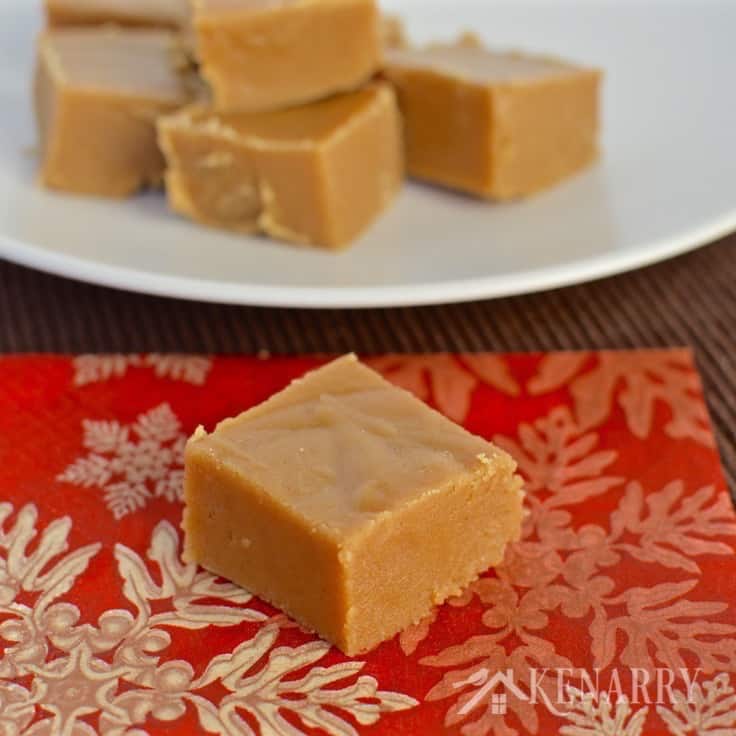 While I don't know the super secret recipes used by the Mackinac Island fudge makers, I've got to say my Peanut Butter Fudge recipe turned out pretty amazing too. It took me a few tries to get it right, but my husband and boys all gave the final attempt two thumbs up. The recipe involves two kinds of sugar, milk, a little butter, a dash of vanilla and of course, rich creamy peanut butter.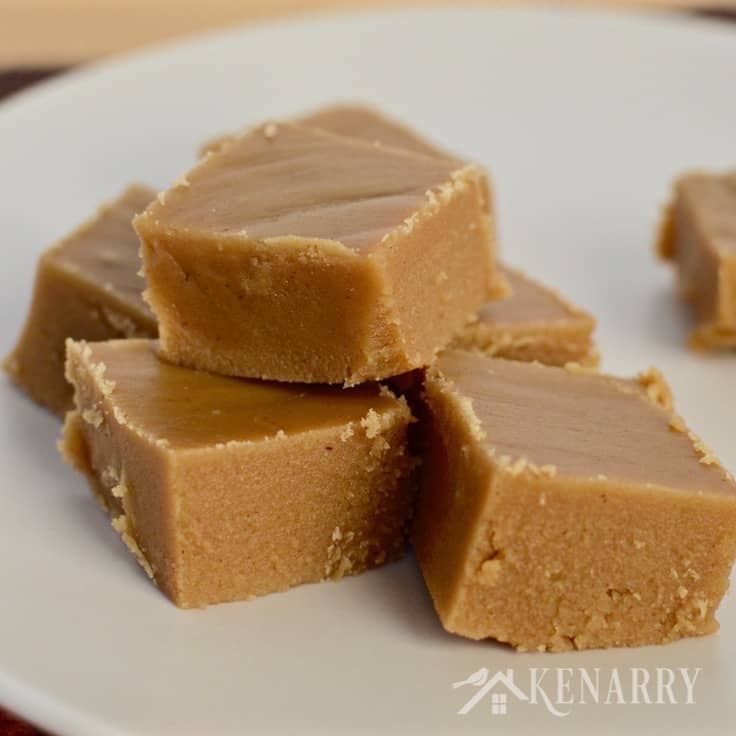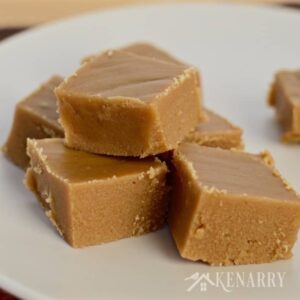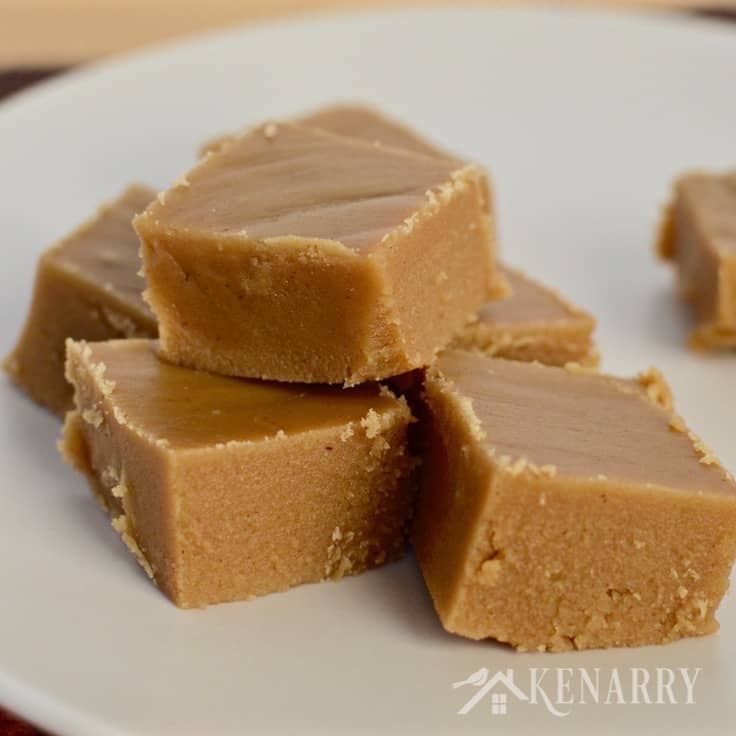 Peanut Butter Fudge
This creamy, rich Peanut Butter Fudge recipe is an easy idea you can make for gifts and holiday parties! So easy to whip up and tastes delicious!
Ingredients
1 1/2 cups powdered sugar
1 1/2 cups light brown sugar
2 tablespoons butter + a little more to grease the pan
1 cup milk
1 1/2 cups creamy peanut butter
1 tsp vanilla
Instructions
Lightly grease a 9" x 9" glass pan with butter.

Combine powdered sugar, brown sugar, butter and milk in a saucepan and stir over a low heat until the sugars have dissolved.

Bring to a boil over medium heat, then slowly boil for 5 minutes stirring constantly.

Remove the saucepan from heat. Add peanut butter and vanilla. Stir until blended.

Pour the Peanut Butter Fudge into the glass pan. Let cool. Once the Peanut Butter Fudge pan has reached room temperature, you can move it to a refrigerator to finish cooling.

Allow the Peanut Butter Fudge to cool for at least four hours. Enjoy!
Calories: 229kcal, Carbohydrates: 29g, Protein: 5g, Fat: 11g, Saturated Fat: 2g, Cholesterol: 4mg, Sodium: 108mg, Potassium: 163mg, Fiber: 1g, Sugar: 27g, Vitamin A: 55IU, Calcium: 36mg, Iron: 0.5mg

Suggestions for Giving Peanut Butter Fudge
While it's going to be super tempting to keep the Peanut Butter Fudge all to yourself, it also makes a great gift to give to friends and family members. Here are some gift giving suggestions:
You can make multiple batches of the Peanut Butter Fudge recipe and package it in cute little containers. You could also place it on a festive plate and wrap with cellophane tied with red or green ribbons.
Make it a bigger gift by adding Peanut Butter Fudge to a full tray of holiday treats, including the Peppermint Mocha Chocolate Chunk Cookies and Cranberry White Chocolate Chip Cookies Ashlyn and I traded last December.
Use the print button you find on the Peanut Butter Fudge recipe here on this blog. It will open up a new window showing a cute little recipe card you can print from home on cardstock. Just cut around the dashed lines and attach it to the gift with ribbon.
Don't limit yourself to friends and family members. Peanut Butter Fudge would also be a wonderful holiday treat to give to hostesses, neighbors, teachers, coaches, volunteers, postal workers, librarians, church leaders and other people you're thankful for this year.
I would recommend keeping the Peanut Butter Fudge refrigerated until you're ready to present it to your intended recipient.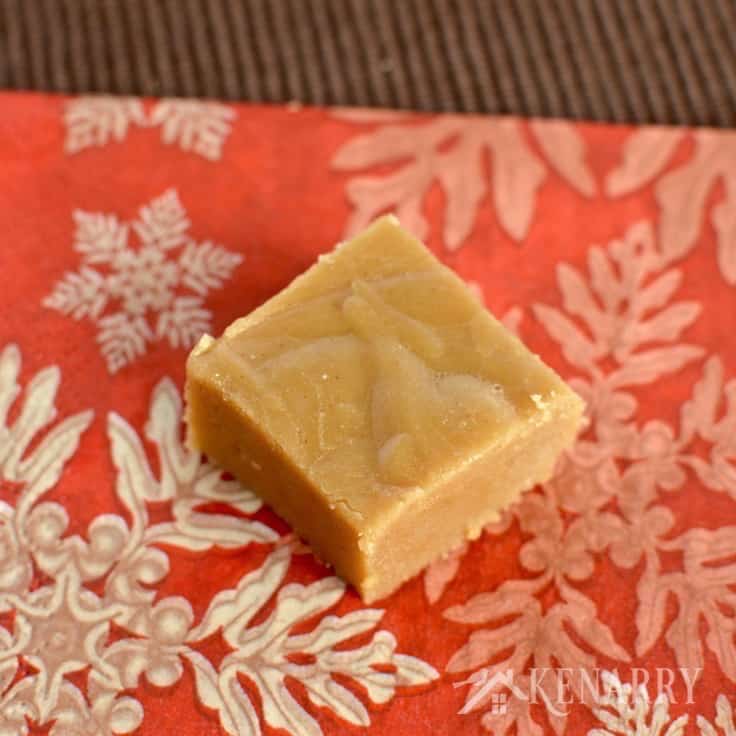 What's your favorite treat to make for holiday parties or to give as presents to friends? Please comment below and share with us. Ashlyn and I are always looking for delicious new ideas for the kitchen.
If you enjoyed this Peanut Butter Fudge recipe, please share it with your friends or pin it for later: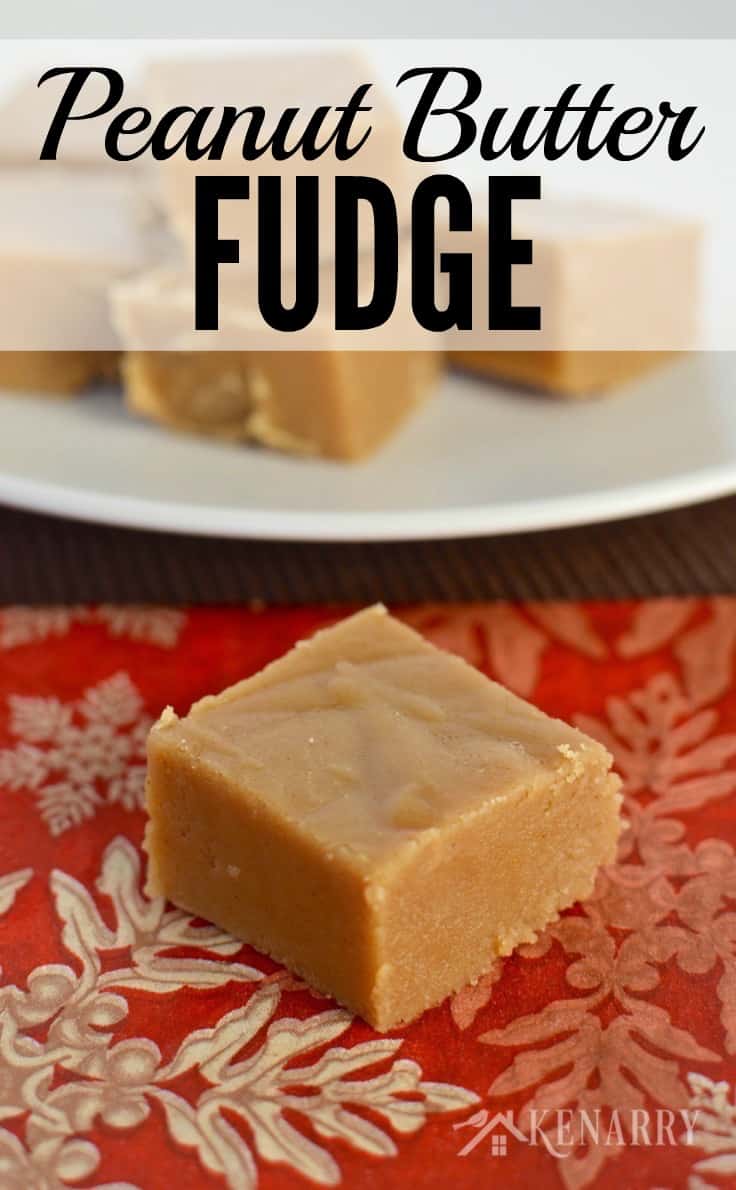 You may also enjoy these dessert recipes on Kenarry: Ideas for the Home: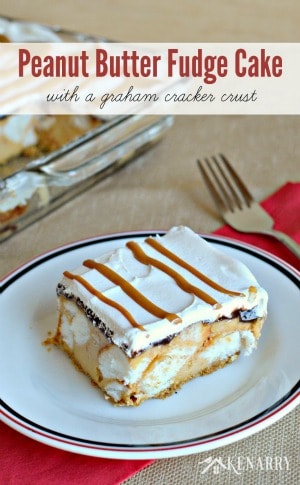 New Year's Eve OREO Cookie Balls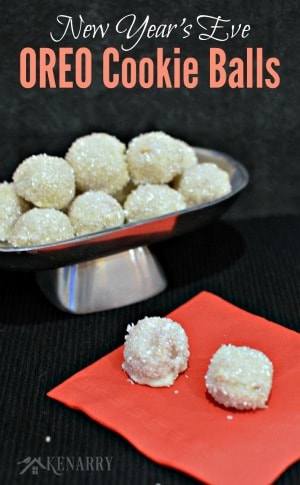 About Carrie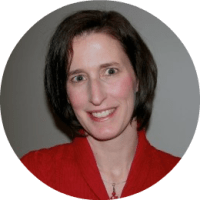 Carrie is the chief writer, crafter and cook at Kenarry: Ideas for the Home where she and her husband create and curate ideas you'll find useful for your home. She's an optimist by nature and enjoys sharing recipes, trying new craft ideas, planning for parties and events as well as organizing and decorating. Carrie's passion, though, is volunteerism and connecting people with opportunities to make a difference in their community. When she's not blogging, preparing meals or picking up around the house, you're bound to find her hidden away in a castle under the stairs reading to her two young boys. Whether you're cooking, crafting or creating for your family, you'll find inspiration by connecting with Carrie. Find her online at Kenarry, Google+, Pinterest, Facebook, Twitter and Instagram.
This site contains affiliate links, if you make a purchase through them, we receive a small commission.