Seven Layer Magic Bars Recipe
Seven Layer Magic Bars – A buttery graham cracker crust is topped with layers of chocolate chips, butterscotch chips, coconut, chopped nuts, and then finished off with a blanket of sweetened condensed milk. These will not last long!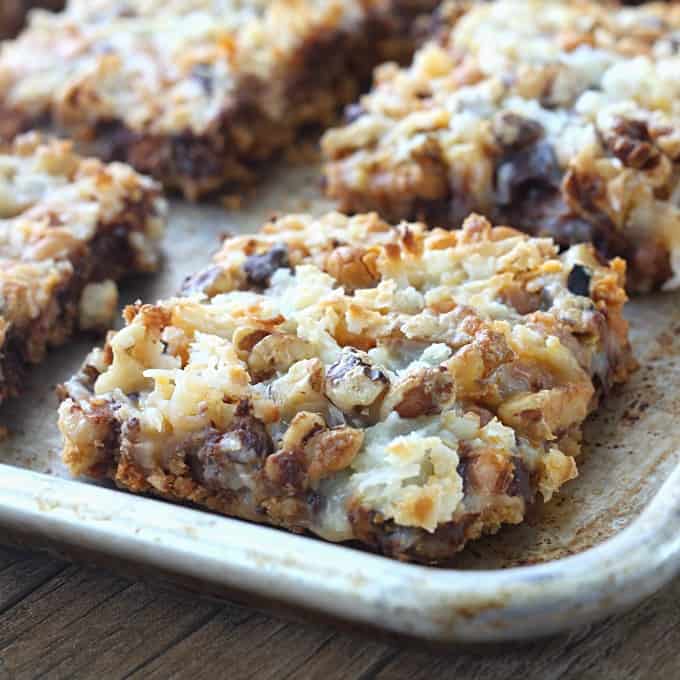 Hey y'all, and Happy Wednesday! Today is an exciting day because my little girl is starting "preschool" today!
I put preschool in quotes because the program is technically a Mother's Day Out Program. But she'll still be learning stuff, right?!
And mommy gets a break to do more work here on the good ole blog! It's a win-win for us all!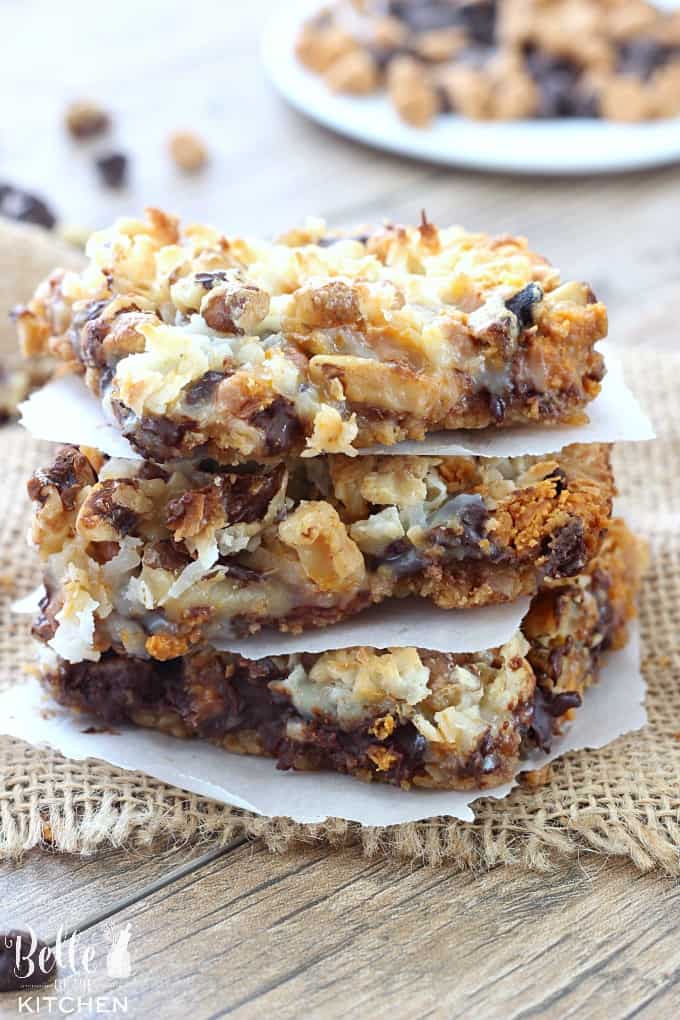 In celebration, I'm sharing these downright irresistible Seven Layer Magic Bars with y'all today. I'm telling you right now that you will not be able to stop at just one of these bad boys.
Or five.
Believe me on this. I've walked that line already, folks.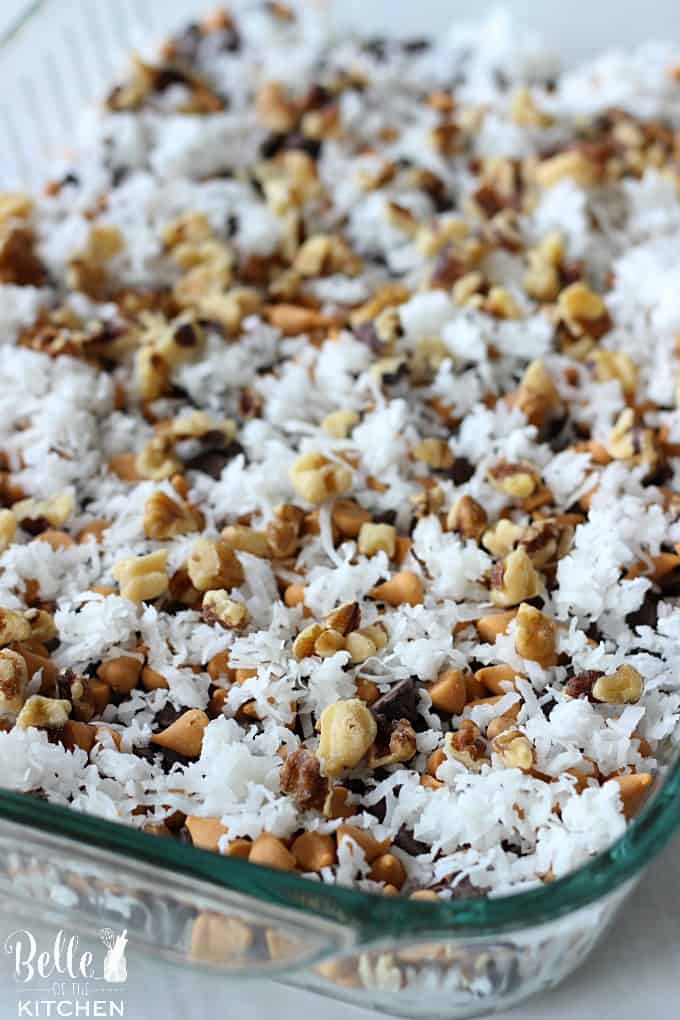 These seven layer magic bars actually came about because I needed an quick and easy "thank-you" treat to give to one of our new neighbors last week.
It all started last Saturday night when I decided to lace up my running shoes and go for my first run since moving into our new house (and really my first run in a couple months; OUCH!).
On my way out the door, I realized that I had forgotten my sunglasses and ran back in to grab them off of the kitchen counter, leaving the front door open for mere seconds. I went for my run (which was sooooooooo hot; goodness I miss those mild Hawaii temps!) then came back home and started helping my hubby get the kids ready for bed.
Sometime during the bedtime routine we realized that our bulldog Daisy was missing.
We looked for her all over the house, in the backyard, inside of closets, even under all the beds, even though she's too much of a chunky monkey to fit under any of them!
It was only after searching everywhere in the house that it dawned on me; she had gotten out when I had gone for my run!
We grabbed the kids, hopped into our cars, and spent the next hour driving around searching our neighborhood and the surrounding area.
After a good bit of time searching and asking neighbors if they had seen her, it had gotten dark. At that point she had been missing for over two hours.
I was in full blown panic mode because not only is Daisy a bulldog who overheats easily (especially in this blazing Texas heat.) But she is also completely blind in one eye and has extremely limited vision in the other. She's also a senior citizen.
It was not looking good and I was on the verge of a breakdown. Though I was trying my best to hold it together in front of the kids.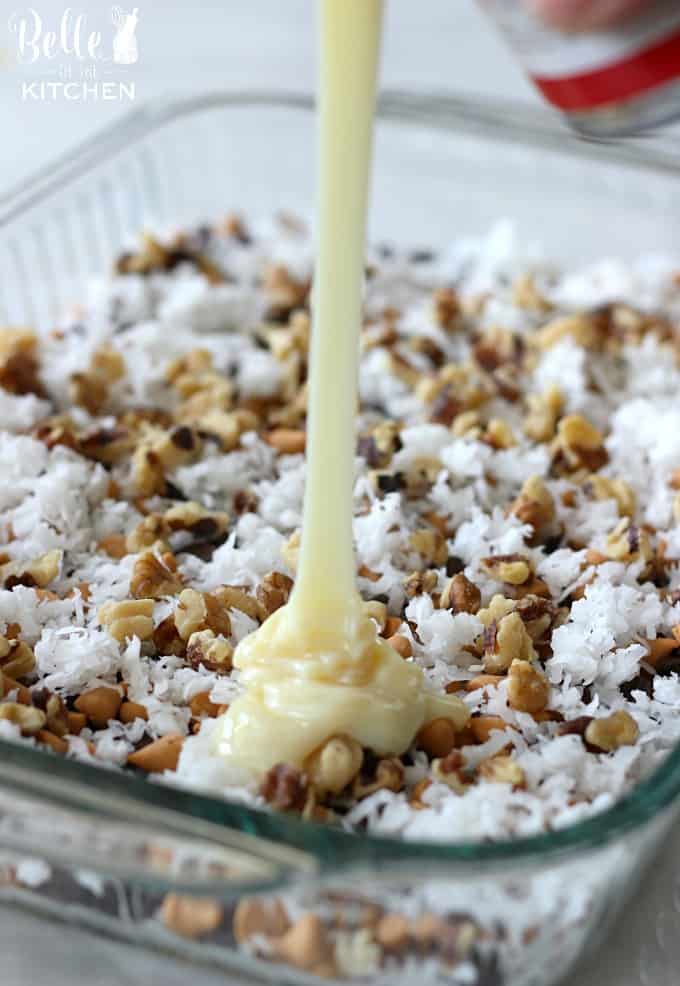 We finally decided to head home and look for ways to post about her missing online. On our way back, I noticed a furry white blur run behind a truck parked in a neighbor's driveway.
I slowed down and the guy who lived there waved at us as I hopped out. I ran around to the back of the truck and there she was, y'all, in all of her drooly, wrinkly glory!
She had been with them nearly the entire time she was missing (they had even prevented her from running out into a busy road) and had kept her safe until we found her.
They live on a street just a couple down from ours and I had even passed their house during my run, TWICE! I was so thankful to them for finding her!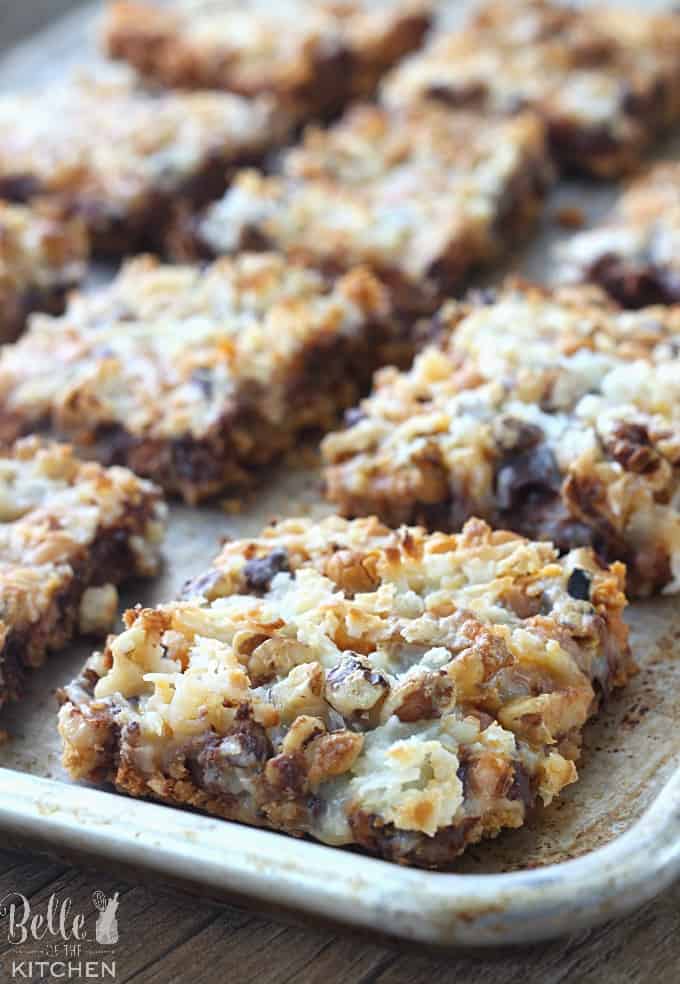 I considered making my Oreo Chocolate Chip Cheesecake Bars or some Butterscotch Banana Bread as a way of saying thank-you to them, but ultimately I decided to make these Seven Layer Magic Bars.
I bet you will have a hard time resisting these little bars of deliciousness.
Especially if you read that whole crazy long story. You totally deserve one now!
As a side note, I normally tend to leave nuts out of recipes because of my son's allergy. But since he wasn't going to be eating any of these (they were just for the neighbors and…. ahem… me) I decided to keep them in.
That little bit of crunch they give is just so yummy.
More Great Dessert Recipes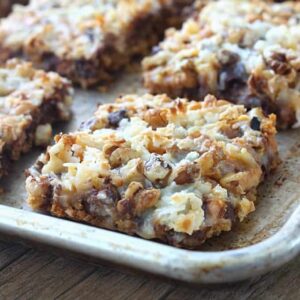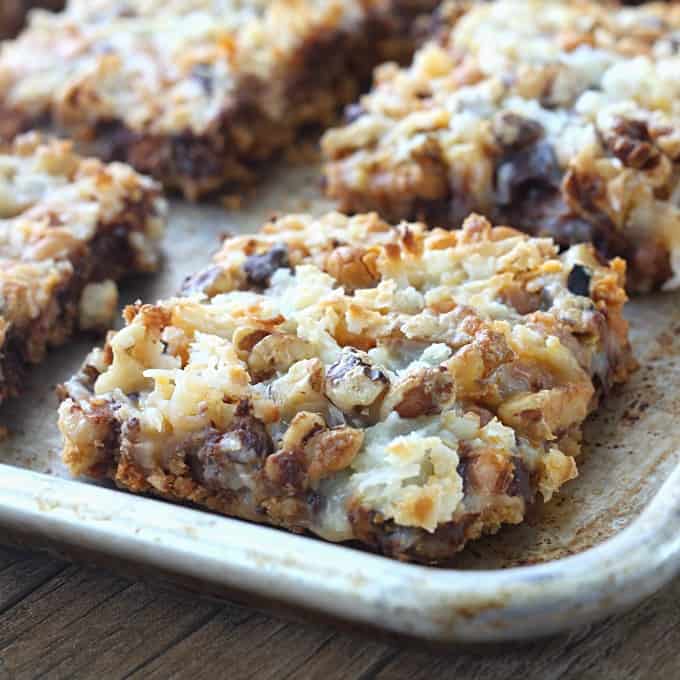 Seven Layer Magic Bars
A buttery graham cracker crust is topped layers of chocolate chips, butterscotch chips, coconut, chopped nuts, and then finished off with a blanket of sweetened condensed milk. These will not last long!
Ingredients
1 1/2 cups crushed graham cracker crumbs
1/2 cup butter
1 cup chocolate chips
1 cup butterscotch chips
1 cup sweetened flaked coconut
1/2 cup chopped walnuts
1 (14 oz) can sweetened condensed milk
Instructions
Preheat oven to 350 degrees. Spray a 9x13 inch baking pan with cooking spray and set aside.

Melt butter in a small saucepan. Remove from heat and stir in graham cracker crumbs until throughly combined. Press into the bottom of a 9x13 inch baking pan to form the crust.

Evenly sprinkle remaining ingredients one by one over the crust to form layers, beginning with the chocolate chips, followed by the butterscotch chips, coconut, and walnuts. Pour the condensed milk evenly over the top, and spread with a rubber spatula to make sure it's evenly distributed.

Bake in preheated oven for 25-30 minutes until edges are golden brown and the middle is set.

Allow to cool completely before slicing. Enjoy!
Calories: 275kcal, Carbohydrates: 35g, Protein: 3g, Fat: 13g, Saturated Fat: 7g, Cholesterol: 23mg, Sodium: 176mg, Potassium: 125mg, Fiber: 1g, Sugar: 29g, Vitamin A: 250IU, Vitamin C: 0.7mg, Calcium: 84mg, Iron: 0.6mg
If you like these Seven Layer Magic Bars, then you might also like:
This site contains affiliate links, if you make a purchase through them, we receive a small commission.