This Pepperoni Pizza Dip is such an easy and fun appetizer! If you've got 20 minutes and a few simple ingredients, then get ready to dive into this cheesy goodness!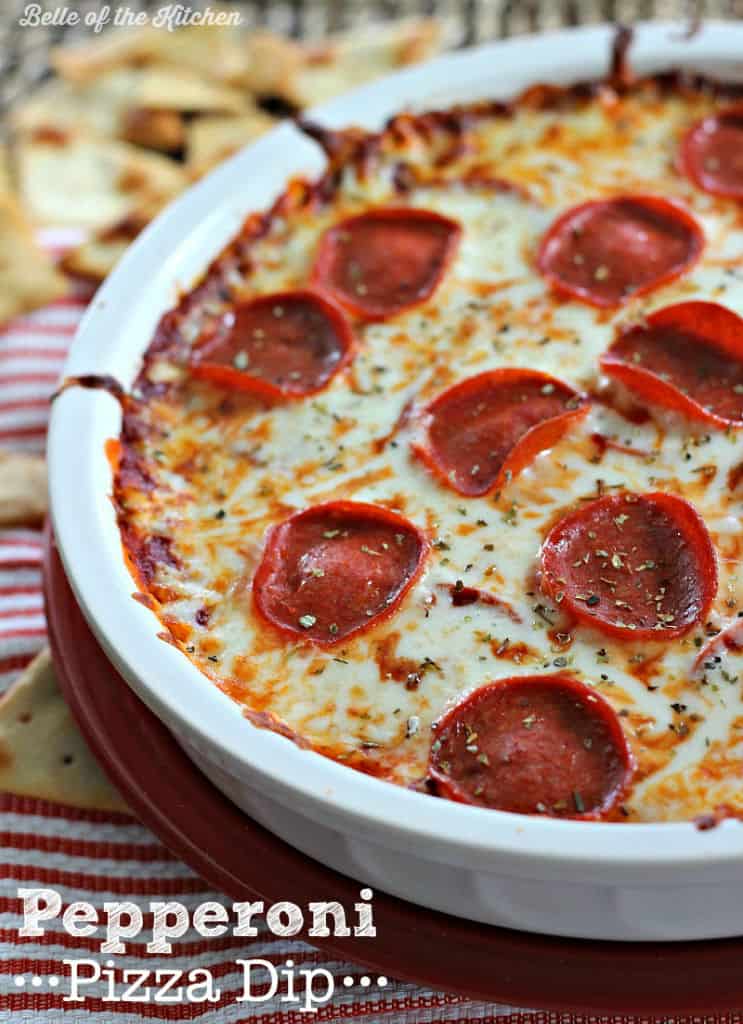 So, we've got a couple of hurricanes headed our way. Hurricane Iselle and Tropical Storm Julio are currently making their way towards the Hawaiian Islands. NBD.
We've been trying to prepare as best we can, considering we don't really know what to expect. I'm not really much of a worrier when it comes to storms, but hurricane hysteria has kind of taken over the island, so I of course feel the need to join in the panic! Water is pretty much completely sold out, along with non-perishable food, batteries, etc. From what I've heard, we will mostly get a TON of rain and the power may go out. I'm hoping it doesn't go out for long though. I need my internet! 😉
The Big Island, where we were at just a couple of weeks ago, is getting ready for the first hit. While hopefully both of these storms turn out to be a whole lotta nothin', please keep all the folks living out here on the islands in your thoughts and prayers. Mahalo!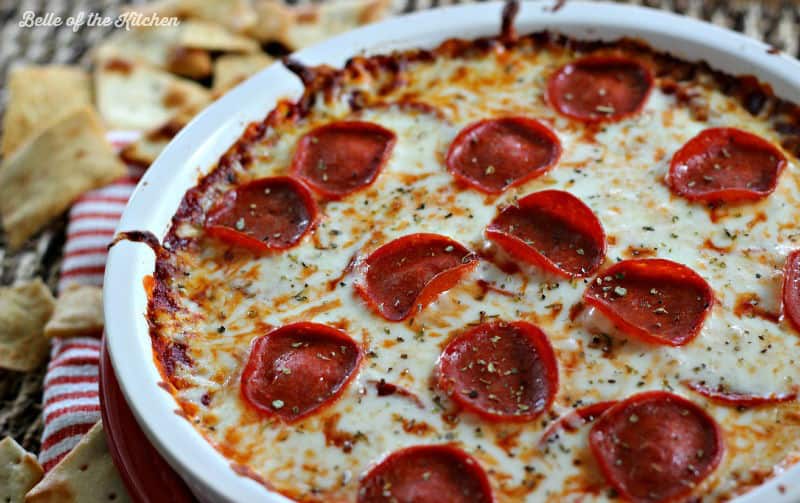 To take my mind off the impending storms, I decided to cook up a little Pepperoni Pizza Dip for us to snack on. Y'all THIS. IS. AMAZING. Seriously.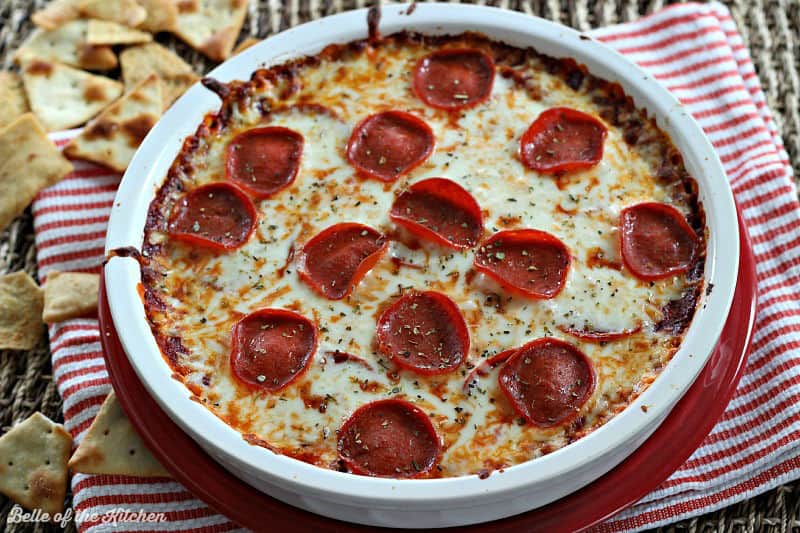 My son loves pizza; it's his absolute favorite food. So when I combined it with his other favorite food (crackers 🙂 ) to make this Pepperoni Pizza Dip, he was in pizza heaven. Really, it's so good and easy to make! It's the perfect hot appetizer for a party or get-together, especially with football season coming up. I am counting down the days until August 30th when my Bulldogs take on Clemson! I can't wait! Are you a football fan? If so, who are you looking forward to cheering on? Oh, and NO Gator fans allowed!! 😉 Awww, y'all know I'm just kiddin'.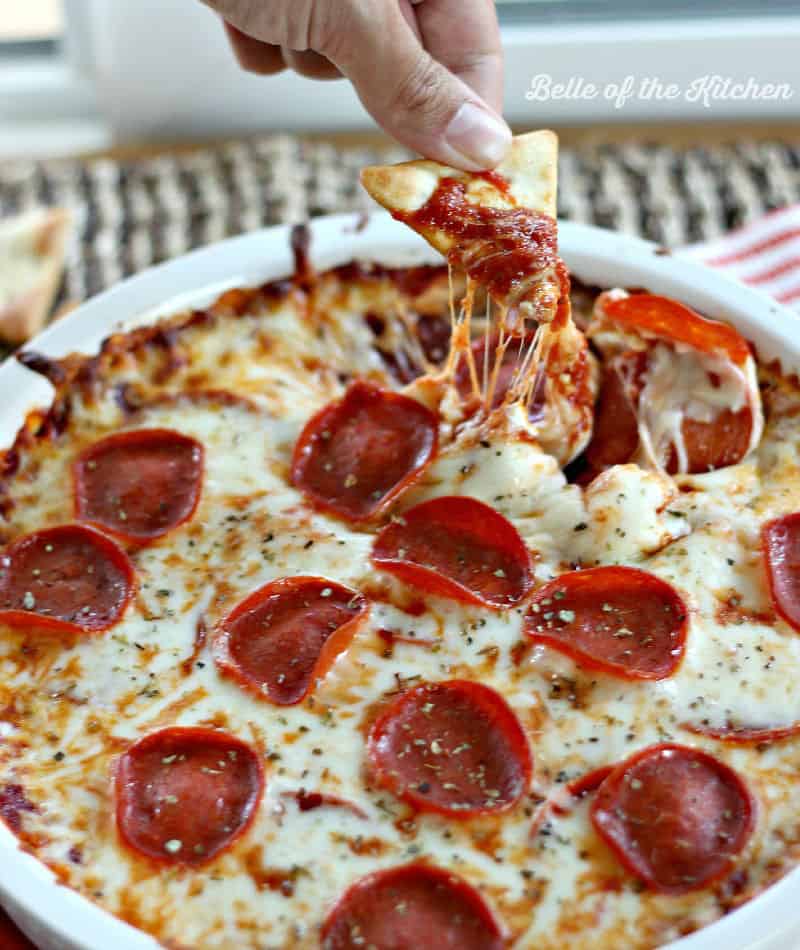 So if y'all don't hear from me for a few more days, it could be because we are out of power! I really hope that's not the case, though. Send good vibes this way, y'all, and enjoy the pizza dip!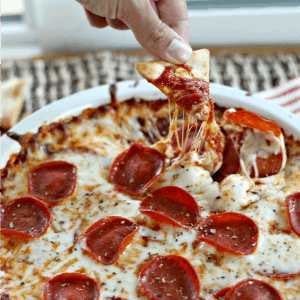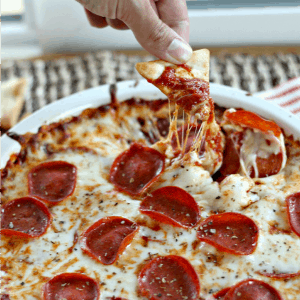 Pepperoni Pizza Dip
This Pepperoni Pizza Dip is such an easy and fun appetizer! If you've got 20 minutes and a few simple ingredients, then get ready to dive into this cheesy goodness!
Print
Pin
Rate
Ingredients
1

(8 oz) package cream cheese, softened

1/2

cup

sour cream

1

tsp

oregano

1/4

tsp

garlic salt

1

can pizza sauce

1

cup

shredded mozzarella cheese

pepperonis for topping

italian seasoning

chips/crackers/pita chips for dipping
Instructions
Preheat oven to 350 degrees.

Combine cream cheese, sour cream, oregano, and garlic salt in a medium sized bowl and mix well. Spread mixture into the bottom of 9 inch pie pan.

Spread pizza sauce evenly over the top of cream cheese mixture and top with a few pepperonis. Bake for 10 minutes in the preheated oven.

Remove from the oven and top with mozzarella cheese and a few more pepperonis. Return to oven and bake for 7-8 additional minutes, or until cheese is melted.

Turn the broiler on and broil the top for about a minute or two, until the cheese is dotted with brown and the pepperonis crisp up a bit. WATCH THIS STEP CAREFULLY! You don't want to burn all that delicious, cheesy goodness. 🙂

Remove from oven and sprinkle the top with italian seasoning. Serve with crackers or pita chips. Enjoy!
Nutrition
Calories:
191
kcal
|
Carbohydrates:
4
g
|
Protein:
6
g
|
Fat:
16
g
|
Saturated Fat:
9
g
|
Cholesterol:
52
mg
|
Sodium:
566
mg
|
Potassium:
241
mg
|
Sugar:
3
g
|
Vitamin A:
780
IU
|
Vitamin C:
3.6
mg
|
Calcium:
123
mg
|
Iron:
0.8
mg

Looking for some other appetizer ideas? Check these out!