Blueberry Sour Cream Pie
Blueberry Sour Cream Pie – a sweet, yet tart pie made with a creamy filling, and a crumbly streusel topping. This one is always a big hit!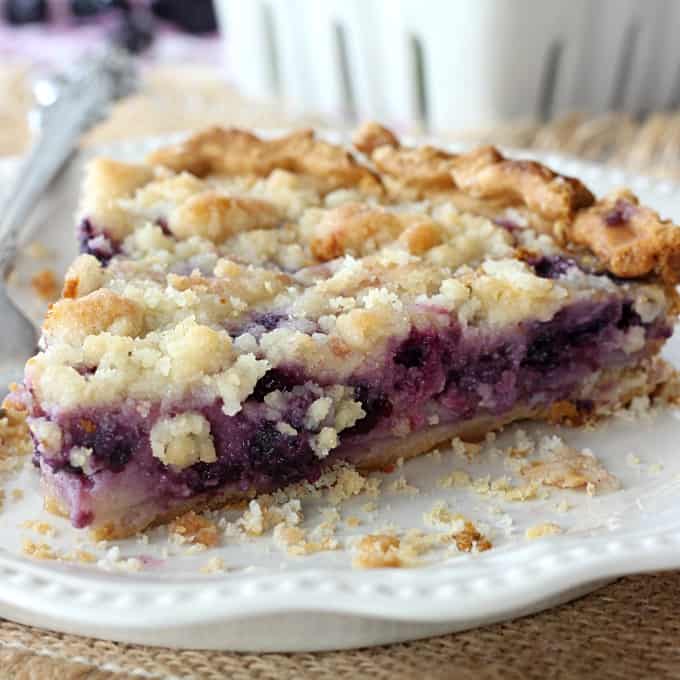 Hey y'all! This Blueberry Sour Cream Pie is coming to you straight from my hotel room today, as we are right in the thick of it with this move!
I photographed this one a few weeks ago before the movers came and I've been saving it up to share with you today.
It's been hard being away from the blog and I am seriously missing my kitchen. We've been eating out for dinner almost every night which sounds nice, but oh what I wouldn't give for a home cooked meal right about now.
We've managed to eat breakfast and lunch at our hotel most days to help save money (read: lots of cold cereal and ham sandwiches) but I am really dreaming about that first meal I get to make in my new kitchen.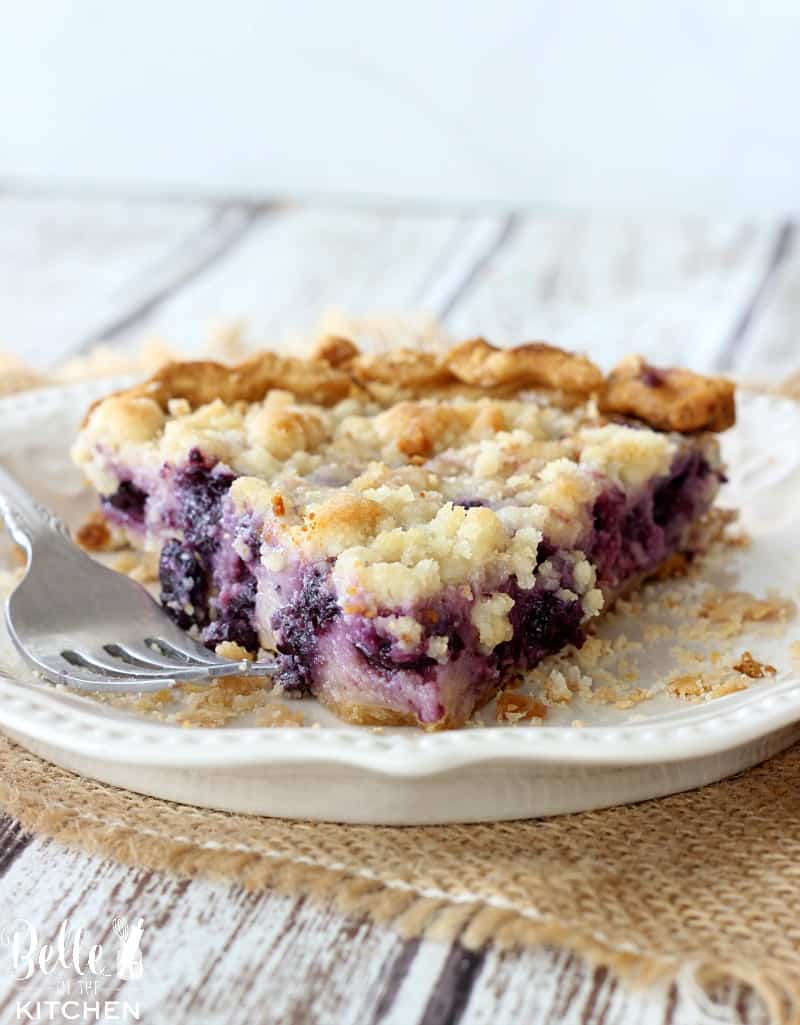 Speaking of which, we are also in the middle of house hunting!
We are buying our first home when we get to Texas and I'm overwhelmed with equal feelings of excitement and terror. I can't wait to have a house and a little piece of land that is all our own, but then everything that goes wrong or right is now our responsibility!
It's been kind of nice to just call up maintenance when the ice maker suddenly stops working, or you have an ant invasion in the kitchen and they'll send someone out to handle it.
I guess it's time for my hubby and me to start learning how to be "handy!"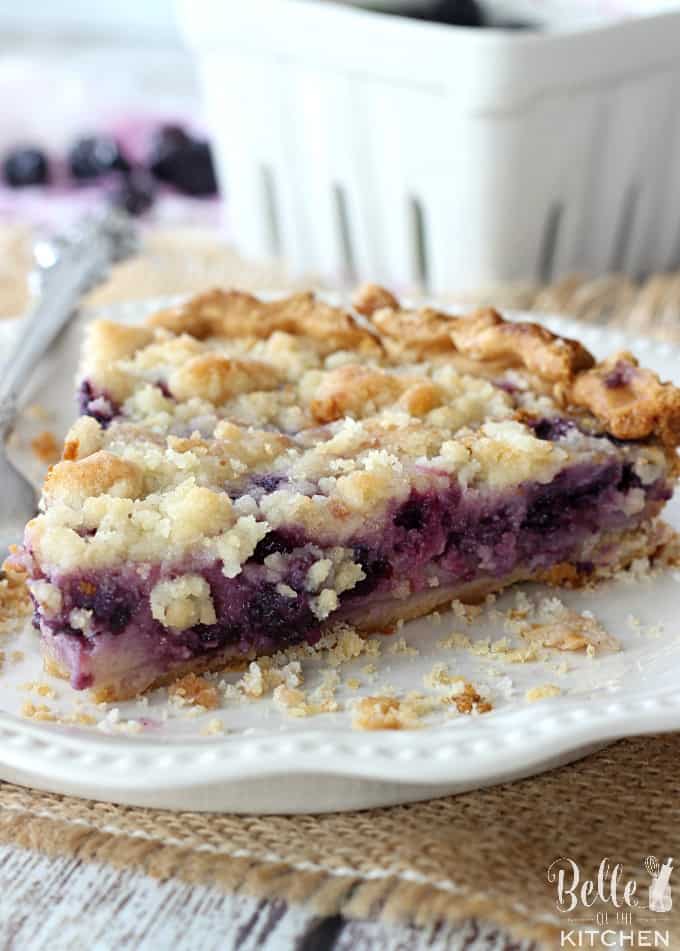 If you're wondering how the kiddos are doing with the move, they are handling the transition pretty well so far.
We've kept them busy with plenty of pool time, last beach visits, and even a special movie treat to see Finding Dory! It was my 2 1/2 year old daughter's first movie and she actually did pretty well for the first hour.
After that, she was pretty fidgety and seemed to enjoy how loud her voice sounded in the big theatre, so it took some bribing to get her quiet!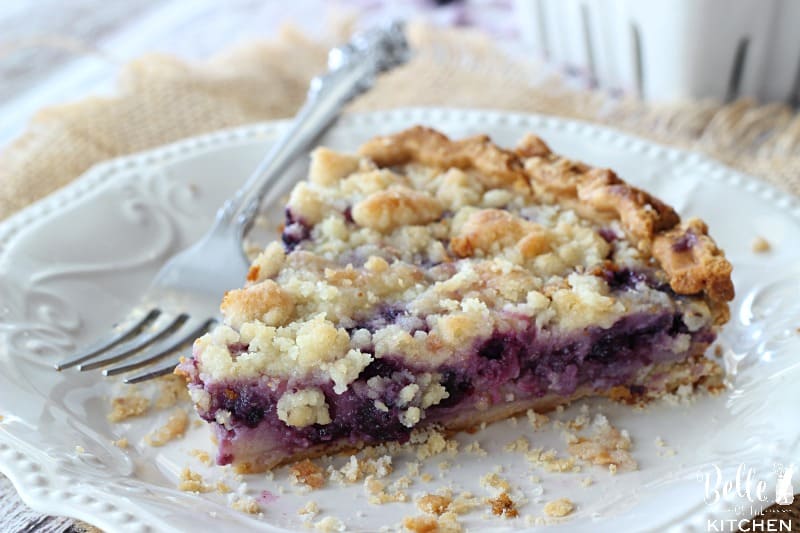 Now, as for this glorious Blueberry Sour Cream Pie!
This one didn't last long at our house. I was racking my brain for a way to use up a bag of frozen blueberries, and that's when I found this recipe over at Food.com. I am in love with the creamy filling and crumbly topping, and I bet you will be, too!
You can use fresh or frozen blueberries in this pie. This pie is really delicious because the berries are the star and their flavor really shines through. If you're using frozen blueberries, thaw them first. I like to rinse them in a colander under cold water and then drain REALLY well (I lay them out on a bed of paper towels to help) for a quicker thaw.
I've made it with both and actually prefer to use fresh blueberries, but frozen works well too.
Enjoy y'all!
More Recipes Featuring Fresh Fruit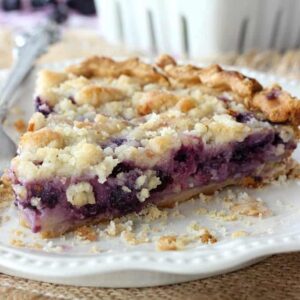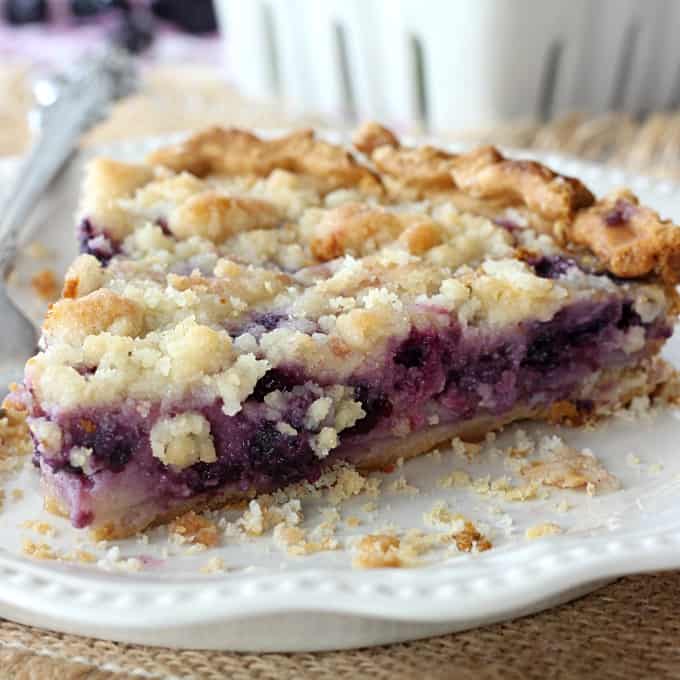 Blueberry Sour Cream Pie
A sweet, yet tart pie made with a creamy filling, and a crumbly streusel topping. This one is always a big hit!
Ingredients
1 deep dish unbaked pie crust
Filling:
3/4 cup sugar
2 tablespoons flour
1 cup sour cream
1 egg
1 1/2 teaspoons vanilla extract
1/4 teaspoon salt
2 1/2 cups blueberries, fresh or frozen (if using frozen, thaw and drain really well)
Topping:
3 tablespoons flour
2 tablespoons sugar
1 1/2 tablespoons cold butter
Instructions
Preheat oven to 400 degrees F. Prepare pie crust by covering the crust's edges with foil. This will help to keep the edges from getting too brown.

To make the filling, combine sugar and flour together in a medium sized mixing bowl. Using an electric mixer, beat in sour cream, egg, vanilla, and salt over medium speed for about five minutes. Carefully fold in the blueberries. Pour batter into pie crust and bake for 30 minutes.

While pie is baking, prepare the topping by crumbling together the flour, sugar, and butter with a fork.

Remove pie from the oven and sprinkle on the topping. Return to the oven and bake for 10-15 more minutes until topping is golden. Remove from oven and allow to cool throughly before slicing. Enjoy!
Calories: 309kcal, Carbohydrates: 43g, Protein: 3g, Fat: 14g, Saturated Fat: 6g, Cholesterol: 41mg, Sodium: 209mg, Potassium: 104mg, Fiber: 1g, Sugar: 27g, Vitamin A: 300IU, Vitamin C: 4.8mg, Calcium: 42mg, Iron: 1mg

If you like this Blueberry Sour Cream Pie, then you might also like:
This site contains affiliate links, if you make a purchase through them, we receive a small commission.