Piña Colada Poke Cake Recipe
This Piña Colada Poke Cake is moist and delicious, and full of sweet tropical flavors. It's the perfect treat for warmer weather, or anytime you need a pick-me-up!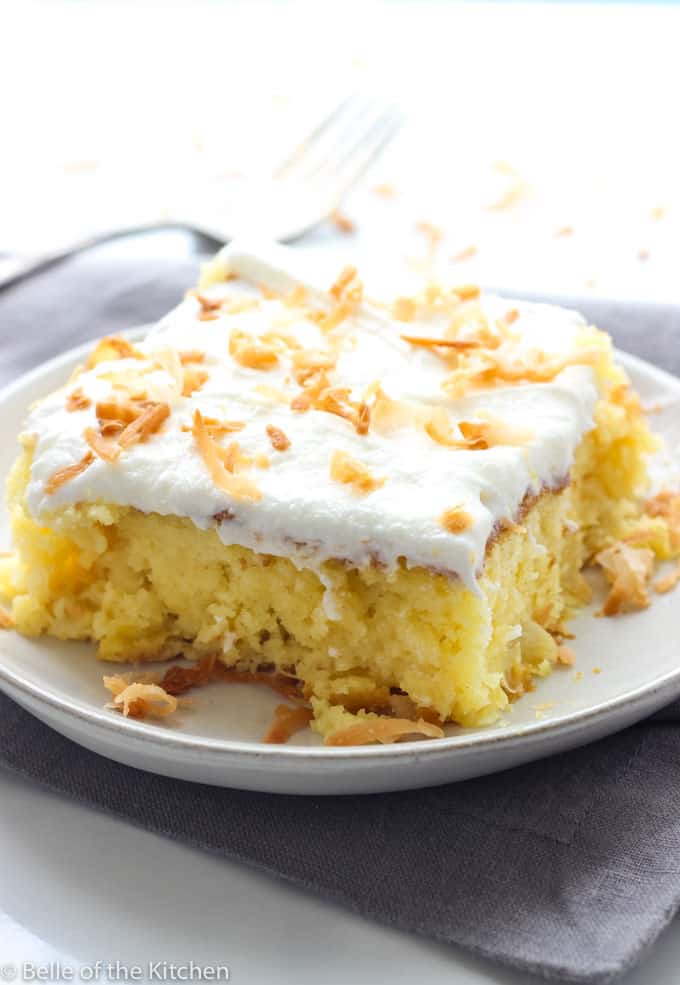 Cold days are finally behind us in Texas, and I've been busy busting out all the things for warm weather! My kids are thrilled to wear shorts again, especially my oldest, who has basically been anti-pants ever since our time in Hawaii.
I've been celebrating by dusting off my sandals collection, and also by testing out lots of fresh recipes. This Piña Colada Poke Cake has been a huge hit at my house, and has quickly become my new favorite dessert for all of the great events coming up over the next couple of months.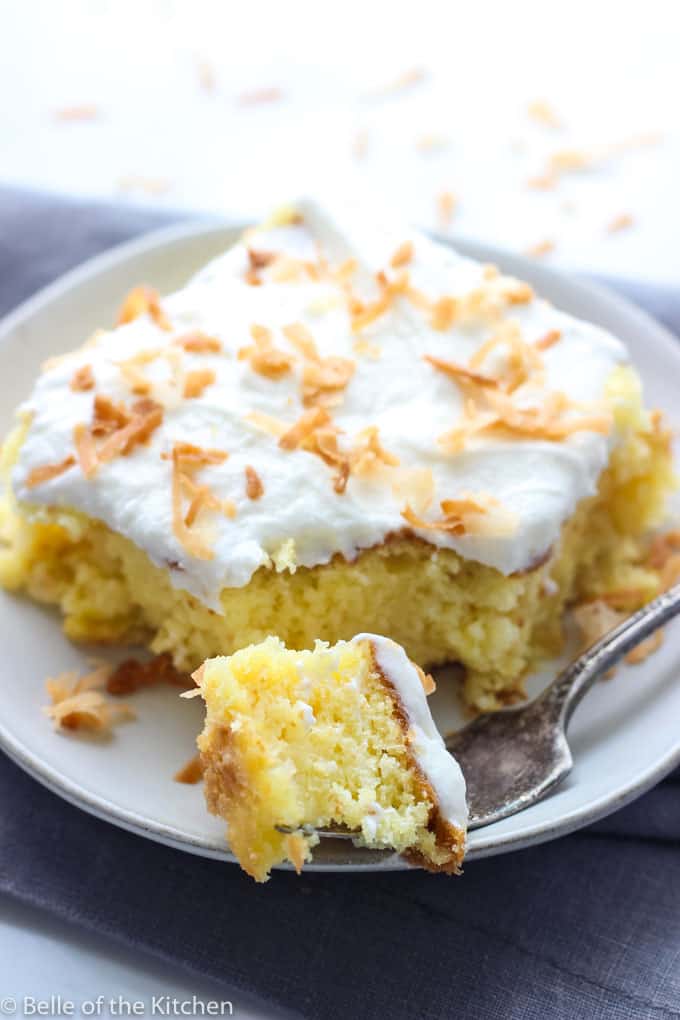 Seriously y'all, this cake is perfect for so many different things. Think Easter, Cinco de Mayo, Mother's Day, Father's Day, Fourth of July, backyard barbecues, or just a lazy summer day!
To be honest, I think it might become my new birthday cake! I'm a chocolate cake lover and usually stick with that every birthday, but this could be a close contender.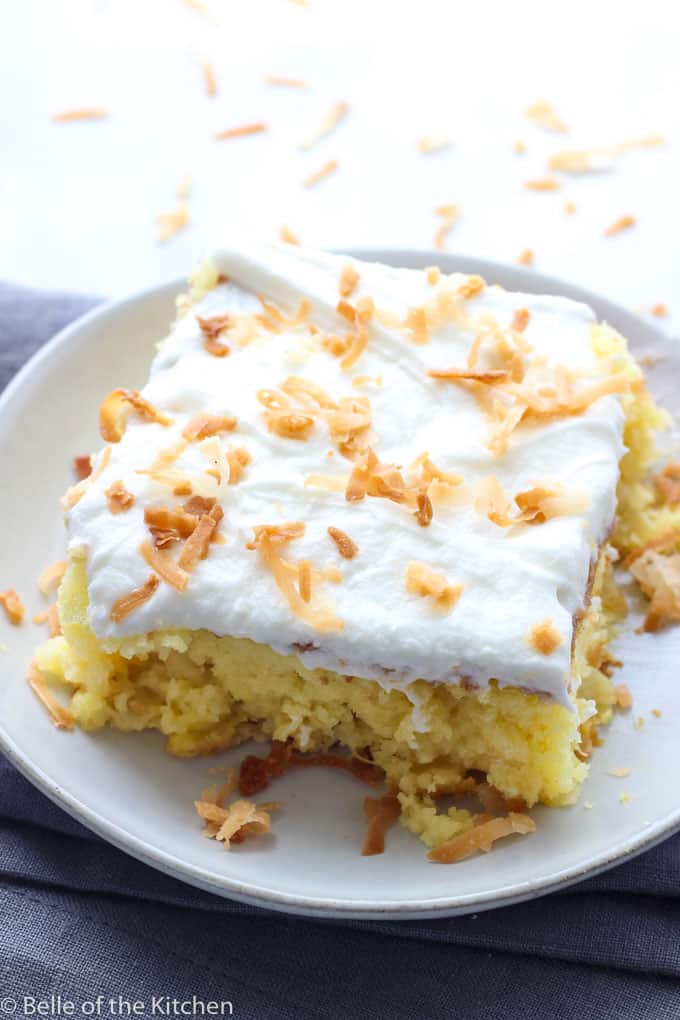 The coconut buttercream frosting on this cake is a spin on my recipe for the best vanilla buttercream frosting, which you should totally try sometime! I love this coconut version and think it would be perfect on lots of other cakes or cupcakes as well. And the toasted coconut on top gives a really delicious finishing touch, so don't leave it out!
I hope y'all love this cake as much as my crew does!
If you share this Piña Colada Poke Cake or any other recipe from my site on Instagram, tag #belleofthekitchen so I can see what you've made! And follow me @thebelleofthekitchen, too!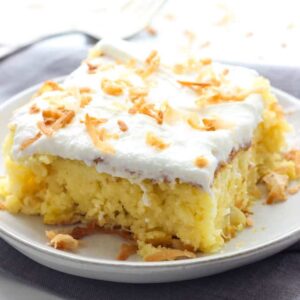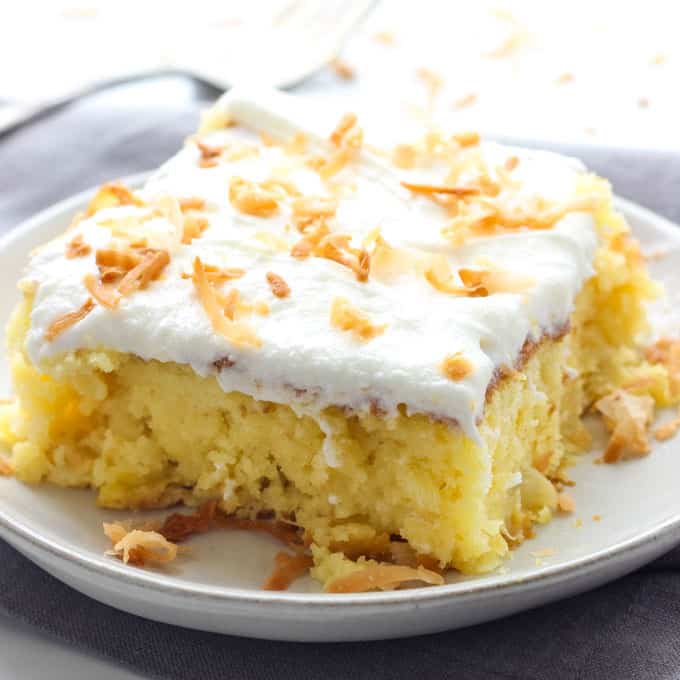 Piña Colada Poke Cake
This Piña Colada Poke Cake is moist and delicious, and full of sweet tropical flavors. It's the perfect treat for warmer weather, or anytime you need a pick-me-up!
Ingredients
Cake:
1 (15.9 oz) box of yellow cake mix
3 eggs
1 1/4 cups water
1/3 cup vegetable oil
1 (8 oz) can crushed pineapple with juice
1 cup cream of coconut
1/2 cup milk
1/2 cup sweetened flaked coconut
Coconut Buttercream Frosting:
1/2 cup (1 stick) unsalted butter
2 cups powdered sugar
1-2 teaspoons coconut extract
1/3 cup cream of coconut
Instructions
To make the cake:
Preheat oven to 350 degrees. Spray a 13x9 inch baking dish with cooking spray and set aside.

In a large bowl, stir together the cake mix, eggs, water, and vegetable oil until moistened, then beat with an electric mixer on medium speed for two minutes. Gently stir in the crushed pineapple, then pour the batter into the prepared baking dish.

Bake in the preheated oven for 30-35 minutes until top of cake is lightly browned and a toothpick inserted in the center comes out clean.

Remove cake from the oven and place on a wire rack. While cake is still warm, poke holes over the entire surface of the cake with a toothpick or fork. Whisk 1 cup cream of coconut and 1/2 cup milk together in a small bowl and pour evenly over the warm cake. Allow cake to cool completely.

After cake is completely cool, top with coconut buttercream frosting and sprinkle with toasted coconut. Store any leftover cake in the refrigerator. Enjoy!
To make the frosting:
Beat the softened butter over medium speed with an electric mixer until soft and creamy. Continue to beat over medium speed as you gradually add the powdered sugar. Stop the mixer and scrape down the sides of the bowl with a spatula as needed to fully incorporate all of the sugar.

Once butter and sugar have come together, gradually beat in the remaining cream of coconut (about 1/3 cup). Add the coconut extract 1 teaspoon at a time and taste in between for desired flavor. 1 teaspoon is plenty for me.
To make the toasted coconut:
Preheat oven to 325 degrees. Spread coconut flakes in a single layer on a cookie sheet and toast in the oven for 5-10 minutes, stirring once or twice while cooking. Toast until lightly browned all over, then remove from the oven.
Notes
*Cream of Coconut can usually be found with the mixers for alcoholic beverages
Calories: 539kcal, Carbohydrates: 81g, Protein: 3g, Fat: 22g, Saturated Fat: 16g, Cholesterol: 62mg, Sodium: 319mg, Potassium: 76mg, Fiber: 2g, Sugar: 64g, Vitamin A: 320IU, Vitamin C: 1.8mg, Calcium: 102mg, Iron: 1.1mg
If you like this Piña Colada Poke Cake, then you might also like:
This site contains affiliate links, if you make a purchase through them, we receive a small commission.