Honey Dijon Chicken Thighs Recipe
Honey Dijon Chicken Thighs – a deliciously easy dinner that you will want over and over again! Juicy chicken thighs are cooked in an irresistible honey dijon sauce that turns to a sticky, flavorful glaze. This is going to be a new favorite!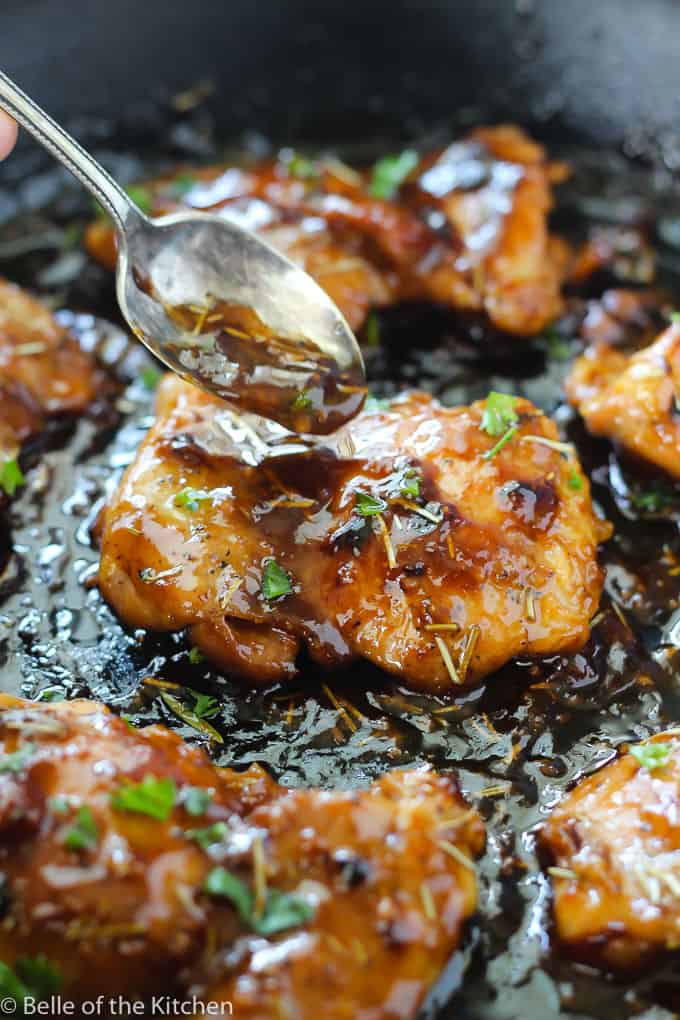 If you've been looking for a new chicken recipe to spice up your dinner rotation, I've got you covered today. This is a favorite at our house, especially for our daughter. She calls the sauce in these Honey Dijon Chicken Thighs "the yummiest sauce evvvvvvverrrr!"
That's high praise from a five year old who would survive solely on goldfish crackers and popsicles if I would let her.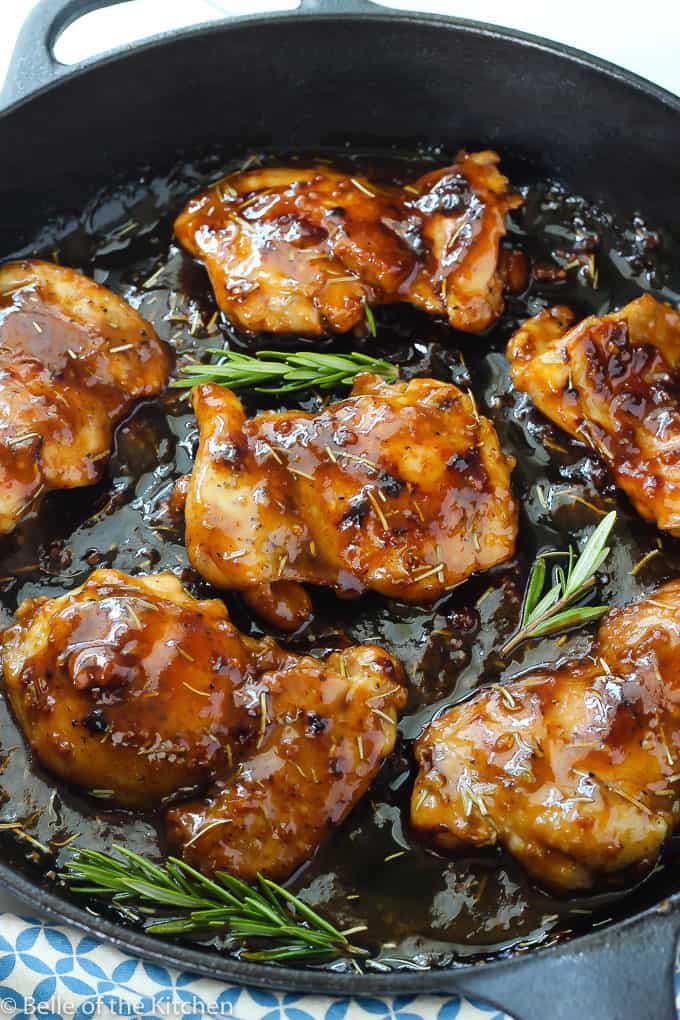 The other night as I was cleaning up after dinner, I actually spied her dipping her finger into the pan of leftover sauce, and sneakily licking her fingers. I didn't say a word; just chuckled, and thought to myself, "like mother like daughter."
Because I did the exact same thing with these delicious honey dijon chicken thighs. Multiple times to be exact.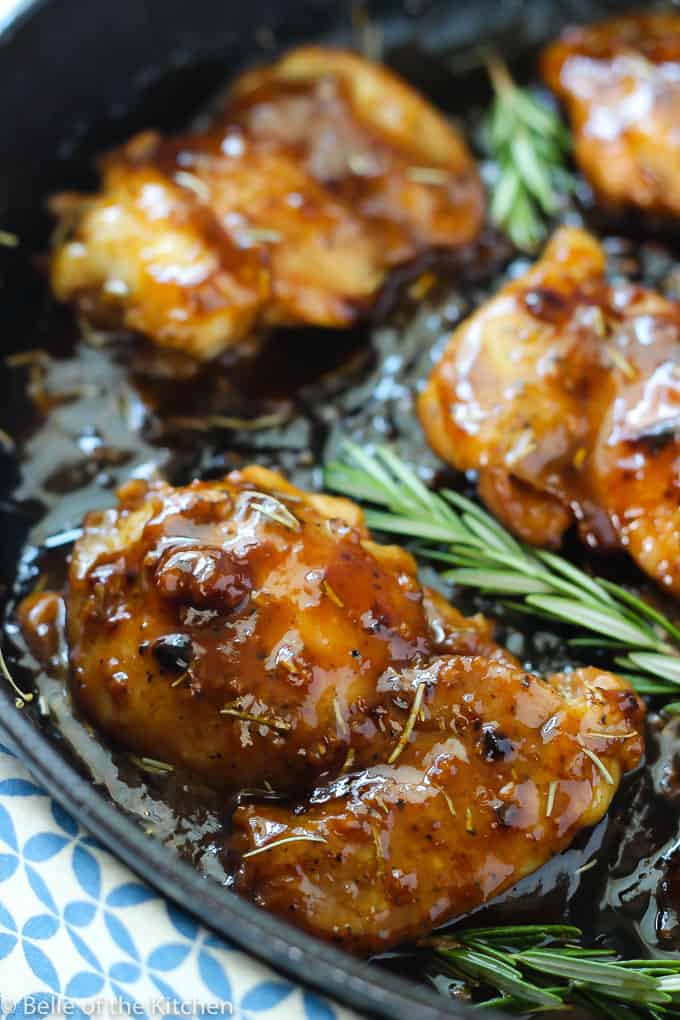 I'm willing to bet that you will find yourself in the same position. That sauce is SO good, it's hard to stop yourself! I've known about its magic for awhile, as its the exact same sauce I use when I make Honey Dijon Pork Tenderloin, which you should definitely try as well!
More Delicious Chicken Recipes
If you share these Honey Dijon Chicken Thighs or any other recipe from my site on Instagram, tag #belleofthekitchen so I can see what you've made! And follow me @thebelleofthekitchen, too!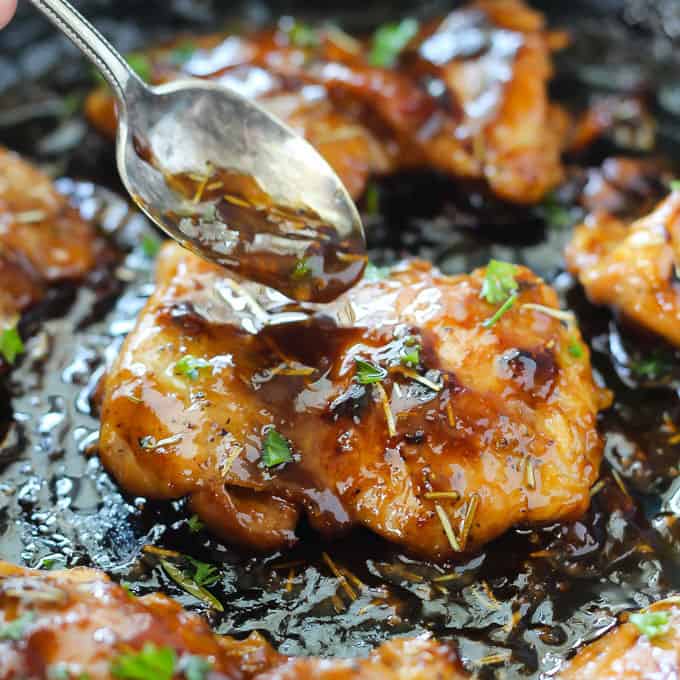 Honey Dijon Chicken Thighs
Honey Dijon Chicken Thighs make an amazing dinner that you'll want over and over again! So juicy and flavorful, and made with a sauce you'll want to drink!
Ingredients
Sauce:
1/4 cup soy sauce
3 Tablespoons honey
3 Tablespoons olive oil
2 Tablespoons orange juice
2 Tablespoons dijon mustard
3-4 garlic cloves,, minced
2 teaspoons dried rosemary, (or 1 sprig fresh rosemary, chopped)
fresh ground pepper, , to taste
Chicken:
1.5-2 pounds chicken thighs, (I used boneless, skinless thighs, but you could also use bone-in things with skin)
1 teaspoon salt, (or more/less to taste)
1 teaspoon fresh ground pepper, (or more/less to taste)
1 teaspoon garlic powder, (or more/less to taste)
1 Tablespoon olive oil
Instructions
In a small bowl, whisk together all of the ingredients for the sauce and set aside.

Sprinkle the salt, pepper, and garlic powder over both sides of the chicken thighs. Heat 1 Tablespoon of olive oil in a large skillet over medium high heat (I like to use my cast iron skillet for this). When the oil is hot, add the chicken thighs and cook for about 5 minutes on each side, allowing the chicken to brown nicely.

Pour the sauce over the chicken and reduce the heat to medium. Cover the pan with a lid and cook the chicken for 6-7 minutes. Remove the lid and flip the chicken thighs, spooning the sauce over the top. Continue cooking, uncovered, for 5-10 more minutes. Flip the chicken every few minutes and continue stirring the sauce so that it doesn't burn.

Cook until chicken no longer pink and cooked through. Serve with the sauce from the pan spooned over the top of each thigh. Enjoy!
Notes

Did you make this recipe?
Tag @thebelleofthekitchen on Instagram and hashtag it #belleofthekitchen.
Calories: 567kcal, Carbohydrates: 16g, Protein: 29g, Fat: 42g, Saturated Fat: 9g, Cholesterol: 166mg, Sodium: 1609mg, Potassium: 424mg, Sugar: 14g, Vitamin A: 150IU, Vitamin C: 5mg, Calcium: 25mg, Iron: 1.7mg
This site contains affiliate links, if you make a purchase through them, we receive a small commission.