Strawberry Overnight Oats Recipe
You will love this easy Strawberry Overnight Oats Recipe! Prep them the night before to have a delicious breakfast ready to go the next morning.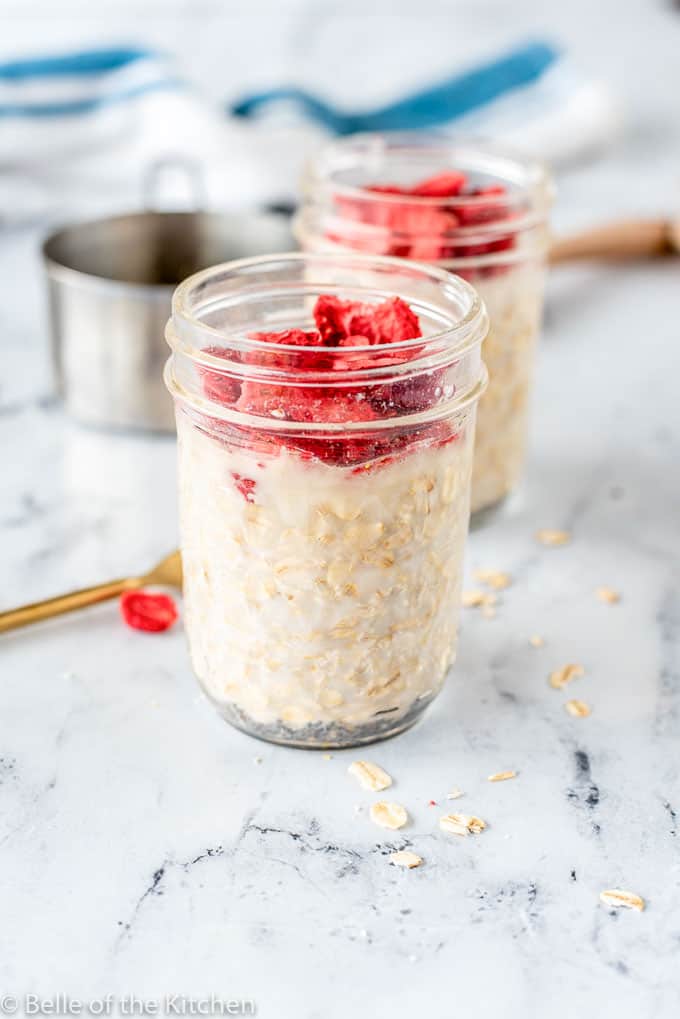 Sometimes mornings are rushed and we need to have breakfast on the run. We love muffins and breakfast casseroles, but those require prep work and bake time.
This overnight oats recipe requires less than 5 minutes of prep time and then are ready to eat in the morning. We love this strawberry version, but you can always get creative with your oats and change up the flavors.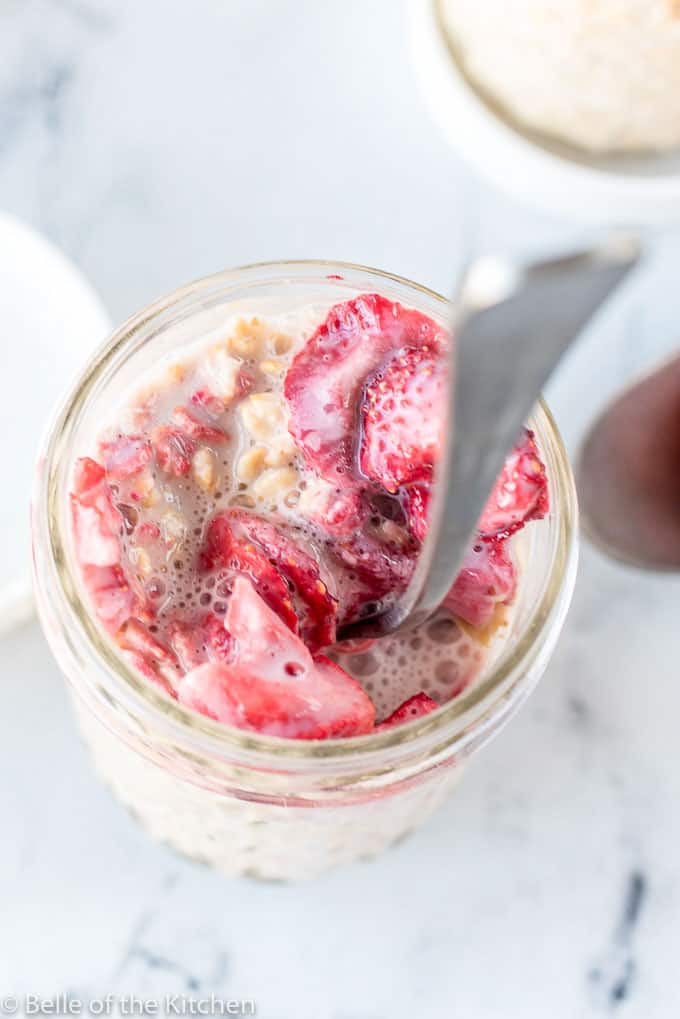 What are overnight oats?
Overnight oats are a combination of oats, a liquid, and some sort of sweetener. You combine all of the ingredients into a mason jar and let them sit overnight. The liquid, in this case almond milk, softens the oats and infuses them with flavor. This Overnight Oats recipe is a great no-cook option for busy mornings or to help with meal prepping during the week.
Ingredients for Strawberry Overnight Oats
The great thing about these overnight oats is you do not need a lot of fancy ingredients to make them. In fact, I bet you have most of them in your pantry now! To whip up a batch of this strawberry overnight oats recipe you will need:
Old fashioned oats
Chia seeds
Almond milk
Vanilla extract
Freeze dried strawberries (or fresh)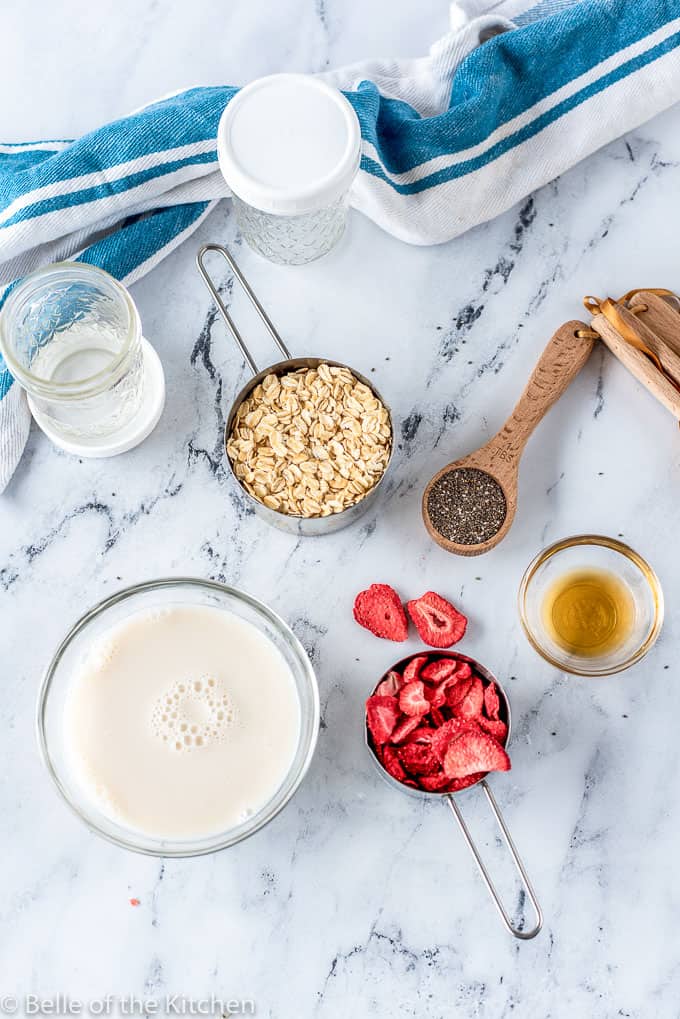 Oats – Old fashioned or quick cook oats work best for overnight oatmeal, and you want the oatmeal to absorb the liquid without getting super mushy. I do not recommend using steel cut oats for this recipe.
Chia seeds – The chia seeds help to thicken the oatmeal. They are optional, but do provide a healthy kick.
Almond milk – You can use almond or any milk that you prefer here. I like the health benefits that almond offers, but regular milk and even coconut milk work the same. Get a sweetened variety or add sweetness, or just a bit of maple syrup to sweeten your oats.
Vanilla extract – This gives the oats a nice flavor. You can substitute with your favorite extract such as almond or even lemon.
Freeze dried strawberries – You can also use fresh strawberries in your overnight oatmeal. Feel free to substitute the strawberries for your favorite fruit as well. The recipe will stay the same.
How to make Overnight Oats Recipe – Step by Step
Once you have gathered all your ingredients, you will also need to grab :
Measuring cups and spoons
Mason jars with lids
Spoon
You are going to divide all of your ingredients in half so that they fit into two half pint jars. You can also use one single pint jar if you want to make one large serving.
Step 1: Place the chia seeds at the bottom of the mason jar.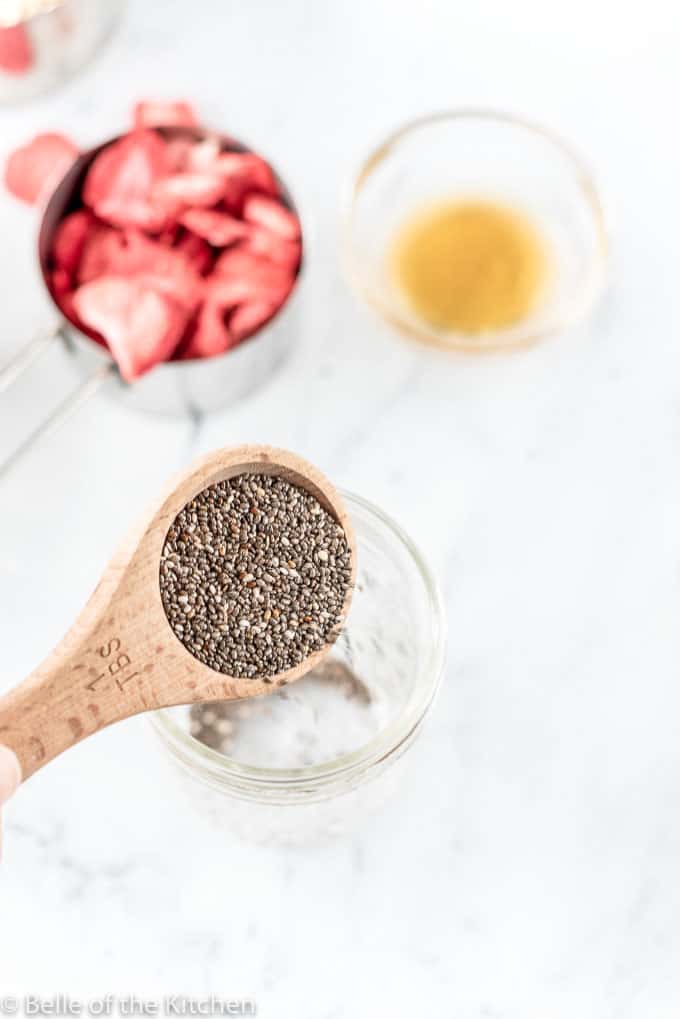 2: Add your oats.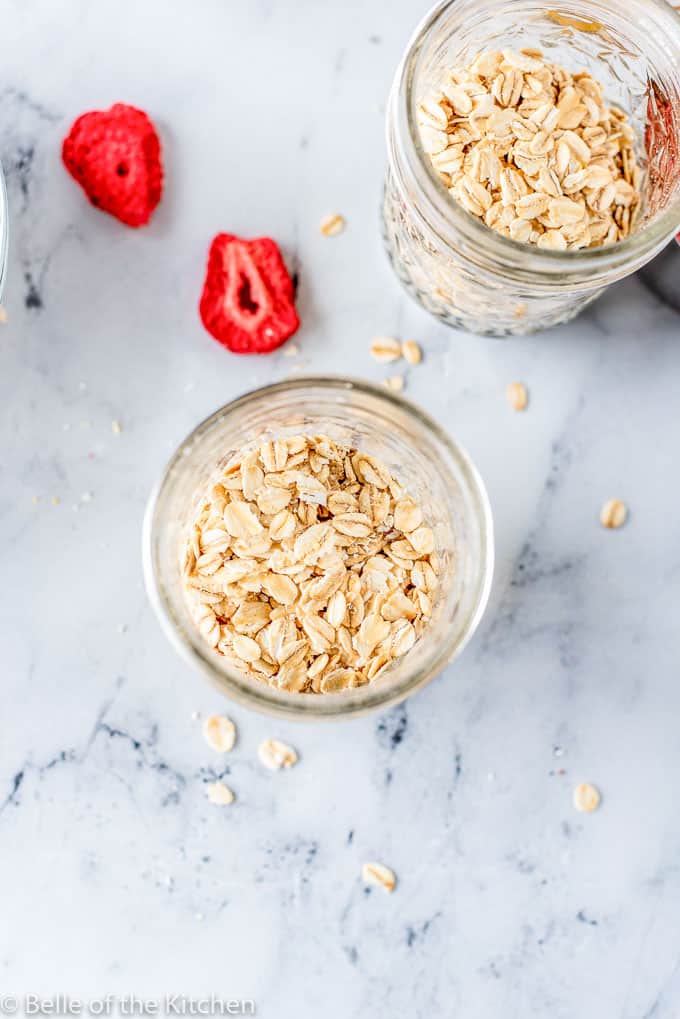 3: Pour in the almond milk and vanilla extract.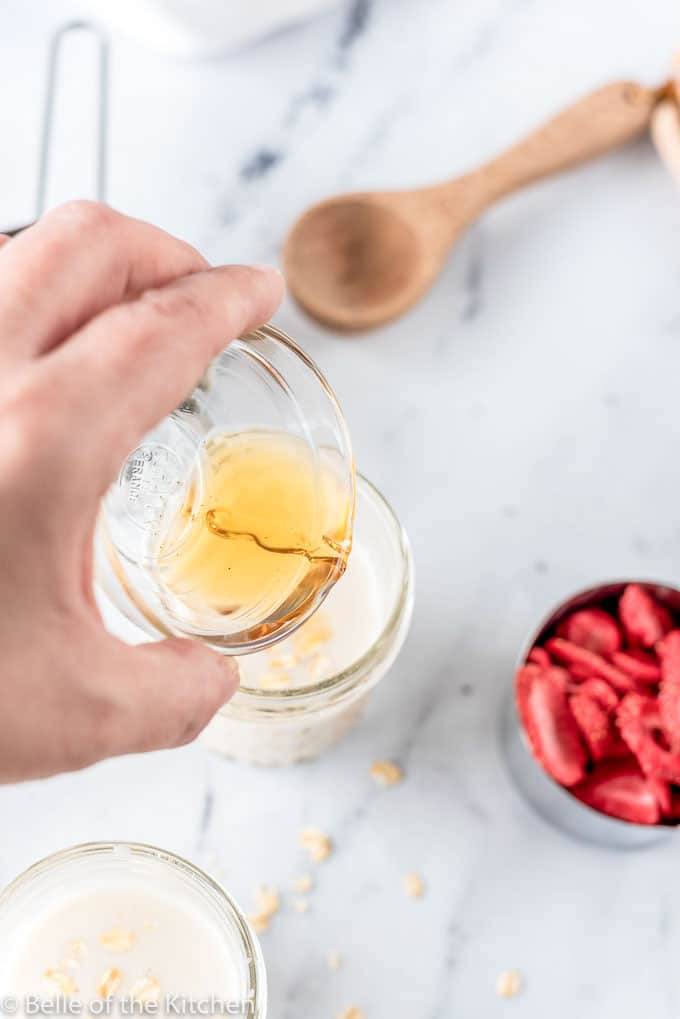 4: Top with strawberries.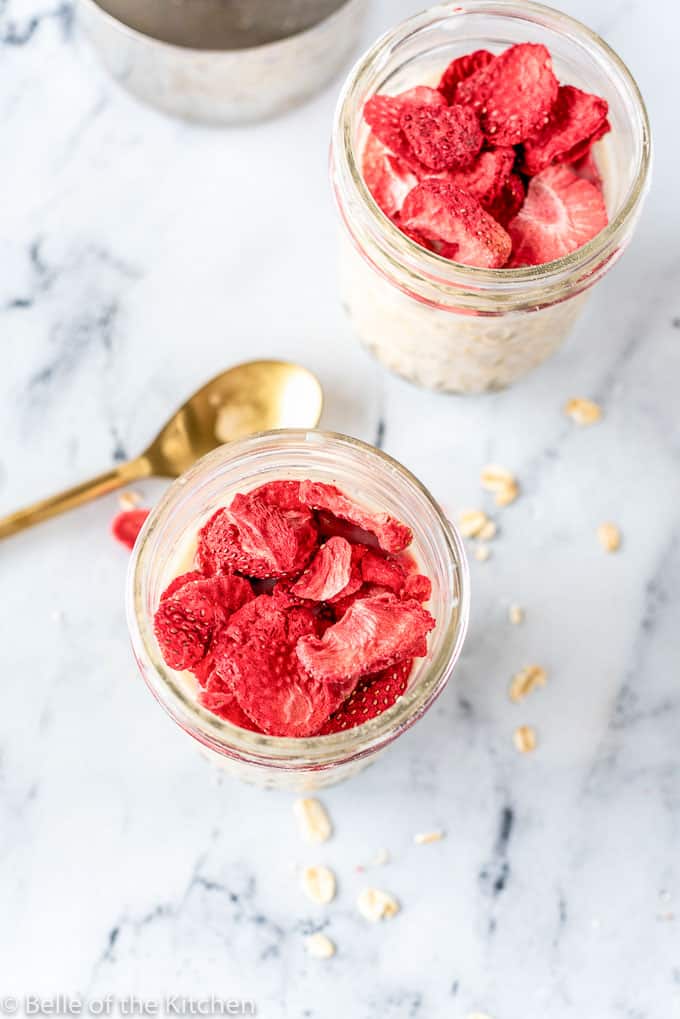 5: Place your mason jar in the fridge for at least 4 hours but up to 24. When you are ready to eat, remove from the fridge and add ¼ cup or more of almond milk. Stir together and enjoy.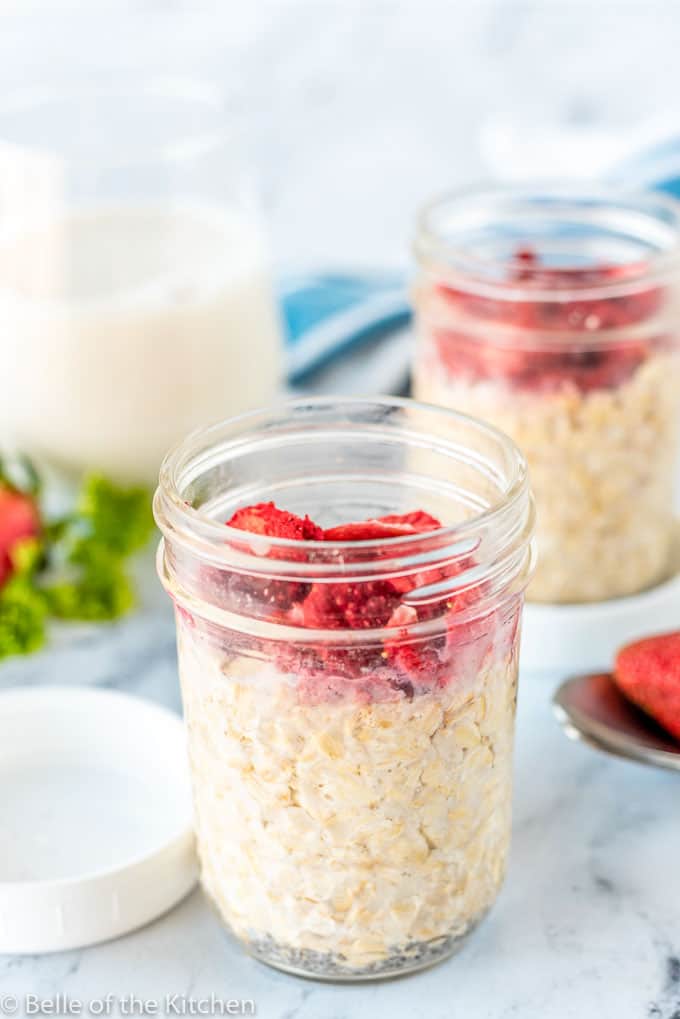 How long do I need to refrigerate this overnight oats recipe?
It's best to make them and have them sit in the fridge for at least 4 hours. The liquid needs time to be absorbed into the oats to make them the perfect consistency for eating. The longer you leave them in the fridge, the more liquid they will absorb. You will need to add more milk before you eat your oats.
Do I have to add the chia seeds?
No, you don't have to add them. Feel free to omit them.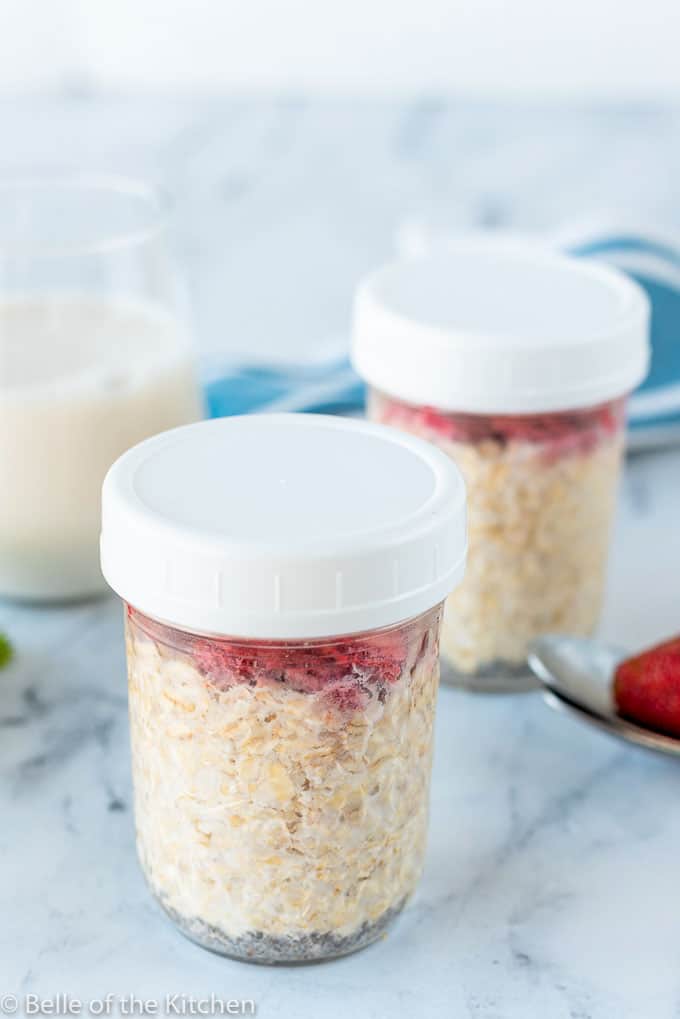 Can I make different flavors of this Overnight Oats Recipe?
You can! The base recipe would be the oats, milk and the vanilla. You can always switch out the fruit or use a different extract. You can even do a peanut butter version by adding peanut butter to the top instead of strawberries.
Gluten-free, Dairy Free, and Vegan Options
To make this overnight oats recipe gluten free: simply replace the overnight oats with your favorite gluten free version. I like the gluten free oats from Bob's Red Mill.
Dairy free/Vegan Option: if you make this recipe as written using almond milk, it is already dairy free and vegan!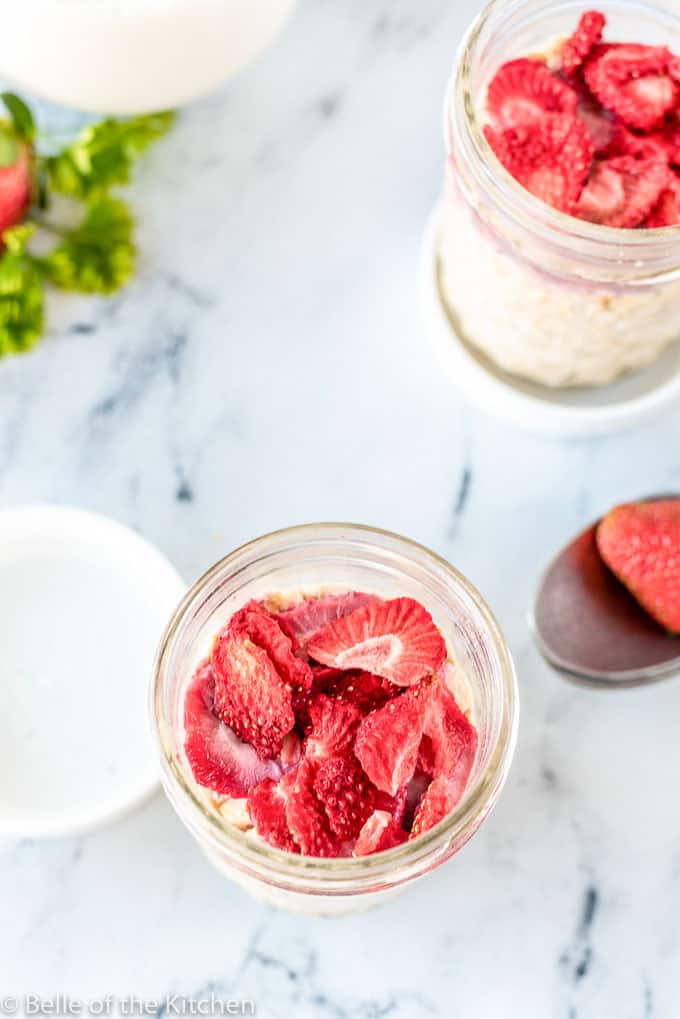 How do I store leftovers?
If you happen to have any leftovers from this overnight oats recipe, store them in the fridge with the lid on. Your oats will keep for 2 days.
Other Breakfast Recipes To Try
Looking for other low-prep breakfast recipes? They are really a big time saver in the mornings! Here are some of my other favorites: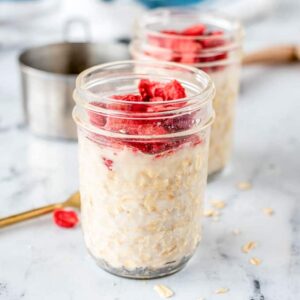 Strawberry Overnight Oats
You will love this easy Strawberry Overnight Oats Recipe! Prep them the night before to have a delicious breakfast ready to go the next morning.
Ingredients
1 Tablespoon chia seeds
1/2 cup old fashioned oats
1 cup almond milk, or milk of choice
1 teaspoon vanilla extract
1/4 cup freeze dried strawberries, or fresh
Instructions
In two half- pint mason jars, divide the chia seeds in half and add them to the bottom of the each mason jar.

Add in half of the oats to each mason jar. Then add in half of the milk and vanilla extract on top of the oats in each jar. Top with the strawberries.

Place the top on the mason jars and place in the fridge for 4 to 24 hours. Add more milk in the jar when ready to serve, if desired.
Calories: 139kcal, Carbohydrates: 19g, Protein: 4g, Fat: 5g, Saturated Fat: 1g, Trans Fat: 1g, Sodium: 165mg, Potassium: 101mg, Fiber: 5g, Sugar: 2g, Vitamin A: 3IU, Vitamin C: 1mg, Calcium: 199mg, Iron: 1mg
This site contains affiliate links, if you make a purchase through them, we receive a small commission.