This Chocolate Chip Cheesecake Ball is the perfect appetizer for game day snacking! Go on and wow your guests at your next football party with this easy, yummy treat!
Since fall is finally here and football season is underway, I decided to bring a little game day fun to the blog today! I actually shared this recipe over at Kenarry a few weeks ago as part of our new recipe exchange series, "Ideas for the Kitchen." Carrie was here sharing her recipe for Easy Cheesy Green Pepper Dip, so make sure you check that out if you haven't yet!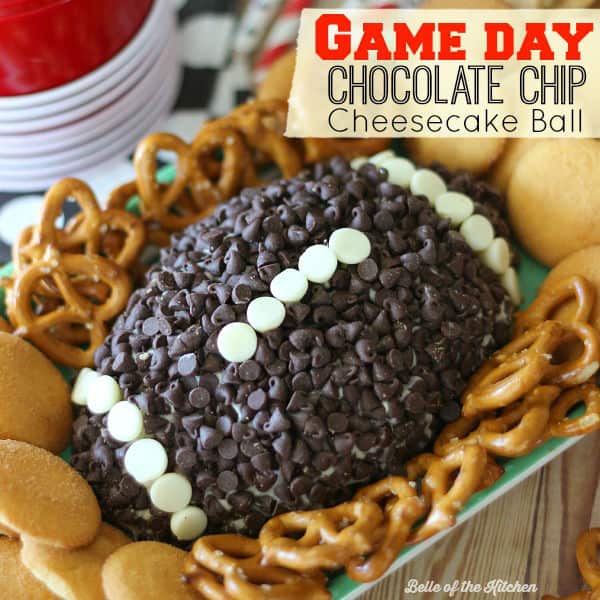 Traditional cheese balls are pretty popular for get-togethers and parties, and I always look forward to snacking on them. But who says cheese balls always have to be savory? I mean, why not have your cheese ball for dessert? And so I give you this delicious Chocolate Chip Cheesecake Ball! AND, I've made it into an extra special football shape so it's just right for enjoying during your next tailgate party!
Making this cheesecake ball is a fairly simple process. A few years ago, my mom gave me this super cute football platter set for Christmas. I love pulling it out this time of year and using it to serve different types of salsa while we watch the game. When I decided to make a football shaped cheesecake ball, I knew one of the bowls would work perfectly!
Now there is no need to worry if you don't have a football shaped bowl like this. If you have a small, oval shaped bowl, you could use it in the same way. Or, you could simply shape the cheesecake ball using your hands once it has properly chilled, as it is very easy to manipulate.
To get started, mix up the cheesecake ball ingredients, then cover and chill in the fridge for about two hours. If you plan to use a bowl for shaping your cheesecake ball, line the inside of the bowl with plastic wrap.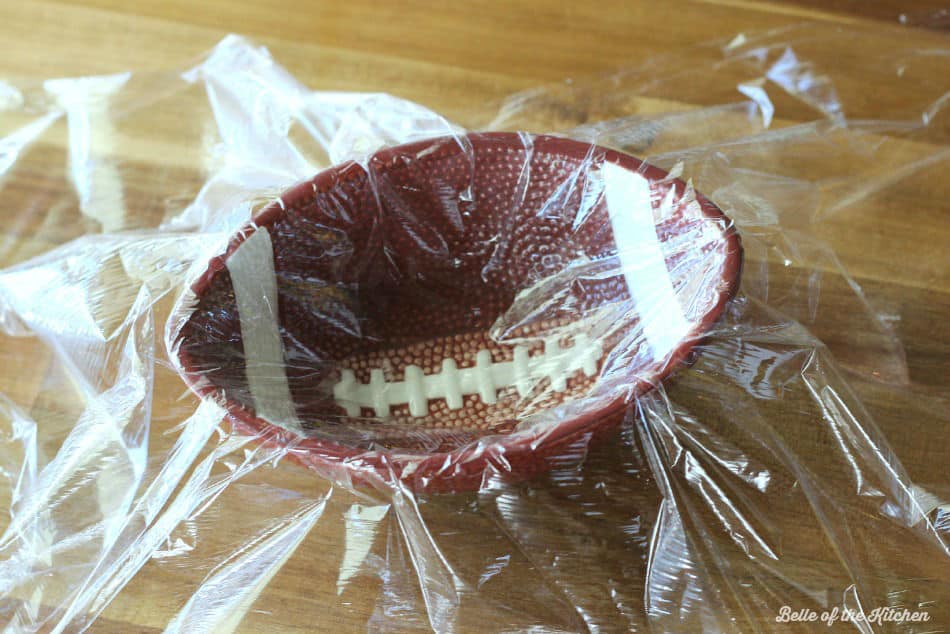 Fill with the chilled batter then cover and return to fridge to chill for one more hour. If you are making the football shape by hand, use a large piece of plastic wrap to help form into a football shape first.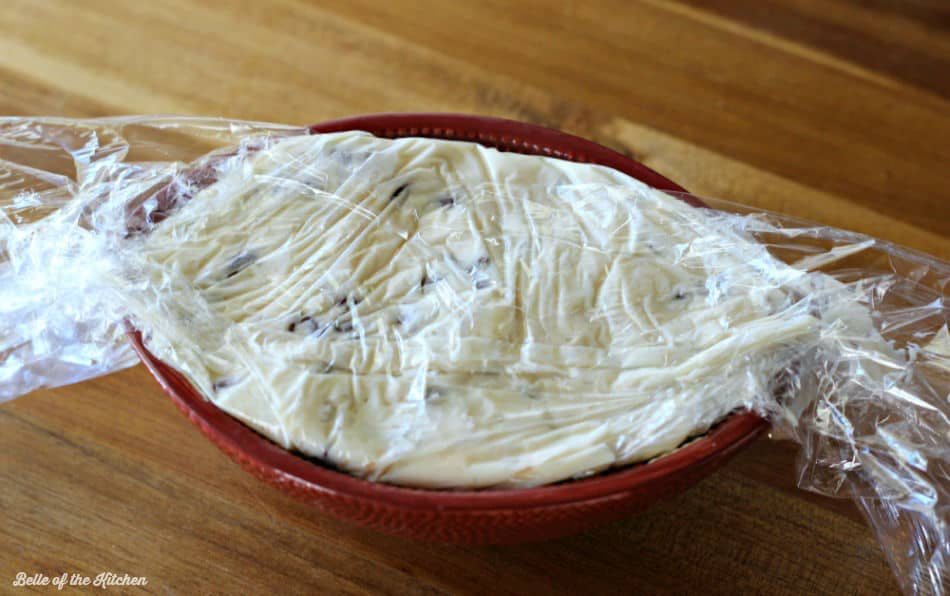 Once the cheesecake ball is finished chilling, transfer to a serving plate. To do this, I unwrapped the top of the cheesecake ball, then flipped it over on top of the platter. Next, I carefully pulled back the plastic wrap to loosen it from the bowl, then finished removing all of the plastic wrap. At this point, it was ready for decorating!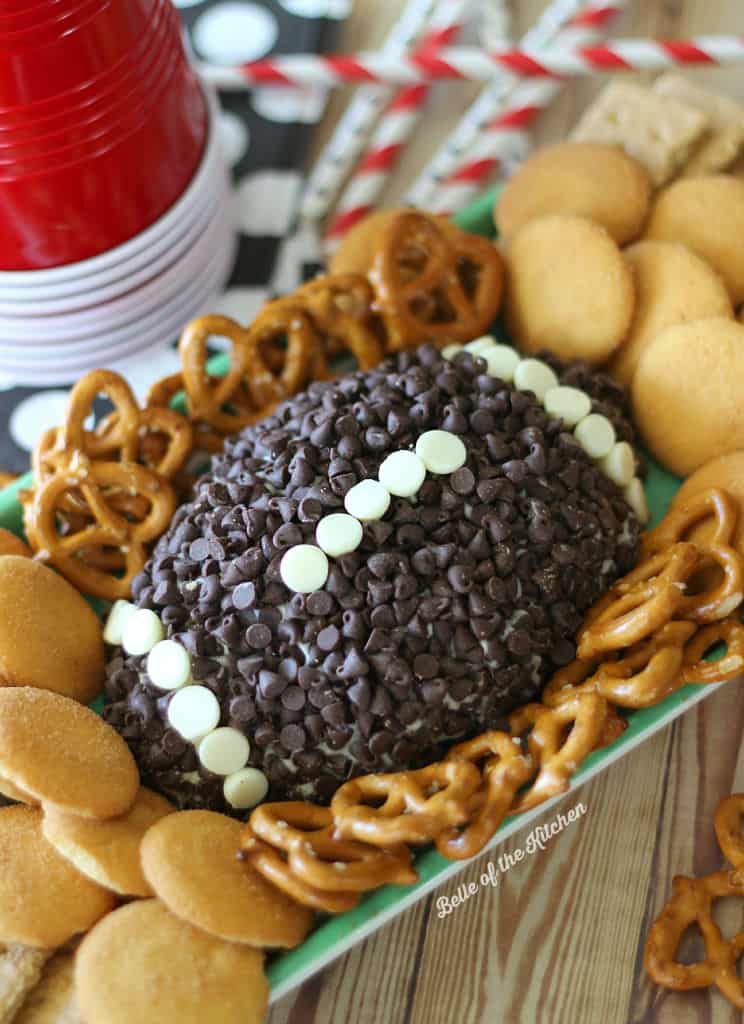 I covered mine in miniature chocolate chips, then used white chocolate chips for the accent color and "laces." I love serving this with graham crackers, vanilla wafers, and even pretzels for that yummy sweet and salty combo. Actually, pretzels are my favorite way to scoop and eat this yummy cheesecake ball!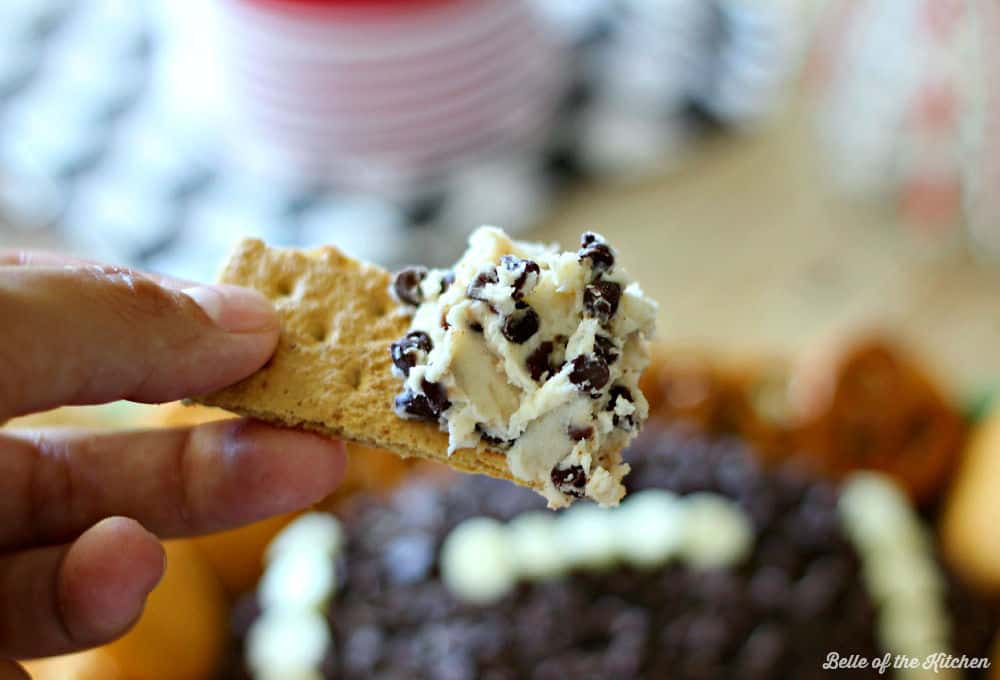 So tell me, are you a football fan? College football, NFL…maybe both? My husband and I are both big football fans, though we do live in a "house divided." I'm a Georgia fan and my hubby is an Auburn fan, but we do both cheer on the Atlanta Falcons!
I hope that this Chocolate Chip Cheesecake Ball makes your game time a little bit more fun, whether you're busy cheering on your team, or simply enjoying the food. Have a great week, friends!

Game Day Chocolate Chip Cheesecake Ball
Ingredients
1 (8 oz) package cream cheese, softened
½ cup butter
¼ tsp vanilla extract
¾ cup powdered sugar
2 TB brown sugar
1 package mini chocolate chips
small handful white chocolate chips
graham crackers, vanilla wafers, and pretzels for serving
Instructions
Beat cream cheese, butter, and vanilla in a medium sized bowl until fluffy. Add sugar and beat until combined. Stir in ¾ cup mini chocolate chips. Cover and refrigerate for two hours.
If making a football shaped cheesecake ball, line the inside of the bowl of your choice with plastic wrap then fill with mixture. Cover the top with plastic wrap. If you are not using a bowl, simply place the mixture on a large piece of plastic wrap and shape into a ball. Refrigerate for a least an hour.
To decorate and serve, remove plastic wrap from the top of bowl and invert cheesecake ball onto serving platter. Remove remaining plastic wrap. If you are not using a bowl, remove plastic wrap and serve as a ball, or use your hands to make into football shape.
Decorate by covering cheesecake ball with remaining mini chocolate chips. To add accents to resemble "football laces," add in white chocolate chips to the center and top sides.
Serve with graham crackers, vanilla wafers, and pretzels.

If you like this Game Day Chocolate Chip Cheesecake Ball, you might also like…