These Salsa Verde Chicken Enchiladas are made with a creamy and delicious filling, and smothered with cheese. They will kick any Mexican food craving!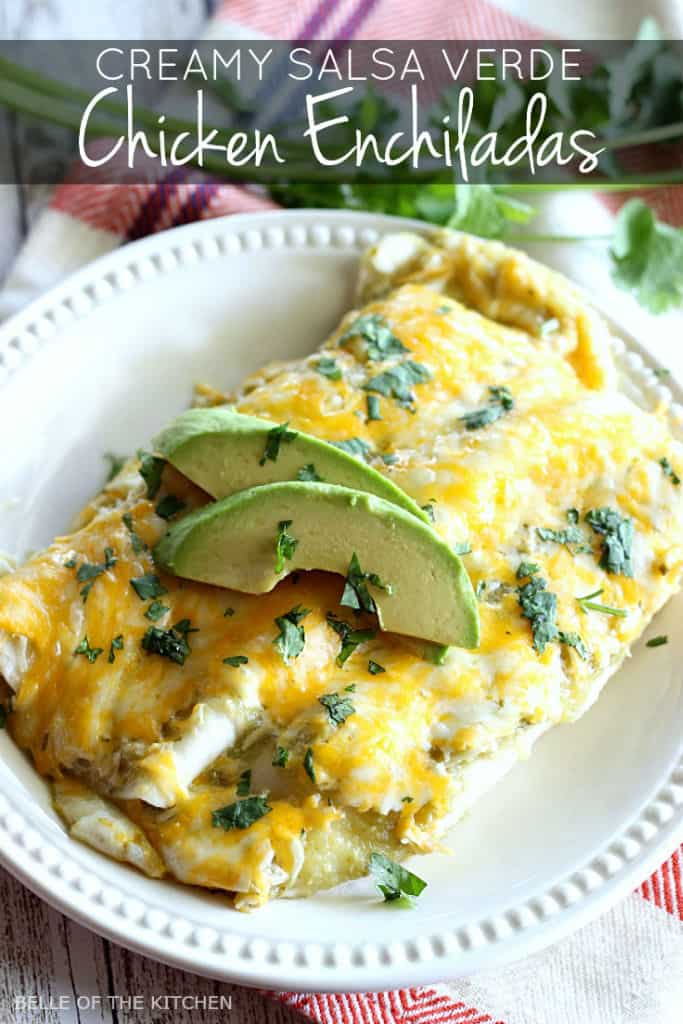 Mexican food is hands-down my favorite food of all time. I could live very happily with just a basket of chips and salsa, and a plate of enchiladas served to me daily. Annnnnd a margarita or two wouldn't hurt either. 😉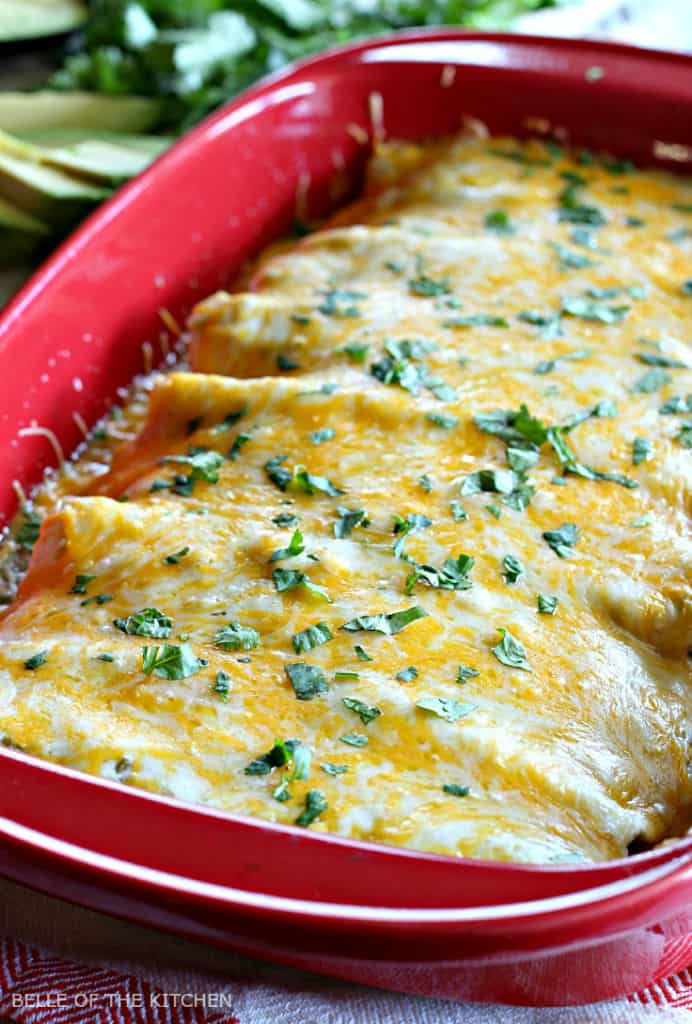 I originally shared these for Cinco de Mayo over at Kenarry: Ideas For the Home, while Carrie was here sharing her recipe for Slow Cooker Shredded Beef Tacos. Be sure to check them out if you haven't had a chance yet!
These enchiladas were perfect for Cinco de Mayo, but are really great for anytime you want to nosh on your favorite Mexican yummies. For my kids, that would simply mean eating a big bowl of "gock-uh-moe-ee" by the spoonful, with a few chips thrown in. But even my son, with all his picky ways, actually enjoys eating these enchiladas. He likes to eat the filling, and I really can't blame him. It's so so SO good!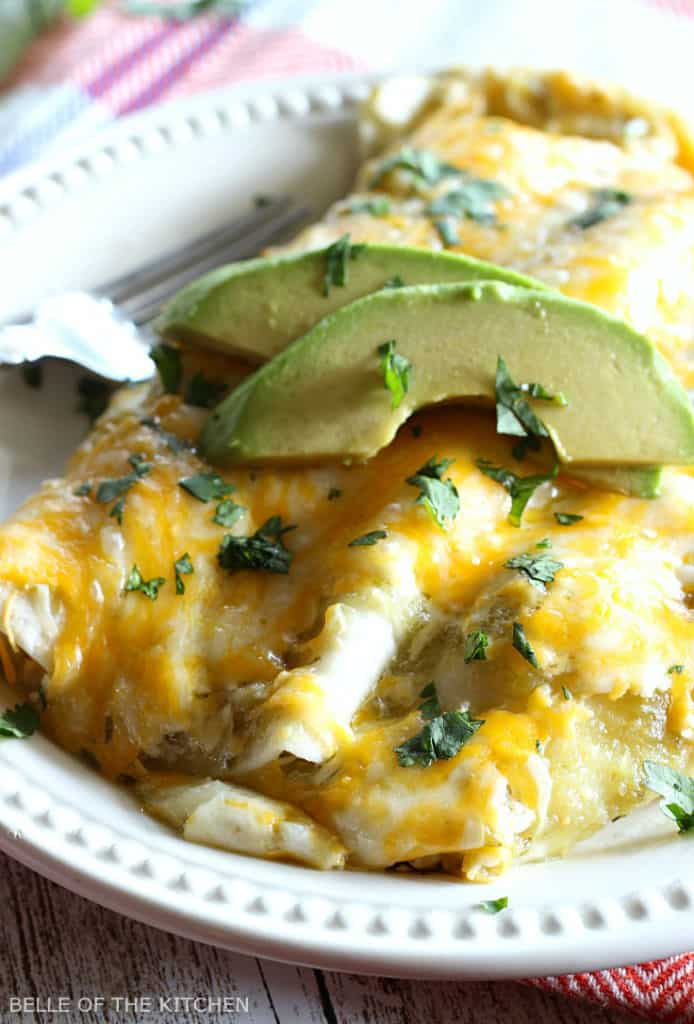 These Salsa Verde Chicken Enchiladas are very simple to prepare, especially if you use a rotisserie chicken to help save a bit on time. I love to buy our rotisserie chickens from Costco because they are only $4.99!! I mean, you just can't beat that!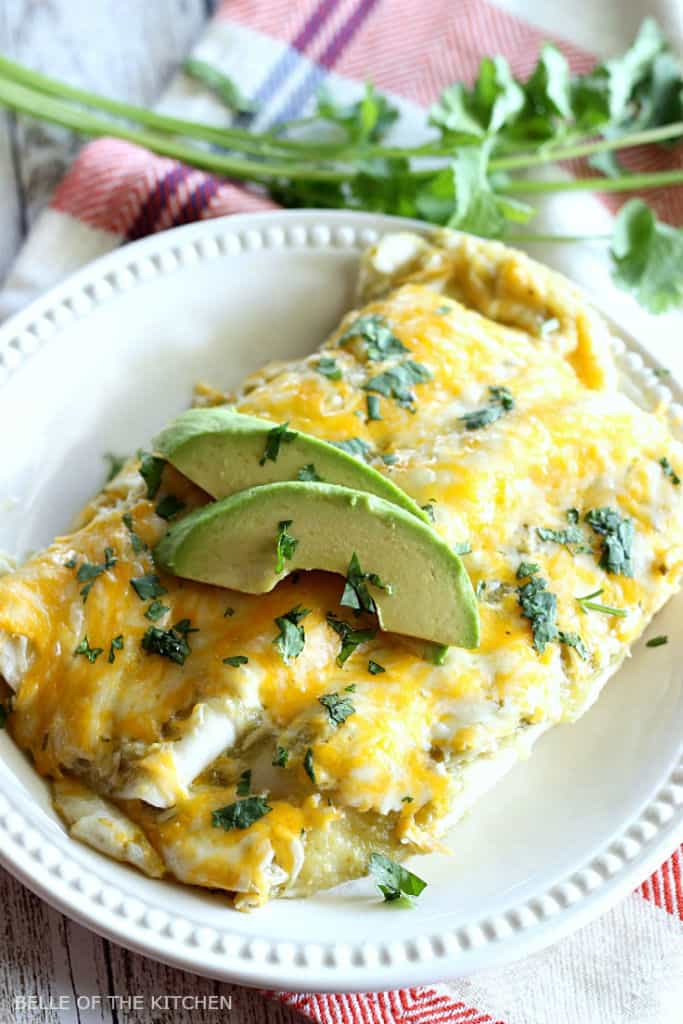 The filling is made with onions, garlic, green chiles, and chicken. It's nice and creamy thanks to a little cream cheese, too. I like to wrap these enchiladas up with either small or medium sized flour tortillas, but you can also use corn tortillas if that's more your style. Once these are done baking, sprinkle on a little cilantro and top with some sliced avocado and you are ready to eat!
Enjoy!

Creamy Salsa Verde Chicken Enchiladas
Ingredients
2 TB butter
1 cup onion, diced
2 garlic cloves, minced
1 (8 oz) package cream cheese, softened
1 (10 oz) can drained Rotel tomatoes OR 1 (4 oz) can diced green chiles
2 cups cooked, chopped chicken breasts
8 medium sized flour tortillas
1 (16 oz) jar green salsa
2 cups shredded Mexican cheese
Instructions
Preheat oven to 350 degrees. Spray a 9x13 baking pan with cooking spray and set aside.
Melt butter in large skillet over medium heat. Add onion and cook for five minutes, until softened. Add in garlic and cook for 1 minute more, until fragrant.
Stir in cream cheese, green chiles, and chicken. Reduce heat to medium-low mixing constantly until cream cheese is melted and mixture is combined.
Pour a small amount of green salsa (about a ¼ cup) into the bottom of prepared baking dish.
Divide filling evenly between 8 tortillas, about ⅓ cup each. Roll tortillas and place them seam side down in the pan. Cover enchiladas with the remaining salsa and sprinkle with cheese. Cover pan with foil and bake in the preheated oven for 25-30 minutes until cheese is melted and bubbly. Sprinkle with chopped cilantro and serve with sliced avocado.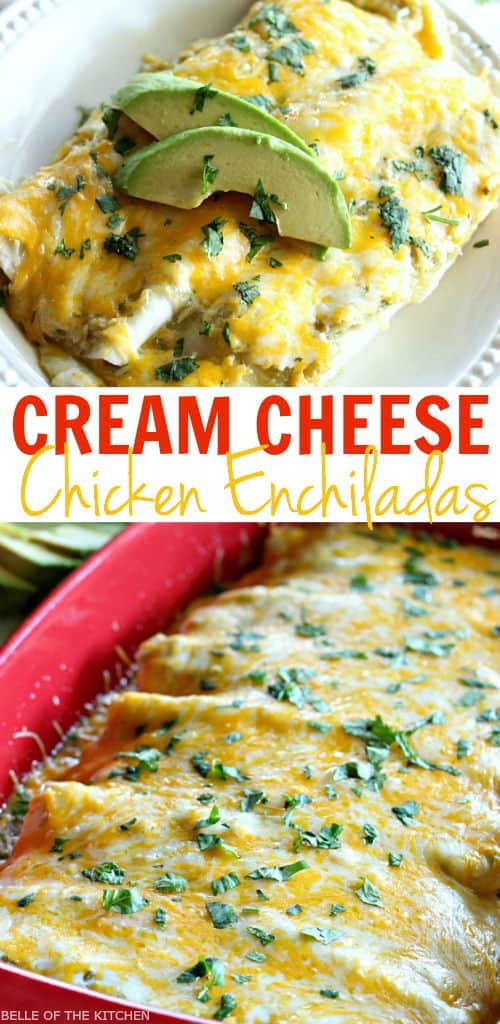 Hungry for more Mexican recipe ideas? You might like:
Tres Leches Pina Colada Cupcakes