Chicken Enchilada Stuffed Peppers
Chicken Enchilada Stuffed Peppers – a delicious, low carb dinner that is full of the Mexican flavors you love! Once you try this healthy twist, you won't even miss the tortillas!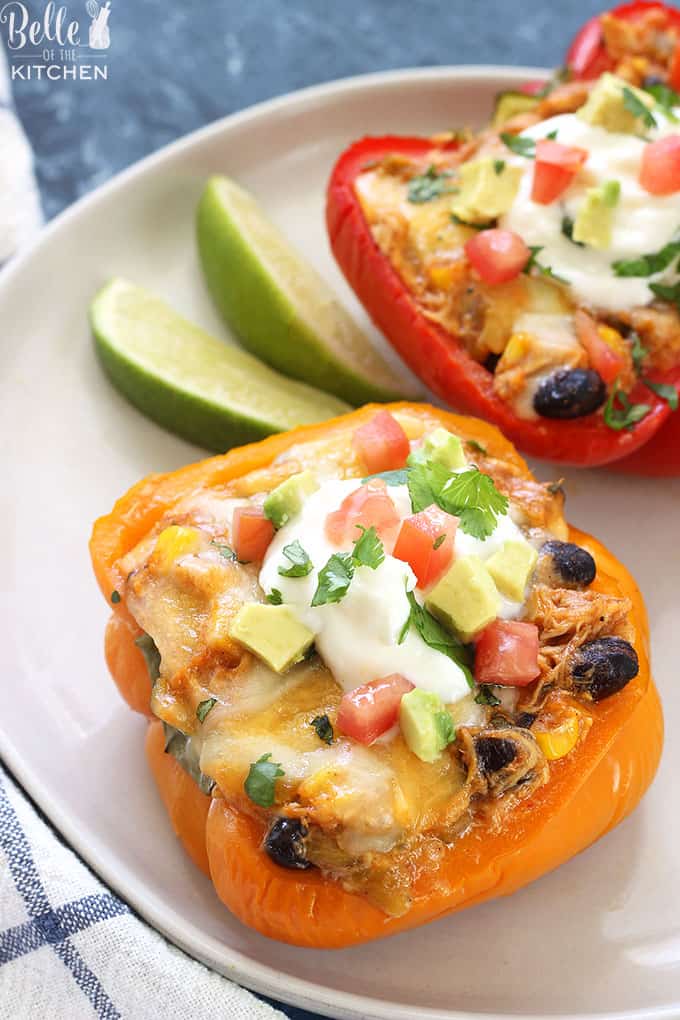 Happy Friday, BOK friends. I gotta tell y'all, this past week has been a hard one around here.
My baby was very sick over the weekend. I even had to take him for his first ER visit on Friday. Thankfully he is fine; he ended up having Roseola, but he was acting so strangely and refused to basically move at all. He wouldn't crawl, walk, or even sit up! It terrified me more than any of his other symptoms, so I took him in. They did X-rays and more, and all looked fine. He had a really high fever for a few days, then followed by a rash. But now he's finally back to acting like himself and we are hopefully both going to get some decent sleep again. ????
I myself have been dealing with an awful sore throat for nearly three weeks now, so I finally made an appointment (which I never do for myself) and went to the doctor. He prescribed me a steroid for the inflammation and so far it seems to be working, praise the Lord.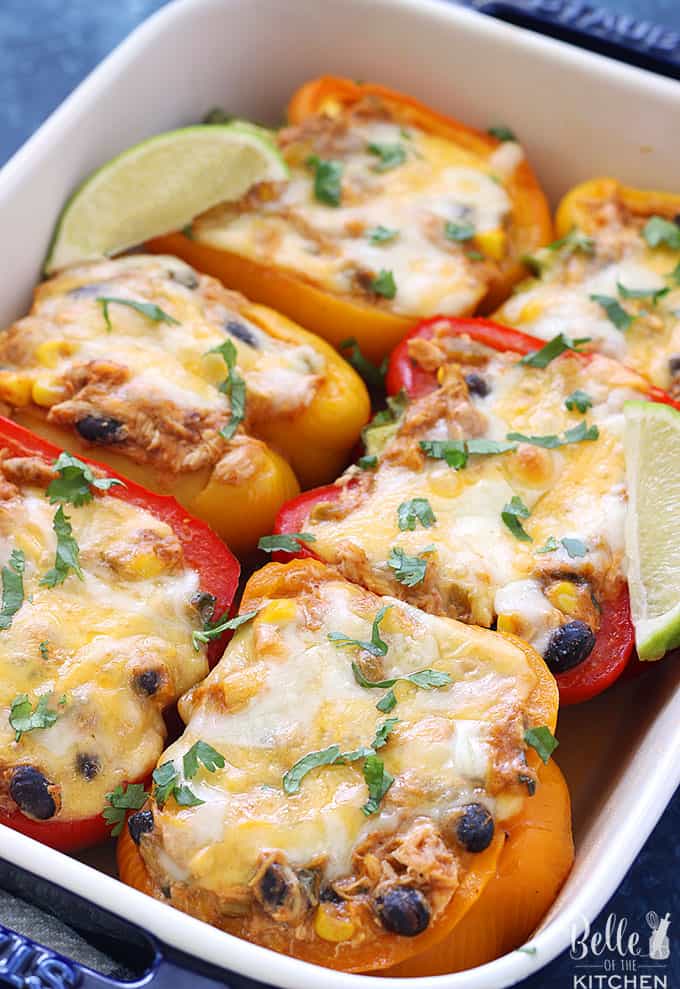 I also said goodbye to one of my best friends on Sunday, which for an army spouse, is basically like saying goodbye to your family. My heart is hurting from it, because unlike family, I don't know when or if I will get to see her again. It's nice that we have so much technology these days to help us keep in touch, but I'm sure going to miss having her here. I've also just been dealing with more general emotional stuff, and it's wearing on me. Sometimes when it rains it pours!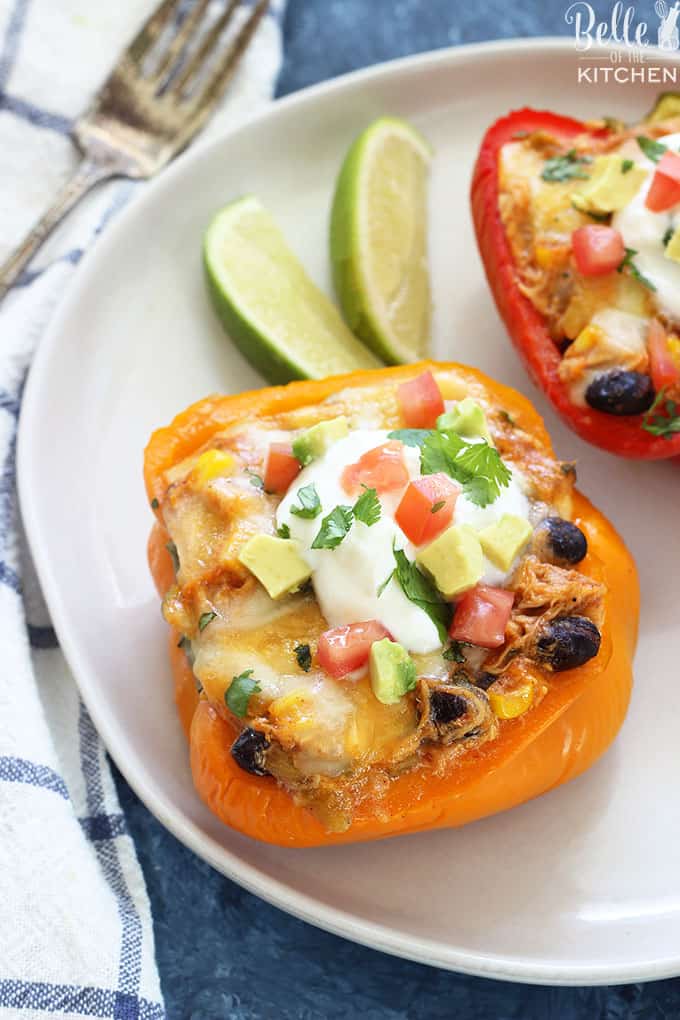 One thing I knew I could do to help my overall wellbeing was to make and eat some healthier food. Sometimes when I'm going though hard times I like to "eat my feelings" per say, and that usually involves chocolate cake and cheeseburgers. ????
But if I'm being totally honest, what our bodies really need when we are emotionally depleted is nutritious food. Health is much more than just looking out for our physical wellbeing, it's about taking care of our minds too. And I believe food can play a big part in that.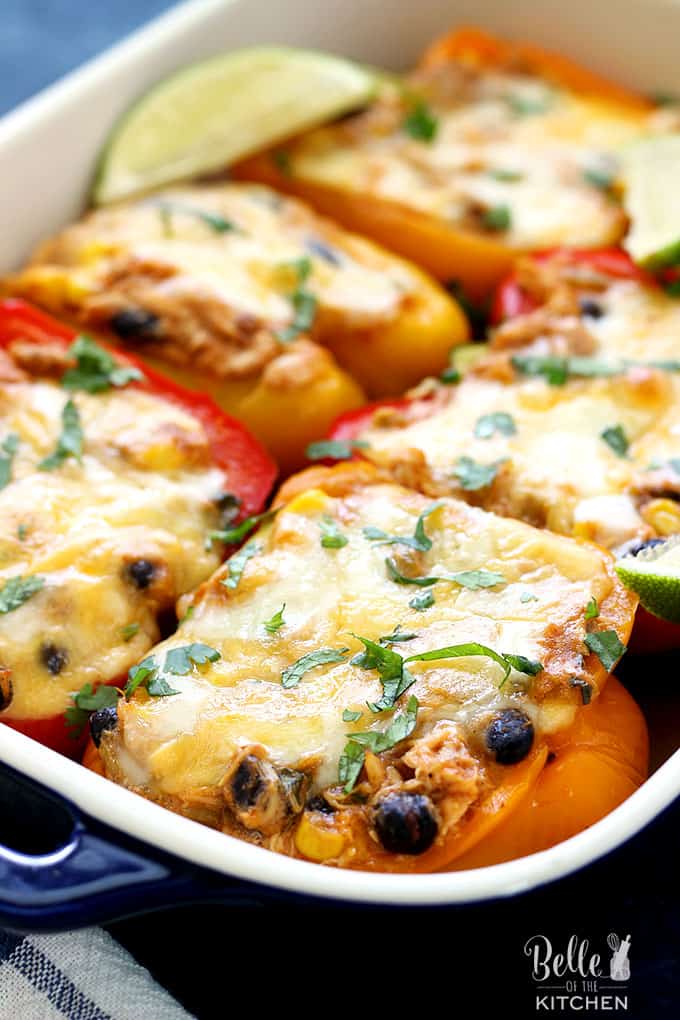 So, this is me telling you that these Chicken Enchilada Stuffed Peppers are not only awesome for your thighs, they're awesome for your brain, too. Haha! I promise you that these are really tasty, and they are even approved by my picky-I-only-eat-yogurt-and-sandwiches four year old. If you need a good low-carb, yet super tasty dinner, then this is the one for you!
More Easy Dinner Recipes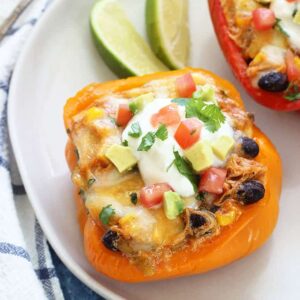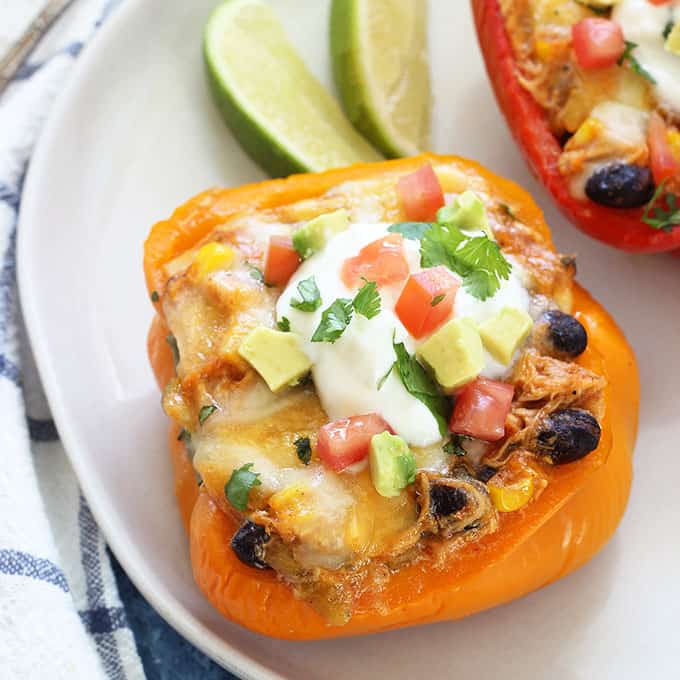 Chicken Enchilada Stuffed Peppers
Chicken Enchilada Stuffed Peppers - a delicious, low carb dinner that is full of the Mexican flavors you love! Once you try this healthy twist, you won't even miss the tortillas!
Ingredients
3 medium bell peppers, , any color (I used orange, red, and yellow)
2 cups cooked and shredded chicken
1 (10 oz) can enchilada sauce
1 (4 oz) can diced green chiles
1/2 cup frozen corn
1/2 cup black beans,, drained and rinsed
1/4 cup fresh cilantro,, finely chopped
1 teaspoon cumin
1/2 teaspoon garlic powder
1/2 teaspoon salt
1/2 teaspoon chili powder
1 cup shredded Monterrey Jack cheese, divided
1/4 cup chicken broth or water
Instructions
Preheat oven to 350 degrees. Spray a large baking dish with cooking spray and set aside.

Remove stems from peppers, slice in half lengthwise and and scrape out membranes and seeds. Set aside.

In a large bowl, combine the chicken, enchilada sauce, green chiles, corn, black beans, cilantro, cumin, garlic powder, salt, chili powder, and 1/2 cup of the Monterrey Jack cheese. Mix everything together well.

Pour chicken broth into the bottom of prepared pan. Spoon the chicken enchilada filling evenly into the pepper halves and place in the baking dish. Sprinkle the remaining 1/2 cup of cheese over the tops of the stuffed peppers.

Cover the pan with aluminum foil and bake in the preheated oven for 45 minutes. Remove aluminum foil and return to the oven to bake for an additional 10-15 minutes until peppers are soft and cheese is melted. Serve with your favorite toppings, such as sour cream, diced avocado, diced tomato, and chopped cilantro. Enjoy!
Calories: 267kcal, Carbohydrates: 16g, Protein: 19g, Fat: 13g, Saturated Fat: 6g, Cholesterol: 56mg, Sodium: 887mg, Potassium: 378mg, Fiber: 4g, Sugar: 5g, Vitamin A: 2510IU, Vitamin C: 85.1mg, Calcium: 174mg, Iron: 2.2mg
This site contains affiliate links, if you make a purchase through them, we receive a small commission.