This post was sponsored by Tastefully Simple as part of their Project Simplicity Program.
All opinions are mine alone.
This Piña Colada Fruit Pizza is the perfect summer time treat! Made with a sugar cookie crust, a pineapple cream cheese frosting, and topped with juicy pineapple, you're going to want this all year round!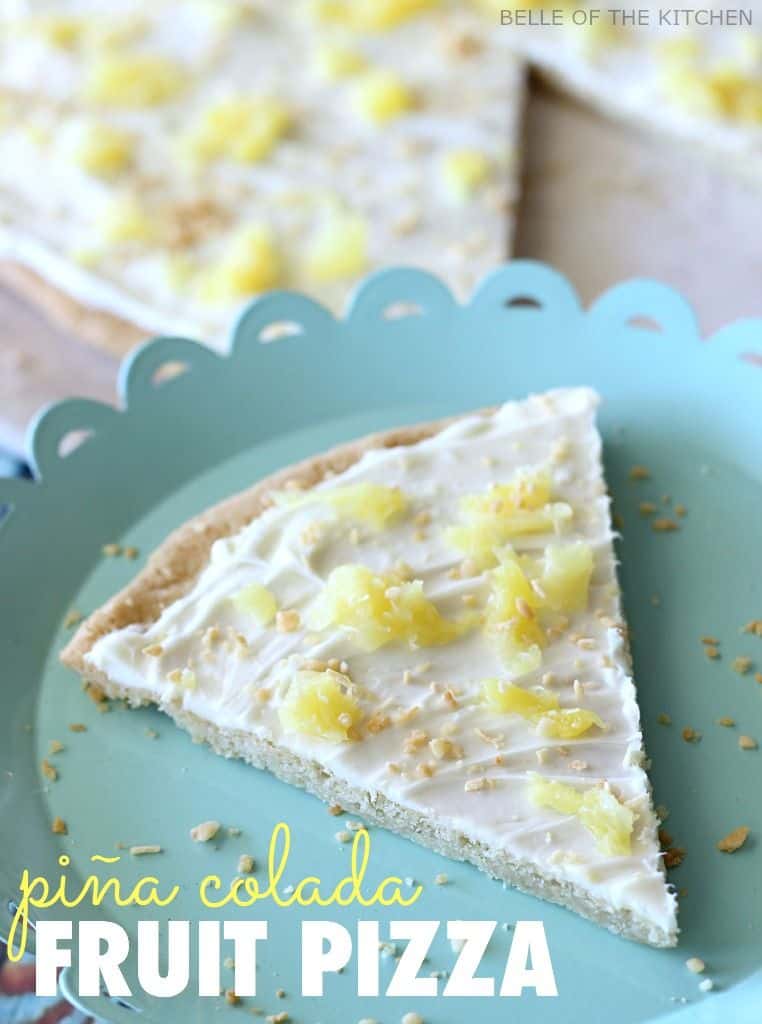 Happy Tuesday, friends! I have a really fun treat for y'all today. But before we get to that, I have to ask you something very important.
Do you like Piña Coladas? And getting caught in the rain?
Hehehe…

Sorry, I just couldn't help myself. I think that song was stuck in my head the entire time I was making, photographing, and then stuffing my face with this Piña Colada Fruit Pizza. You gotta admit, it is a pretty fun song!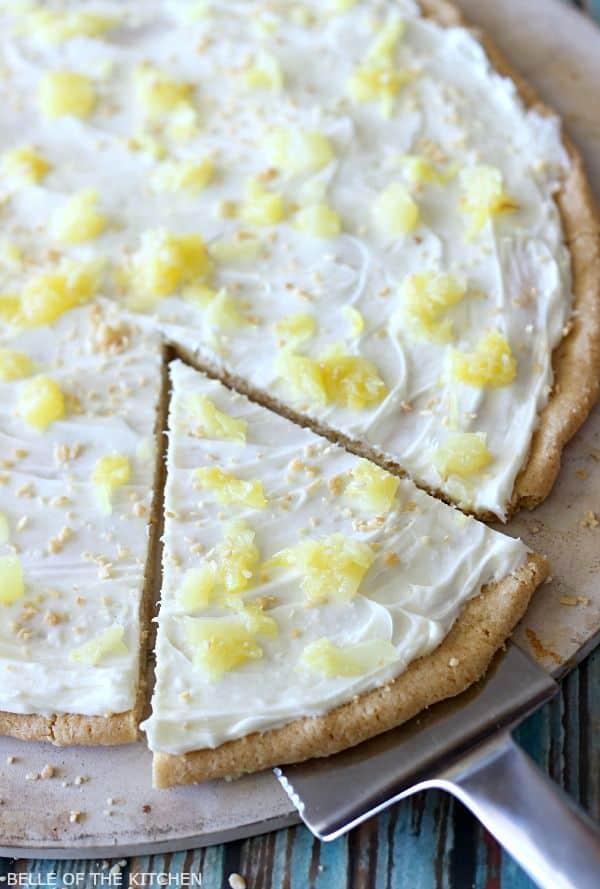 I know I say this a lot, but this is one of my new favorite desserts. It's so simple to make, and has all the great flavors of summer. Y'all know I love to share easy recipes here on the blog, and I think all of us can all appreciate a recipe with only four ingredients. YES! FOUR!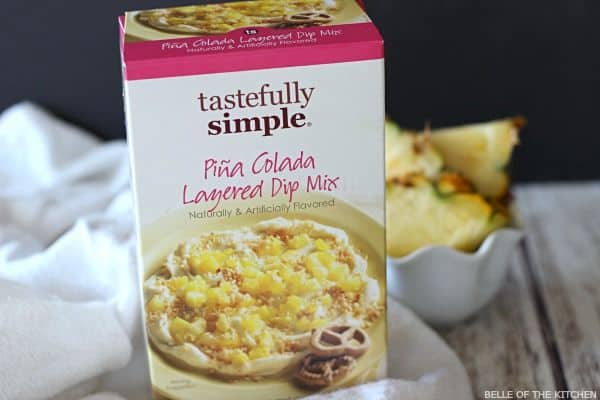 To make the cream cheese frosting, I used a package of Piña Colada Layered Dip Mix from Tastefully Simple. I'm so in love with this dip now, y'all! It is full of sweet, pineapple flavor, and tasted amazing on top of a big ole sugar cookie. Yep, the crust is simply made from refrigerated sugar cookie dough!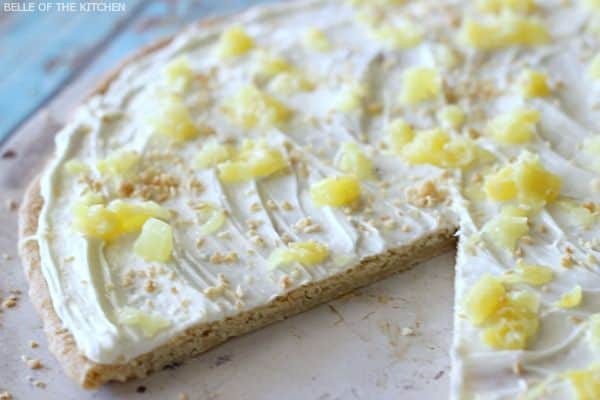 This would make a great dessert for finishing off any summer meal, and it would also be pretty and festive for baby showers, bridal showers, etc. Really, it's great for anytime you've got a hankerin' for some Piña Coladas. No umbrella required. 😉
Piña Colada Fruit Pizza
Ingredients
1 package Piña Colada Layered Dip Mix from Tastefully Simple
1 (8 oz) package cream cheese, softened
1 (16 oz) package refrigerated sugar cookie dough
1 (8 oz) can crushed pineapple, drained
Instructions
Preheat oven to 350 degrees. Cover a cookie sheet with parchment paper and set aside.
In a medium sized bowl, beat together cream cheese and packet number one from Piña Colada Layered Dip Mix. Refrigerate until ready to use.
Cover a cookie sheet with parchment paper and spread cookie dough on top in an even layer, forming the shape of a pizza crust. Bake in preheated oven for 15-18 minutes, or until set and golden at the edges. Remove from oven and allow cookie crust to cool completely on a wire rack.
Once crust is cool, spread cream cheese mixture evenly over the top. Top with pineapple and remaining packet of dried coconut from dip mix package. Slice and enjoy!
Related posts: