Slow Cooker Pork Carnitas – Flavorful, juicy pork that cooks all day in your crockpot. Serve over corn tortillas with all of your favorite toppings for a delicious, easy dinner.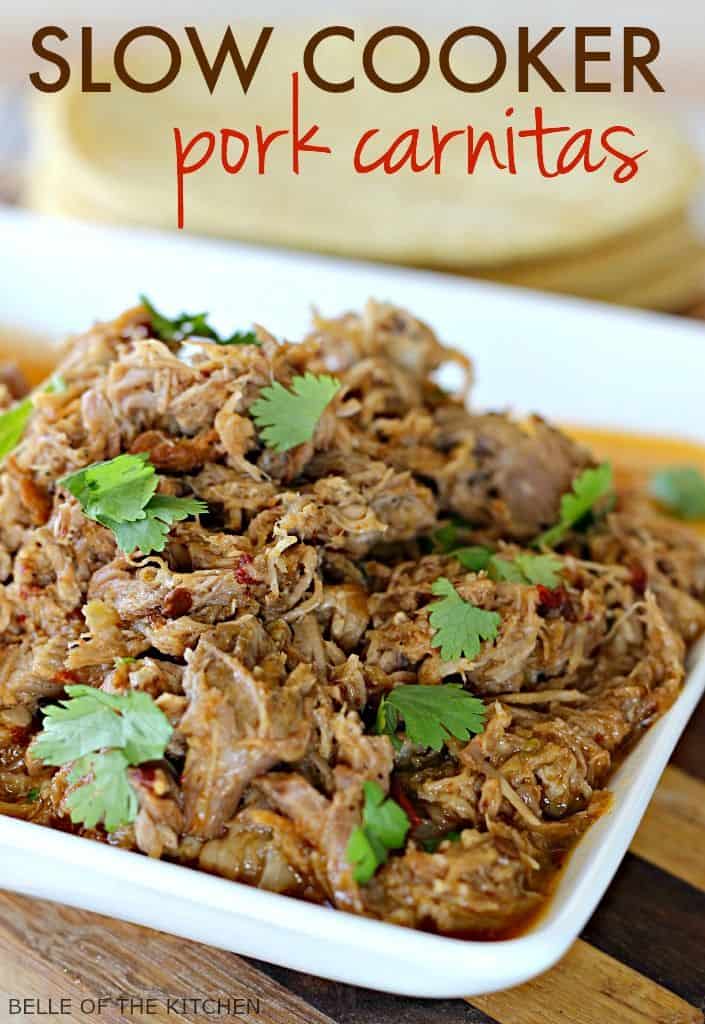 Hey there, friends. I've got a quick post for y'all today. We have family in town, so we are enjoying playing tourist and showing them around the island.  Today we went and toured Kualoa Ranch and got to see some of the places where big movies were filmed, including "Jurassic World!" I can't brag too much about that one, though, since I haven't even seen the movie yet. 😉 We did see locations from "50 First Dates" and part of the submarine out of "Lost," which was pretty cool, too!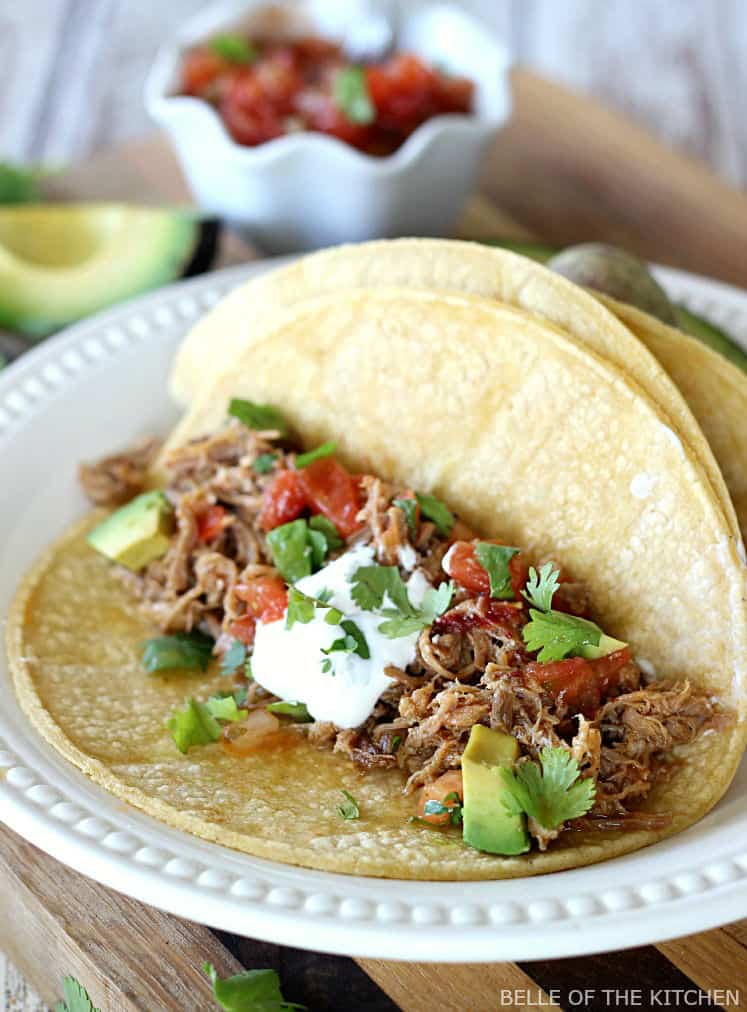 Even though I'm kind of taking a blogging vay-cay right now, I still wanted to get this recipe out to y'all today because I'm pretty excited about it. Carnitas are something I crave, so after playing around with this recipe and getting it the way I like, I'm glad I can make these at home instead of always relying on my favorite Mexican food truck! 😉
Traditionally, carnitas are a little crispy so you can always broil these in the oven after you cook them in the crockpot. I don't mind them being juicy, so I tend to skip that. Totally up to you, though! Serve these in some corn tortillas with whatever toppings you'd like. A little cabbage slaw, avocado, cilantro, salsa, etc. are all good!
Slow Cooker Pork Carnitas
Ingredients
2-3 pound boneless pork roast
salt and pepper, to taste
4 garlic cloves, thinly sliced
2 tsp paprika
2 tsp cumin
1½ tsp garlic powder
¾ tsp dried oregano
¾ tsp onion powder
½ tsp chili powder
3 chipotle peppers in adobo sauce, chopped + 2 tsp sauce from can
1 cup chicken broth
¼ cup chopped cilantro
Instructions
With a sharp knife, trim excess fat from pork. Cut slits on all sides of pork and insert garlic slices, then liberally season with salt and pepper.
In a large sauce pan, heat olive oil over medium-high heat. Brown pork on all sides, about 2-3 minutes per side. Remove from heat.
In a small bowl combine paprika, cumin, garlic powder, oregano, onion powder, and chili powder. Sprinkle evenly over all sides of pork.
Add chicken broth, chipotle peppers, and sauce to bowl of slow cooker. Place pork on top and cover with lid. Cook on low heat for 8 hours, until pork is tender.
Shred pork and mix with remaining juices and chopped cilantro. Serve over corn tortillas with salsa, avocado, and more cilantro if desired.
Related posts: