This post was sponsored by Tastefully Simple as part of their Project Simplicity Program.
All opinions are mine alone.
Cinnamon Streusel Pumpkin Bread with Maple Glaze – moist and delicious pumpkin bread from Tastefully Simple is sprinkled with a crumbly streusel topping, then drizzled with a rich maple glaze. This is fall food heaven, y'all!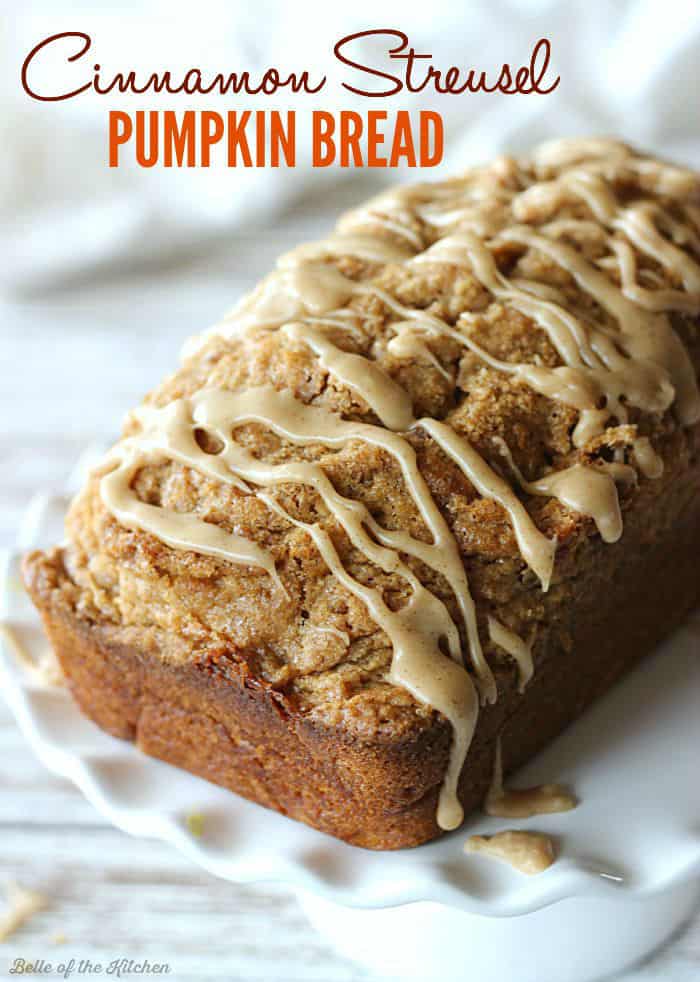 Get excited, my friends, because today I've brought you my first pumpkin recipe of the season! Whoo hoo!
I know that fall is still technically three more weeks away, but in my opinion, it's always a good time for pumpkin. So I say we celebrate the season a little early today. And while we're at it, let's make it extra special with a cinnamon streusel topping and some slurpable maple glaze, shall we?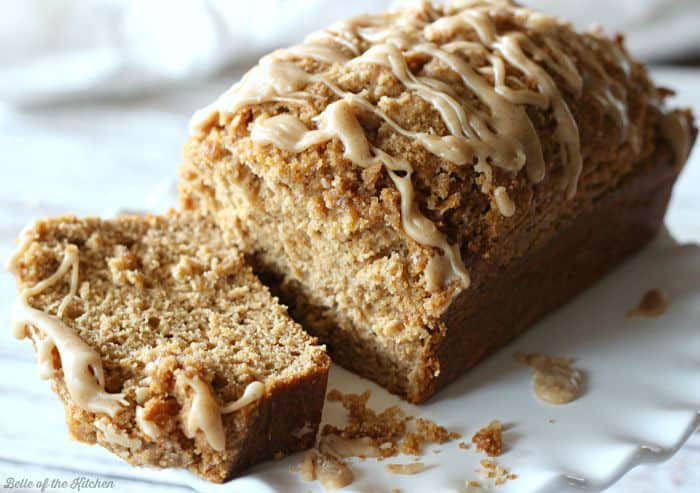 There are plenty of yummy treats to look forward to when fall rolls around, but pumpkin bread is probably one of my favorites. Not only is it delicious, but it makes your house smell amazing while it bakes, which just puts you in even more of a fall mood. I was beyond ready for fall magic to start happening in my kitchen, so I couldn't wait to try out the Pumpkin Patch Bread Mix from Tastefully Simple. Y'all, I was NOT disappointed. This stuff is gold!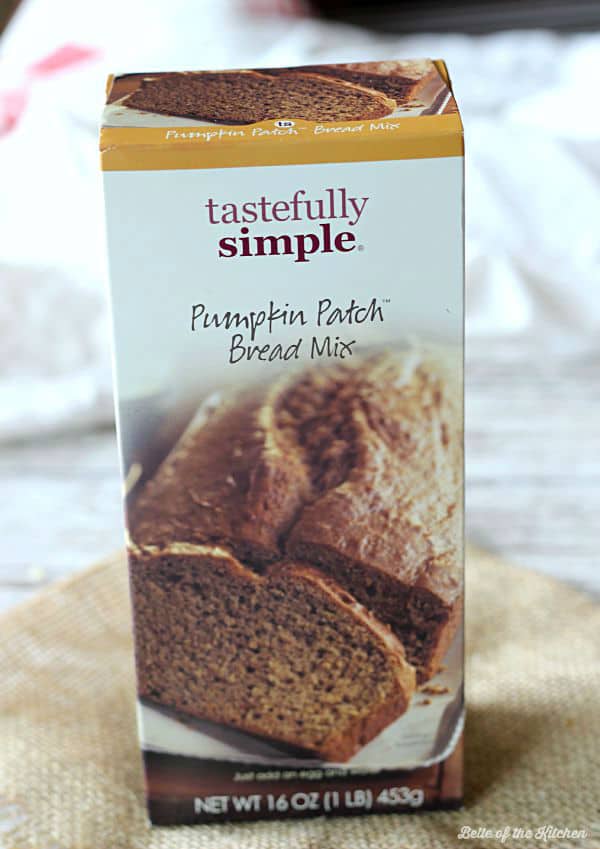 I LOVE Tastefully Simple products and have been putting my own spin on them for the past few months (see my other TS  recipes here.) This Pumpkin Patch Bread Mix is pretty much fool-proof, unlike a lot of other pumpkin bread recipes that are out there. I decided to pair it with a couple of my other favorite fall flavors; cinnamon and maple. Oh yeah, I'm loving that maple glaze!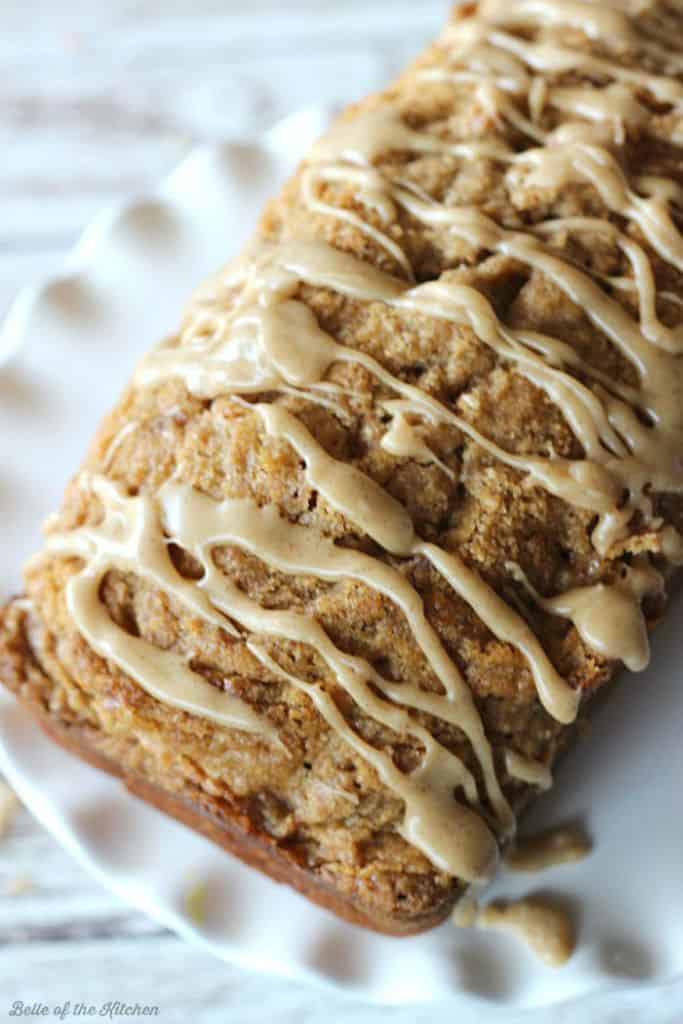 I made the streusel using my food processor. It made it nice and crumbly with very little effort on my part. You can also use a fork or a pastry blender if you have one. The glaze is super simple as well. Once you've made it, you might start looking for more opportunities to drizzle it on top of something.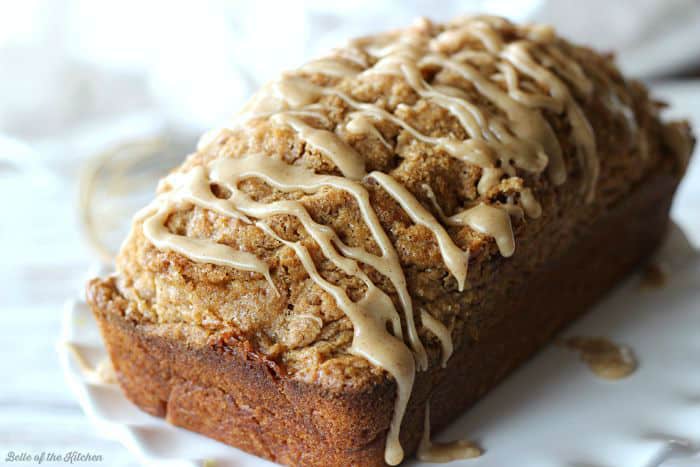 I think I'm ready for another slice!
Happy pumpkin season, y'all!
Cinnamon Streusel Pumpkin Bread with Maple Glaze
Ingredients
Pumpkin Bread:
Streusel:
2 TB packed brown sugar
2 TB granulated sugar
2 TB all purpose flour
1½ TB cold unsalted butter
¼ tsp cinnamon
Maple Glaze:
2 TB butter
1 cup powdered sugar
2 TB pure maple syrup
1 tsp vanilla extract
½ tsp cinnamon
Instructions
Preheat oven to 350 degrees. Spray a 9x5 inch loaf pan with cooking spray and set aside.
Prepare pumpkin bread mix with water and egg according to package directions and pour into loaf pan.
To make streusel, combine all ingredients in a bowl and mix with a fork until crumbly. You can also place the ingredients in your food processor and pulse multiple times until crumbly (that's how I did it). Sprinkle streusel on top of prepared batter in loaf pan.
Bake in preheated oven for 50-55 minutes until baked through. Remove from oven and allow to cool on a wire rack.
To prepare maple glaze, melt butter in a saucepan over low heat. Stir in powdered sugar. Mixture will be thick and crumbly. Stir in maple syrup, vanilla, and cinnamon and continue whisking over low heat until mixture is nice and smooth. Drizzle over the top of the pumpkin bread. Enjoy!