Enjoy cookies without the guilt! These Banana Oatmeal Chocolate Chip Cookies are lightened up and made with bananas, oats, and coconut oil. They are sweetened with Zing™ Baking Blend and are only 80 calories each!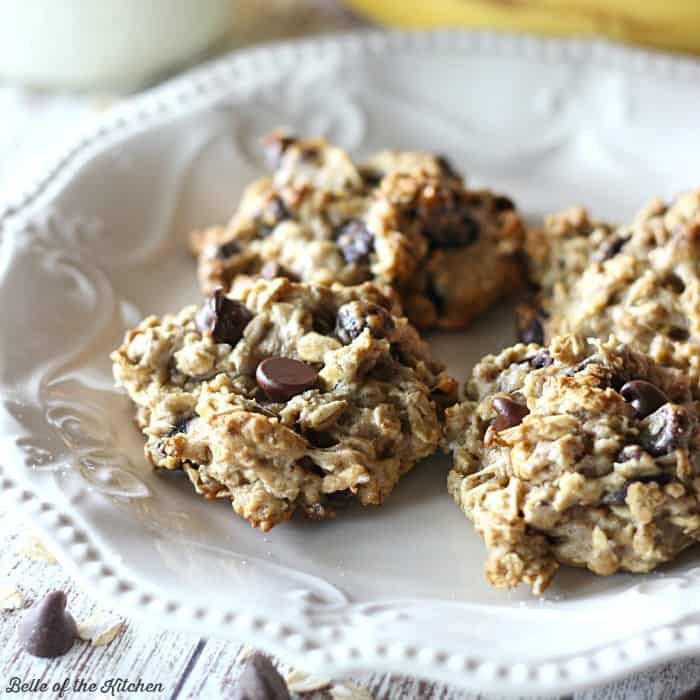 If you follow me on Facebook, you might have seen this funny meme I shared the other day. It's a comic sequence of a woman eating holiday treats. She eats one, then another, then another, then another… each time claiming that it's the last one. She finally just dumps the entire tin in her mouth, and declares, "Who am I kidding!"
I think we've all been there.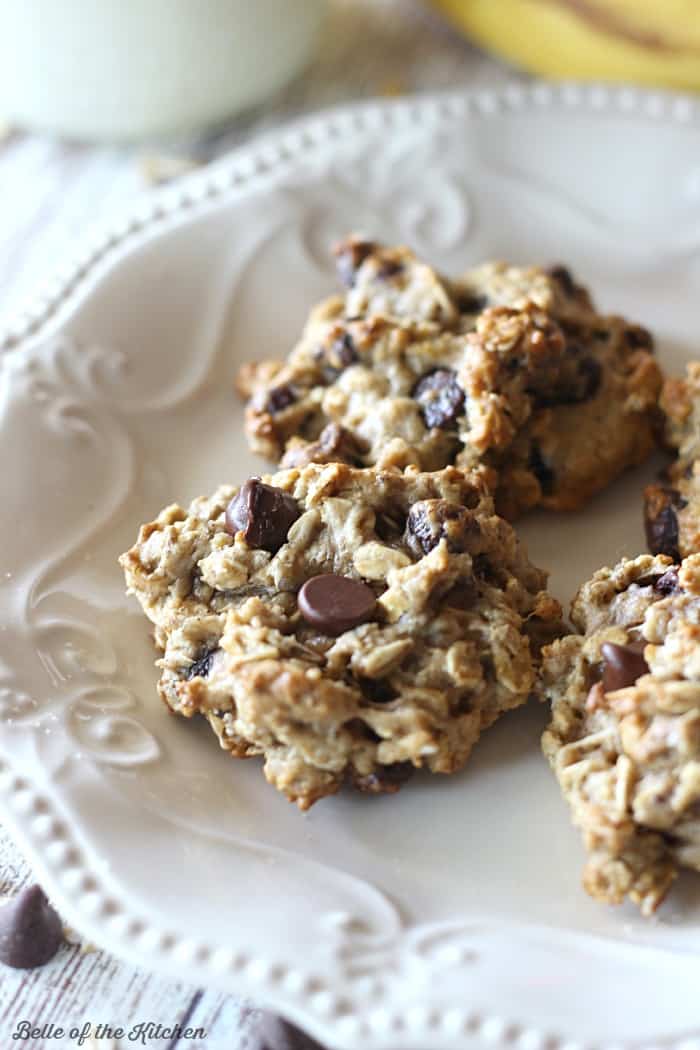 I love the holidays and all of the yummy treats that come with it, but I don't always love all of the extra calories. It's nice to have healthier options this time of year, and I knew I wanted to make a holiday treat that would still taste good, but without all the guilt. That's where these Banana Oatmeal Chocolate Chip Cookies come in.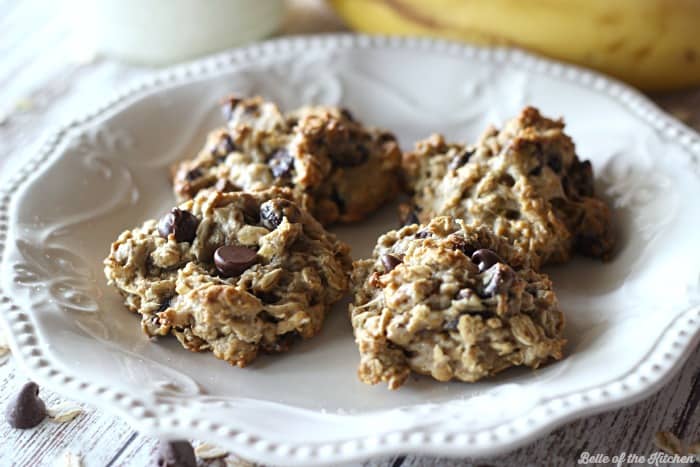 These cookies are sooooo addictive and it is hard to believe that they are lightened up! They're made with good-for-you ingredients, like bananas, oats, and coconut oil, then sweetened with Born Sweet® Zing™ Baking Blend. Zing™ Baking Blend is made with stevia leaf extract and pure cane sugar, and has only 5 calories per serving!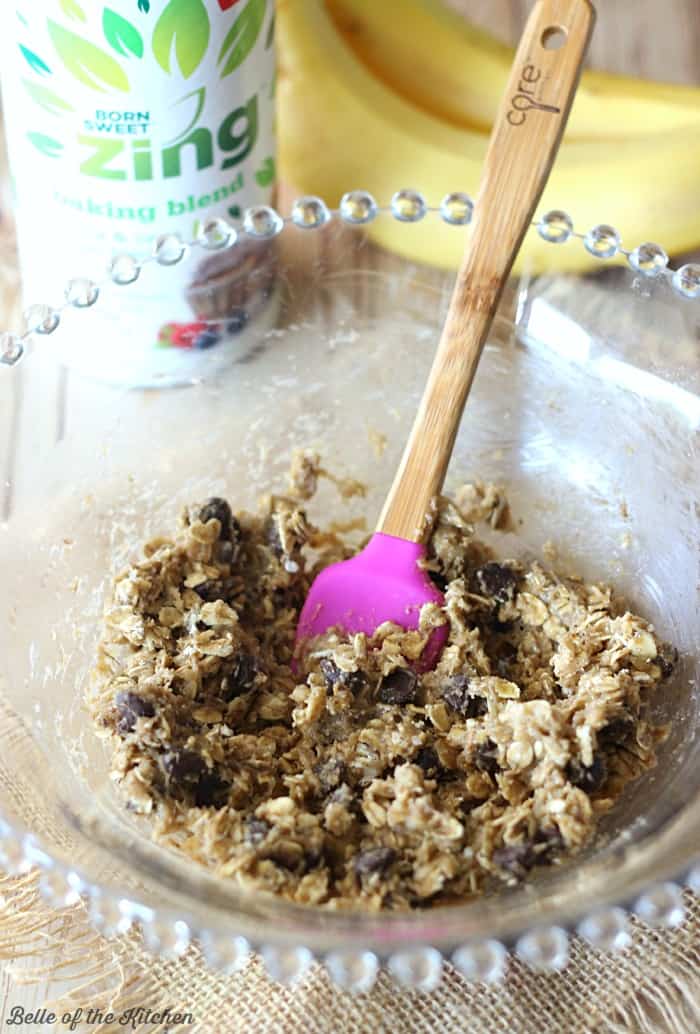 I love that it sweetens these cookies with less calories and is made with only real ingredients, nothing artificial. Like I said, these cookies are really hard to stay away from! But, at only 80 calories each, you don't have to feel as guilty about indulging in them!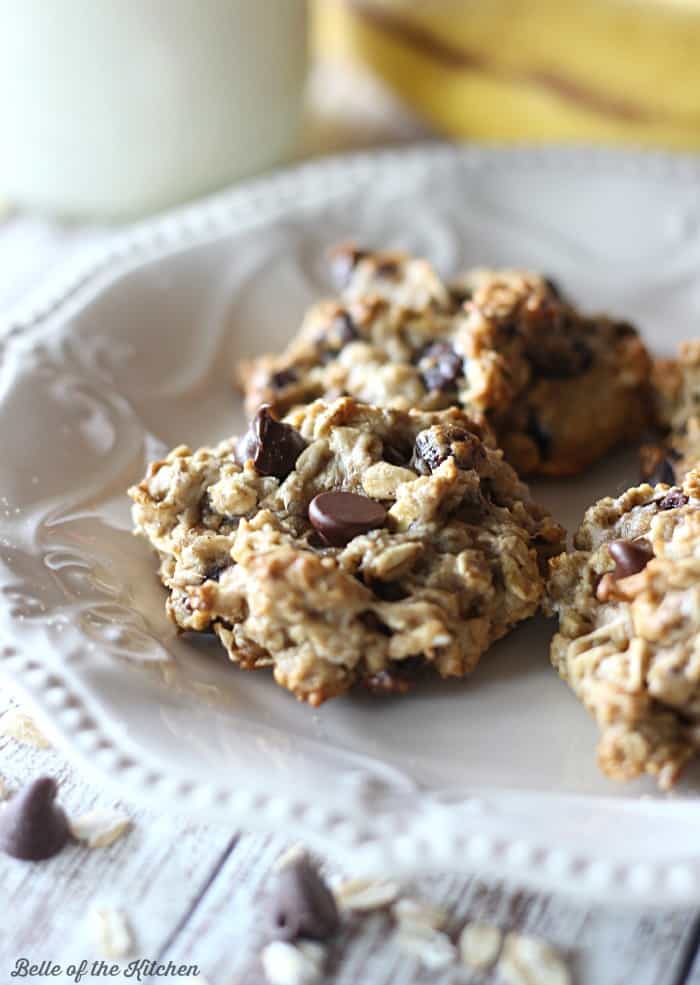 To find Zing™ Baking Blend at a store near you visit zingstevia.com.
I hope y'all enjoy these! And don't say I didn't warn you about how addictive they are. 😉

Lighter Banana Oatmeal Chocolate Chip Cookies
Ingredients
2 Tablespoons coconut oil, softened (not melted)
½ cup Zing™ Baking Blend
1 egg
1 teaspoon vanilla extract
1 medium ripe banana, mashed
1 cup all purpose flour
1 teaspoon baking soda
½ teaspoon salt
½ teaspoon cinnamon
1½ cups old fashioned oats
¾ cup chocolate chips
Instructions
Preheat oven to 350 degrees F. Line a cookie sheet with parchment paper and set aside.
Use an electric mixer to cream together coconut oil and Zing™ Baking Blend. Add in egg, vanilla, and mashed banana and blend until combined.
In a small bowl, mix together the flour, baking soda, salt, and cinnamon. Add to wet ingredients along with the oats and stir by hand just until combined. Stir in the chocolate chips.
Drop by rounded tablespoon onto prepared cookie sheet. Bake in preheated oven for 9-11 minutes. Transfer to a wire rack to cool slightly before eating. Repeat with reaming dough. These taste amazing while they're still warm! Enjoy!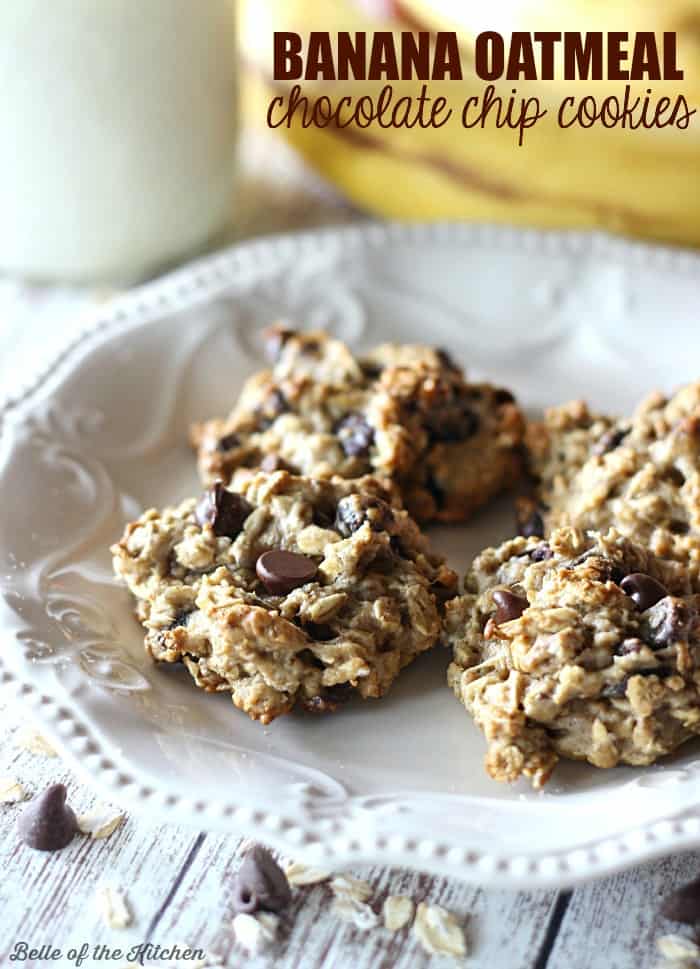 I was selected for this opportunity as a member of Clever Girls and the content and opinions expressed here are all my own.
Related posts: