This Chorizo Breakfast Pizza is a yummy and savory dish for your next brunch. Buttery crescent dough is baked with chorizo sausage, eggs, and cheese, then sprinkled with all of your favorite taco-style toppings! It's perfect for a crowd, or as breakfast-for-dinner, too!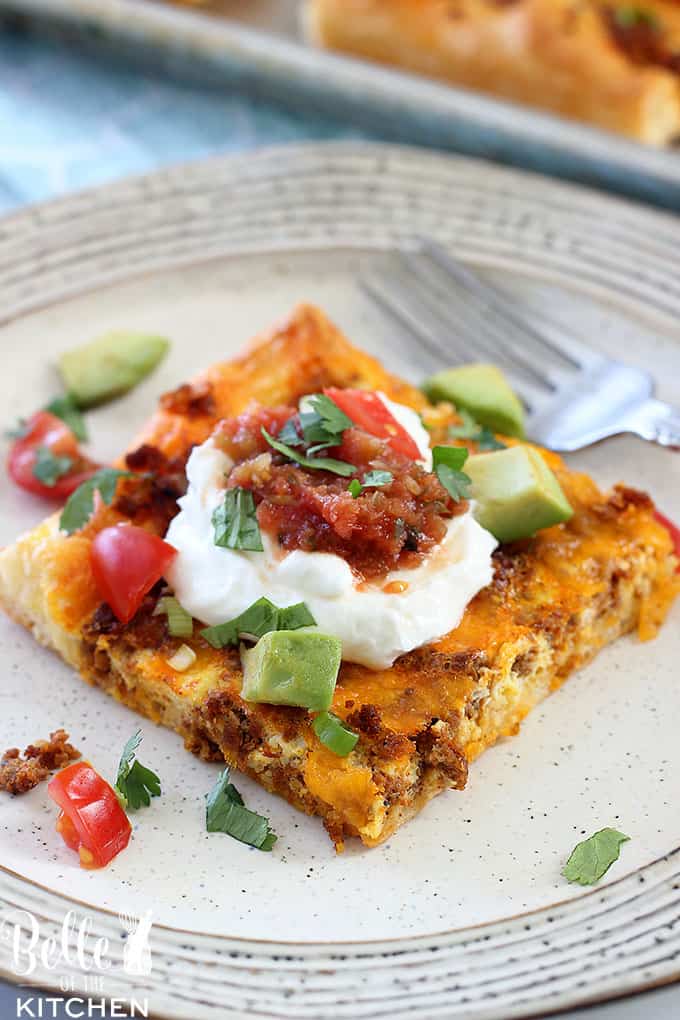 Since moving to Texas, I have become obsessed with tacos. This state sure knows how to make good tacos and I could probably eat them every single day! There are three prominent taco joints in our town and whenever my husband and I have a chance to go to lunch together, we usually end up at one of the three. Orrrrrrrr Thai food because that is my other love! 😍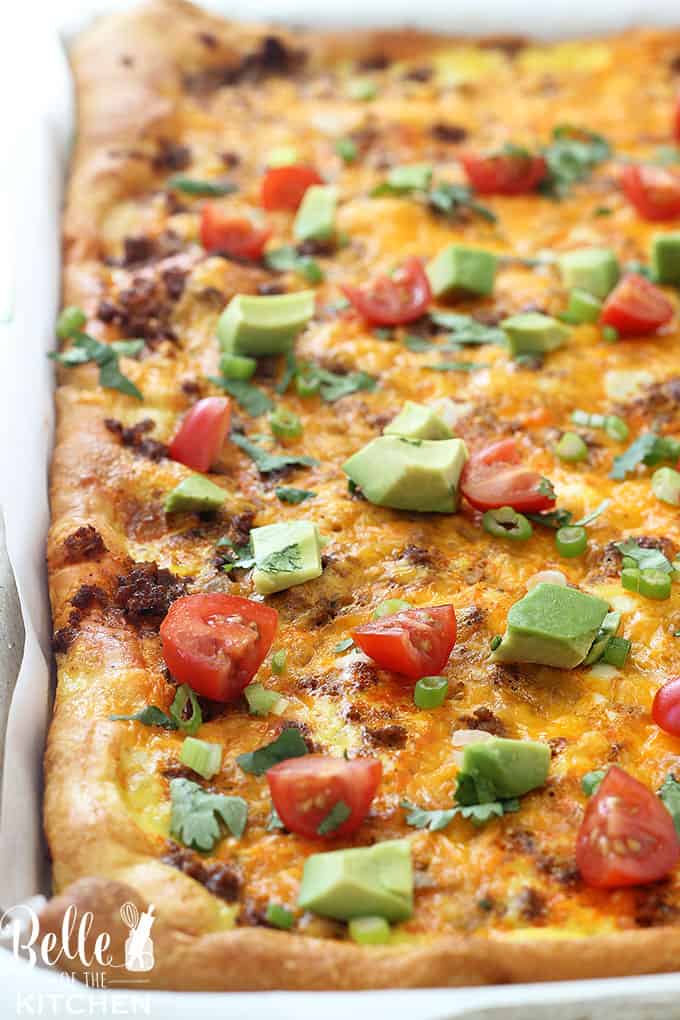 While I used to think of tacos as being mainly just for lunch or dinner, my attitude completely changed once I got to Texas and experienced breakfast tacos. So many different types of fillings, homemade tortillas, chorizo…😍
Yes, I love me some chorizo. It's just so tasty and makes the perfect filling for breakfast tacos. Or, in this case, Chorizo Breakfast Pizza! With the holidays coming up and family coming to town, I know I most of us are going to be looking for breakfast recipes that can feed a big group, and this Chorizo Breakfast Pizza is perfect for that! I made it on a large rimmed cookie sheet, then sprinkled on the toppings at the end. If serving to a crowd, you could set up a breakfast pizza bar with all of the toppings prepared for your family or guests to top as they wish!

Chorizo Breakfast Pizza Recipe
Ingredients
2 tubes of crescent roll dough (use the sheet kind)
16 ounces chorizo sausage
½ cup diced onion
8 eggs
⅓ cup milk
1½ cups shredded cheddar cheese
salt and pepper to taste
Optional Toppings:
diced tomato
diced avocado
chopped cilantro
chopped green onions
salsa
sour cream
Instructions
Preheat oven to 375 degrees. Line a rimmed cookie sheet with parchment paper. Unroll the crescent roll dough on top of the parchment paper, lining up the edges and sealing with your fingers. Push the dough against the sides of the pan to make a bit of crust to hold in all the toppings.
Cook the chorizo with the diced onion in a large skillet over medium high heat, breaking up the meat as it cooks for about 8 minutes. Sprinkle the cooked chorizo over the top of the crescent dough.
In a medium sized bowl, beat together the eggs, milk, and salt and pepper. Pour in the center of the pan over the chorizo and crescent dough, allowing it to run to the edges of the pan. You may need to turn the pan a bit to get the eggs evenly distributed. Try to avoid pouring the eggs directly around the edges because it may leak over the crust and you want to keep it contained! Sprinkle the top with the shredded cheese.
Bake in the preheated oven for 25-30 minutes until crust is golden brown and filling is set. Slice and serve with the toppings. Enjoy!

If you like this Chorizo Breakfast Pizza, you might also like:
Related posts: