Egg-free, Dairy-free Chocolate Cake
This Egg-free, Dairy-free Chocolate Cake is a dream come true for people with egg and milk allergies. Moist and delicious, you'll never know it's allergy-friendly!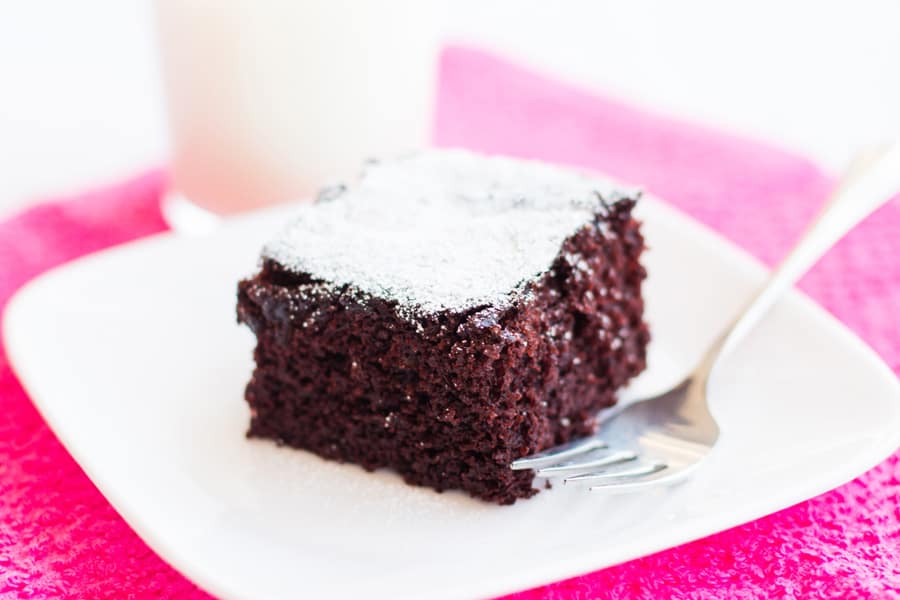 (This post lovingly shared by Melissa of Ice Cream Inspiration)
My oldest daughter is allergic to everything. And I mean everything. Wheat, milk, eggs, tree nuts and peanuts. As you can imagine, it is difficult to feed this child. I am always on the lookout for allergy-friendly foods.
Do you have allergies or food intolerances, too? If you are gluten-free, I'm afraid this recipe won't help you. But if you are dairy and egg-free, then this is just the ticket! (This recipe may work with gluten-free flour, but I have never tried it).
I must tell you that I am not a cake lover. If I am going to appease a sugar craving, I am going to do it with cookies or brownies–not with cake. But this cake is different. I actually like it better than any other cake I have made–especially the boxed cake mixes.
What's the secret to this cake? Hot water. I know it seems strange, but it totally works! The cake is dense and delicious. Just top it with some chocolate frosting or a dusting of powdered sugar and you have a fantastic cake for any occasion.
The next time you have to make a cake but are out of eggs, no need to run to the store! This recipe has you covered!
(If you want some delicious homemade ice cream to go with this cake, click here for a bunch of amazing ice cream recipes).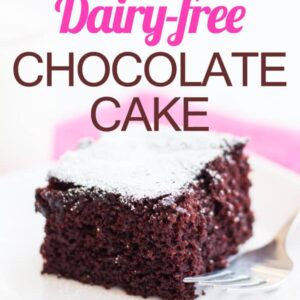 Egg-free, Dairy-free Chocolate Cake
An allergy-friendly moist chocolate cake.
Ingredients
3 cups all purpose flour
2 cups sugar
1/2 cup cocoa
2 teaspoon baking soda
1 teaspoon salt
3/4 cup oil
2 Tablespoon white vinegar
1 teaspoon vanilla
2 cups hot water
Instructions
Preheat oven to 350 degrees.

Mix dry ingredients in a large bowl.

Add wet ingredients and mix.

Stir in hot water and mix well.

Pour into a greased 9x13 pan and bake for 30-40 minutes, until a toothpick comes out with just a few crumbs.
Calories: 188kcal, Carbohydrates: 29g, Protein: 1g, Fat: 7g, Sodium: 188mg, Potassium: 44mg, Fiber: 1g, Sugar: 16g, Calcium: 5mg, Iron: 1mg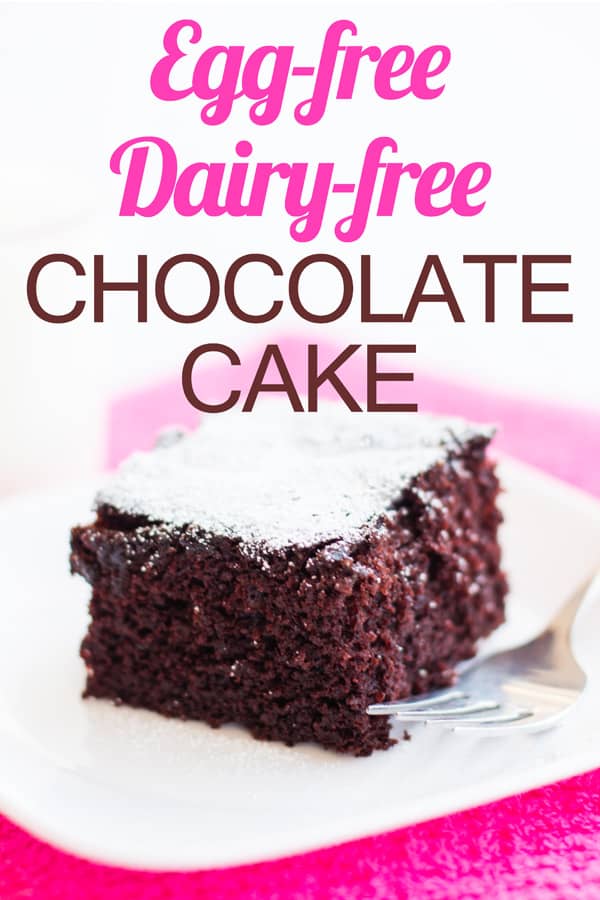 This site contains affiliate links, if you make a purchase through them, we receive a small commission.