Fall Themed Bento Box Lunch
Thank you to Nature Box for sponsoring this post.
Make your holiday season a little healthier with this Fall Themed Bento Box Lunch! You and your kiddos will love making this fun and easy meal using delicious and nutritious NatureBox snacks!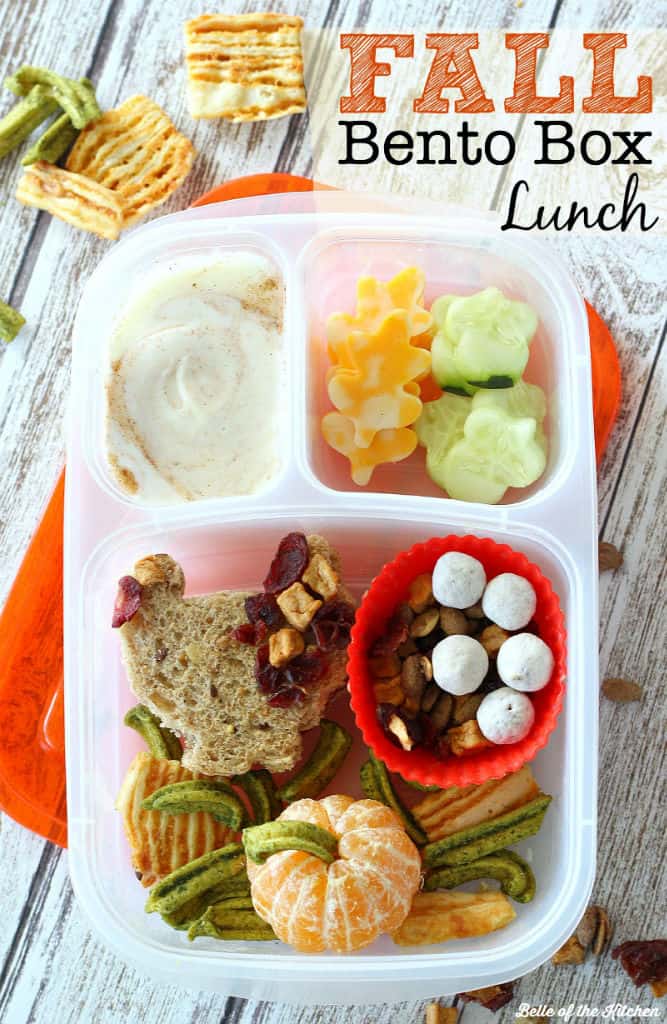 Have you ever made a Bento Box Lunch before? Until a couple of years ago, I had never even heard of them. And then one day I started to see these adorable, healthy little meals floating around on Pinterest (where all good ideas come from!) and I knew I wanted to try one. My son can be a picky eater sometimes, but if I spruce up his meals and make them a little more fun, he is much more likely to give them a try.
I recently had the opportunity to try some of the amazing snacks made by NatureBox, a monthly service which delivers a world of carefully sourced and nutritionist-approved foods right to your door. Their service really stands out, because they have snacks that cater to many dietary needs and preferences, such as vegan, gluten free, dairy free, and nut free. This is important to me since our son is allergic to peanuts, and I wanted him to be able to enjoy the snacks that we received.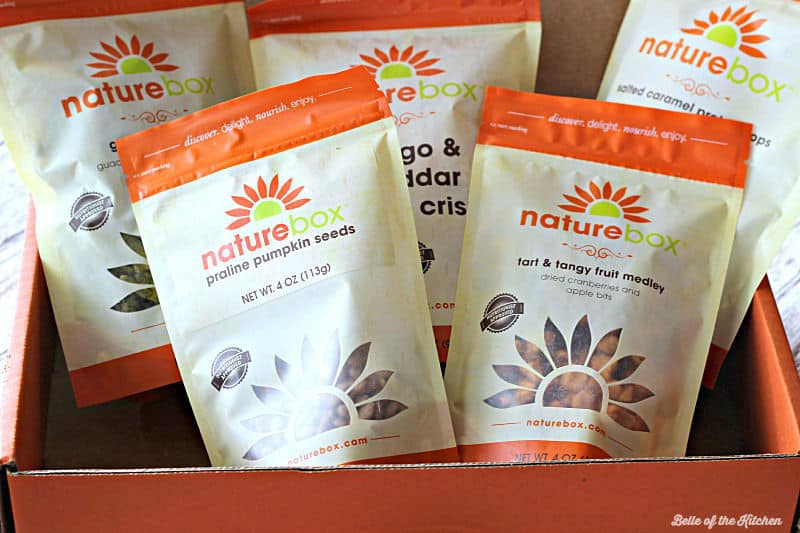 When you join NatureBox, you'll receive five different snacks every month. You can choose the snacks you want or be surprised with what they select for you. I had a hard time narrowing down my choices because there were so many options, and all of them looked amazing! They offer a wide variety, and I really loved being able to filter their snacks by dietary preference. Everything I chose was nut free, and it was easy to find ones to suit our needs.
Here are the yummy snacks I received in my box: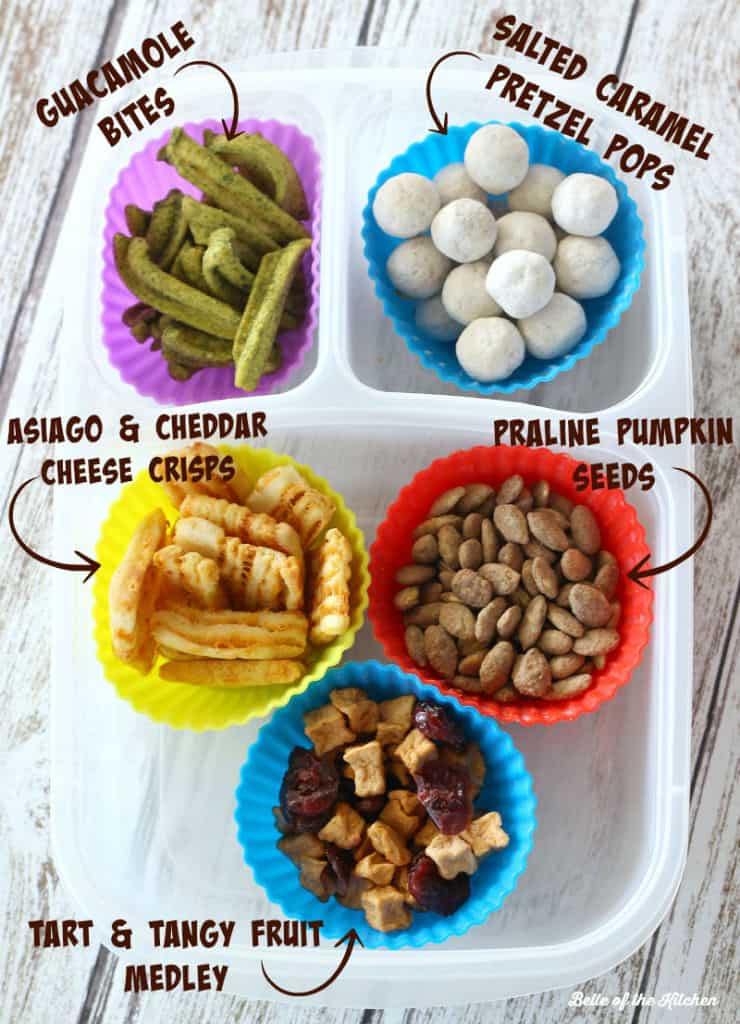 I decided to use the snacks that I received to create a fun and easy, fall-themed Bento Box Lunch! This would be perfect to send with your kiddos for lunch during the next couple of weeks leading up to Thanksgiving, or for an easy at-work, or on-the-go meal for yourself!
Fall Themed Bento Box Lunch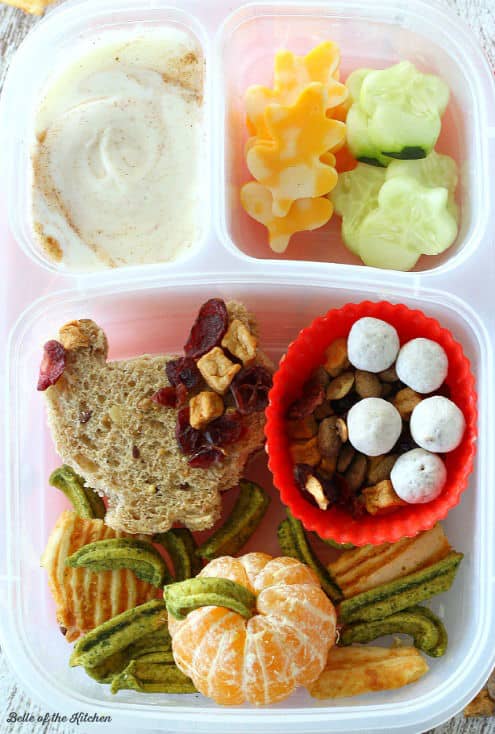 Turkey shaped sandwich made with sunflower seed butter and jelly, topped with NatureBox Tart and Tangy Fruit Medley for eyes, feathers, and wattle (the little thing that hangs down from the turkey's neck!)
A peeled clementine orange made to look like a pumpkin in a pumpkin patch. I peeled the orange and then placed it on top of some NatureBox Guacamole Bites and Asiago & Cheddar Cheese Crisps. I then added one guacamole bite on top to resemble a stem.
Vanilla yogurt with a little bit of pumpkin pie spice mixed in, and then some NatureBox Praline Pumpkin Seeds and Tart and Tangy Fruit Medley (in the little red silicone baking cup) for topping when ready to eat.
Cheese and cucumbers cut with leaf and acorn shaped cookie cutters. My son loved eating the cheese with the Asiago & Cheddar Cheese Crisps. Lots of cheesy goodness!
A small handful of NatureBox Salted Caramel Pretzel Pops for dessert (also inside of the red silicone baking cup).
We've started taking bento box lunches with us a lot since we stay busy during the week and aren't always home during lunch time. I like them for myself just as much as I do for my kids, because everything is in one easy, box and it keeps me from making a trip to the drive through! I loved eating the snacks I packed in ours from NatureBox because I felt like we were eating wholesome food that still tasted great. I was very impressed with the flavor and quality of the snacks, as they were all fresh and yummy, and my son gobbled up every bite of his lunch! Oh, and my hubby pretty much devoured the Cheese Crisps and Guacamole Bites while I was taking pictures. Those would definitely be regulars in our box. 🙂
Well, now that you've seen how much we enjoyed our NatureBox experience, you can try it out for yourself, too!
Click here to start your free trial with NatureBox!*
*Fine Crumbs: Free trial is available for new and US subscribers only. Not valid on gift subscriptions and may not be combined with any other offers"
Which NatureBox snacks would you like to try? You can check out the full snack catalog by going here. 🙂
I was selected for this opportunity as a member of Clever Girls Collective and the content and opinions expressed here are all my own.
This site contains affiliate links, if you make a purchase through them, we receive a small commission.